Today at the Editor's glance: Weather: Sunny. Highs in the upper 70s. Southeast winds 5 to 10 mph. Monday Night: Mostly clear. Not as cool with lows in the upper 50s. Southeast winds 5 to 10 mph.
In Court:  Circuit Judge Terence Perkins hears a plea from Aaron Thayer at 1:30 p.m. in Courtroom 401 at the Flagler County courthouse.  Thayer is the son of George Contos, the resident of Apricot Avenue in Daytona North who vanished seven years ago. A year ago, Thayer was charged with attempted first degree murder, possession of a weapon by a convicted felon and other charges. His girlfriend was his victim. See: "Aaron Thayer, Son of Man Vanished 6 Years Ago, Arrested on Attempted Murder Charge Involving Girlfriend."
The Bunnell City Commission meets at 7 p.m. at the Government Services Building, 1769 East Moody Boulevard, Bunnell. Commissioners will review and approve procedures and rules for their own board–no changes are proposed–and for advisory boards, and make appointments to their advisory boards.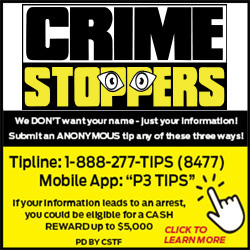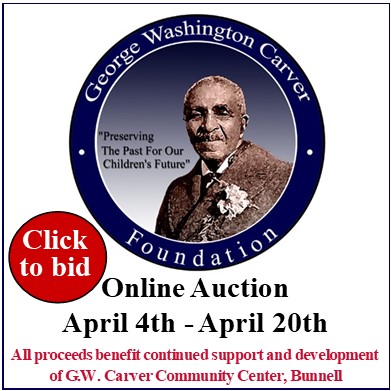 The Annual George Washington Carver Foundation Auction begins Monday. The purpose of the auction is to raise money to go back into the development of the Carver Center in Bunnell. In order to participate in this auction you must register for a bidder account on this 32auctions website. To register click login in the top right corner and then click "Create an account now" if you have not yet made one. The system will then send you an email with a link to confirm the registration. Your bidder ID will be the first part of your email address. If you would like to change the bidder ID you may go in to account settings and pick a new ID. Please pick a username you don't mind being displayed publicly. The username of the current bidder will be displayed with the item.
Now this: Today is International Louie Louie Day.

The Live Calendar is a compendium of local and regional political, civic and cultural events. You can input your own calendar events directly onto the site as you wish them to appear (pending approval of course). To include your event in the Live Calendar, please fill out this form.
For the full calendar, go here.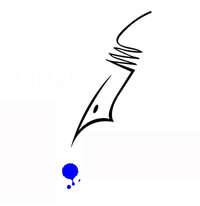 But across the past century, behind parents' rights, lies another unbroken strain: some Americans' fierce resistance to the truth that, just as all human beings share common ancestors biologically, all Americans have common ancestors historically. A few parents around the country may not like their children learning that they belong to a much bigger family—whether it's a human family or an American family—but the idea of public education is dedicated to the cultivation of that bigger sense of covenant, toleration, and obligation. In the end, no matter what advocates of parents' rights say, and however much political power they might gain, public schools don't have a choice; they've got to teach, as American history, the history not only of the enslaved Africans who arrived in Virginia in 1619 and the English families who sailed to Plymouth on the Mayflower in 1620, but also that of the Algonquian peoples, who were already present in both places, alongside the ongoing stories of all other Indigenous peoples, and those who came afterward—the Dutch, German, Spanish, Mexican, Chinese, Italian, Cambodian, Guatemalan, Japanese, Sikh, Hmong, Tunisian, Afghan, everyone. That's why parents don't have a right to choose the version of American history they like best, a story of only their own family's origins. Instead, the state has an obligation to welcome children into that entire history, their entire inheritance.
–From "Why the School Wars Still Rage," Jill Lepore, The New Yorker, March 14, 2022 .