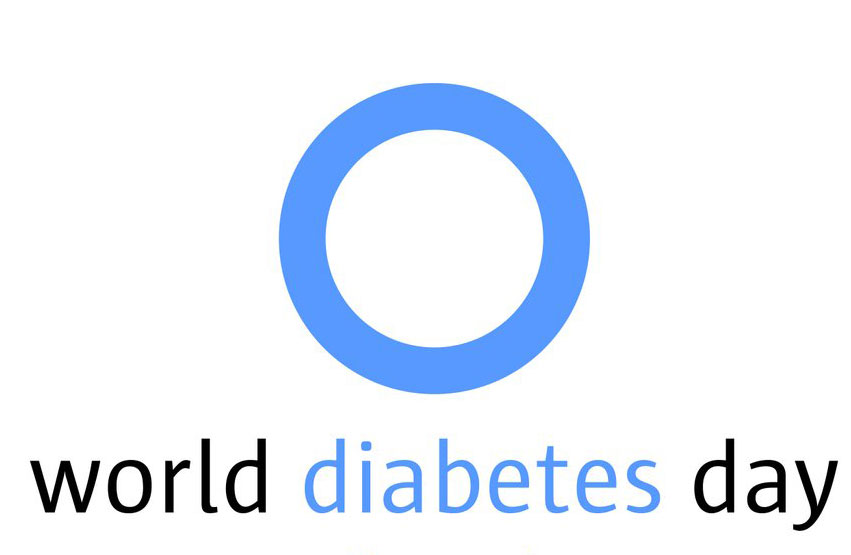 Today: Mostly cloudy with a 20 percent chance of showers. Highs in the lower 80s. East winds 5 to 10 mph. Tonight: Mostly cloudy with a 20 percent chance of showers. Lows in the upper 60s. Northeast winds 5 mph.
Today's document from the National Archives and the Astronomy Picture of the Day.
Today's National Commemorations.
Today's tides: at the beaches, at the Intracoastal Waterway.
Drought Index: 117
Merriam-Webster's Word of the Day: dilapidated.
The Live Community Calendar
Today's jail bookings.
Today's Briefing: Quick Links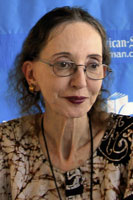 "It's Andrew's (half-serious) opinion that, in the twenty-first century, damnation is a matter not of Hell but of inadequate medical insurance. "We are spiders dangled by fate over the fires of Hell, and the slightest slip will plunge us into an eternity of misery—kept alive by machines, for which we may have to pay 'out of pocket.' " Andrew's listeners laugh, uneasily. He may be joking—or half joking—but this is the nightmare that everyone in America dreads."
–From Joyce Carol Oates's story, "Sinners In the Hand of an Angry God" in the Oct. 14, 2019 New Yorker.
Previously:
Sense of an ending | Battlefields | Community | Turban stereotype | No to Handke | Blusterers | Norilsk | 1st Amendment | Political party evils | Self-confidence | Military glory | Differences of opinion | Columbus | Fiction's truth-seeking | The Old Maid | Sudden disease | Sudden old age | A streetcar named Angelou | Corsica | Inner core | Unchanging humanity | Angelou ethics | Fanaticism | Life by Seneca | Walmarting America | Joy and luck | Parenting | Glossy men

Note: all government meetings noticed below are free and open to the public unless otherwise indicated. Many can be heard or seen live through each agency's website.
In Court: Maria Howell, the 22-year-old woman convicted of child abuse and contributing to the delinquency of a child last year, is in court before Circuit Judge Terence Perkins in Courtroom 401 at 1:30 p.m. on an order to show cause following an alleged technical violation of probation. See:
Diabetes Awareness: The Flagler County Commission again supports AdventHealth Palm Coast in its efforts to raise diabetes awareness by raising the "DiaBEATes Alliance" blue flag at 8:15 a.m. AdventHealth Palm Coast Foundation Board Member Laura Gilvary will discuss the importance of the DiaBEATes Alliance. Caryn Prather will discuss the assistance she can provide residents through Flagler County Community Paramedicine. Flagler Free Clinic Executive Director Terri Belletto will provide a clinic update. Health Department Director of Nursing Bonnie Welter will discuss the diabetes education, training, treatment, and prevention program that began earlier this year. Diabetes affects 14 percent of Flagler County adults, and it was identified as a local health priority during the last community health assessment. During the regular commission meeting, which begins at 9 a.m., a proclamation will be read recognizing November 14 as "World Diabetes Day."
The Flagl

er County Commission meets at 9 a.m. at the Government Services Building, 1769 E Moody Blvd., Bunnell. Commissioners are expected to ratify the appointment of Amy Lukasik as permanent tourism development director, reappoint Glenn Torre to the Contractor Review Board and Joseph Dziak and David Ragsdale or Jordon Butler to the Parks and Recreation Advisory Board, and hear the Hammock Community Association's appeal of a zoning decision approving the Hammock Harbor development in the Hammock. See the agendas and background materials for meetings here, and watch or listen to meetings here.
The Flagler County Commission meets in workshop at 1 p.m. at the Government Services Building, 1769 East Moody Boulevard, Bunnell to talk about the Erosion Control Line, the high-tide line that demarcates public from private land along Flagler's shoreline. The discussion is in the context of the county's and state and federal projects rebuilding dunes along the shore. The projects are shifting the erosion control line, thus encroaching on private land, though it's generally not a significant issue in Flagler as the shoreline has customarily been open to public access.
Flagler Cares Coalition Meeting, 3 p.m., AdventHealth Palm Coast, Classroom C&D. The coalition will discuss Health Disparities and Social Determinants of Health, with Joseph Pepe, Administrator, Florida Department of Health in Hendry and Glades Counties, and will also discuss the Flagler County Community Health Needs Assessment and 2020-22 Health Priorities. This is the coalition's last quarterly meeting of the year.
The Flagler County Library Board of Trustees meets at 4:30 p.m. in the Doug Cisney Room at the main library, 2500 Palm Coast Parkway. See minutes and agendas here.
The Bunnell Elementary School Advisory Council and PTO meet at 5 p.m. in the school's media center. School Advisory Councils are composed of principals, teachers, educational support personnel, parents, students, local business representatives, and community members. It is a group intended to represent the broad school community and those persons closest to the students who will share responsibility for guiding the school toward continuous improvement. Bunnell's SAC is chaired by Michelle Brito and vice-chaired by Carmen Stanford. See the website here.

The Bunnell City Commission holds a special meeting at 6:30 p.m. at City Hall, 201 West Moody Boulevard, to comply with a request from the U.S. Department of Justice to allow the Sheltering Tree to operate its cold-weather shelter at First United Methodist Church on Pine Street this winter, as the Justice Department investigates Bunnell's controversial and possibly illegal decision last summer to shut down the shelter. "The Department of Justice has informed the City that it will be investigating the complaint under the federal Religious Land Use and Institutionalized Persons Act ("RLUIPA")," a city memo reads, "but has also made clear that such investigation is preliminary in nature, and that they have made no determination as to whether there has been a violation of RLUIPA by the City." See: "Justice Department Is Investigating Bunnell Government Over Closure of the Cold-Weather Homeless Shelter."
Navy Bombing in the Ocala National Forest: Navy training schedules indicate that inert and live bombing will take place at the Pinecastle Range Complex located in the Ocala National Forest this week. Bombings at times can be heard in Flagler-Palm Coast. The bombings are scheduled as follows:
Monday: 10 a.m. to 5 p.m. – Live
Tuesday: 12:30 p.m. to 6:30 p.m. – Live/Inert
During bombing periods wildlife may be temporarily displaced. Use extra caution when driving through the Ocala National forest and surrounding areas. Secure any items around your residence that could attract wildlife. Always be mindful of larger animals including black bears and practice bearwise measures. The telephone number for noise complaints is 1-800-874-5059, Fleet Area Control and Surveillance Facility, Jacksonville, Fla. For additional information, call (904) 542-5588.
Palm Coast Alateen Sereniteen and Al-Anon meetings: Alateen, part of Al-Anon Family Groups, is for teens bothered by someone else's drinking. The group meets at 8 p.m. every Monday at Advent Health, 60 Memorial Medical Parkway, Palm Coast, at the south entrance, in meeting room D. Al-Anon meets at the same time. For more information about Alateen or Al-Anon, call toll free 1-888-4AL-ANON, or visit www.al-anon.org. Note: All Aalteen meetings are only open to teenagers who have been affected by another person's drinking. For AA and NA meetings in Palm Coast, Flagler Beach and Bunnell, go here.
The Nar-Anon Family Group for those affected by someone else's addiction meets at 6 p.m. at St Mark by the Sea Lutheran Church, 303 Palm Coast Pkwy. There are no dues or fees. The only requirement for membership is that there be a problem of addiction in a relative or friend. We're never affiliated with any other organization or outside entity. Do you need Nar-Anon? Ask yourself these questions.
Blood Donations: The Big Red Bus will be at the following locations this week (schedule your donation by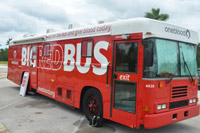 going to the website and entering a Palm Coast zip code, then locating one of the venues below):
Monday: Walmart, 174 Cypress Point Parkway, Palm Coast, 10 a.m. to 6 p.m.
Saturday: Winn-Dixie, 1260 West palm Coast Parkway, 11 a.m. to 5 p.m.
Sunday: Santa Maria del Mar Church, 915 North Central Avenue, Flagler Beach, 9 a.m. to 1 p.m.

Jail Bookings and Last 24 Hours' Incidents in Flagler, Palm Coast, Flagler Beach, Bunnell
Sources: Flagler County Sheriff's Office, Flagler Beach Police Department, Bunnell Police Department. This is Flagler County's only comprehensive, one-stop compilation of all local law enforcement's daily day and night shift commanders' reports.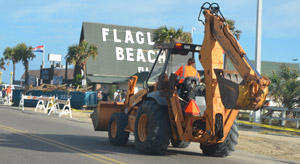 Flagler Beach Is Open For Business: A1A Construction Update:
FlaglerLive is providing weekly updates to year-long construction on and near State Road A1A in Flagler Beach as the Florida Department of Transportation rebuilds a 1.5-mile segment from South 9th Street to South 22nd Street, and builds a sea wall at the north end of town. These updates are provided through DOT or local officials. If you have any relevant information or images, you're welcome to email them to the editor here.
Last Updated: Oct. 28
Segments 1 and 3 are complete.
Segment 2 (South 22nd Street to South 9th Street):
The drainage installation is complete, and work on the new median curbs and flumes is continuing and approximately 70% complete. Work on the southbound roadway continues as the contractor has placed limerock base to 18th street and will continue moving north. The traffic separator is taking shape and is over 50% complete.
Segment 3 (North 18th Street to Osprey Drive):
Wall construction is complete, and walkover construction will begin once Hurricane Season is over.

Announcements/Press Releases:
None.

In Florida and in State Government:
Note: Some proceedings below can be followed live on the Florida Channel. Most legislative proceedings can be followed through the Senate or House websites.

SUNSCREEN BANS TARGETED: The Senate Innovation, Industry and Technology Committee will take up a proposal (SB 172), filed by Sen. Rob Bradley, R-Fleming Island, that would prevent local governments from banning over-the-counter sales of sunscreen. The bill stems, at least in part, from a decision by Key West to ban certain types of sunscreen because of concerns that chemicals in the substances were damaging coral reefs. (Monday, 1:30 p.m., 110 Senate Office Building, the Capitol.)
LAWAKERS COULD EASE FIREWORKS BAN: The Senate Community Affairs Committee will consider a bill (SB 140), filed by Sen. Travis Hutson, R-St. Augustine, that would make the use of fireworks legal on Independence Day, Memorial Day and New Year's Eve. Under current law, most fireworks are generally illegal for Floridians to buy. But people can buy and use fireworks if they sign a waiver saying they will use the devices for certain agricultural purposes. (Monday, 4 p.m., 301 Senate Office Building, the Capitol.)
'FRACKING' BAN PROPOSED: The Senate Environment and Natural Resources Committee will take up a measure (SB 200), sponsored by Chairman Bill Montford, D-Tallahassee, that would ban the controversial oil- and gas-drilling process known as "fracking" and a similar drilling technique opposed by environmentalists. The bill would ban hydraulic fracturing — commonly known as fracking — and matrix acidization, which uses many of the same chemicals but dissolves rocks with acid instead of fracturing them with pressurized liquid. (Monday, 4 p.m., 37 Senate Office Building, the Capitol.)
FEA CONTINUES BUS TOUR: The Florida Education Association will continue a bus tour focused on calling for increased education funding. (Monday, 9 a.m., Village Oaks Elementary, 1601 Florida 29, Immokalee. Also, noon, Lake Trafford Elementary, 3500 Lake Trafford Road, Immokalee. Also, 6 p.m., Lorenzo Walker Technical College, 3702 Estey Ave., Naples.)
CONSERVATION AMENDMENT MARKED: Environmental groups will hold a news conference to mark the fifth anniversary of the passage of a constitutional amendment that required funding for land and water conservation projects. The amendment, approved by voters in 2014, sets aside a portion of real-estate taxes for conservation efforts. (Monday, noon, plaza level rotunda, the Capitol.)
–Compiled by the News Service of Florida and FlaglerLive

Coming Days:
The Live Calendar is Flagler County's and Palm Coast's most complete, detailed and searchable community calendar of events, including culture, the performing arts, theater, government, the courts and justice system and a lot more. If you're not listed here, you're not getting the visibility you deserve. To include your event, please fill out this form. Any other issues, email the editor.
[ai1ec view="agenda"]

Keep Up with Donald Trump's attacks on the press through the ACLU's running tab here.
Keep Up with mass shootings in a running database here.

Palm Coast Construction and Development Progress Reports
Here's a summary of the latest city developments as of Nov. 1, 2019:
Click to access City-of-Palm-Coast-Week-in-Review-Issue-01-Oct.-28-20191.pdf

Cultural Coda
Wenzeslaus Thomas Matiegka: Sonata Op. 23, Elliot Simpson, guitar
And be sure to check out the latest performances at the Netherlands Bach Society.
Previous Codas: