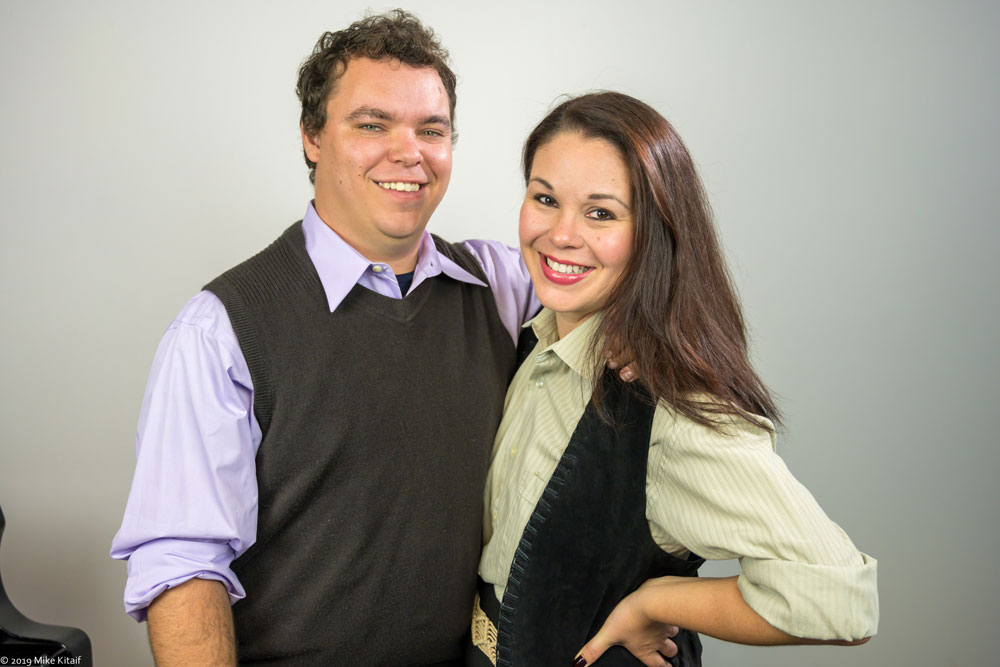 Weekend: Mostly cloudy Friday and Saturday with chances of showers, partly cloudy Sunday, highs near 80 throughout. Nights in the mid-60s. See the latest National Weather Service-Jacksonville Briefing here.
Today's document from the National Archives and the Astronomy Picture of the Day.
Today's National Commemorations.
Today's tides: at the beaches, at the Intracoastal Waterway.
Drought Index: 83
Global Warming: The daily carbon count.
A.Word.A.Day from Wordsmith.org. Today's word: singultus.
The Live Community Calendar
Today's jail bookings.
Today's Briefing: Quick Links


Note: all government meetings noticed below are free and open to the public unless otherwise indicated. Many can be heard or seen live through each agency's website.
Take the 2019 Palm Coast Community Survey.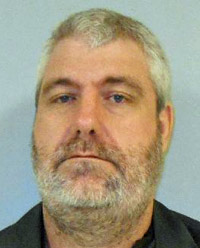 Friday In Court: In the fifth day of trial, the defense continues to put on its case starting at 9 a.m. in the ongoing case of convicted murderer David Snelgrove. The Supreme Court ordered a new sentencing phase for Snelgrove, who was on death row. He was sentenced to death for the murders of Glyn Fowler, 84, and his wife, Vivian, 79, on Bannbury Lane in Palm Coast in late June 2000. The sentencing phase began with jury selection Monday and Tuesday. A jury of six men and six women was seated Tuesday afternoon. The prosecution put on its case on Wednesday and Thursday. The defense began to present its case Thursday afternoon. The trial takes place before Circuit Judge Kathryn Weston, in Courtroom 301 at the Flagler County Courthouse. The background:
Free For All Fridays on WNZF: Host David Ayres welcomes Palm Coast Mayor Milissa Holland, City Manager Matt Morton, Community Development Director Jason DeLorenzo and Customer Service Director Cynthia Schweers to discuss the city's "citizen-centric" approach, starting a little after 9 a.m. with a commentary by FlaglerLive Editor on Trump and Iran.
Friday, Saturday, Sunday: "They're Playing Our Song," directed by John Sbordone, at City Repertory Theatre, at 7:30 p.m. Jan. 10, 2 and 7:30 p.m. Jan. 11, 7:30 p.m. Jan 17-18, and 3 p.m. Jan. 12 and 19. Both Jan. 11 performances are sold out. "They're Playing Our Song tells the musical story of the real-life relationship of Marvin Hamlisch and Carol Bayer Sager, as a wisecracking composer finds a new, offbeat lyricist while Broadway history is made." Angela Marie Young and Beau Wade bring a vibrant charm to this song filled love story. Performances are at CRT's venue in City Market Place, 160 Cypress Point Parkway, Suite B207, Palm Coast. Tickets are $30 for adults, $15 for students. For more information or tickets, call the CRT box office at 386-585-9415 or easily book online here. See the preview here.
Friday and Sunday: Three farmers' markets operate over the weekend in Flagler County. The Flagler Beach farmers' market is on Friday from 8 a.m. to early afternoon, downtown at 111 South Central Ave. Contact the market by email here. The European Village Farmers' Market at 101 Palm Harbor Parkway is Sundays from noon to 4 p.m., featuring music jams as well. The Salt Air Farmers' Market is on Sundays from 10 a.m. to 2 p.m. in Marinelad's parking area near the marina, on the West side of A1a.
Friday: Coffee Series: "Hewitt's Revolutionary War Sawmill and Dam" with Tina Morrison from the Florida Agricultural Museum. The event is free, but pre-registration is required (while space available) by 9 a.m. Dec. 4: www.parksandrec.fun/adults. More info: 386-986-2323.
Friday: Palm Coast Book Club 10:30-11:30 a.m. at Palm Coast Community Center, 305 Palm Coast Pkwy. NE. Do you love to read? Once a book is selected, participants will need to purchase and read it on their own. Each month we will meet to discuss the chosen book and share our impressions, reactions, and feelings about it. Free but registration required. Book title and registration at www.parksandrec.fun/adults. More info: 386-986-2323.
Saturday: First Aid and CPR/AED Class, 9 a.m.-4 p.m. at Fire Station 25, 1250 Belle Terre Pkwy., Palm Coast. This class is a seven-hour course (one hour for lunch) designed to meet OSHA regulations and teach administering CPR to children and adults, using an Automated External Defibrillator (AED), using a mask or barrier device, assisting with bleeding, broken bones. $50/person. Registration required by 9 a.m. Oct. 10 at www.parksandrec.fun/adults. More info: 386-986-2300 and [email protected]
Saturday: Palm Coast at 20 Years: Join the Palm Coast Historical Society at the PC Community Center at 9:45 for a free Speaker Event. This year is the 20th Anniversary of the incorporation of the City of Palm Coast. Current Mayor Melissa Holland, former Mayor Jon Netts, and first City Council Member Bill Venne will reflect on the transition from our founding by ITT to our Incorporation as a City. Historian Art Dycke will receive an award for his tireless work preserving the history of our community. Palm Coast Community Center, 305 Palm Coast Parkway NE.
Saturday: Light the Way, Walk With Me is Human Trafficking Awareness Day with a Walk over the Flagler Beach Bridge. Meet up at Wadsworth Park on the west side of the bridge to walk at 9 a.m. to support survivors and victims of human trafficking. Sponsored by the Freedom7 HT Task Force and the Department of Juvenile Justice. Contact Deanna Johnson for more info [email protected]
Second Saturday Plant Sale at Washington Oaks Gardens State Park, join the Friends of Washington Oaks from 10 a.m. to 2 p.m. at the Greenhouse area. With Master Gardeners on hand, you are sure to get the personal attention and advice you are looking for. Specializing in Florida friendly and natives, with some unique and hard to find plants for your home and yard. Washington Oaks Gardens State Park, 6400 North Oceanshore Blvd.
Saturday: American Association of University Women (AAUW) presents an insightful and thought-provoking discussion about the causes and effects of poverty on women of Florida, led by Mary Gatta, PhD. Plan to attend the monthly General Meeting at 11:00 am, in the main dining room of Pine Lakes Golf Club. Gatta is an Associate Professor of Sociology at City University of New York. She earned her Ph.D. and M.A. in Sociology from Rutgers University, along with a B.A. in Social Science from Providence College. Her area of expertise includes gender and public policy, low wage workers, earnings inequality, and evaluation research on workforce projects. Dr. Gatta's work has resulted in the publication of books, articles, and policy papers, including Waiting on Retirement: Aging and Economic Insecurity in Low Wage Work. She will soon come to Flagler County to address economic insecurity with African-American women. Lunch is available for $18.00 per person. For reservations and menu options, please contact Sally Smeaton by email: [email protected] by January 8, 2020.
Friday, Saturday, Sunday: "Fireflies," at the Daytona Playhouse, 100 Jessamine Blvd., Daytona Beach. All performances at 7:30 p.m. except for Sunday matinees at 2 p.m. Retired schoolteacher Eleanor lives a quiet life alone as the most respected woman in a tiny town in Texas. A hole in her roof draws the attention of Abel, a smooth-talking drifter intent on renovating her house and her life. Can the sparks of late-life romance be trusted, or is the gossip true that Abel isn't all he seems to be? The whole town is talking. Adults $20, Seniors 55 and up, $18, Youths 18 and under $8. Address: 100 Jessamine Blvd., Daytona Beach, or see directions here. Buy tickets online here. Box office: 386-255-2431.
Friday: The Museum of Art-DeLand welcomes its inaugural exhibition of the 2020 season, Wonderland: Photographs by Kirsty Mitchell, opening January 10, running through March 29, 2020, Museum of Art-DeLand, 600 N. Woodland Blvd. Featuring a selection of large-scale artworks accompanied by videos documenting the artist's creative process, this showcase is among the first to introduce Kirsty Mitchell's spectacular photographs to American museum audiences. A trained fashion designer, Mitchell has worked with international labels such as Alexander McQueen and Hussein Chalayan. Drawing from these experiences, Mitchell created elaborate costumes and props and collaborated with hair and make-up artist Elbie Van Eeden to compose and then photograph astonishingly beautiful, fantastical scenes in the lush local landscape of her childhood home in Surrey, England. As seen in Vogue Italia, Harper's Bazaar, The Royal Photographic Society, and more, Wonderland is the culmination of a five-year labor of love honoring Mitchell's late mother Maureen, a school teacher whose passion for folklore, fairy tales, and children's literature inspired an entire community.
DCS Spring Sign-ups: With the spring semester around the corner, it's time for students returning and new to college to lock in their schedule. Daytona State College offers an easy-access, no-cost session to make registration a simple one-stop process. Enrollment Day on Saturday, Jan. 11, from 9 a.m. to 1 p.m. on the College's Daytona Beach Campus provides an opportunity for students to complete everything from admission to registration.
How it works: Students start by completing a Daytona State application, then meet with an Admissions Advisor and Financial Aid Counselor, take an assessment test (if applicable), meet with an Academic Advisor, and then lock in their schedule. Daytona Beach Campus, Wetherell Center (Bldg. 100),  1200 W. International Speedway Blvd., Daytona Beach.  Students unable to attend Enrollment Day can take advantage of Daytona State's extended registration hours for spring classes, Jan. 6-24, 2020:
Daytona Beach Campus – 8 a.m. until 7 p.m., Monday through Thursday
DeLand Campus – 8 a.m. until 7 p.m., Monday through Thursday
Deltona Campus – 8 a.m. until 7 p.m., Monday & Wednesday
Flagler/Palm Coast Campus – 8 a.m. until 7 p.m., Tuesday & Thursday
New Smyrna Beach-Edgewater Campus – 8 a.m. until 7 p.m., Monday & Tuesday
Note: Fridays, the campuses are open 8 a.m. to 5 p.m.
Through April 4, Palm Coast Mayor's 90/90 Challenge: Get outdoors and get active – join us for the Mayor's 90/90 Challenge! The challenge is to move at least a mile a day for the 90 days from Jan. 6 to April 4. You can choose your own form of exercise. Log in to Palm Coast Connect and record your progress throughout the month. Everyone who completes the Challenge will receive a prize. Share your progress along the way on social media using #Mayors9090 and #ConnectToFitness. More info: www.palmcoastconnect.com and 386-986-2323.
Blood Donations: The Big Red Bus will be at the following locations this week (schedule your donation by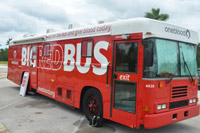 going to the website and entering a Palm Coast zip code, then locating one of the venues below):
Saturday: Chick Fil A, 1000 Palm Coast Parkway, 10 a.m. to 5 p.m.
Sunday: Bealls, 1210 Palm Coast Parkway, 11 a.m. to 5 p.m.

Jail Bookings and Last 24 Hours' Incidents in Flagler, Palm Coast, Flagler Beach, Bunnell
Sources: Flagler County Sheriff's Office, Flagler Beach Police Department, Bunnell Police Department. This is Flagler County's only comprehensive, one-stop compilation of all local law enforcement's daily day and night shift commanders' reports.

In Florida and in State Government:
Note: Some proceedings below can be followed live on the Florida Channel. Most legislative proceedings can be followed through the Senate or House websites.

PYTHON HUNT KICKS OFF: The "2020 Python Bowl" will kick off as part of a drive to eliminate pythons that threaten native wildlife in the Florida Everglades. The Python Bowl is tied to the 2020 Super Bowl, which will be held in South Florida. Competitors will seek the longest, heaviest and most Burmese pythons. Winners will be announced Jan. 25, during the opening of Super Bowl Live, a week-long fan fest event at Bayfront Park in Miami. The Super Bowl is set for Feb. 2 at Hard Rock Stadium. (Friday, 10 a.m. Markham, Park, 16001 West State Road 84, Sunrise.)
CITRUS FORECAST: The U.S. Department of Agriculture is scheduled to release a forecast for the 2019-2020 citrus growing season. (Friday, noon. Call-in number: 1-855-384-4184. Code: 6486013.)
FINANCE REPORTS DUE: State political candidates, committees and parties face a Friday deadline to file reports detailing finance activity through Dec. 31.
SUPREME COURT APPLICANTS INTERVIEWED: The Florida Supreme Court Judicial Nominating Commission will start two days of interviewing applicants for two seats on the Supreme Court. The commission will recommend finalists to Gov. Ron DeSantis, who will appoint replacements for former justices Robert Luck and Barbara Lagoa. The commission is slated to interview 32 applicants, with 18 on Saturday. Luck and Lagoa left the Supreme Court after being appointed by President Donald Trump to the 11th U.S. Circuit Court of Appeals. (Saturday, 9 a.m., Hyatt Regency Orlando International Airport, 9300 Jeff Fuqua Blvd., Orlando.)
–Compiled by the News Service of Florida and FlaglerLive

Trump's Wall Budget Stands at US$8 Billion: "Trump had initially asked for US$5.7 billion to build 200 miles of border wall as part of the 2019 budget. In the end, short of US$1.4 billion was granted – enough for 55 miles. Using the national emergency, Trump reallocated US$2.5 billion from the Department of Defense personnel and missile budgets. After that was blocked by a judge, the Supreme Court freed up the funds in late July of 2019."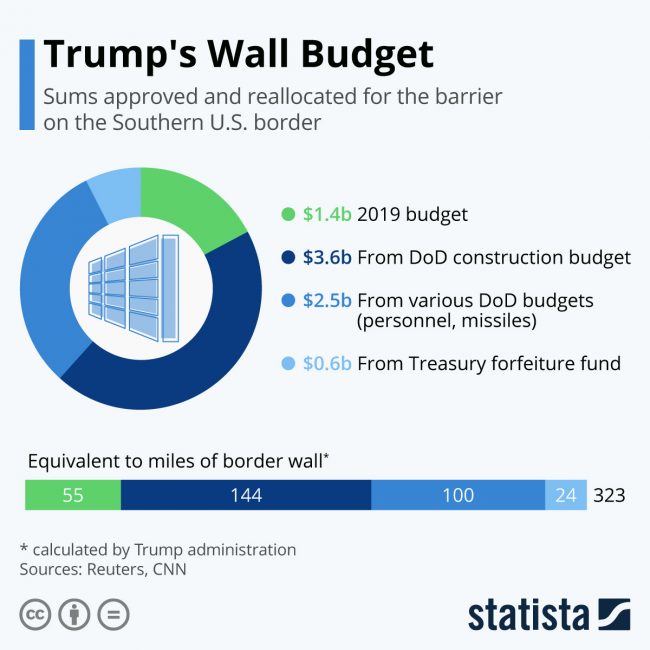 DSC's Florida Lifestyle Institute Announces History Course for Seniors

The Live Calendar is Flagler County's and Palm Coast's most complete, detailed and searchable community calendar of events, including culture, the performing arts, theater, government, the courts and justice system and a lot more. If you're not listed here, you're not getting the visibility you deserve. To include your event, please fill out this form. Any other issues, email the editor.
[ai1ec view="agenda"]


Keep Up with Donald Trump's attacks on the press through the ACLU's running tab here.
Keep Up with mass shootings in a running database here.

Palm Coast Construction and Development Progress Reports
Here's a summary of the latest city developments as of Dec. 16 2019: