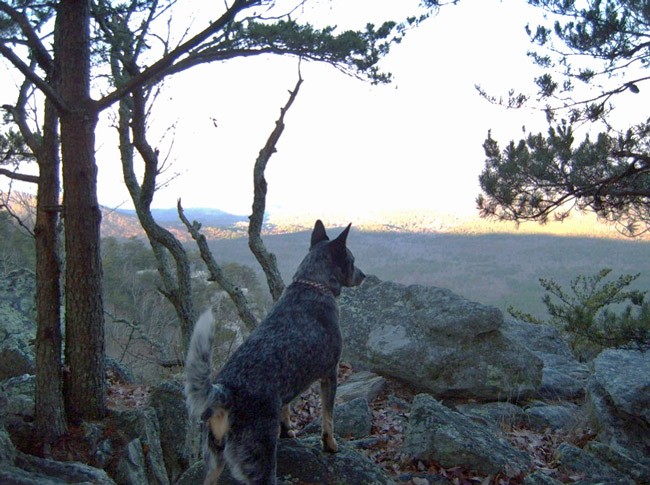 Weekend: Highs around 80, lows around 60. Details here.
Today's fire danger is moderate. Flagler County's Drought Index is at 129.
Today's tides: at the beaches, at the Intracoastal Waterway.
Today's document from the National Archives.
The OED's Word of the Day: ridibund, adj..
The Live Community Calendar
Today's jail bookings.
Today's Briefing: Quick Links


Note: all government meetings noticed below are free and open to the public unless otherwise indicated. Many can be heard or seen live through each agency's website.

Friday: On Free For All Friday on WNZF at 9 a.m., David Ayres's guests are Flagler County Economic Development Director Helga van Eckert, who will discuss today's job fair at Daytona State College, Palm Coast City Manager Jim Landon, who may be asked about the raise he is requesting for himself, and Milissa Holland, the former county commissioner running for Palm Coast Mayor, as one of five candidates (so far) running for that position. The show will begin with a commentary by FlaglerLive Editor Pierre Tristam on Bernie Sanders.
Friday, Saturday: Early Voting for the presidential primary election in Florida. Saturday is the last day. Only Democrats and Republicans may cast ballots in their respective parties' primaries. Independents and minor-party voters may not vote, Florida being a closed-primary state. Early voting runs through March 12 at the Supervisor of Elections' office in Bunnell (at the Government Services Building), the Flagler County Public Library on Palm Coast Parkway, and at the Palm Coast Community Center. Every day from 10 a.m. to 6 p.m. Click here for early voting details.
Friday: Flagler Reads Together Program: Walking the Appalachian Trail with Denise Bevan. The Palm Coast city government administration coordinator will share her own experience of walking the trail, 2 p.m. at the Palm Coast City Hall Community Room, in Town Center. Flagler Reads Together's focus this year is "Grandma Gatewood's Walk," Tampa Bay Times writer Ben Montgomery's 2014 biography of Emma Gatewood who, in 1955, was the first woman to hike the entirety of the Appalachian Trail solo. She was 67.
Friday: Flagler County Job Fair, at the Palm Coast campus of Daytona State College, 3000 Palm Coast Pkwy, SE Bldg 3. The job fair will offer businesses and job seekers opportunities to connect on March 11, 2016 from noon to 6 p.m.
Friday: Draw the Line, Aerosmith Tribute Show, at the Flagler Auditorium. The band delivers an incredible experience capturing all the music and energy of the "Bad Boys from Boston" as they tribute "America's Greatest Rock and Roll Band." The audience will enjoy all the hit Aerosmith songs spanning their 30 year career including "Walk This Way," "Dream On," Love In An Elevator," "Livin' On The Edge," and much more. 7:30 p.m., tickets are $29 for adults and $18 for youth, get 10 percent off by calling the auditorium at 386/437-7547 or 866/352-4537 and mentioning promotional code "DRAW."

Fridays and Saturdays, "Wrong Turn at Lungfish," the comedy by Gary Marshall, at City Repertory Theatre in Palm Coast's City Market Place. A blind old academic meets a snappy young woman in a clash of wills that is funny, wry, and a tour de force battle of wit and whimsy. A guaranteed good time full of laughs. Call 386/585-9415 for tickets, or easily book your tickets online here. ($20, $15 with student ID).
Friday, Saturday, Sunday: "Unnecessary Farce," at the Flagler Playhouse, starring Playhouse favorites Bruce Popielarski and Jenica "Hen" Frederickson, Peter Gutierrez and Rich Lacey, among others. Directed by Viv Stuart, who was instrumental in the founding and funding of of the Naples Perfecting Arts Center. Tickets: $20 for adults, $15 for students. Get your tickets here.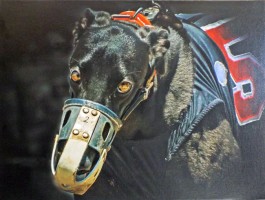 Saturday: "Oh! These Glorious Creatures," a new art show at the Flagler County Art League, opens with a free reception at 6 p.m., at City Market Place in Palm Coast. As its title implies, "Oh! These Glorious Creatures" is an animal-themed exhibit that features paintings, photography, sculpture, stained glass and mixed media works by FCAL members. A forlorn racing greyhound, other dogs, frogs, cats, crows, dolphins, seabirds, bears, a rhino and even a cicada are showcased in the 68-piece exhibit. Three live greyhounds will be in attendance.
Saturday: St. Patrick's Day Dinner Dance: he Palm Coast VFW, 47 Old Kings Rd, N., will hold a St. Patrick's Day Dinner Dance on Saturday, March 12. Entertainment provided by Tim Rippey. Doors open at 5 p.m. A Corned Beef and Cabbage dinner is served at 6 p.m. Tickets are $18 each or 2 for $35. Always open to the public. Information: 386/446-8696.
Upcoming: Motown Madness: A March 26 fund-raiser for the G.W. Carver Community Center in Bunnell. See the flier below for details.
Caution: It's Bike Week. Look both ways three times.


Updated jail bookings and day and night shift incident summary reports are available here.
Flagler Deputies Bust Chop-Shop on Sawgrass Road, Hauling Off Commercial Vehicle Parts: This one, Flagler County Sheriff's deputies discovered, was on Sawgrass Road, the long, dead-end road off County Road 13 that first leads to the Flagler County Fairgrounds, then to a series of sparsely spaced industrial businesses and residences, including mobile homes, on large tracts.
Palm Coast's Paul Aiello, 52, Local Business Owner, Is Killed in Motorcycle Wreck Near Hammock Resort: Aiello was traveling on Ocean Crest Drive on a 2014 Harley Davidson when he lost control, struck a curb on the south edge of the road, struck a tree and was ejected.
"Wrong Turn at Lungfish": CRT Comedy Pairs Blind Grump and Street Tart in Duel of Wits: In one corner there's Peter Ravenswaal, a college professor and intellectual who loves his Kant and Kafka, his Schopenhauer and Baudelaire – and who doesn't hesitate to pepper his conversation by name-dropping those philosophical and literary giants. In the other corner there's Anita. When Ravenswaal, played by Palm Coast theater veteran John Pope, turns the conversation to Darwin and evolution (as alluded to in the play's title), Anita jumps in.
For 1st Time in 9 Years, Bonding Out of Jail in Flagler Made More Expensive for Most Suspects: It's going to be a little more expensive for accused criminals to post bond immediately after arrest in hopes of avoiding at least a night in jail. On Feb. 26, and for the first time in nine years, the chief judge for the circuit that includes Flagler County, Terence Perkins, signed an administrative order raising, and in several cases doubling or revoking, bonds on most offenses.


Note: Most proceedings below can be followed live on the Florida Channel.

Friday: Legislature: Final day of session. The Senate and House will hold floor sessions starting at 10 a.m.
Friday: The Florida College System Council of Presidents will meet. (Committee meeting starts at 8:30 a.m., followed by council meeting, TCC Capitol Center, 300 West Pensacola St., Tallahassee.)
Friday: The Drug Policy Advisory Council is scheduled to hold a conference call. (1 p.m. Call-in number: 1-888-670-3525. Code: 164 869 6226.)
Friday: Indiana Gov. Mike Pence is slated to speak during the Seminole County Republican Party's Reagan Lincoln Dinner. (7:30 p.m., Westin Lake Mary, 2974 International Parkway, Lake Mary.)
–Compiled by the News Service of Florida and FlaglerLive


In Coming Days in Palm Coast and Flagler:
Click on the links for more details:
♦ March 15: Presidential Primary Election in Flagler and all of Florida, and Bunnell city election.
♦ March 15: The Flagler County Historical Society resumes its bus trips to historic and interesting county sites with Bill Ryan as your guide on Tuesday, March 15. The bus leaves from the Holden House, 204 East Moody Boulevard in Bunnell, at 10 a.m. and returns at 2:30 p.m. The cost is $15 per person and does not include lunch at the Bull Creek Fish Camp. To make reservations or for information call 386-439-5003.
♦ March 15, Media Panel: FlaglerLive Editor Pierre Tristam is part of a journalism panel at Flagler College, along with Melissa Ross, host-producer at First Coast Connect, Bob Longo, news director at WJAX 47/WFOX30, and Joseph White, publisher, editor, White Publishing Co. The panel is moderated by Flagler College's Tracey Eaton. 1 p.m. to 2:15 p.m, at the Gamache-Koger Theater, on the first floor of the Ringhaver Student Center, 50 Sevilla St., at Flagler College in St. Augustine.
♦ March 15: Flagler Breakfast Club, presented by the Chamber of Commerce's Flagler County Young professionals Group, with guest speakers Joanne King, COO of Florida Hospital Flagler, and Darlinda Copeland, Senior vice president and COO of Florida Hospital Memorial Medical Center, 7:45 a.m. to 9 a.m. at Florida Hospital Flagler, inside the Educational Center at the South entrance of the hospital, 60 Memorial Parkway, Palm Coast. $10 for YPG members, $15 for others. To reserve, send an email to Jaclyn Miklos.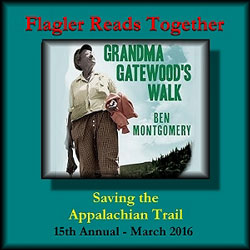 ♦ March 18: Flagler Reads Together featured event: The documentary "Trail Magic: The Grandma Gatewood Story," will be shown at the Flagler County Library at 2 p.m., in the library meeting room. Flagler Reads Together's focus this year is 'Grandma Gatewood's Walk,' the biography of Emma Gatewood who, in 1955, was the first woman to hike the entirety of the Appalachian Trail solo. She was 67. See below for more details.
♦ March 24: Eggs & Issues Breakfast featuring County Administrator Craig Coffey and three county department heads involved in economic development: Airport Director Roy Sieger, Economic Development Director Helga van Eckert, and Tourism Director Matt Dunn. The breakfast is sponsored by the Flagler County Chamber of Commerce. The cost is $20 in advance, $25 at the door. 7:30 a.m.-9:30 a.m., Grand Haven Golf Club, 500 Riverfront Dr., Palm Coast. Seating is limited; reservations are requested by March 21. For reservations, email Jaclyn Miklos or call 386/206-0953.
♦ March 26: Motown Madness, a fund-raiser concert for Carver Gym and the George Washington Carver Foundation,, featuring the band Traces of Gold. Tickets are $50, includes dinner and music, 6 to 10 p.m. at the the G.W. Carver Community Center, 201 East Draine Street, Bunnell. Tickets and information: Cheryl Massaro, 386-437-7540, extension 5101. See the flier below.
♦ March 30-April 2: Florida Future Problem Solvers State Competition, to be attended by four to five Flagler County schools, at Doubletree Orlando Seaworld, 10100 International Drive, Orlando.
♦ April 1: The Friends of the Library of Flagler County celebrate the annual April Poetry Month by acknowledging the 2016 presidential election year. Poems by presidents or about presidents of the United States, from Washington to Obama, will be presented at 1 p.m. in the Doug Cisney Room and appropriate refreshments–that is, alas, no booze, no matter how drunk Nixon could get–will be provided by the Hospitality Staff of the Friends.
♦ April 2: Cheer at the Pier, a fund-raiser for the Flagler Beach Historical Museum, from 3 to 6 p.m. Call Virginia Giaramita for information at 386/299-8892.
♦ April 12: Anjali Anabel Tomerlin, a third grader at Imagine School at Town Center in Palm Coast who's written and illustrated her first book, will hold a book-signing at the Flagler Beach Public library from 4 to 6 p.m.
♦ April 13: Public Safety Coordinating Council meeting at 8:45 a.m., Emergency Operations Center, Bunnell.
♦ April 15: The Florida Ethics Commission will take up an administrative law judge's recommendation in the ethics case against Flagler County Sheriff Jim Manfre. 9 a.m.
♦ April 16: Flagler Beach will hold a victims' rights memorial at sunrise. The memorial ceremony honors victims and their advocates. It will be held at the end of the iconic pier. Please contact Victim Advocate Donna Kearney with any questions about the memorial at 517-2020.


Click on the link for more details.


Clinton failed to avoid the type of negative tactics that could damage her in the long haul. https://t.co/LrJzrbQlsP pic.twitter.com/Sx2GaD1t7B

— NYT Opinion (@nytopinion) March 10, 2016
Mark Lilla: How the French Face Terror https://t.co/D3Sx7bfULi

— NY Review of Books (@nybooks) March 8, 2016
Carbon dioxide levels 'exploded last year to reach record highs' https://t.co/PLWUkd8dDW pic.twitter.com/Q8LtRYa0CI

— The Independent (@Independent) March 10, 2016
Do you know where your bread comes from? https://t.co/e5AzUvQjxp https://t.co/qaxukGWnpI

— The New Yorker (@NewYorker) March 9, 2016
.@Tim_Shenk interviewed Thomas Laqueur about his book, The Work of the Dead: https://t.co/qhfHw5qtsF pic.twitter.com/P7AHjyQW32

— Dissent Magazine (@DissentMag) March 10, 2016


Palm Coast Construction and Development Progress Reports
The following is an update of ongoing construction and development projects in Palm Coast, through Feb. 17:
Seminole Woods Multi Use Path design, 75 percent done: Survey continues, shot horizontal and vertical features for path design.
Holland Park, 54 percent done: Grading and installation of sidewalks continues. Restroom block cells poured and trusses installed. Installation of street and pathway light poles and fixtures.
County's I-95 Interchange Matanzas Woods Reclaim Water, 83 percent done: Approximately 1,600 ft. of 16″ HDPE piping was air tested February 11, 2016. On February 12, 2016 the 16″ HDPE reuse main was installed under the southbound ramp.
Palm Harbor Parkway Roadway Extension, 50 percent done: Work continues on the stormwater structure at the intersection of Palm Harbor Parkway and Forest Grove.
Colechester Bridge, 94 percent done: Sea walls have been completed and forming of the western abutment almost complete.
North Old Kings Road Extension to Matanzas Woods Parkway, 19 percent done: Asphalt was installed on the new section of roadway adjacent to the old roadway at the intersection of Old Kings Road and Forest Grove. (Not in the Dec. 4 update.)
Old Kings Road Force Main 96 percent done:: February 11, 2016 night work with lane closure and tank trucking for the south end force main tie-in to the 12″ pipe from the South and the 12″ pipe from Town Center. The new
16″ force main and the 8″ old main were connected to the old Pump Station north of Lehigh Canal.
Island Walk Shopping Center Phase 2, 26 percent done: February 15, 2016 a 10″ core was made into the existing manhole for the sewer lateral for the 2 lots facing Palm Coast Parkway. (GoToby has a construction permitting progress report here.)


Road and Interstate Construction:
Forest Grove Drive connection to Palm Harbor Parkway to be closed starting Dec. 18: Effective Friday, Dec. 18, the City of Palm Coast will be closing the Forest Grove Drive connection to Palm Harbor Parkway. This road closure is required as part of construction operations for the Palm Harbor Parkway extension, which is currently under construction. Palm Harbor is being realigned and extended to connect directly with Matanzas Woods Parkway where it intersects with Old Kings Road. Message boards will be placed to advise motorists and other travelers of the upcoming change, and a public meeting has already been held for residents living in that area. Both the Palm Harbor extension and a separate extension of Old Kings Road are being built in preparation for the new Interstate 95 interchange to open next June at Matanzas Woods Parkway. As part of the projects, traffic patterns around Matanzas High School will be changing. One goal is to turn Forest Grove Drive back into a residential street as it was originally intended to be. The upcoming road closure of the Forest Grove Drive connection to Palm Harbor Parkway is part of that project. Forest Grove will be turned into a cul de sac on that end. Once the separate Old Kings Road extension is completed, in June 2016, the Forest Grove Drive access to the high school will be closed because it will no longer be needed. Instead, motorists and other travelers will get to Matanzas High School via the new signalized intersection at Matanzas Woods, Palm Harbor and Old Kings. For more information, please contact Palm Coast Communications Manager Cindi Lane at 386-986-3708 or [email protected]


Pavel Kolesnikov Performs the Magnificent Scarlatti Sonata in B Minor, L. 447, and the D Major, L. 465
Previous Codas: