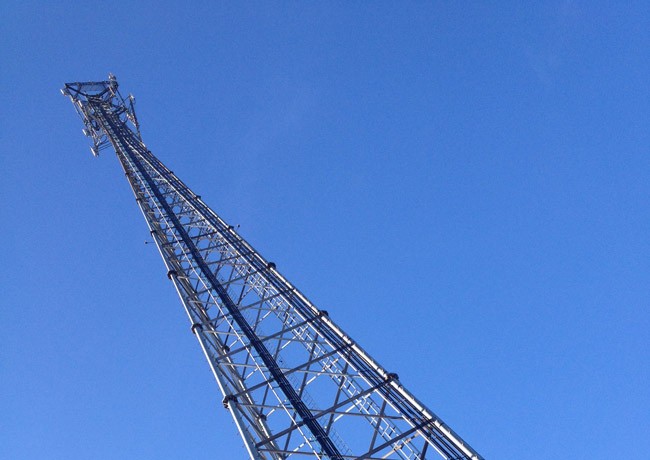 Today: Sunny. Highs in the mid 60s. North winds 10 to 15 mph. Tonight: Mostly clear. Lows in the upper 40s. Northeast winds 10 to 15 mph. Details here.
Today's fire danger is moderate. Flagler County's Drought Index is at 10.
Today's tides: at the beaches, at the Intracoastal Waterway.
Today's document from the National Archives.
The OED's Word of the Day: oneirocriticism, n..
The Live Community Calendar
Today's jail bookings.
Today's Briefing: Quick Links


Note: all government meetings noticed below are free and open to the public unless otherwise indicated. Many can be heard or seen live through each agency's website.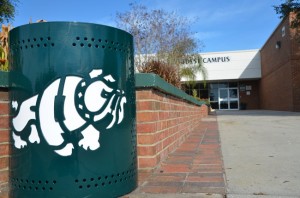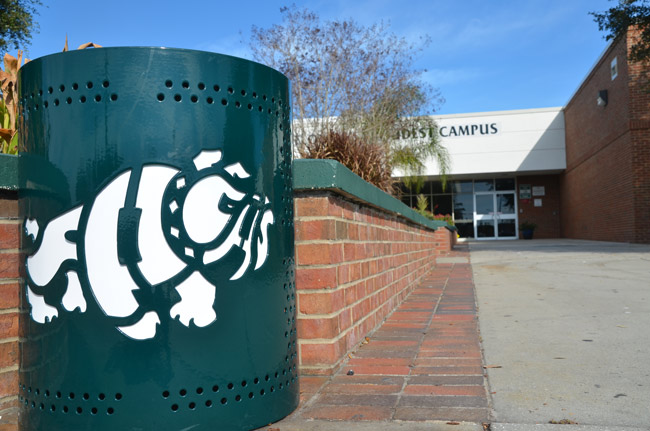 A Library Turns Into a Learning Commons: The LINK Team, a Community Problem Solving project that stands for Learning and Incorporating New Knowledge, invites you to the Grand Opening of the new Bulldog Learning Commons (formerly known as the Media Center) at Flagler Palm Coast High School. The team of Flagler Palm Coast High School students collaborated with administration to transition the media center into a learning commons. This is a modernized and synergistic work space that provides a wider range of services to students. Open House is from 10:30 a.m. to 1 p.m. Please drop in when it is convenient for you. Ribbon Cutting is at 11:30 a.m.
The Flagler County School District's Parent Advisory Committee meets at 6 p.m. in Room 3B (third floor) at the Government Services Council.
Indian Trails Middle's School Advisory Council meeting is at 5:30 p.m. in the school's library.
Michael Vickey's Dulcimer Concert: A free concert at the lively and fun Ocean Art Gallery in downtown Flagler Beach. Renowned Hammered and Appalachian Dulcimer music champion Michael Vickey will be performing traditional early American music, and some original compositions. Vickey is the current and a four-time State of Florida Old Time Music Hammered Dulcimer Champion. Please RSVP at here. (6 to 8 p.m., 206 Moody Blvd Flagler Beach.)


Updated jail bookings and day and night shift incident summary reports are available here.
Proposed emergency radio system upgrade may require 350-foot metal towers, including in Palm Coast: "Most of the current towers in the county are between 220 and 230 feet, according to Flagler County Public Safety Emergency Manager Kevin Guthrie, and they don't provide perfect coverage — especially in buildings," reports The Observer. The county has not informed the city that taller towers would be needed, which may case a problem.
Call The Question! School Board Moves to Demolish Old ITT Building in "Awkward" Vote: It got a little snippy at the end of the Flagler County School Board's discussion on the demolition of its old Corporate One building on Palm Coast Parkway Tuesday evening—snippy and improper, as School Board member Sue Dickinson cut off debate by "calling the question," as she (and she alone) has on various previous occasions, under the inaccurate assumption that she could do so under Robert's Rules of Order.
Sheriff Issues Warning of IRS Scams as "Hundreds" of Palm Coast Residents Report Fraud: By Wednesday, the head of the sheriff's dispatch center (or 911) was reporting "hundreds of calls" from residents complaining of IRS scammers.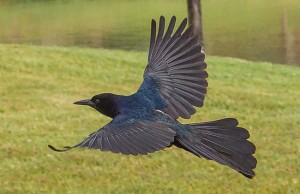 Drone, Pellet Gun and Protected Bird Mix Into Novel Confrontation in Palm Coast's C-Section: It was a matter of time before drones would go from rare curiosities to more frequent (and noisy) sights immediately overhead. Conflict could not be far behind. One such conflict developed on Palm Coast's Collingwood Lane last week between two neighbors who've had issues with each other for two years.
Florida Senators Reject Weakening State's Regulatory Power in Health Care Expansions: With hospitals, nursing homes and hospice providers lined up in opposition, a Senate panel Wednesday rejected a proposed overhaul the key regulatory process for new health-care facilities.
To School Officials' Surprise, NAACP Accuses District of 'Obstruction' and More Arbitrary Discipline: In a terse, six-page letter to School Superintendent Jacob Oliva, the president of the Flagler County Branch of the NAACP accuses the school district of "willfully, intentionally and arbitrarily" engaging in "an unlawful pattern" to keep parents from examining evidence behind the suspension of students from schools and buses and claims there's been an "increasing number" of such suspensions affecting black students. The letter also paints an alarming picture of conditions at Buddy Taylor Middle School, where students "are in the hallways running, yelling, traveling in mob groups" and insulting teachers.


Note: Most proceedings below can be followed live on the Florida Channel.

Computer coding as a foreign-language option: The Senate will hold a floor session and consider numerous issues, including a proposal (SB 468), filed by Sen. Jeremy Ring, D-Margate, that would require high schools to offer computer coding as a foreign-language option for students. Among the other bills is a proposal (SB 586), filed by Sen. Kelli Stargel, R-Lakeland, that would require hospitals to give notice to doctors 120 days before closing obstetrical departments. (9:30 a.m.)
The House is scheduled to hold a floor session at 1 p.m.
The Florida Elections Commission is scheduled to continue two days of meetings. (8:30 a.m., Florida State University, Turnbull Conference Center, 555 West Pensacola St., Tallahassee.)
The State Board of Education will meet and take up a series of issues, including student performance standards. (9 a.m., Cabinet meeting room, the Capitol.)
The Florida Supreme Court is expected to release its weekly opinions at 11 a.m.
–Compiled by the News Service of Florida and FlaglerLive


In Coming Days in Palm Coast and Flagler:
Click on the links for more details:


Click on the link for more details.


'Reports of Trump's imminent demise as a candidate are clearly and greatly exaggerated' Tim Malloy #Election2016 pic.twitter.com/0HpKvaL30r

— Quinnipiac Poll (@QuinnipiacPoll) February 17, 2016
"Where's the mercy? Where's the humanity? Where's the Security Council? Where's the Arab world? Where's Islam?" https://t.co/WVIUCobyrH

— New York Times Video (@nytvideo) February 17, 2016
Great learners are comfortable with being a beginner, over and over again. https://t.co/XRodrfouUH @erikaandersen pic.twitter.com/LYvxuEL6Kp

— Harvard Biz Review (@HarvardBiz) February 17, 2016
The Lure of Socialism https://t.co/2kqiWkZ6o9 pic.twitter.com/D1Yacn3Aab

— National Review (@NRO) February 17, 2016
Students, computers & learning: On #DLDay compare #students' digital skills across countries https://t.co/zlJ1UJFUY8 pic.twitter.com/Hygcavcg9z

— OECD (@OECD) February 17, 2016
Why this gravitational wave finding is such a huge deal https://t.co/vZCooWVo3K pic.twitter.com/uVkYqX6YRi

— CS Monitor (@csmonitor) February 17, 2016


Palm Coast Construction and Development Progress Reports
The following is an update of ongoing construction and development projects in Palm Coast, through Jan. 27:
Christ the King Evangelical Lutheran Church and School, 1 percent done: Located at 5625 North US Highway 1, the school received a Development Order for a new 13,794 sq. ft. early learning center to be located on the south side of their 8.6-acre site. The architecture of the new one-story building will be very similar to the existing church and school facilities that are located just north of the proposed new building.
Holland Park, 50 percent done: Grading and installation of sidewalks continues. Rough grading of Playground area. Restroom slab has been poured. Electrical conduit installation continues. Pavilion lighting being installed. Stormwater piping installation continues in Playground area.
County's I-95 Interchange Matanzas Woods Reclaim Water, 76 percent done: Retention ponds are being excavated and fill continues for the ramps. (Not in the Dec. 15 update.)
Palm Harbor Parkway Roadway Extension, 47 percent done: January 25, 2016 the new 10″ water main and 6″ force main
on the east end between the Conservatory and Old Kings Road were tied into existing mains on Forest Grove.
Colechester Bridge, 94 percent done: Sea walls have been completed and forming of the western abutment almost complete.
Palm Harbor Extension, 45 percent done: Met on site with contractor to discuss water and sewer testing and construction meter placement.
North Old Kings Road Extension to Matanzas Woods Parkway, 19 percent done: Asphalt was installed on the new section of roadway adjacent to the old roadway at the intersection of Old Kings Road and Forest Grove. (Not in the Dec. 4 update.)
Old Kings Road Force Main 90 percent done:: The contractor has tied the 8″ force main to the 16″ force main in front of the new Master Pump Station on South Old Kings Road. On January 13, 2016 the contractor installed a 16″ X 8″ wye and an 8″ valve in front of the existing lift station on Old Kings Road South. An 8″ wye and an 8″ 45 elbow fitting was installed to complete the connection from the existing 8″ force main to the new 16″ future force main.
Island Walk Shopping Center Phase 2, 25 percent done: A substantial walk thru for punch list was done January 22,
2016. Chlorination of new section of water main in Phase 2 was completed January 27, 2016.


Road and Interstate Construction:
Forest Grove Drive connection to Palm Harbor Parkway to be closed starting Dec. 18: Effective Friday, Dec. 18, the City of Palm Coast will be closing the Forest Grove Drive connection to Palm Harbor Parkway. This road closure is required as part of construction operations for the Palm Harbor Parkway extension, which is currently under construction. Palm Harbor is being realigned and extended to connect directly with Matanzas Woods Parkway where it intersects with Old Kings Road. Message boards will be placed to advise motorists and other travelers of the upcoming change, and a public meeting has already been held for residents living in that area. Both the Palm Harbor extension and a separate extension of Old Kings Road are being built in preparation for the new Interstate 95 interchange to open next June at Matanzas Woods Parkway. As part of the projects, traffic patterns around Matanzas High School will be changing. One goal is to turn Forest Grove Drive back into a residential street as it was originally intended to be. The upcoming road closure of the Forest Grove Drive connection to Palm Harbor Parkway is part of that project. Forest Grove will be turned into a cul de sac on that end. Once the separate Old Kings Road extension is completed, in June 2016, the Forest Grove Drive access to the high school will be closed because it will no longer be needed. Instead, motorists and other travelers will get to Matanzas High School via the new signalized intersection at Matanzas Woods, Palm Harbor and Old Kings. For more information, please contact Palm Coast Communications Manager Cindi Lane at 386-986-3708 or [email protected]


Liszt's Hungarian Rhapsody No.6, Performed by Martha Argerich (1966)
Previous Codas: