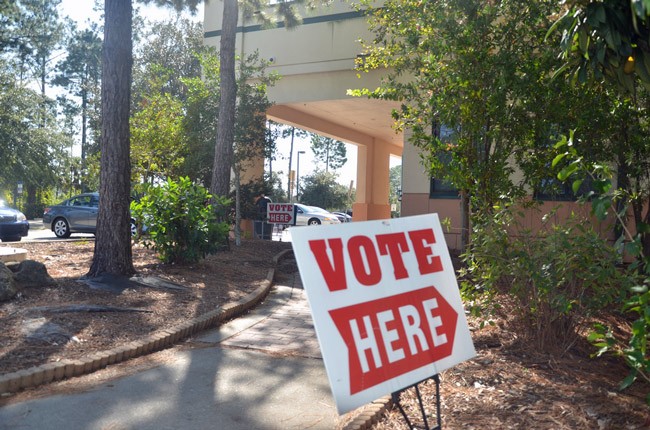 Today: Partly cloudy with a 30 percent chance of showers in the morning…then mostly sunny in the afternoon. Highs in the upper 70s. West winds 10 to 15 mph. Tonight: Cooler, clear. Lows in the upper 40s. West winds 5 to 10 mph. Details here.
Today's fire danger is moderate. Flagler County's Drought Index is at 25.
Today's tides: at the beaches, at the Intracoastal Waterway.
Today's document from the National Archives.
The OED's Word of the Day: uniterable, adj..
The Live Community Calendar
Today's jail bookings.
Today's Briefing: Quick Links


Note: all government meetings noticed below are free and open to the public unless otherwise indicated. Many can be heard or seen live through each agency's website.
Voters: The deadline to register is today. If you intend to cast a ballot in either the Republican or Democratic primary on March 15, you must register with either party. You may then change your registration immediately after the election, in time for the local August primary. Independents do not get to vote in either primaries, Florida being, alas, a closed state.

The Palm Coast City Council meets at 9 a.m. at Palm Coast City Hall in Town Center. The council is expected to approve the meager salary raise for council members it approved on first reading two weeks ago, as well as a resolution opposing fracking and offshore drilling. Of more importance to the public, council members are considering approving an amendment to its public participation ordinance, opening workshop meetings to such participation as long as comments are restricted to workshop items. Council mebners are also expected to approve

The Flagler County School Board meets in workshop at 5 p.m., when Flagler High School principal Dusty Sims will make a presentation on the joint county-school-board plan for a Fire-EMS academy, and Supervisor of Elections Kaiti Lenhart will announce the voter's guide cover design contest winner, and at 6 p.m., when the board is expected to consider approving a bid for the demolition of the old Corporate 1 building on Palm Coast Parkway.
Bunnell's planning board meets at 7 p.m. at Bunnell City Hall. It will consider one application, from Eastern Flooring Center, to be located at 1202 East Moody Boulevard.
The Flagler County Centennial Committee was scheduled to meet at 1:30 p.m. today, but that meeting has been cancelled.
The Sicilian Tenors at the Flagler Auditorium: The Sicilian Tenors takes your audience on a romantic journey from Hollywood to Broadway to Italy with favorites like "Be My Love," "O Sole Mio," and "Music of the Night." 7:30 p.m. Call 386-437-7547 or 866-352-4537 for tickets.
Services for Kevin Walsh: A memorial service for Kevin Walsh, one of the two victims of the vehicle-vs-pedestrian wreck in Palm Coast last week, will be held at Clymer Funeral Home on North Old Kings Road, past Staples, before the Italian American club, from 6 to 8 p.m.


Updated jail bookings and day and night shift incident summary reports are available here.
As Judge Calls Pot Laws "Harsh," Sheriff and Public Defender Will Propose De-Criminalization Ordinance:
At Florida Hospital Flagler, an Additional 32 Beds as Facility Grows Beyond Rural Stage: The $15 million addition will add 32 beds that will double the hospital's existing 16 so-called Progressive Care Unit beds. Progressive care beds are one step below Intensive Care Unit beds, a step above those "regular" hospital beds (or medical-surgical beds).

Florida Hospital Flagler groundbreaking for their expansion today! @FHFoundation @FlaglerHospital pic.twitter.com/L7NEQijNzW

— Cindy Dalecki (@CindyDalecki) February 15, 2016
Twitter Images and Gun Threats Cause Concern at Matanzas High School: Authorities at Matanzas High School became concerned last Thursday over postings on a 10th grader's Twitter page showing what appeared to be pistols and a semi-automatic rifle captioned by threats such as "ISIS Affiliated" and "High School Musical; Massacre edition."


Note: Most proceedings below can be followed live on the Florida Channel.

Blocking refugees: The House Justice Appropriations Subcommittee will take up a bill (HB 1095), filed by Rep. Lake Ray, R-Jacksonville, that could prevent at least some refugees and immigrants from entering the state. The bill, in part, would prevent state or local government agencies from taking part in resettlement efforts for refugees or immigrants from parts of the world where terrorists are known to originate or train. (9:30 a.m.)
Guns in airport terminals: The Senate Criminal Justice Committee will consider a proposal (SB 1500), filed by Sen. Wilton Simpson, R-Trilby, that would allow people with concealed-weapons licenses to carry firearms in airport terminals. People would continue to be barred from carrying weapons in what are known as airport "sterile areas," which are generally controlled by the federal Transportation Security Administration and include parts of airports where passengers board planes. (10 a.m.)
Small-business Saturday tax holiday: The Senate Finance and Tax Committee will take up a bill (SB 1236), filed by Sen. Rene Garcia, R-Hialeah, that would create a sales-tax "holiday" for small businesses on the Saturday after Thanksgiving, one of the busiest shopping times of the year. (10 a.m.)
Balanced billing: The Senate Banking and Insurance Committee will consider a proposal (SB 1442), filed by Sen. Rene Garcia, R-Hialeah, that would seek to shield patients from receiving unexpected bills for emergency care — an issue known as "balanced billing." Such bills can come when patients receive care from physicians or other providers who are outside of the patients' insurance networks. (1:30 p.m.)
Body cameras: The Senate Community Affairs Committee will take up a bill (SB 418), filed by Sen. Chris Smith, D-Fort Lauderdale, involving police agencies that decide to use body cameras. Under the bill, those agencies would be required to establish policies and procedures addressing the proper use, maintenance and storage of body cameras and recorded data. (1:30 p.m.)
–Compiled by the News Service of Florida and FlaglerLive


In Coming Days in Palm Coast and Flagler:
Click on the links for more details:
Feb. 19-21, Friday, Saturday and Sunday: "The Last Romance," at Palm Coast's City Repertory Theatre at City Marketplace.
Joe DiPietro's popular romantic comedy is a heartwarming comedy about the power of love. It follows the blossoming, late-in-life relationship between widower, Ralph, and an elegant, but distant widow, Carol whom he meets in a Hoboken dog park. Are Ralph and Carol ready to take a chance on love again? Even if they are, there's a danger that Ralph's sister, with whom he's lived for many years, may get in the way. CRT mainstays John and Sue Pope ​and newcomer Kathryn Weed, ​star in this Valentine's treat, which plays Friday through Sunday for two weekends. Performances take place at the company's jewel-box theater upstairs in City Marketplace at 160 Cypress Point Parkway, Palm Coast. Performances are Fridays and Saturdays, February 12, 13, 19 and 20 at 7:30 p.m., and Sundays, February 14 and 21 at 2 p.m. Tickets are $20.
Purchase your tickets easily online here
or call 386/585-9415.
Feb. 29: Flagler Youth Orchestra's Strings Around the World Concert, 7 p.m. at the Flagler Auditorium. Adult tickets, $6 and children 17 and under are $1. Visit the website.
April 2: Cheer at the Pier, a fund-raiser for the Flagler Beach Historical Museum, from 3 to 6 p.m. Call Virginia Giaramita for information at 386/299-8892.


Click on the link for more details.


I think #2 is the real argument here, and it's totally valid: https://t.co/gkuIyXWuTZ

— Ezra Klein (@ezraklein) February 16, 2016
Report: Saudis Using Banned, U.S.-Made Cluster Bombs in Yemen https://t.co/tf4kEHNXyc pic.twitter.com/kROsn3fHuc

— Democracy Now! (@democracynow) February 16, 2016
Families reunite at U.S.-Mexico border fence: "We touch hands, but it is like being in jail" https://t.co/2ZcIOStjAb pic.twitter.com/0kfRMcv7hd

— Los Angeles Times (@latimes) February 16, 2016
Unsettled questions– Freedom of Speech v. Civility via @thenation https://t.co/cFWTIrHVu1

— Katrina vandenHeuvel (@KatrinaNation) February 16, 2016
VIDEO: The EU: All you need to know https://t.co/TBKuCeplJY

— BBC News (World) (@BBCWorld) February 16, 2016


Palm Coast Construction and Development Progress Reports
The following is an update of ongoing construction and development projects in Palm Coast, through Jan. 27:
Christ the King Evangelical Lutheran Church and School, 1 percent done: Located at 5625 North US Highway 1, the school received a Development Order for a new 13,794 sq. ft. early learning center to be located on the south side of their 8.6-acre site. The architecture of the new one-story building will be very similar to the existing church and school facilities that are located just north of the proposed new building.
Holland Park, 50 percent done: Grading and installation of sidewalks continues. Rough grading of Playground area. Restroom slab has been poured. Electrical conduit installation continues. Pavilion lighting being installed. Stormwater piping installation continues in Playground area.
County's I-95 Interchange Matanzas Woods Reclaim Water, 76 percent done: Retention ponds are being excavated and fill continues for the ramps. (Not in the Dec. 15 update.)
Palm Harbor Parkway Roadway Extension, 47 percent done: January 25, 2016 the new 10″ water main and 6″ force main
on the east end between the Conservatory and Old Kings Road were tied into existing mains on Forest Grove.
Colechester Bridge, 94 percent done: Sea walls have been completed and forming of the western abutment almost complete.
Palm Harbor Extension, 45 percent done: Met on site with contractor to discuss water and sewer testing and construction meter placement.
North Old Kings Road Extension to Matanzas Woods Parkway, 19 percent done: Asphalt was installed on the new section of roadway adjacent to the old roadway at the intersection of Old Kings Road and Forest Grove. (Not in the Dec. 4 update.)
Old Kings Road Force Main 90 percent done:: The contractor has tied the 8″ force main to the 16″ force main in front of the new Master Pump Station on South Old Kings Road. On January 13, 2016 the contractor installed a 16″ X 8″ wye and an 8″ valve in front of the existing lift station on Old Kings Road South. An 8″ wye and an 8″ 45 elbow fitting was installed to complete the connection from the existing 8″ force main to the new 16″ future force main.
Island Walk Shopping Center Phase 2, 25 percent done: A substantial walk thru for punch list was done January 22,
2016. Chlorination of new section of water main in Phase 2 was completed January 27, 2016.


Road and Interstate Construction:
Forest Grove Drive connection to Palm Harbor Parkway to be closed starting Dec. 18: Effective Friday, Dec. 18, the City of Palm Coast will be closing the Forest Grove Drive connection to Palm Harbor Parkway. This road closure is required as part of construction operations for the Palm Harbor Parkway extension, which is currently under construction. Palm Harbor is being realigned and extended to connect directly with Matanzas Woods Parkway where it intersects with Old Kings Road. Message boards will be placed to advise motorists and other travelers of the upcoming change, and a public meeting has already been held for residents living in that area. Both the Palm Harbor extension and a separate extension of Old Kings Road are being built in preparation for the new Interstate 95 interchange to open next June at Matanzas Woods Parkway. As part of the projects, traffic patterns around Matanzas High School will be changing. One goal is to turn Forest Grove Drive back into a residential street as it was originally intended to be. The upcoming road closure of the Forest Grove Drive connection to Palm Harbor Parkway is part of that project. Forest Grove will be turned into a cul de sac on that end. Once the separate Old Kings Road extension is completed, in June 2016, the Forest Grove Drive access to the high school will be closed because it will no longer be needed. Instead, motorists and other travelers will get to Matanzas High School via the new signalized intersection at Matanzas Woods, Palm Harbor and Old Kings. For more information, please contact Palm Coast Communications Manager Cindi Lane at 386-986-3708 or [email protected]


Brahms's Piano Concerto No. 1, Hélène Grimaud, piano
Previous Codas: