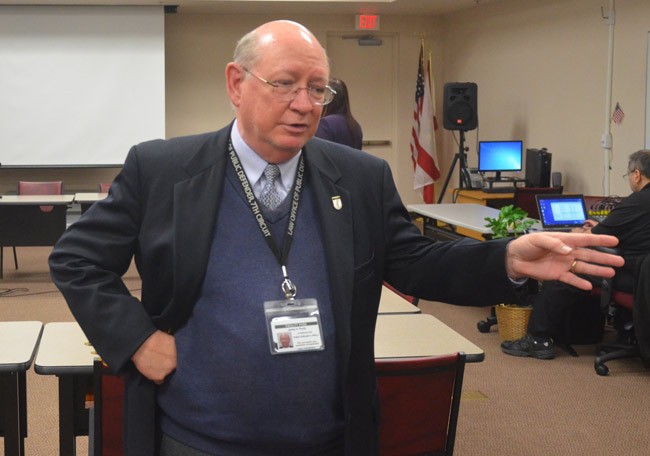 After he'd attended his last Public Safety Coordinating Council last week, and a few days shy of his retirement, Circuit Judge J. David Walsh spoke of marijuana laws candidly, describing them as "pretty harsh." He was discussing a proposal last month by Flagler County Sheriff Jim Manfre to de-criminalize pot possession in small amounts, which would keep offenders from having a criminal record or suffer other steep consequences, from losing their driver's license to n ot qualifying for mortgages down the road.
"I don't have the problem with the intent here, which is to try to avoid harsh punishment," Walsh said.
To that end, Manfre and Public Defender Jim Purdy, who also supports de-criminalization, will likely craft a proposal, possibly in the form of an ordinance based on those from three other counties that have de-criminalized pot possession in small amounts in Florida, and submit it to the Public Safety Coordinating Council to hash out. The council gathers top representatives from the judiciary, the prosecutor's office, the public defender's office, and all local law enforcement agencies under the chairmanship of a county commissioner (currently Barbara Revels) to discuss relevant local issues. The council has frequently been an incubator of ideas that turned into concrete action.
"I believe that the next step is to propose an ordinance that the county commission can consider, something that starts as a discussion point for the county commission," Manfre said. "So now we need to create something tangible so maybe we can start here at the public safety coordinating council, before we take it to the commission, and get this round table's input into it." Revels, Manfre said, "can then move it to the county commission."
Revels said she would support the approach, and addressed the matter at a Flagler County Commission meeting Monday evening. "Well, the sheriff is ready and Mr. Purdy, public defender, is ready, and state's attorney will show up whenever we';ve got something to show him," she told the county administrator by way of direction to get the issue moving through the commission.
County administrator Craig Coffey said he's awaiting "complete buy-in" from various participants and the outcome of legislation in Tallahassee before presenting a proposed ordinance to the commission for its buy-in.
State Attorney R.J. Larizza said last month in an interview that he favors making penalties for pot possession less harsh, but that he'd want to see an actual proposal first before endorsing it.
Purdy, the public defender, spoke at length for the first time about such a proposal in an interview, elaborating on consequences of criminal convictions that are currently in place, and that few people who aren't prosecuted are aware of.
---
Broad agreement on the purpose behind de-criminalization, but no concrete proposal yet.
---
"I would like to see the decriminalization of small amounts of marijuana," Purdy said, preferring instead a civil citation program. "There's so many bad things that happen to people in the justice system when they have a criminal charge, particularly a misdemeanor marijuana charge. They're going to end up losing their driver's license for two years, they have to pay for the cost of prosecution on their case, they have to pay for the application fee for a public defender and the attorney's fee for a public defender, they have to pay for any treatment they're required to go through, they have to pay court costs, and a lot of times the court costs will be reduced for people that are poor and have a public defender, will be reduced down to a civil judgment, and they never end up paying it. The problem that occurs is that if they are young and have a future ahead of them, five years or 10 years from now when they have a good job and they want to have a house, that civil judgment may prevent them from ever getting anywhere. It'll prevent them from getting good credit, it'll prevent them possibly from getting a mortgage, they may have to go back and pay it off with interest, I think it's 10 percent now per year. It can snowball on them. Any time you've got these types of sanctions that can be resolved without the need for doing it criminally, I'd favor it, and it would reduce our case-load."
Manfre said the de-criminalization would lift a burden on defendants and on law enforcement, as it would reduce the need for deputies to
book individuals at the Flagler County jail, a laborious and time-consuming process. Instead, individuals may be cited and deputies can more swiftly return to patrolling. The approach would also lessen the jail population.
To Purdy, the approach would be especially beneficial to individuals. "I don't think it's so much a burden on the system as it is a burden on the defendant," the public defender said. "It's probably 10 to 20 percent of the case-load."
Judge Walsh echoed the same concern, but with a caveat. Walsh, who's presided over Drug Court for many years, doesn't want to see de-criminalization as a way to make drug use less objectionable.
"I certainly appreciate the criminal justice side, the expense it takes to try, prosecute and defend all these cases involving small amounts of marijuana," Walsh said. "In a general sense I would say, from my experience, especially in our drug program, most of the people in my drug courts have all begun with marijuana. So when you have a kid beginning to use marijuana at 14, 15 years of age, it's not unusual to have them progress to worse drugs. The idea that you decriminalize it, I think it's the term you're using, it almost conveys to the kids that well, this is just like tobacco, even though it's greater carcinogens, it can kill you from that standpoint and many more differences. So I think we have to be careful in how we phrase this. If it's being handled in a non-criminal way, we want to avoid using terms such as, 'it's not that serious.' It is serious, because you're talking about—especially with young people—something that's changing their whole lives if they progress to these prescription medications." Walsh also cited the current increase in heroin use across the country.
Walsh said he is supportive of keeping individuals from having a criminal conviction, noting that prosecutors and public defenders often try to do just that with defendants. "But again I get back to the point: there has to be some consequence if the idea is to change behavior," Walsh said. "To try to ensure people avoid the use of these things, they have to understand there's a consequence to it."