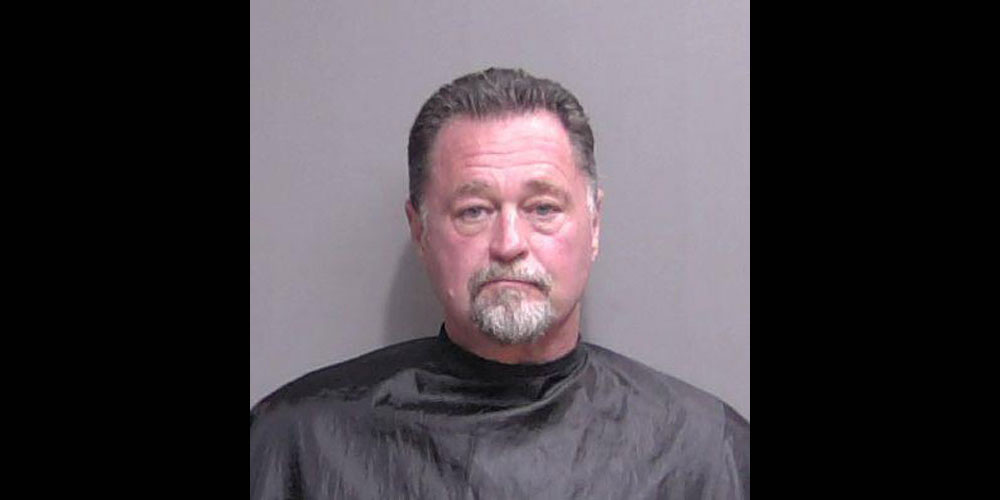 William S. McClean, a 56-year-old resident of Crain Court in Palm Coast, was charged with operating a boat under the influence of alcohol, a second degree felony, in the boating death of Thomas d'Aquila last July on the Intracoastal Waterway.
McClean was charged with boating under the influence causing a death and was booked at the Flagler County jail on $50,000 bond last week, on a St. Johns County warrant. He posted bail and was released.
The crash took place around 4:35 p.m. on July 2, 2022, a Saturday, between the Intracoastal's channel markers 82 and 83, about three-quarters of a mile south of the Matanzas inlet, in St. Johns County. So the case will be tried in St. Johns. Williams is to be arraigned before Circuit Judge R. Lee Smith on April 3.
McClean was piloting the 2020, 32-foot Glasstream Marine boat owned by his wife, Michelle, according to court filings.  D'Aquila and his wife, Kimberly Moore, were aboard the boat, as was Gary Lane. All lived in Palm Coast.  
McClean and his wife are also defendants in a wrongful death-negligence civil lawsuit filed by Moore, the mother of three minor children. The civil suit seeks damages in excess of $75,000.




William McClean, the suit states, "negligently, recklessly, and/or or in the reckless disregard for the safety of others, operated or maintained the McClean boat such that it crashed into, and launched up upon, Rattlesnake Island in St. Johns County, Florida — with such force that Thomas Daquila was ejected and killed, and Kimberly Moore suffered significant personal, bodily, and emotional injuries."
The suit goes on: "Thomas Daquila suffered severe and fatal injuries, and was pronounced dead at the scene after he was found by his wife, Kimberly Moore, lying in a pool of his own blood on Rattlesnake Island, where Kim tried in vain to save her husband by giving him mouth to mouth resuscitation."
McClean's arrest report was filed by a Florida Fish and Wildlife Conservation investigator. (Fish and Wildlife is a state police agency with arrest powers.) The report states that McClean was piloting the boat south when it crossed another vessel's wake and McClean lost control of the Glasstream. The boat then "exited the channel into shallow water and traveled parallel with the shoreline colliding with mangrove trees, ultimately running hard aground on Rattlesnake Island."
McClean, d'Aquila and Lane were ejected before the boat ran aground. D'Aquila was pronounced deceased at the scene. McClean and Lane sustained injuries and were taken to Halifax hospital in Daytona Beach. Moore and Michelle McClean "were not ejected and denied medical treatment at the scene," the report states.




The investigation found probable cause to charge McClean based on statements by the surviving passengers, all of whom placed him as the pilot–as did McClean himself. D'Aquila was sitting in the right center console seat next to William McClean. The investigator had been at the scene of the crash before McClean was transported by ambulance to the hospital, and had sat within a foot of him in the ambulance, speaking with him briefly. "I could smell the odor of an alcoholic beverage emanating from his breath indicating signs of impairment," the investigator reported.
Complying with a warrant, Halifax hospital personnel took a blood sample from McClean at 9:38 that night, or five hours after the crash. Analyzed at a Florida Department of Law Enforcement lab, the sample produced a blood-alcohol level of 0.039 per 100 milliliters. The report states that the body metabolizes alcohol at the rate of 0.015 percent per hour. The investigator determined that Williams's "blood alcohol level was approximately 0.114" at the time of the crash. The legal limit is 0.08.
Halifax personnel had also drawn blood about two hours after McClean arrived at the hospital. FWC formally requested that the blood be preserved. A warrant was obtained for that sample, too. It was analyzed, and produced a blood alcohol content of 0.107. The investigation indicates McClean's blood also contained oxycodone.
"Due to alcohol impairment, William McClean's judgment and reaction time were impaired and contributed to the boating incident," the arrest report states. It goes on to note that GPS data extracted from the boat showed it to have been traveling between 34 and 64 miles per hour, and was traveling at 61 miles per hour when it existed the channel and struck the mud bottom.




"Based on my factual findings, it is evident William McClan did not operate his vessel at a safe speed in violation of Navigation Rule 6," the report states.  The report notes that there had been a rainstorm, following which a line of boats had left the sandbar near where McClean was piloting the boat. "William McClean's speed of 64 mph in a congested traffic area constitutes careless operation as that speed was not reasonable and prudent and endangered the life of another. His careless operation in relation to his speed directly contributed to the boating incident."
The maximum penalty for a second-degree felony is 15 years in prison on conviction. But individuals with clean records until then are very unlikely to come close to that level of punishment. Typically, those facing such a charge plead out. However, under Florida law, a conviction for drunk driving or drunk boating involving a death carries a minimum mandatory prison sentence of four years, even in a plea. While plea deals have at times led to some "downward departure" from that minimum, eliminating prison time is unlikely, if the individual is convicted.
Reader Interactions