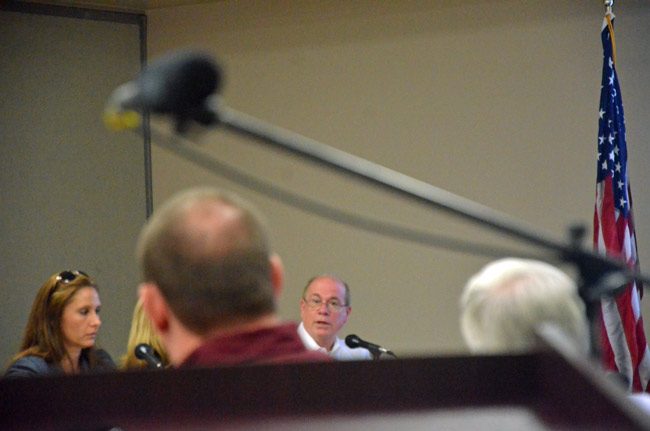 The 7-5 vote of the Public Safety Coordinating Council this morning finally approved a proposed county ordinance that would in some cases de-criminalize the possession of small amounts of pot. Cops would have the discretion to issue a civil citation like a traffic ticket instead. The vote culminates months of discussions about a proposal initiated by Flagler County Sheriff Jim Manfre in January and since ushered through the council by Barbara Revels, the county commissioner who chairs the council.
But the vote reflected deep divisions in the county over the proposal and the many obstacles it faces before having the force of law. Its chances to make it that far appear increasingly slim even though one of the votes in favor today was that of Jason Lewis, representing the State Attorney's Office. He joined Manfre after spending the last few months more critically recrafting the proposal and eliminating from it any chance of expanding the civil citation program to other lesser crimes.
Today's vote is advisory only. It pulls the proposal out of the safety council and sends it to the county commission and Flagler's five municipal governments for their vote. For the ordinance to be effective, Revels has told council members—just as she told the Bunnell City Commission Monday evening—cities must opt into the system. If not, the ordinance would not be in effect within their borders, diluting its reach. Bunnell's police chief and city manager so far have been opposed, Flagler Beach's police chief has not been enthusiastic about it, and two Palm Coast City Council members have vehemently voiced opposition to the ordinance, though one of them is resigning Monday.
The county commission has yet to have a discussion about it, but at one member—Charlie Ericksen—has come out in opposition. Revels is clearly in favor. That'll leave it to Commissioners George Hanns and Nate McLaughlin to decide.
At least the proposed ordinance now has the endorsement of the Public Safety Coordinating Council, a collection of the county's police, judicial, social service and other government agencies—however divided that endorsement.
---
A divided vote reflects a divided county on going easy over pot.
---
"The division shows that it's still an issue that's got more work to do. We'll see how it transpires," Revels said.
Manfre said it should still be a county priority to lobby the Legislature to win a statewide adult citation program, which has more support even from council members. If the juvenile citation program works, he said, it can work for adults.
"It's going to come up again, I've been reading a lot of the literature, there's a lot of frustration," Manfre said of a statewide bill in the Legislature, making it incumbent on Flagler's officials "to make sure it's fashioned the way it makes sense."
But Revels cautioned against a statewide system, which she said could be imposed on counties without taking heed of local differences.
David Kerr, representing the Department of Juvenile Justice, voted against, as did Bunnell Police Chief Tom Foster, the Department of Corrections' Tammi Schimming, Karen Lloyd, the director of operations for judicial corrections services, and Greg Feldman, an at-large member of the panel. Kerr was not entirely opposed. He initially sought to abstain to reflect his conflicted reaction to the proposal, but abstaining was not an option unless he had a direct conflict (as was the case with Judge Melissa Moore-Stens, who abstained because she would be ruling on cases resulting from the ordinance). So he voted no, principally because he was displeased with the lack of consequences for those who don't pay the $250 fine.
Feldman was not opposed to the proposal because he's opposed to it in principle, but because he doesn't think it goes far enough in addressing the causes that lead people to smoke pot.
"We're going to encounter people who aren't necessarily doing this for the first time. It's maybe the first time they got caught. And I think we're saying you know what? Write us a check and we'll forgive you. I think it needs to go farther than that. I think it needs to address any underlying causes. I'm not worried about medical marijuana. I think that's a wonderful thing. I'm worried about person Number One, the kid who's been smoking it way out through high school and into college and now, for the first time they did something stupid and got caught. We need to address that." He points to an American Bar Association quote he had in his paperwork: "Oftentimes first-time adult offenders are in need of rehabilitation and treatment, not a conviction and incarceration." The ordinance, he said, averts harsh punishment but fails to provide for treatment.
Revels, who's historically favored treatment programs, had called the proposal a baby step to a larger goal. Revels is also an incremental pragmatist: getting this far was hard enough (Feldman joined the panel only last month). She wants a proposal solidified in the form of an ordinance and municipal buy-in before moving on to other components such as treatment.
Monday evening at the Bunnell City Commission, when the ordinance was discussed for the first time (after Foster and Dan Davis, the city manager, forcefully spoke against it) Bill Baxley, one of the commissioners, hinted at what may be the preferred refrain of city governments from now until November: with the possibility of a new sheriff in November, why vote now?
Revels, however, didn't give that approach much creed. "I don't know how my county commission is going to vote because I haven't been able to discuss it with them," revels told Baxley and the rest of the commission. "I have been taking this forward at the same time the sheriff was interested in doing it. There are other communities that have done it that I have studied that have done a really good job with it, and it's helped a few people out. Can it be abused? Yes. But if the sheriff is not reelected, I don't intend to drop it, unless the county votes it down, unless other cities all vote against it, then it's kind of a moot point. But if another sheriff comes to town and is elected, they can sit with their officers and decide if they want to employ the ordinance in some areas or in some cases. Again, it's all officer-driven."
Revels, too, of course, is facing re-election in November.


How the vote broke down:
For the proposed ordinance: Barbara Revels, Jacob Bryant (for Ivan Cosimi), Robin King, Jason Lewis, Jim Manfre, Bill Patrington (for Public Defender Jim Purdy, who was away), and Becky Quintieri.
Against: David Kerr, Tom Foster, Tammi Schimming, Karen Lloyd, and Greg Feldman.
The proposed civil citation ordinance and FAQ about it:
<![if !IE]><![endif]>