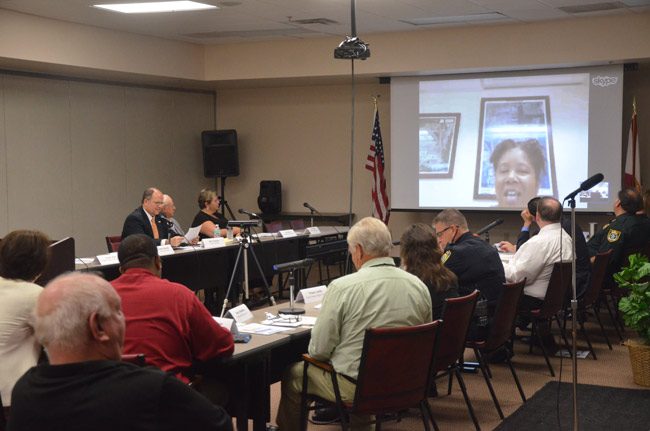 Government meetings are rarely as anticipated as this morning's gathering of the Public Safety Coordinating Council. The normally routine and unremarkable meeting of law enforcement, judicial and social agencies drew two judges, elected and administrative representatives of every city in the county (except Marineland), and the regulars from various agencies. The reason: pot decriminalization.
Before you lunge in joy for doobies, the meeting didn't settle the issue: it's the biggest step Flagler has taken toward possibly decriminalizing pot possession, and a draft ordinance is circulating to make that possible. But the county isn't there yet. Judging from today's discussion, while there's general agreement to decriminalize in principle, there's little agreement on how and to what extent to decriminalize in fact. The meeting raised more questions than it answered, especially after a lengthy presentation via Skype by Bertha Henry, the Broward County administrator, where a decriminalization ordinance passed last November.
"What we heard today," Mayor Jon Netts, who attended the two-hour meeting, said, "is that Broward County jumped in with both feet and had not given it sufficient thought. This requires a tremendous amount of understanding of implications. The law of unintended consequences, which is always my theme. Conceptually it's a great idea. I don't believe marijuana is a gateway drug. I disagree with Jack on that one." (Jack Carrall, a citizen who addressed the council and a former narcotics police officer, made the gateway drug argument.) "Alcohol is a gateway drug, and it never took me any further."
While Leon, Miami-Dade, Broward and Volusia counties have all passed decriminalization ordinances, Circuit Judge Matthew Foxman told the council that no matter what Flagler does, "if you're going to do it, it's an inherently local decision, meaning you decide what this community wants, and you do it. I think there are great comments for it or against it. It's not my place to say because I'm going to inherit it one way or another in the courthouse, one way or another, but the point is you really shouldn't look to others other than maybe they've got good policies or good written programs if that's what you're going to do." Foxman, too, gave little weight to the gateway-drug notion, calling it "an antiquated notion," based on his drug-court experience.
Today's council meeting was not intended to answer all questions, let alone reach a consensus on putting forth an ordinance the county commission could approve. At most, it was designed to more formally start the discussion toward such an ordinance, and, most importantly, get agreement from all the county's major public agencies that the exercise would not be a waste of time. It won't be. The State Attorney's Office, the Public Defender, local cities and the county and of course the sheriff are all in at least general agreement that decriminalization may be a good idea, if done right. The next step is the more detailed drafting of such a plan. That begins next week, May 17, with a working group meeting of public safety council members.
Sheriff Jim Manfre in January proposed decriminalizing minor pot possession in Flagler County. His principal aims are to reduce the time deputies must devote to minor infractions while giving first-time offenders a chance not to have a court record. The difference between an arrest and a civil citation is an hour, he said: 85 minutes for an arrest, 24 minutes for a civil citation. "For a county growing rapidly, without ability to add personnel due to economic difficulties, this is a godsend," Manfre said. "It also has downstream effects to the criminal justice system and also the inmate facility, dramatically reducing incarceration rates."
Until today, almost every top official interviewed about decriminalization—including State Attorney R.J. Larizza, Public Defender Jim Purdy, elected city and county officials—have termed themselves open at least to discussing decriminalization, and interested in lessening the burdens of criminal records on first-time offenders because of minor pot possession. Such burdens can result in loss of jobs or qualification for social services, loans and other benefits, and lifetime stigma.
---
A work in progress that requires a lot more work before it's law.
---
For any decriminalization system to work—and absent a state law that would decriminalize possession–­­the county commission would have to implement an ordinance that gives law enforcement agencies the option, or discretion, to write citations to individuals instead of arrest them. Even if the Flagler County Commission were to adopt such an ordinance, the county's cities would have to do likewise to be part of the same system.
"It is still illegal, but what we chose to do, decriminalize it, it is just analogous to a traffic infraction. In this instance our law enforcement officers are acting pretty much like code enforcement officers, we treat it as a code enforcement violation." There's no criminal record until the person doesn't follow through with the civil citation. But individuals have three chances to mess up before criminal procedures begin, with finds getting stiffer each time. Jailing people for misdemeanor pot possessions "didn't make economic sense" in a system that spends $120 a day to house an inmate, Henry said.
But she acknowledged that Broward went about adopting the ordinance too quickly. "It turns out it wasn't that simple," Henry said, as the public hearings revealed. Not that there were surprises: most residents considered decriminalization proper and overdue, some considered it an invitation to legalization. It was a reflection of the national debate, whenever decriminalization is considered. The Broward commission eventually became comfortable with a system that decriminalized first and second instances of possession, but kicked in more serious consequences, such as community service, after a third possession. It created a database to keep track of offenders, and partnered with a community service non­-profit with whom repeat "offenders" are required to log a few hours. "You don't have a record and you get to do something really nice for your community at the same time," Henry said. The Broward system also assesses repeat offenders to figure out if they're addicts, then to steer them to the proper services.
In Borward, the county commission adopted the ordinance without giving law enforcement agencies enough time for input. There were hurt feelings and some anger among law enforcement who felt they were being forced to do something in which they had no opportunity to weigh in, Henry said, cautioning Flagler officials to be more inclusive. Broward has 31 cities, several of which opted out.
"The information we just got was I think extremely interesting to see a work in progress," Barbara Revels, the county commission chairman who also chairs the safety council, said at the end of the discussion. She had the county administration prepare a draft ordinance that was distributed to council participants. The ordinance is restricted to pot decriminalization.
The morning's strongest voice against the proposal was Tom Foster, Bunnell's police chief, though even he is not opposed to decriminalization, strictly speaking. "It looked like the cart is before the horse on that one," he said, referring to the draft ordinance, which the county administration stressed was merely a first draft. Foster, for example, said he would favor lowering the simple-possession threshold from 20 grams top seven grams, since 20 grams could produce some 30 joints, he said. He would also limit the civil citation allowance to a single infraction, not two or three. Jason Lewis, the assistant state attorney who spoke for R.J. Larizza, said the state attorney's office would oppose any ordinance that would extend the civil citation program to other misdemeanors, such as battery or anything where a victim is involved. He and Manfre got into a tiff for several minutes on that score. But Lewis said the office was not opposed to decriminalization on more restricted grounds.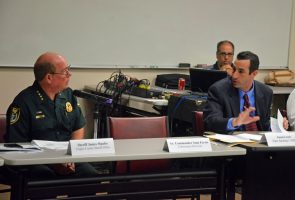 "With all due respect to the sheriff I don't think we're in agreement with civil citations for any crimes that involve victims," Lewis said.
Manfre said extending the civil citation program to minor misdemeanors would be similar to the much-used civil citation program for juveniles. But it was clear from the meeting that the approach might not win broader support than just for pot.
Bill Partington, speaking for the public defender, said the juvenile civil citation program works and could be a good model for adults,m too. "It does seem as you look statewide that many governmental entities are moving in this direction. At some point I would think that the Florida Legislature would have to recognize that," he said. "In the meantime, I think it's a forward-looking and progressive action on the part of Flagler County."
In attendance were Circuit Judge Matthew Foxman, County Judge Melissa Moore Stens (Stens is usually at these meetings), Palm Coast Mayor Jon Netts, council member Jason DeLorenzo, Bunnell Mayor Catherine Robinson, Bunnell City Manager Dan Davis, Bunnell Police Chief Tom Foster (who attends every public safety council meeting), Flagler Beach Commissioner Marshall Shupe, Flagler Beach City Manager Larry Newsom, and of course Manfre, who is at every council meeting.
Newsom and Shupe agreed that the issue must be determined locally. Newsome favored the approach "any time you can take somebody that may be a first time offender and not ruin their record, potentially that they won't be a long-time criminal." But he also agreed with the state attorney's office: if the crime is not victimless, "it should be looked at differently."


The draft ordinance on pot decriminalization.