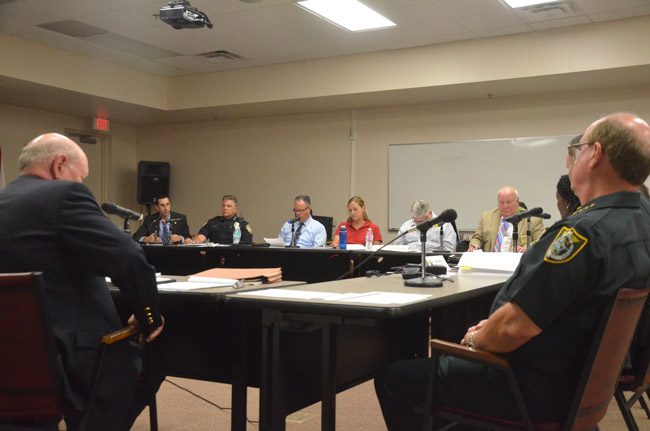 A powerful work group gathering many of the county's top government and law enforcement authorities or their representatives on Tuesday had more questions and doubts about than endorsements for a proposal to decriminalize possession of small amounts of pot.
The proposal, suggested by Sheriff Jim Manfre in January, is to issue traffic-ticket-like civil citations to first-time offenders caught with pot, rather than shunt them through the criminal justice system, where they would be saddled with a record and lose their chance to work certain jobs, get certain loans and other benefits. Manfre wanted the civil citation program to apply to other minor crimes, too. If the county were to pass such an ordinance, every city in the county would have to do likewise for the proposal to apply uniformly.
But Bunnell may choose to opt out. Flagler Beach's police chief is not enthusiastic. Palm Coast's mayor thinks the state should address the issue, not a patchwork of local governments, though he would also favor a narrowly defined ordinance for some decriminalization. The state attorney's office isn't interested in anything beyond civil citations for pot. And the public defender, one of the strongest proponents of decriminalization, isn't sure anymore whether such an ordinance would be legal, though Volusia, Broward, Miami-Dade and Leon counties have all adopted one.
"Is this even a legal ordinance that these other counties have passed, or is it just something the Legislature has done a wink and a nod and nobody has asked about," Public Defender Jim Purdy said. "I'm sorry to be the one to open up that can of worms."
"I'm not sure whether we have a consensus of this group that there should be an ordinance move forward," Barbara Revels, the county commissioner who chaired today's work group, said.
For all that, a proposal that could eventually move forward is still in the works. It did not die Tuesday. It will be drafted in the next few weeks, chiefly by Deputy County Administrator Sally Sherman and Assistant State Attorney Jason Lewis, with County Attorney Al Hadeed's review, and submitted to the Public Safety Coordinating Council for an up-or-down vote at the council's June 8 meeting. Many members of that council sat around the work group's table this afternoon at the Emergency Operations Center's main conference room. The proposal will then go to the county commission and will be shopped around to the counties' cities for their elected officials to weigh in. Only then will the county hold public hearings and either approve or reject the proposal.
Bunnell City Manager Dan Davis had said the city was opposed to the original proposal in part because a 20-gram allowance for pot before criminal measures kicked in was too high. So the group agreed to lower the threshold to 10 grams. Lewis, speaking for the State Attorney's office, was adamantly opposed to expanding the civil citation approach beyond pot, with maybe a few exceptions if other minor crimes don't involve victims.
---
Questions about the need, legality and breadth of de-criminalizing some pot possession.
---
Richard Blaine, representing the Clerk of Court, and Matt Doughney, the Flagler Beach police chief, questioned whether marijuana arrests constitute a serious enough problem to warrant a change in local ordinances. Blaine said there was a total of 88 arrests last year for marijuana countywide, nine of them in Bunnell, just seven in Flagler Beach.
"To me there doesn't seem to be the need" for a local ordinance, Blaine said. Doughney agreed, saying that while an individual in Flagler Beach could face an arrest affidavit without being taken to jail, it's up to the State Attorney's office to decide whether to make the charges stick or to drop them. If the charges are dropped, the case is closed.
True, Manfre said, but that still leaves the individual with an arrest record. That's what this ordinance is attempting to clean up without forcing the individual to go through the criminal justice system and the laborious and costly process of expunging a record, which can take up to two years, and can be done only once.
Blaine suggested that a small tweak in state law could achieve both goals. Individuals could still face arrest, but if the case is dropped, the law could be changed to enable the clerk of court to keep the record sealed. Most, if not all, those around the table favored the approach, understanding that any attempt to change the law would be a long shot.
There was consensus on few matters, but this one was clear: no one favors giving pot offenders more than one chance, at least within a given period. One proposal to limit one such allowance per year was ridiculed as being too permissive, but there wasn't another one to replace it. And there was no answer when Doughney, the Flagler Beach police chief, asked how local cops would know whether an individual would have had a civil citation in another county. So while the group was opposed to giving individuals more than one chance, it left it unclear how someone who commits the same infraction twice within five years, for example, would be treated.
Plus, the whole system, which would be administered by the county or the clerk of court, would have to be solidly documented. "It doesn't sound like if we're going to do something like this, it's going to be free," Revels said.
Unlike last week's meeting of the Public Safety Coordinating Council, where Manfre and Lewis had serious disagreements, today's meeting, with both men at opposite ends of the table arrangements, were more deferential to each other's ideas, though by then it was clear that Lewis's approach would prevail.
Manfre was disappointed by today's dampening outcome but still optimistic.
"I think there's an opportunity for everyone to express themselves and hopefully we can still get some consensus. I'm still optimistic that we can work our way through this and come up with something even as a trial ordinance to see if it works, and put in all the infrastructure, if we decide to expand it later on. Maybe the way it looks, obviously I have a larger vision, some people have less of one. But this is what government is, it's working through your agreements and disagreements and trying to find something that works for everybody."
The meeting included attendance by the Flagler Beach and Palm Coast mayors, The Flagler Beach and Bunnell police chiefs, the Bunnell city manager, the sheriff, the public defender, the clerk of court, and representatives from the state attorney's office, court administration and the county commission.