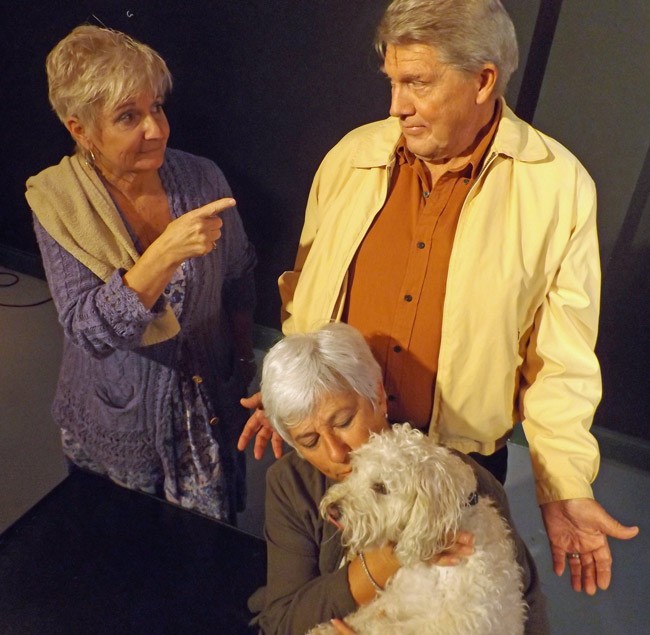 To easily buy tickets for "The Last Romance," go here.
Sue and John Pope face a challenge in City Repertory Theatre's new production, "The Last Romance," which opens tonight (Feb. 12): the Palm Coast couple will have to act like they don't love each other.
In City Rep's That could be a tough assignment.
"We met on stage 31 years ago in Daytona," Sue Pope says. "Over the years we got to know each other and grew to love each other."
Now married for 16 years, the couple have "been on stage together probably 30 to 40 times," Sue says.
In "The Last Romance," a 2008 romantic comedy by Joe DiPietro, John portrays Ralph, an 80-year-old widower who forfeited his dream of becoming an opera singer in order to earn a mundane living. He lives with his nag-prone, possessive sister Rose, played by Kathryn Weed.
Sue portrays Carol, a widow. One day at a dog park, Ralph meets Carol. Ralph's long-dormant passions are aroused. Carol is reticent and resistant. Rose becomes jealous . . . and Ralph's unexpected, newfound shot at love may evaporate just like his opera dreams.
John notes wryly that, of the three dozen or so plays he and Sue have performed together, "usually they'll give her another husband and they'll give me another wife. I don't know why."
"We just don't have that relationship thing," Sue says, her impish smile revealing her tongue firmly in cheek.
These days the couple don't often have the chance to portray the "relationship thing" on stage – a situation that recalls the hubbub surrounding the 1979 play "On Golden Pond."
When Sue met John in 1984, she was a stock broker, a vice president with Charles Schwab. He was a business professor with a doctorate from the University of California at Berkeley. He'd taught at Princeton before taking over the business department at Embry-Riddle Aeronautical University in Daytona Beach.
When Schwab began to transfer Sue to different offices around Florida, John happily agreed to follow, landing posts at universities wherever Sue's career led them. The couple continued to pursue their passion for theater, working with "a number of different directors, a number of different theaters," Sue says.
Sue retired when they moved to Jacksonville, where John had landed a position with Jacksonville University. That meant Sue could take free classes at the school and, having never attended college, she decided to get her degree.
"John of course thought I'd go back willingly and anxiously into business," Sue says. "But I went into theater (laughs). I got a BA in theater in 2009."
Thus arose a dynamic, if not a dilemma, that continues to confront the Popes and other . . . veteran . . . er, mature . . . er, OK, older actors, whether in community theater, professional theater or film.
"While I was the oldest living teacher, she was the oldest living student on the other side of the campus," John says.
"Which caused quite a problem because I had to be in the productions," Sue adds. That problem: Most roles in many plays frankly call for younger performers.
Call it the On Golden Pond Syndrome, in reference to Ernest Thompson's 1979 Broadway play that became a 1981 film starring septuagenarians Henry Fonda and Katharine Hepburn. The film spurred much discussion about leading roles for older actors – or, rather, the scarcity of leading roles for older actors. Especially the lack of leading romantic roles. (In fact, Fonda's actress-daughter Jane bought the rights to Thompson's play specifically to offer the film role to her father.)
At City Repertory Theatre:
---
"All in the Timing" by David Ives, directed by Beau Wade, at City Repertory Theatre. CRT will stage "All in the Timing" at 7:30 p.m. Thursday June 17, Friday June 18 and Saturday June 19, and at 3 p.m. Sunday June 20. Performances will be in the black box theater inside Flagler Auditorium, 5500 S.R. 100, Palm Coast (at Flagler-Palm Coast High School). General admission tickets are $20, students $15, and are available by calling 386-585-9415, or going online at crtpalmcoast.com or Eventbrite.  Audiences will be socially distanced and are asked to wear masks.





Click On:
---
City Rep director John Sbordone demurs, not wholly putting stock in the On Golden Pond Syndrome. He notes that last season City Rep staged "Grace and Glorie," Tom Ziegler's play about a feisty 90-year-old cancer patient and her volunteer hospice worker. He notes that City Rep readily casts performers in their 50s and older in roles that call for 40-somethings, as was the case with the company's recent production of "God of Carnage."
"So there are plays that treat mature adults like mature adults," Sbordone says. "And they are readily available to us."
But John Pope notes the road can be rocky for older performers looking to land romantic leads.
"The thing we all experience as actors, if you grow up in the theater which I basically did, you always want to play the romantic lead," Pope says. "At some point in your life, you walk in and say, 'I'm here to play the lead in this play!' and they say . . . ."
"Look in the mirror!" Sue Pope interjects gleefully.
"They say, 'You're about 20 years too old,' " John Pope adds with a laugh
But there is a compensation for older performers.
"As you mature – we use that word – you find out the character roles are actually more fun than the leads," John Pope says. "But you don't know that when you're young and you don't know that as you're going through this process. It's typical of most plays that the older actors are not lead roles but are major supporting roles. And actors have to adjust to that. But there are roles out there."
Ironically, the elderly role of Ralph in "The Last Romance" created an opportunity for a younger performer: Benjamin Beck portrays Ralph as a young aspiring opera singer – a role that has the young Ralph performing snippets of arias, including one for an audition at the Metropolitan Opera. Ralph's older and younger selves interact in what Sbordone calls a "kind of phantasmagoric scene."
"The Last Romance" sports one other actor: the Popes' dog Spike. The white terrier won the role over the Popes' other dog, Max, when – during the cast's interview with FlaglerLive, — Max proved to be too rambunctious, barking and running to and fro.
"It will be the first time, in over 350 shows, that I can remember working with a live animal," Sbordone says with a cautious smile.
"The Last Romance," which is being staged in conjunction with Valentine's Day, "is certainly different from what we often do here," Sbordone says, alluding to the cutting-edge fare frequently staged by City Rep (Yasmina Reza's "God of Carnage," David Mamet's "Race," David Ives' "Venus in Fur").
"It really is a charming play," Sbordone adds.
"It's a beautiful little romance, a lovely story," John Pope says.
Kathryn Weed, a Palm Coast resident and program facilitator for health sciences at Flagler Technical Institute, previously performed under Sbordone's direction at the Little Theatre of Palm Coast, but her sister Rose role in "The Last Romance" will be her City Rep debut.
"This play is a very bittersweet love story," Weed says. "It's very real. The first time I read it was very emotional for me. It touched me truly."
"You see a lot comedy about old age that is full of cliché, that is full of superficiality," Sbordone says. "We find as we explore this play that there's depth to these characters. They go beyond what you'd normally think."
–Rick de Yampert for FlaglerLive


"The Last Romance", produyced by City Repertory Theatre, directed by John Sbordone, at 7:30 p.m. Fridays and Saturdays and 2 p.m. Sundays from Feb. 12-21 in City Marketplace, 160 Cypress Point Parkway, Suite 207B, Palm Coast. Tickets are $20, available by calling 386-585-9415 or online here.