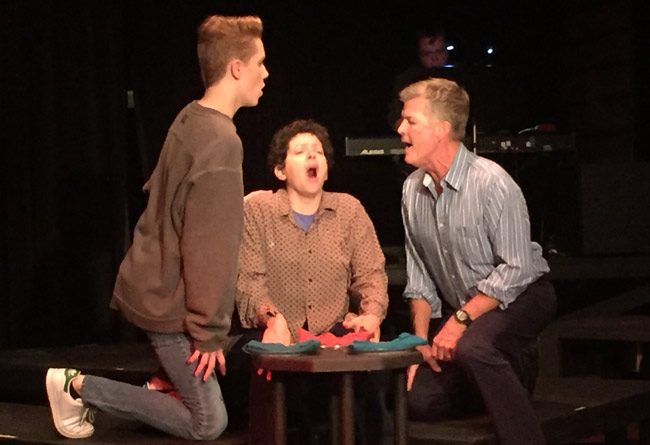 Book your tickets easily online here.


When Julia Davidson Truilo was researching her role in "Next to Normal," the musical that opens tonight (Jan. 20) at City Repertory Theatre after last week's preview, she didn't have to pore through arcane medical journals.
"Ah, the world of YouTube," Truilo said, reflecting on her role as Diana, the bipolar wife and mother, in the 2008 rock musical that won the Pulitzer Prize for drama – yes, drama.
"There's a lot on YouTube — people who are sufferers who talk about their experiences, people who filmed themselves in their manic states and so I could see what they looked like, what their physical posture was, if they had tics," Truilo said.
"Next to Normal," with book and lyrics by Brian Yorkey and music by Tom Kitt, tells the story of a woman's 16-year battle with bipolar disorder and its effects on her husband, Dan (played by Everett Clark), and teenage daughter Natalie (Chelsea Jo Conard).
While the dynamic of mental illness and its effects are "never exactly the same" from person to person and family to family, Truilo added, her YouTube research allowed her "to make some choices so that my physical work could express what was happening to Diana."
But preparations became more personal for Truilo and her cast mates when a bipolar sufferer visited them on set.
"He came early in the process and talked to us about what it was like," Truilo said. "He has a brother who is bipolar and so he has been both a patient and a relative of a patient. He talked to us a lot about that experience. That was very giving of him because those are not easy experiences to talk about."
And a serendipity played out recently in the pages of the New York Times, Truilo said: In "Next to Normal," her character undergoes electroconvulsive therapy (once called electroshock therapy), and last week the Times featured an article on ECT advocate Kitty Dukakis, who used the controversial procedure to treat her depression (she's the wife of former Massachusetts governor and 1988 Democratic presidential nominee Michael Dukakis).
At City Repertory Theatre:
---
"All in the Timing" by David Ives, directed by Beau Wade, at City Repertory Theatre. CRT will stage "All in the Timing" at 7:30 p.m. Thursday June 17, Friday June 18 and Saturday June 19, and at 3 p.m. Sunday June 20. Performances will be in the black box theater inside Flagler Auditorium, 5500 S.R. 100, Palm Coast (at Flagler-Palm Coast High School). General admission tickets are $20, students $15, and are available by calling 386-585-9415, or going online at crtpalmcoast.com or Eventbrite.  Audiences will be socially distanced and are asked to wear masks.





Click On:
---
"Next to Normal" is "an acting challenge for those of us who have been blessed not to be immediately afflicted with either a mental health issue or have a family member with a mental health issue," Truilo said. "It is a challenge for all the actors because one of the many things I discovered when we began to rehearse is that this is not just a show about the central character I play. She is the fulcrum, but it is equally the story of her daughter and husband and their experience."
"This is the most difficult show I've ever worked on," said director and City Rep co-founder John Sbordone – without a hint of exasperation. "It's been a joy to work it out. On Broadway there were three full floors (of the family's suburban home) visible to the audience at all times. Of course we had to adapt that to what we have. It's a brilliant show. I could gush about it because we have extraordinary people doing a very, very powerful, emotional piece."
Music director and keyboardist Ben Beck and the cast "tell me this is an extraordinarily difficult musical to do — very complex choral parts," Sbordone added. "The range the singers need is quite extraordinary. There are many musicals that require fine characterization as well as singing ability, and this is certainly one of those."
"It's a tremendously powerful score," said Trulio, who speaks from vast experience. She's a stage veteran who performed in numerous Broadway musicals by the defunct Seaside Music Theater in Daytona Beach. And she's a classically trained mezzo-soprano who has performed at Carnegie Hall and in operas and operettas with such companies as the Santa Fe Opera, Orlando Opera, Michigan Opera Theater and the Opera Ensemble of New York.
"Next to Normal" is "not put together like a standard musical — dialogue scene, song, dance number, dialogue scene, song, dance number," Truilo said. "I would say 90 percent of it is sung. So there's not the sort of slam on the brakes, do a book scene, sing, do a book scene – that kind of thing. Everything goes together seamlessly."
The musical requires "a different kind of skill" than others, Sbordone said: "The emotional singing that the couple will do as they are fighting is quite extraordinary."
"Next to Normal" debuted Off-Broadway in 2008, winning the Outer Critics' Circle Award for Outstanding Score. The musical opened on Broadway in April 2009 and was nominated for 11 Tony Awards, winning three: Best Original Score, Best Orchestration and Best Performance by a Leading Actress in a Musical for Alice Ripley.
The musical also won the 2010 Pulitzer Prize for drama, becoming just the eighth musical in history to receive that honor. But that award stirred controversy because, according to the New York Times, the 17-member Pulitzer board (composed of journalists and journalism professors) chose "Next to Normal" over the three finalists selected by the Pulitzer's five-member drama jury (composed of critics, playwrights and academics). http://www.nytimes.com/2010/04/14/theater/14drama.html
Regardless, numerous critics and theater fans are on the record in their acclaim for the musical.
"The way this play expresses the lives of people who are living with mental illness — a lot of people I know who are bipolar sufferers or who have lived with someone with it find this musical very compelling," Truilo said. "That to me is a gift — for a playwright to be able to express that clearly, especially in the context of something we think of as non-realistic like a musical."
"Next to Normal" does have its moments of humor, Sbordone said, especially with the song "My Psychopharmacologist and I."
But, he noted: "You're not going to see a Disney musical when you come to see this."
The City Rep cast also includes Max Wolf as Gabe, Beau Wade as Henry and Sara Humbert as Dr. Madden.
–Rick de Yampert for FlaglerLive


"Next to Normal," at City Repertory Theatre, directed by John Sbordone, 7:30 p.m. Fridays and Saturdays and 2 p.m. Sundays from Jan. 20-29 in City Marketplace, 160 Cypress Point Parkway, Suite 207B, Palm Coast. Tickets are $20 adults and $15 students, available by calling 386-585-9415 or booked easily online here.