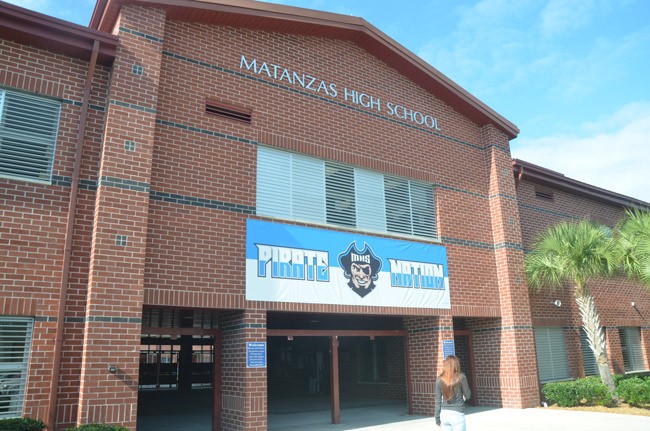 Authorities at Matanzas High School became concerned last Thursday over postings on a 10th grader's Twitter page showing what appeared to be pistols and a semi-automatic rifle captioned by threats such as "ISIS Affiliated" and "High School Musical; Massacre edition."
The student told Flagler County Sheriff's deputies that he had posted the images, but that all the weapons were the air soft variety, while the postings had somehow been doctored by someone else to add the captions. The student denied any role in captioning the images.
Ken Seybold, assistant principal at Matanzas, was alerted to the postings by a text message from Morgan Moreira, a cheerleading coach at the school, who picked up on the two Twitter postings from the 10th grader. The postings were dated Feb. 9 at 1:41 p.m., when school would have still been in session.
The first picture, according to the sheriff's incident report, shows two pistols with the caption, " Troy Bolton? High School Musical? Whatchu' doin boi." "When you catch the teacher who
failed you last semester lackin'." (Troy Bolton is the popular fictional character and protagonist of "High School Musical.") The second picture shows a semi-automatic rifle with the caption, "Palm
Compton." "ISIS Affiliated." "Ain't Troy Bolton no more." "High School Musical; Massacre edition." "When you tired of getting beat up in school."
Seybold reported the implied threat as credible, according to the incident report, and forwarded them to the sheriff's office. A deputy investigating the case went to the student's home on Lincoln Lane in Palm Coast, where his grandparents, Martha and Larry Wilson, said they had no knowledge of the pictures or weapons shown in the picture. Larry told the deputy that his grandson plays with Paintball and Airsoft guns, but that he does not own or possess the weapons shown in the pictures.
The boy was not at home at the time. A deputy was able to meet with him at the house after 11 p.m. that day. He told the deputy that he recalled posing with AirSoft hand guns and a rifle on Sunday, Feb. 7 (two days before the posting's time stamp the cheerleader coach had noted) but that the images had been altered by "an unknown person." (Access to a Twitter feed is controlled by a handle and password, making the alteration of posted material on an individual's feed impossible absent that access.)
The student, according to the incident report, "denied having any knowledge of or participation in adding said captions to the photographs and posting the photographs with captions on Twitter." Asked if he had any particular reason to post the items, the student simply replied, "No." He said "he has no affiliation with ISIS nor does he have any animosity or hard feeling with any past or present teachers or staff members at Matanzas High School." Nor, he said, did he have any intention of harming himself or others.