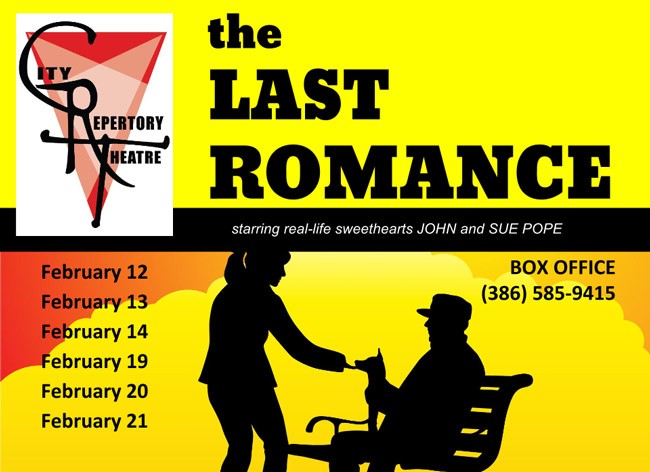 Weekend: Mostly sunny but cool, with highs in mid-70s Friday and in lower 60s Saturday and Sunday. Nights will be cold, with lows between 40 and 50. Details here.
Today's fire danger is moderate. Flagler County's Drought Index is at 8.
Today's tides: at the beaches, at the Intracoastal Waterway.
Today's document from the National Archives.
The OED's Word of the Day: port-a-beul, n..
The Live Community Calendar
Today's jail bookings.
Today's Briefing: Quick Links


Note: all government meetings noticed below are free and open to the public unless otherwise indicated. Many can be heard or seen live through each agency's website.
Closure Note: No school Monday, in observance of Presidents Day.
Friday, Saturday and Sunday: "The Last Romance," at Palm Coast's City Repertory Theatre at City Marketplace. Joe DiPietro's popular romantic comedy is a heartwarming comedy about the power of love. It follows the blossoming, late-in-life relationship between widower, Ralph, and an elegant, but distant widow, Carol whom he meets in a Hoboken dog park. Are Ralph and Carol ready to take a chance on love again? Even if they are, there's a danger that Ralph's sister, with whom he's lived for many years, may get in the way. CRT mainstays John and Sue Pope ​and newcomer Kathryn Weed, ​star in this Valentine's treat, which plays Friday through Sunday for two weekends. Performances take place at the company's jewel-box theater upstairs in City Marketplace at 160 Cypress Point Parkway, Palm Coast. Performances are Fridays and Saturdays, February 12, 13, 19 and 20 at 7:30 p.m., and Sundays, February 14 and 21 at 2 p.m. Tickets are $20. Purchase your tickets easily online here or call 386/585-9415.
Friday: The McCartney Years, the Premier McCartney Concert Experience, at the Flagler Auditorium, 7 p.m.: There are many Beatles tributes. But there's only one show that celebrates the genius of Paul McCartney at the height of his career in the mid-1970s. And this is it. Auditorium Box Office, 386-437-7547, or the website.
Saturday: Belle Terre Elementary 5K run and health fair, starting with check-in at 8 a.m. at the Belle Terre Elementary media center and cafeteria.
Saturday: The Florida Agricultural Museum will host the 6th annual Hot N' Spicy Festival from 11 a.m. to 4:30 p.m. on the museum grounds at 7900 Old Kings Road North, Palm Coast. The program features spicy foods from area restaurants, craft beers, live music, parrot shows, and the Banana Derby (monkeys on racing dogs). The museum will not be open for regular tours on that day. Please bring canned goods in support of Feed Flagler, a program that helps hungry folks in our county. Close-toed shoes are recommended for our visitors. Do bring a lawn chair but please leave your coolers and pets at home. Admission is $5 per person. Call 386-446-7630.
Saturday: Gamble Jam Session at Gamble Rogers Memorial State Recreational Area in Flagler Beach: Musicians of all levels are invited to bring their instruments and a chair for a casual acoustic jam session. Meet other musicians, practice or just have fun listening. 2 to 6:30 p.m.
Saturday: At 2 p.m., the Friends of the Library will be hosting the annual Valentine's Concert featuring the music of Linda Cole at the Flagler County Public Library, 2500 Palm Coast Pkwy NW. Refreshments will be served. Call 386-446-6763.
Saturday: Winter Scholastic Series Chess Tournament (K-12) and Winter Open (G/45;d5), Jacksonville Chess Club, at San Jose Church of Christ, 6233 San Jose Blvd, Jacksonville, registration onsite starts at 9 a.m. Click on the link for more details.


Updated jail bookings and day and night shift incident summary reports are available here.
Florida Bar Dismisses Complaint Against County Attorney in Latest of Many Defeats for Growlers: The Florida Bar found baseless complaints filed by Weeks and Ruffalo against County Attorney Al Hadeed. The Feb. letter informing Weeks of the dismissal tells the story with what appears to be an added irony the lawyer addressing the letter to Weeks could not resist: mention of Weeks' felony indictments—she faces 12 felony counts—as a result, partly, of her allegedly secretly recording Hadeed in conversation with a county commissioner. Weeks had used that very recording to buttress her complaint to the Florida Bar.
Family Livid After FDOT Uproots Roadside Memorial to Tyler Tracy 7 Months After Wreck Tyler Tracy was just 21 when, driving north on U.S. 1 in his pick-up truck, he lost control—possibly from being cut off by another vehicle—wrecked and was killed. The crash site was just north of the intersection with County Road 304. On Wednesday, his roadside memorial was removed by a Department of Transportation contractors' crew.
At Flagler's Progressive Public Safety Council, a Farewell to Judge Walsh, and a Welcome to Foxman: It's easy to see that if it were up to him, he'd not be retiring: Circuit Judge J. David Walsh, a few days shy of leaving the bench he's occupied since his then-Gov. Jeb Bush appointed him in 2001, spoke wistfully of the past decade and a half just before Wednesday's meeting of the Public Safety Coordinating Council. But state law requires that judges retire when they reach 70.
Proposal Would End Local Districts' Oversight of Charter Schools in Favor Of State Power: A constitutional amendment that would set up a statewide entity with the power to approve charter schools anywhere in Florida — bypassing local school districts — is headed to the House floor, along with a bill that would allow parents to send their children to any unfilled schools in the state.


Note: Most proceedings below can be followed live on the Florida Channel.

School enrollment: The Education Estimating Conference will analyze enrollment in pre-kindergarten through 12th grade. (Friday, 8:30 a.m.)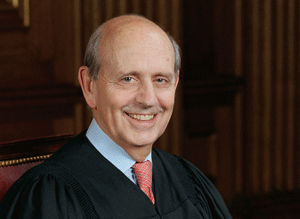 Justice Breyer in Palm Beach: U.S. Supreme Court Justice Stephen Breyer will speak about the legal impacts of globalization during an event held by the Forum Club of the Palm Beaches and the Palm Beach County Bar Association. (Friday, noon, Cohen Pavilion at the Kravis Center, 701 Okeechobee Blvd., West Palm Beach.)
The Florida Commission on Access to Civil Justice, created by Supreme Court Chief Justice Jorge Labarga, will meet. The commission is looking for ways to increase access to the court system for low-income Floridians. (Friday, 12:45 p.m., Hotel Duval, 415 North Monroe St., Tallahassee.)
–Compiled by the News Service of Florida and FlaglerLive


In Coming Days in Palm Coast and Flagler:
Click on the links for more details:


Click on the link for more details.


One of Einstein's radical predictions about gravity is true—and will soon alter our understanding of the universe: https://t.co/XLOzCllBSs

— The New Yorker (@NewYorker) February 11, 2016
Mass surveillance doesn't work. We need to go back to the drawing board: https://t.co/iVco5jldMT pic.twitter.com/udlgBo2zwT

— The Staggers (@TheStaggers) February 11, 2016
How can we enjoy the pleasures and benefits of mobile and social media while countering its antisocial aspects? https://t.co/pcqXgx5Ps6

— NY Review of Books (@nybooks) February 10, 2016
The Supreme Court's devastating decision on climate https://t.co/0MdZ0slZuO pic.twitter.com/0BZHCFlGBC

— The Atlantic (@TheAtlantic) February 11, 2016
The futile war on weed is coming to an end. But a legal industry brings its own challenges https://t.co/aCkfdq8por pic.twitter.com/bqSrx0CB9z

— The Economist (@TheEconomist) February 11, 2016


Palm Coast Construction and Development Progress Reports
The following is an update of ongoing construction and development projects in Palm Coast, through Jan. 27:
Christ the King Evangelical Lutheran Church and School, 1 percent done: Located at 5625 North US Highway 1, the school received a Development Order for a new 13,794 sq. ft. early learning center to be located on the south side of their 8.6-acre site. The architecture of the new one-story building will be very similar to the existing church and school facilities that are located just north of the proposed new building.
Holland Park, 50 percent done: Grading and installation of sidewalks continues. Rough grading of Playground area. Restroom slab has been poured. Electrical conduit installation continues. Pavilion lighting being installed. Stormwater piping installation continues in Playground area.
County's I-95 Interchange Matanzas Woods Reclaim Water, 76 percent done: Retention ponds are being excavated and fill continues for the ramps. (Not in the Dec. 15 update.)
Palm Harbor Parkway Roadway Extension, 47 percent done: January 25, 2016 the new 10″ water main and 6″ force main
on the east end between the Conservatory and Old Kings Road were tied into existing mains on Forest Grove.
Colechester Bridge, 94 percent done: Sea walls have been completed and forming of the western abutment almost complete.
Palm Harbor Extension, 45 percent done: Met on site with contractor to discuss water and sewer testing and construction meter placement.
North Old Kings Road Extension to Matanzas Woods Parkway, 19 percent done: Asphalt was installed on the new section of roadway adjacent to the old roadway at the intersection of Old Kings Road and Forest Grove. (Not in the Dec. 4 update.)
Old Kings Road Force Main 90 percent done:: The contractor has tied the 8″ force main to the 16″ force main in front of the new Master Pump Station on South Old Kings Road. On January 13, 2016 the contractor installed a 16″ X 8″ wye and an 8″ valve in front of the existing lift station on Old Kings Road South. An 8″ wye and an 8″ 45 elbow fitting was installed to complete the connection from the existing 8″ force main to the new 16″ future force main.
Island Walk Shopping Center Phase 2, 25 percent done: A substantial walk thru for punch list was done January 22,
2016. Chlorination of new section of water main in Phase 2 was completed January 27, 2016.


Road and Interstate Construction:
Forest Grove Drive connection to Palm Harbor Parkway to be closed starting Dec. 18: Effective Friday, Dec. 18, the City of Palm Coast will be closing the Forest Grove Drive connection to Palm Harbor Parkway. This road closure is required as part of construction operations for the Palm Harbor Parkway extension, which is currently under construction. Palm Harbor is being realigned and extended to connect directly with Matanzas Woods Parkway where it intersects with Old Kings Road. Message boards will be placed to advise motorists and other travelers of the upcoming change, and a public meeting has already been held for residents living in that area. Both the Palm Harbor extension and a separate extension of Old Kings Road are being built in preparation for the new Interstate 95 interchange to open next June at Matanzas Woods Parkway. As part of the projects, traffic patterns around Matanzas High School will be changing. One goal is to turn Forest Grove Drive back into a residential street as it was originally intended to be. The upcoming road closure of the Forest Grove Drive connection to Palm Harbor Parkway is part of that project. Forest Grove will be turned into a cul de sac on that end. Once the separate Old Kings Road extension is completed, in June 2016, the Forest Grove Drive access to the high school will be closed because it will no longer be needed. Instead, motorists and other travelers will get to Matanzas High School via the new signalized intersection at Matanzas Woods, Palm Harbor and Old Kings. For more information, please contact Palm Coast Communications Manager Cindi Lane at 386-986-3708 or [email protected]


Mozart's Piano Concerto No. 21 in C, Rudolph Serkin, piano
Previous Codas: