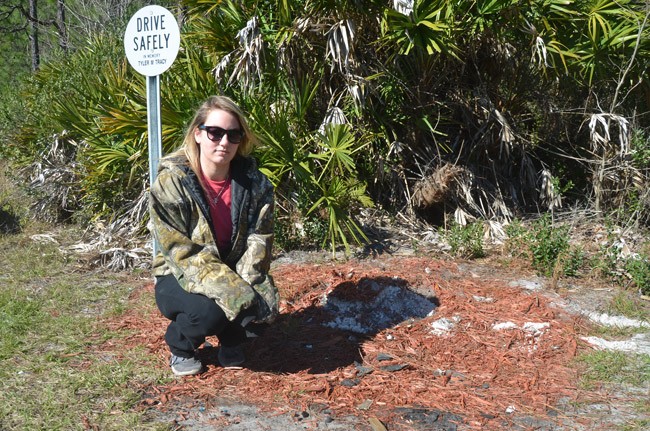 Tyler Tracy was just 21 when, driving north on U.S. 1 in his pick-up truck, he lost control—possibly from being cut off by another vehicle—wrecked and was killed. The crash site was just north of the intersection with County Road 304.
Within 24 hours, Tracy's brother-in-law had created a roadside memorial that came to include a bright-orange cross—Tracy was a Gators fan—planted in the middle of one of Tracy's truck tires. It was rimmed and garlanded in candles, Tracy's favorite hat, pictures of his wife and daughter, flower arrangements, a small bottle of Tracy's favorite cologne (Reaction by Kenneth Cole), his name in blue woodcuts, small flags and other mementos. It wasn't ostentatious. If it was colorful, it was barely more distracting to drivers than spring blooms. It's well off the side of the road, in the right-of-way just behind the electric utility line, and parallel to a metal memorial the Florida Department of Transportation planted there as well, as it does to mark the spot of all fatalities on state roads.
Tracy had been married just 10 weeks to his wife Brianna. They had a toddler together. Since the wreck, on the 18th of every month, Brianna has brought her daughter Emerson to the memorial, which Emerson calls "her daddy place." She brings a balloon every time. "My daughter wants to see daddy, so I bring her here," Brianna says. Friends and family also have turned the memorial into a pilgrimage site.
Earlier this week a Florida Department of Transportation official was driving from Ormond Beach to Bunnell. He noticed five roadside memorials that were  deemed out of line—"an eyesore," as Tracy's memorial was described to Brianna's mother, Eileen Vitale.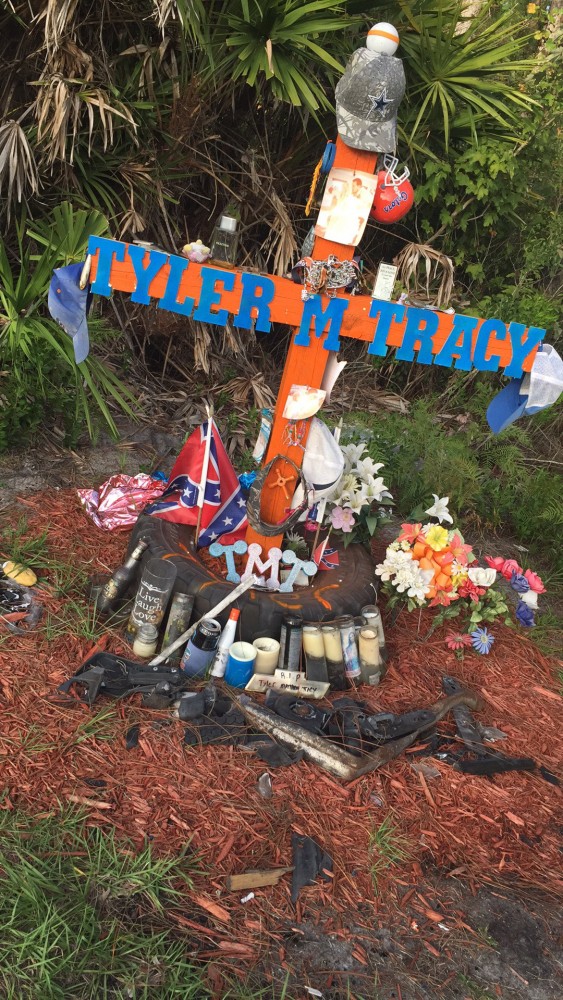 Wednesday, a crew from TME Enterprises, the right-of-way maintenance FDOT contracts for such jobs, removed the memorials, among them the cross, the tire and the rest of the Tracy's memorial. The crew put all the Tracy mementos in two trash bags. The FDPOT marker was left in place. The bags and the tire ended up in Brianna's car like a ceremony suddenly muted.
(Tracy's family at first attributed the removal to Palm Coast road crews, but Cindi Lane, a city spokesperson, said it was the contractor for FDOT. "For memorials like this on City right-of-way, we strive not to disturb them unless they're creating a safety hazard," Lane wrote in an email, "and then we try to work with the family to give them the items." FDOT had made the city aware that "several memorials" were removed along Flagler roads this week.)
Wendy Whitt, a friend of Brianna's, was driving by when she saw Tracy's memorial being removed. She stopped and asked the crew what they were doing. "She said the people taking down, you could tell they were upset doing it," Brianna said, but they'd been told to do it. They gave the possessions to Whitt, who then called Brianna at work, immediately reducing her to tears.
"We've been going through so much with Brianna," her mother said today, referring to the wreck. "Since the day it happened, she's a different person. She's still in shock. I feel like every time she turns around she hits a brick wall, and I have to worry that she doesn't go over the edge." The uprooting of the memorial today, Vitale said, sent her over the edge, and rendered Vitale herself "livid."
Vitale called the city while her husband sent an email to Mayor Jon Netts, who very quickly was on the phone conducting his own investigation, even though he found out just as quickly that the city was not involved. Palm Coast itself maintains a very accommodating stance with roadside memorials on its own streets absent interference with traffic or right-of-ways. Netts found the decision to remove some memorials while leaving others in place "capricious and arbitrary," he said in an interview late this afternoon.
"OK, if you're telling me it's overly ornate or an eyesore, that's in the eye of the beholder," Netts said. "If you're going to allow the one thing then you should allow the others. If you're going to take one down, take them all down, if that's your policy." But, he added, "for this guy to say he drove up from Ormond to Bunnell and say he saw five that had to be removed, that seems very capricious and arbitrary."
In mid-afternoon Brianna was at the scrubbed memorial site with her friend Kari Dopp. Neither could make sense of the transportation department's decision. Other makeshift memorials did indeed remain further north on U.S. 1, untouched, as is the case with a somewhat less elaborate but still free-standing memorial to Deborah Dunn, a cyclist killed in 2013 just south of the intersection with Belle Terre Parkway, and a modest memorial—a white cross—marking the spot of Dustin Irvin's death in 2014 across from the Atlantis center in Bunnell.
"There's four from here to the light that haven't been touched, and I don't understand why," Brianna said. "They're touching his. If they're taking his, they're taking all of them down."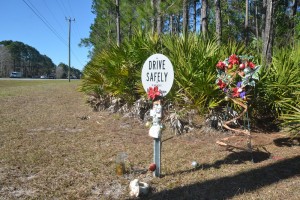 Jessica Ottaviano, a spokesperson for the transportation department in DeLand, was not yet aware of the details of the case when contacted this afternoon but spoke understandably of a family's grief while noting department policy. "We are not supposed to allow any personal property, that's why we have the marker that we make for them," Ottaviano said. She acknowledged that more personalized markers are common, but "when they potentially create a hazard or a safety issue for traveling public or pedestrian we do remove them." Whether that was the case with the Tracy memorial is not yet clear: Ottaviano was investigating the matter further as of this writing.
The department of transportation has periodically cracked down on makeshift roadside memorials going back many years. In the late 1990s the clampdown gave rise to FDOT's more standardized markers, at the time a 2-foot-high plastic symbol that quickly drew the ire of civil rights activists because it looked too much like a cross. The marker eventually gave way to its current incarnation, the round, 15-inch aluminum sign panel on a 5-foot pole, inscribed "Drive Safely, In Memory of…" with the name of the crash victim.
Brianna has no intention of accepting the removal. She plans to bring back a memorial in one way or another, and is planning a candle-lighting with her husband's friends and family on the 18th to show the impact he had on the community (his funeral drew some 800 people, Vitale said). The location of the wreck means more to Brianna than the cemetery because she'd almost immediately heard of the wreck, she lived nearby, and she was at the crash site within moments, even as cops were getting there: that's what she means when she says it's the last place she saw Tracy. "I want my cross back," she says. "I don't care if it's going in a tree. It's going up."
Netts, too, doesn't plan on giving up , if only to get clarification about the policy and why it appears arbitrary. "I'm going to pursue it," Netts said.
"There's so many other things they should be worried about," Vitale said. "Not tearing down memorials."