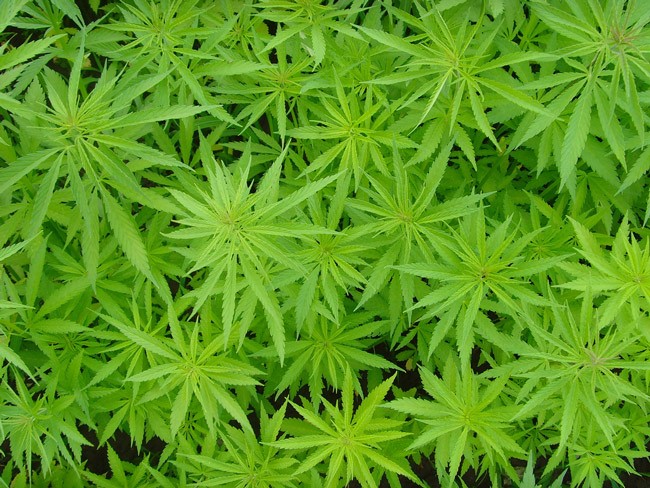 Today: Breezy. Sunny in the morning then becoming partly cloudy. Highs in the mid 60s. West winds 15 to 20 mph with gusts to 30 mph. Tonight: Breezy. Partly cloudy. A 20 percent chance of showers in the evening. Lows in the lower 40s. West winds 15 to 20 mph with gusts to 30 mph. Details here.
Today's fire danger is moderate. Flagler County's Drought Index is at 5.
Today's tides: at the beaches, at the Intracoastal Waterway.
Today's document from the National Archives.
The OED's Word of the Day: psychedelicatessen, n..
The Live Community Calendar
Today's jail bookings.
Today's Briefing: Quick Links


Note: all government meetings noticed below are free and open to the public unless otherwise indicated. Many can be heard or seen live through each agency's website.
The Land Acquisition Committee meeting scheduled for today at 3:30 p.m. was cancelled.
The Flagler County Library Board of Trustees meets at 4:30 p.m. in the Dough Cisney Room at the county library on Palm Coast Parkway and Belle Terre Parkway, 4:30 p.m.


Updated jail bookings and day and night shift incident summary reports are available here.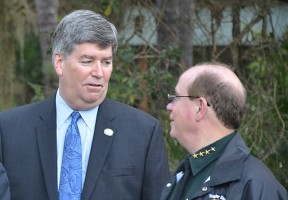 As Flagler's Emergency Communications Briefly Falter, Palm Coast and Sheriff Assail County Over Long-Term Plans: Palm Coast City Manager Jim Landon and Flagler County Sheriff Jim Manfre are concerned that the county is not moving fast enough to replace the radio communication system on which almost all local government agencies rely, and which has an official end of life in 2017. The vendor, Communications International, has pledged to Flagler to provide support until 2020, "more if parts available," according to a county presentation on the matter.
One Fugitive Arrested After All-Night Hunt in B-Section, Other Man Still On the Run Following Wreck on I-95: After an all-night search using helicopters and K-9 officers, Flagler County sheriff's deputies located a Virginia fugitive Saturday morning and took him into custody without incident. James Kent Booth, 54, of Montpelier, Va., was found hiding in a shed at a home on Big Horn Drive in Palm Coast. An off-duty deputy located him and held him at gunpoint until other deputies arrived, just before 5 a.m.
County Commissioner: Supervisor of Elections Office should have a forensic audit: "Whoever is the supervisor of elections at the end of the election needs to know that the office has been wrapped up tight, has been handed a bow, and they are free and unfettered to go out and do their job," County commissioner Frank Meeker said, in comments reported by the Observer. "And until we do, I believe, a forensic audit of that operation, I don't think we'll ever know and I don't think the public will ever know."
Where's Opelka? Injury and Ranking Climb Keep Star From Palm Coast's Tennis Tourney: Reilly Opelka, the 6-foot-11 18-year-old former Palm Coast resident who won the Wimbledon boys title last year, has been recovering from a stress fracture in his right foot since last November. Even if he'd been healthy, Opelka said he "probably" would not have played at the Pro Circuit event in Palm Coast this week. As he tries to build up his world ranking (it's currently 796) it makes sense to play larger events at a higher level, and in the complicated world of tennis jargon, Opelka is trying to compete as much as possible in "Challenger" tournaments, which offer more rankings points and stiffer competition than Pro Circuit events.


Note: Most proceedings below can be followed live on the Florida Channel.

LGBT Discrimination Targeted: The Senate Judiciary Committee will take up a bill (SB 120), filed by Sen. Joseph Abruzzo, D-Boynton Beach, that would bar discrimination in jobs and housing based on sexual orientation. (1:30 p.m.)
Pot for the terminally ill: The House Health Care Appropriations Subcommittee will take up a bill (HB 307), sponsored by Rep. Matt Gaetz, R-Fort Walton Beach, and Rep. Katie Edwards, D-Plantation, that would allow people with terminal illnesses to have access to medical marijuana. (2 p.m.)
Early legislative session in 2018: The House Government Operations Appropriations Subcommittee will consider a proposal (PCB GOAS 16-01) that calls for starting the 2018 legislative session on Jan. 9, about two months earlier than usual. (3 p.m.)
Juvenile civil citations: The House Justice Appropriations Subcommittee will take up a bill (HB 7085), filed by Rep. Carlos Trujillo, R-Miami, that could lead to police officers issuing more "civil citations" to juvenile offenders instead of making arrests. (3 p.m.)
Death sentences: The Senate Criminal Justice Committee will consider a proposal (SPB 7068) that would revamp the state's death-penalty sentencing system. The bill comes after the U.S. Supreme Court last month ruled that Florida's capital sentencing system is unconstitutional because it gives too much authority to judges, instead of juries, in sentencing people to death. (4 p.m.)
Citrus tree uprooting: The 4th District Court of Appeal is scheduled to hear arguments in a battle about payments in a class-action lawsuit stemming from the state's removal of tens of thousands of citrus trees in Broward County. The lawsuit was filed on behalf of 58,225 homeowners because of the destruction of trees related to the state's effort to eradicate a deadly disease known as citrus canker. The appeals-court dispute centers on whether legislative approval is needed for the state to pay a judgment in favor of the homeowners. (10 a.m.)
–Compiled by the News Service of Florida and FlaglerLive


In Coming Days in Palm Coast and Flagler:
Click on the links for more details:


Click on the link for more details.


The behavioral economics of health insurance deductibles. Why they don't work quite right. https://t.co/0DrZjlmiN7 pic.twitter.com/MTY0HvrhOB

— The Upshot (@UpshotNYT) February 7, 2016
These two Super Bowl ads say a lot about how America sees its colonial past https://t.co/MOqXhvqbmw pic.twitter.com/GlnBPq24Vh

— i100 (@thei100) February 8, 2016
CNN journo: either Cruz's camp stopped reading my report or knowingly misled https://t.co/sKA3sIeyGG pic.twitter.com/AQUNMqPxyt

— Talking Points Memo (@TPM) February 7, 2016
Clinton slams "double standard" against women shouting: https://t.co/sgsYiXPd24 pic.twitter.com/T22ZIx2Rgq

— The Hill (@thehill) February 8, 2016
Will gas prices keep dropping? https://t.co/TTu7v8vYpu pic.twitter.com/LpZXKURfaT

— News 6 WKMG (@news6wkmg) February 8, 2016


Palm Coast Construction and Development Progress Reports
The following is an update of ongoing construction and development projects in Palm Coast, through Jan. 27:
Christ the King Evangelical Lutheran Church and School, 1 percent done: Located at 5625 North US Highway 1, the school received a Development Order for a new 13,794 sq. ft. early learning center to be located on the south side of their 8.6-acre site. The architecture of the new one-story building will be very similar to the existing church and school facilities that are located just north of the proposed new building.
Holland Park, 50 percent done: Grading and installation of sidewalks continues. Rough grading of Playground area. Restroom slab has been poured. Electrical conduit installation continues. Pavilion lighting being installed. Stormwater piping installation continues in Playground area.
County's I-95 Interchange Matanzas Woods Reclaim Water, 76 percent done: Retention ponds are being excavated and fill continues for the ramps. (Not in the Dec. 15 update.)
Palm Harbor Parkway Roadway Extension, 47 percent done: January 25, 2016 the new 10″ water main and 6″ force main
on the east end between the Conservatory and Old Kings Road were tied into existing mains on Forest Grove.
Colechester Bridge, 94 percent done: Sea walls have been completed and forming of the western abutment almost complete.
Palm Harbor Extension, 45 percent done: Met on site with contractor to discuss water and sewer testing and construction meter placement.
North Old Kings Road Extension to Matanzas Woods Parkway, 19 percent done: Asphalt was installed on the new section of roadway adjacent to the old roadway at the intersection of Old Kings Road and Forest Grove. (Not in the Dec. 4 update.)
Old Kings Road Force Main 90 percent done:: The contractor has tied the 8″ force main to the 16″ force main in front of the new Master Pump Station on South Old Kings Road. On January 13, 2016 the contractor installed a 16″ X 8″ wye and an 8″ valve in front of the existing lift station on Old Kings Road South. An 8″ wye and an 8″ 45 elbow fitting was installed to complete the connection from the existing 8″ force main to the new 16″ future force main.
Island Walk Shopping Center Phase 2, 25 percent done: A substantial walk thru for punch list was done January 22,
2016. Chlorination of new section of water main in Phase 2 was completed January 27, 2016.


Road and Interstate Construction:
Forest Grove Drive connection to Palm Harbor Parkway to be closed starting Dec. 18: Effective Friday, Dec. 18, the City of Palm Coast will be closing the Forest Grove Drive connection to Palm Harbor Parkway. This road closure is required as part of construction operations for the Palm Harbor Parkway extension, which is currently under construction. Palm Harbor is being realigned and extended to connect directly with Matanzas Woods Parkway where it intersects with Old Kings Road. Message boards will be placed to advise motorists and other travelers of the upcoming change, and a public meeting has already been held for residents living in that area. Both the Palm Harbor extension and a separate extension of Old Kings Road are being built in preparation for the new Interstate 95 interchange to open next June at Matanzas Woods Parkway. As part of the projects, traffic patterns around Matanzas High School will be changing. One goal is to turn Forest Grove Drive back into a residential street as it was originally intended to be. The upcoming road closure of the Forest Grove Drive connection to Palm Harbor Parkway is part of that project. Forest Grove will be turned into a cul de sac on that end. Once the separate Old Kings Road extension is completed, in June 2016, the Forest Grove Drive access to the high school will be closed because it will no longer be needed. Instead, motorists and other travelers will get to Matanzas High School via the new signalized intersection at Matanzas Woods, Palm Harbor and Old Kings. For more information, please contact Palm Coast Communications Manager Cindi Lane at 386-986-3708 or [email protected]


H. J. Baermann (1784-1847): Adagio D flat major for Clarinet and Strings
See Also: