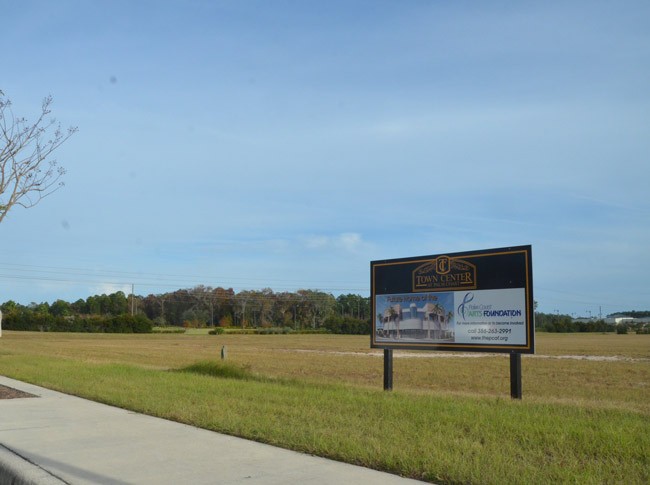 It's been long in coming–more than three years since foundation members toasted with champagne the planting of their sign in Town Center–but the Palm Coast Arts Foundation will host a ground-breaking for Phase I of the multi-phased project in Town Center on Central Avenue on Feb. 11 at 4 p.m. The public is invited.
The first phase will consist of a 32,000 square-foot open-air arts and culture pavilion center and a small enclosed venue that'll double up as an event center for meetings and small events that the city and other civic, cultural or business groups can also use. The project should be completed in time for the foundation's signature annual event, the Jacksonville Symphony Orchestra's Picnics and Pops concert, in spring.
The foundation has worked for many years toward developing the large parcel of land leased through Palm Coast government. The property is located on Central Avenue just east of the Epic theatres.
"The costs of developing on a commercial site even for non-profits like PCAF, are vastly different than one might find in new construction on a private lot," PCAF President Sam Perkovich said in a release.
"The fill, grading, landscape design, landscaping, irrigation, sidewalks, will be completed literally days before our annual signature event, Picnic and Pops with the Jacksonville Symphony, on Sunday, May 1. We couldn't be more thrilled to have the support of our local leaders and the community on this major improvement to Flagler County. It is with much appreciation that the City offered to provide permanent outdoor restroom facilities on the site for the anticipated event crowds."
A campaign of $150-paver bricks will be launched at the ceremony. Anyone interested in personalizing a brick for the public walkway areas of the site is encouraged to contribute.
The project is being funded through grants. The Palm Coast Arts Foundation was awarded two Florida cultural affairs facilities grants for $250,000, with a third one pending for $150,000. All other funds received for the project come from the generosity of foundation members and other philanthropy. The full scope of the project will include the stage and roof covering, a large events center, and the center for the arts. These various phases are planned strategically over the next ten years, but they will be heavily dependent on substantial growth in Palm Coast's population and economy.
Anyone interested in helping PCAF accelerate the project is asked to contact Nancy Crouch, Executive Director at 386.263.2991 or [email protected]