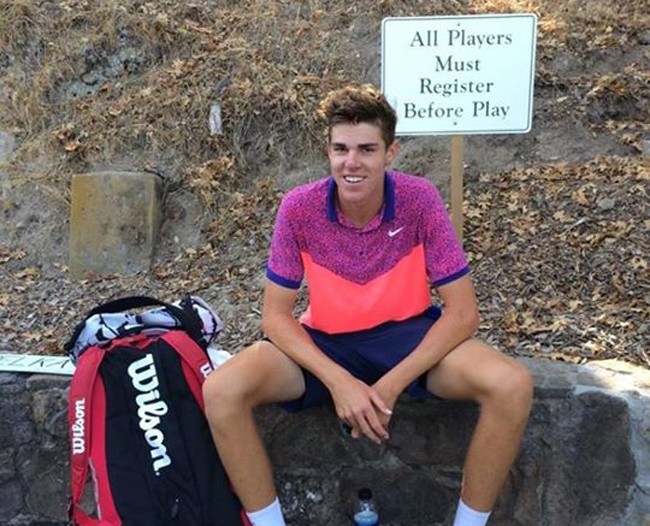 A kid who is helping put Palm Coast on the world tennis map is just getting back on the court himself these days.
Professional players descended upon Flagler County this week, as the annual USTA Pro Circuit $10,000 Men's Futures Tournament is being contested at the Palm Coast Tennis Center.
But the man who was honored with his own day by the city and played in the event last year is missing, partly due to injury and partly due to his being too good.
Reilly Opelka, the 6-foot-11 18-year-old former Palm Coast resident who won the Wimbledon boys title last year, has been recovering from a stress fracture in his right foot since last November.
Opelka said by phone Wednesday that the last time the foot felt 100 percent was during the Wimbledon final, when he captured his first Grand Slam title.
"It kept getting worse after that, and it really got bad during the Open," Opelka said, referring to the U.S. Open in September. "I got an MRI on it during the Open and they didn't see anything wrong, so I kept playing. But it just hurt more and more."
Opelka reached the third round of the U.S. Open juniors before losing, and then officially began is pro career last fall, competing in tournaments in Sacramento, Charlottesville, Va., Knoxville, Tenn. and Las Vegas.
But with the pain not going away, Opelka flew to Miami to see a foot specialist in late November, who diagnosed the stress fracture. He was told the injury was likely caused by a combination of overuse and his body and bones still possibly growing a little bit.
It was the second stress fracture in his right foot for the ex-Indian Trails Middle School student, though he said the previous break was in a different spot. Opelka was told to wear an immobilizing boot for six weeks as his foot healed, and in a boon to his parents, George and Lynn, he moved back into the family's Palm Coast residence for that time.
It was a rare long-term visit at home since he moved to Boca Raton to start training at the USTA Training Center when he was 13.
"It was such a nice surprise having him here, but of course you wish he hadn't been hurt," George Opelka said. "It was great having him around so much."
Unable to play his beloved sport for a little while, Opelka was able to tick off two very important teenage milestones while home: He graduated from high school through Florida Virtual School, and he got his driver's license.
If you see a red Cadillac ATS Coupe being driven around by a very tall man, that's Opelka.
"Yeah, it was definitely the best car for me as far as leg room and comfort," Opelka said with a laugh. "That was the No.1 factor, being able to move the seat back far enough so I could drive and have it not be a pain. I love it."
The forced break also refreshed Opelka mentally, he said. He returned to Boca Raton and his coach, Diego Moyano, in early January, and is ready to resume tournament play next week at a Futures Event in Plantation, Fla.
Even if he'd been healthy, Opelka said he "probably" would not have played at the Pro Circuit event in Palm Coast this week. As he tries to build up his world ranking (it's currently 796) it makes sense to play larger events at a higher level, and in the complicated world of tennis jargon, Opelka is trying to compete as much as possible in "Challenger" tournaments, which offer more rankings points and stiffer competition than Pro Circuit events.
"I'm always open and interested in taking part in helping tennis in Palm Coast," Opelka said. "Whether it's being here or helping out any way I can, I'd love to be a part of it." By "here," he was referring to the tournament.
At the Palm Coast Tennis Center this week, the influx of pros and fans has been a success, said tournament director Debbie Stanfield. Great weather and a strong field of competitors (most ranked somewhere between 200-500) has provided a needed shot in the arm for the longtime financially struggling center. (The center, run by KemperSports, a private company, for Palm Coast government, has averaged annual losses of $111,000 since 2009, with that money made up through taxpayer subsidies.)
Brad Adams, Kemper's General Manager of the Tennis Center and the also city-owned Palm Harbor Golf Club, said that the annual tournament brings in "approximately" $30,000 in revenue and does give a great boost to the club.
"I think people always look forward to the tournament, and it's a great event to have for the city," Adams said. "The tennis center and golf course are moving in directions they need to be moving toward, and we're working diligently toward our goal. We're starting to see the kind of momentum we need."
Adams said that he'd love to have hometown star Opelka involved in the Tournament in the future, whether it's competing in the event or, more likely, playing in an exhibition if his schedule allows.
This year's tournament continues through Sunday's singles final, with tickets for Friday, Saturday and Sunday sessions costing $5. Check www.palmcoasttenniscenter.com for exact start times each day.