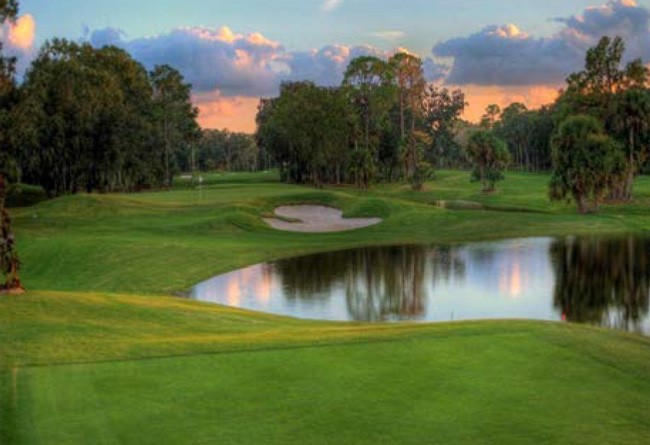 At Palm Coast's money-losing golf and tennis operations, losses get steeper last year, but the Palm Coast City Council appears less concerned.
The city-owned golf course lost a record $346,191 last year, up from a previous-year record of $315,000. It is projected to lose almost $300,000 again this year and next, and lose $230,000 in 2017, with a projected loss of $190,000 in 2018. Operating losses in the earlier years of the club, which opened in 2009, were less steep. Yet the latest numbers elicited little more than a shrug from Palm Coast City Council members, who heard a presentation Tuesday morning from KemperSports, the private company contracted to run the golf course.
The city-owned tennis center is in slightly better shape but only in comparison with the golf operation, and it's still losing money: almost $100,000 in losses in 2014, an $85,000 loss last year, and a projected $81,000 loss this year, with projections seeing losses fall to between $65,000 and $75,000 each of the next three years.
Palm Coast taxpayers, the overwhelming majority of whom do not play golf or tennis at either venue, are covering the losses. The city administration says the losses should not be seen as anything different than any government operation that doesn't make money. It sees the golf and tennis operations as part of its parks and recreation operations, which are not profitable, either.
But what money goes into parks and recreation's budget is paid mostly to city employees. Last year's $431,000 loss, in other words, has amounted to a subsidy covering the private company's losses, at city taxpayers' expense.
The Palm Coast City Council had begun to fret over the arrangement in the past couple of years, with council member Bill McGuire especially speaking unfavorably of a contract that has yet to produce a break-even year. It's been at his request that the city administration has invited KemperSports officials to make periodic presentations to the council about the business. Those officials did so again today, framing the red ink in a lot of optimistic projections.
This time, however, McGuire's and other council members' criticism was muted despite the worsened deficits, with only a few questions about operational details here and there rather than about strategy or the long-term viability of the arrangement.
At the golf course, which has been managed by Brad Adams for just under a year, the per-round average has fallen from $36 in 2013-14 to $35 last year because there's been an increase in less-expensive nine-hole rounds. Golf has been suffering across the country for almost a decade, with nine-hole games providing some relief: they're shorter, less expensive, less demanding on golfers' personal time. The club registered a total of 34,400 rounds played in the last full year for which numbers are available. It's projecting 35,000 for this year.
"How many additional rounds of golf would it take for us to break even, and does the course have the capacity for those additional rounds of golf?" Mayor Jon Netts asked. It would be his most probing question of the day.
The answer: "upwards of 40,000" rounds, Adams said, though that's not in the club's projections. And in 2011 and 2012, when the course registered more than 43,000 rounds each of those years, it still lost money, according to a presentation by a different set of Kemper officials three years ago, though the cost per round was closer to $25 than $35. (That presentation also projected a break-even point in 2013 and slight profits every year after that.)
But the course has been making progress through marketing in attracting younger players, especially students through junior camps, and women, and with charitable events once a month.
"Lately we have seen, and to me it's really great to see, all walks of life, all ages, and sometimes you don't get that in golf," Adams said. "It's really nice to see that whether it's parents coming back and becoming reinterested or interested for the first time, but top see all walks of life passing through the doors is a great thing especially for municipal golf clubs."
Some of the discussion focused on issues that might sound remote or alien to most people—that is, the overwhelming majority of Palm Coast residents—for whom golf does not play a role in their life: the condition of the greens or the poor condition of some of the 68 "bunkers" (that is, the sand traps) and how to double their longevity, and how maintaining those bunkers takes up half the maintenance labor at the course.  The most displeasure the golfers are experiencing are the state of the bunkers, which will be renovated. (The city has had its bunkers evaluated. The recommendation is to cut down the number of bunkers and make others smaller.)
The presentation included the flashing of several "positive" but anonymous comments by users of the golf course.
"If one of the competitive, privately owned courses in Flagler County were to close shop, what effect do you think that would have on us?" McGuire asked.
"A positive effect," Kemper officials immediately said.
McGuire's point, he explained, was that getting new participants will likely not happen by convincing younger players to pick up the game, but by draining existing players from a competitor, which could then cause that competitor to close up shop, thus improving the Palm Harbor's club's bottom line. But however optimistic—for Palm Coast—that predatory approach might sound, the reverse is more likely this year, given Flagler Beach's direction: the city has just signed on with a local company to re-open and manage the old Ocean Palm Gold Club at the south end of town, which has been unused for many years. If anything, the re-opening of that course will have a draining effect on Palm Harbor by keeping Flagler Beach's golfers closer to home.
One unfailing bright spot year after year at the golf course: its restaurant, whose chef, Karen Barchowski, continues to impress and draw crowds to her tables, with last year's Restaurant Week declaring offerings there as providing the "Best Lunch" in town.
It's much the same story but on a smaller, less money-losing scale at the tennis center, off Belle Terre Parkway. The center's brightest spot continues to be its Men's Futures tournament, a United States Tennis Association event scheduled for later this month, which will be hosted at the center for the seventh year. The event brings $31,000 in revenue to the center (or rather to KeperSports).
But there was a 20 percent loss in revenue at tennis center last year, with participation in camps and clinics declining and annual pass-holder aging and dying (annual passes make up 41 percent of the revenue at the center).
"Why do you believe you'll be able to recover some of that less this year?" council member Jason DeLorenzo asked.
"Through the marketing efforts and the programs," Jody Graham, Kemper's regional operations director, said. "The idea is much like golf to make this family-oriented, make it an asset to the community."
The presentation is below.


<![if !IE]><![endif]>