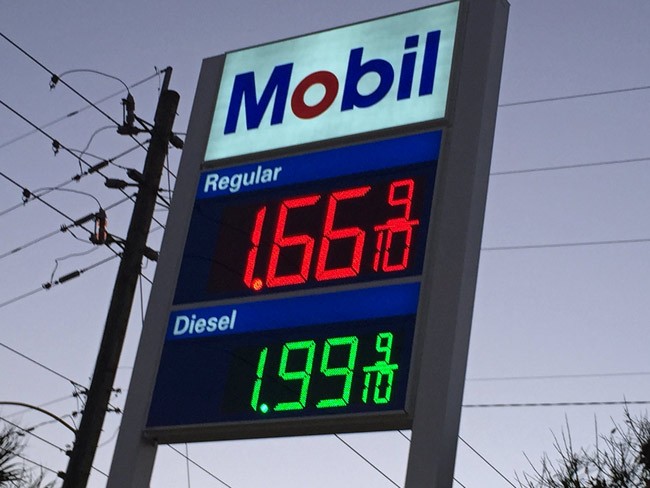 Today: Sunny, high in the low 50s, lows in lower 30s.Details here.
Today's fire danger is moderate. Flagler County's Drought Index is at 269.
Today's tides: at the beaches, at the Intracoastal Waterway.
Today's document from the National Archives.
The OED's Word of the Day: oniomania, n..
The Live Community Calendar
Today's jail bookings.
Today's Briefing: Quick Links


Note: all government meetings noticed below are free and open to the public unless otherwise indicated. Many can be heard or seen live through each agency's website.
The Palm Coast City Council meets at 9 a.m. The council will hear a presentation on this year's Pink Army fund-raising for breast-cancer research and a presentation on the city's Birds of a Feather fest, along with action on development items. The full agenda is here.
The Flagler County Affordable Housing Advisory Committee meets at 8:30 a.m. at the Government Services Building. No agenda or location posted.
The Bunnell Planning and Zoning Board meets at 7 p.m. at Bunnell City Hall. It will consider a request for a site plan approval for Fraser's Outdoor Storage at 1800 Old Moody Blvd. The agenda is here.
The Flagler County Centennial Committee meets at 1:30 p.m. at the first floor conference room of the Government Services Building, Bunnell.
In Court: Judge J. David Walsh begins jury trials involving Walter Adamczak (trafficking hydrocodone) and Russell Cade (aggravated battery, cocaine sale).


Updated jail bookings and day and night shift incident summary reports are available here.
Vandalism Blamed for Emptying Plantation Bay's Water Supply, Leaving Customers Dry: Some 400,000 gallons of water were released, necessitating the boil-water notice until at least Thursday at noon. About 20 water valves had been opened in an undeveloped part of the subdivision, with a loss estimated at of $2,500. Felony criminal mischief charges are pending against the miscreant.
Palm Coast's $9 Million Scam at Taxpayers' Expense: the golf course since 2009 has averaged losses of $212,000 a year, for a total of $1.5 million. Depreciation raises the total loss to $3 million. Add to that the $5.5 million the city spent to renovate the club eight years ago and the total bill to taxpayers, money they will never see again, rises to $8.6 million. The tennis center averages an annual loss of just over $111,000. Add that to the overall total, and we're up to $9.3 million in losses since these two money pits opened.
Bottle clubs in Palm Coast? City considers four options: The city, the Observer's Jonathan Simmons reports, "could add bottle clubs to a list of prohibited land uses — like junk yards, puppy mills and asphalt plants — that aren't allowed anywhere in the city; it could allow them in its high-intensity commercial zoning district as a special exception requiring planning board approval; it could allow them in its high-intensity industrial-zoned areas as a special exception requiring planning board approval; or it could allow them in its lower-intensity industrial-zoned areas as a special exception requiring planning board approval."
Starting With $8.50 Increase Next Year, FPL Seeks Monthly Rate Increase of $14 By 2020: The state's largest electricity provider wants Florida regulators to approve a four-year funding package that would raise the base rate on a typical monthly bill by about $8.50 starting in 2017, with the hike reaching $14 by 2020.
Flagler Sheriff's Deputy and SWAT Member Jonathon Duenas Escapes Blazing Patrol Car on CR35: Road flares are blamed for the fire, which demolished the patrol car.
In City Rep's "Working," A Job Becomes a Musical: The play is based on the 1974 book by Studs Terkel titled "Working: People Talk About What They Do All Day and How They Feel About What They Do."
At Salvo Art Project: Rachel Thompson, Artist of the Year: In selecting the Flagler County Artist of the Year, the Gargiulo Art Foundation seeks "someone with unique talents and personal representation of their art," said Arlene Volpe, director and co-founder of the foundation with Tom Gargiulo. "In Rachel's case, her art is deeply reflective of her beliefs in women and Native Americans, and her art is thoughtful, personal, emotional. We feel very lucky to have her in our community."


Note: Most proceedings below can be followed live on the Florida Channel.

Police use of force: Sen. Geraldine Thompson, D-Orlando, and Rep. Shevrin Jones, D-West Park, will take part in a news conference to discuss legislation that addresses reporting and investigation requirements in police use-of-force incidents. (11:30 a.m., fourth-floor rotunda, the Capitol.)
Sentencing: The Senate Criminal Justice Committee will discuss draft proposals related to sentencing. (1:30 p.m.)
Drones: The Senate Commerce and Tourism Committee will take up a proposal (SB 642), filed by Sen. Miguel Diaz de la Portilla, R-Miami, that could lead to owners of drones being held liable because of the negligence of drone operators. (1:30 p.m., 110 Senate Office Building, the Capitol.)
Abortion regulation: The House Health Innovation Subcommittee will take up a bill (HB 233), filed by Rep. Carlos Trujillo, R-Miami, that would increase regulations on abortion clinics, requiring them to be licensed similar to hospitals and ambulatory surgical centers. (1:30 p.m., 306 House Office Building, the Capitol.)
Another sunshine exemption: The Senate Community Affairs Committee will take up a series of issues, including a proposal (SB 1004), filed by Sen. Alan Hays, R-Umatilla, that would create a public-records exemption for video or audio recordings from security systems at state or local government buildings. (4 p.m., 301 Senate Office Building, the Capitol.)
Park discounts for veterans: The Senate Military and Veterans Affairs, Space and Domestic Security Committee will consider a bill (SB 1202), filed by Sen. Joseph Abruzzo, D-Boynton Beach, that would require counties and cities to give full or partial discounts on park-entrance fees to members of the military and veterans. (4 p.m., 37 Senate Office Building, the Capitol.)
Civil citations: The House Criminal Justice Subcommittee will take up a series of issues, including a proposal (PCB CRJS 16-06) that could increase the issuance of civil citations to juveniles who commit crimes. (4 p.m., 404 House Office Building, the Capitol.)
The Commission on Healthcare and Hospital Funding, which was created last year by Gov. Rick Scott to delve into health-care funding and regulatory issues, will meet. Among the speakers will be Sen. Don Gaetz, R-Niceville. (9 a.m., Cabinet meeting room, the Capitol.)
Supporters of the Florida Tax Credit Scholarship program will hold a march and rally. Among the speakers is expected to be Martin Luther King III. (March starts at 10 a.m., Donald L. Tucker Civic Center, 505 West Pensacola St., Tallahassee. Rally starts at 11:30 a.m., Duval and Madison streets, Tallahassee.)
–Compiled by the News Service of Florida and FlaglerLive


In Coming Days in Palm Coast and Flagler:
Click on the links for more details:


Click on the link for more details.


#Kentucky teen dies in police custody and family is left with little answers: https://t.co/sbSKB80rw8 pic.twitter.com/oMHAzHR91m

— The Root (@TheRoot) January 19, 2016
JUST IN: Trump: Christians must "stick together" https://t.co/g3eS42jsKh pic.twitter.com/besC8eSgv6

— The Hill (@thehill) January 19, 2016
Since the new year oil price has plunged 18% https://t.co/MX4jk1h0KK pic.twitter.com/OtG5OR96AE

— The Economist (@TheEconomist) January 19, 2016
The two questions about climate change you must ask yourself: https://t.co/whGyk1XyM5 pic.twitter.com/4rpkAYB3OQ

— Slate (@Slate) January 19, 2016
Exclusive: The Pentagon is considering retroactively demoting retired Gen. David Petraeus https://t.co/F9dJpBK5Z4

— The Daily Beast (@thedailybeast) January 19, 2016
Spike Lee joins the growing list of celebrities ditching the Oscars this year because #OscarsSoWhite https://t.co/qXURBCbq0d

— Mic (@micnews) January 19, 2016


Palm Coast Construction and Development Progress Reports
The following is an update of ongoing construction and development projects in Palm Coast, through Dec. 15:
Christ the King Evangelical Lutheran Church and School, 1 percent done: Located at 5625 North US Highway 1, the school received a Development Order for a new 13,794 sq. ft. early learning center to be located on the south side of their 8.6-acre site. The architecture of the new one-story building will be very similar to the existing church and school facilities that are located just north of the proposed new building.
Holland Park, 48 percent done: Grading and installation of perimeter sidewalk continues. Electrical conduits being installed to new restroom. Restroom plot has been cleared and graded. Water service has been installed at restroom site. Surveying for basketball court and roadway has begun..
County's I-95 Interchange Matanzas Woods Reclaim Water, 76 percent done: Retention ponds are being excavated and fill continues for the ramps. (Not in the Dec. 15 update.)
Palm Harbor Parkway Roadway Extension, 38 percent done: The headwall for the double barrel stormwater pipe has been installed and tied in. The water main and reuse main have been extended towards Forest Grove Drive waiting on the
closure of the road next week to make the road crossing.
Colechester Bridge, 93 percent done: Seawall has been completed on the east side, slope pavement has begun.
North Old Kings Road Extension to Matanzas Woods Parkway, 19 percent done: Asphalt was installed on the new section of roadway adjacent to the old roadway at the intersection of Old Kings Road and Forest Grove. (Not in the Dec. 4 update.)
Old Kings Road Force Main 83 percent done:: Contractor has completed the Force main up to the pig launch points and restored the site and trail. The area for the pig flush was completed and flushing has started. (Not in the Dec. 15 update.)


Road and Interstate Construction:
Matanzas Woods Parkway to close temporarily Jan. 16 and 17: Florida Power & Light has requested a temporary closure of Matanzas Woods Parkway to install new street lights. The roadway will be closed between Bird of Paradise Drive and Old Kings Road at Matanzas High School from the hours of 8 a.m. to 4:30 p.m. on January 16 and 17 – a Saturday and Sunday – to provide ample time for the installation. "FP&L requested the road closure so they can complete this portion of the work," said County Engineer Faith Alkhatib. "It is scheduled for a time when school is not in session." Road work for the Interstate 95 interchange at Matanzas Woods Parkway will cause intermittent lane closures as the ramp construction is not slated for completion until April 2016. Project details are available and regularly updated at matanzas95interchange.com. Links are available on the Flagler County website flaglercounty.org.
Forest Grove Drive connection to Palm Harbor Parkway to be closed starting Dec. 18: Effective Friday, Dec. 18, the City of Palm Coast will be closing the Forest Grove Drive connection to Palm Harbor Parkway. This road closure is required as part of construction operations for the Palm Harbor Parkway extension, which is currently under construction. Palm Harbor is being realigned and extended to connect directly with Matanzas Woods Parkway where it intersects with Old Kings Road. Message boards will be placed to advise motorists and other travelers of the upcoming change, and a public meeting has already been held for residents living in that area. Both the Palm Harbor extension and a separate extension of Old Kings Road are being built in preparation for the new Interstate 95 interchange to open next June at Matanzas Woods Parkway. As part of the projects, traffic patterns around Matanzas High School will be changing. One goal is to turn Forest Grove Drive back into a residential street as it was originally intended to be. The upcoming road closure of the Forest Grove Drive connection to Palm Harbor Parkway is part of that project. Forest Grove will be turned into a cul de sac on that end. Once the separate Old Kings Road extension is completed, in June 2016, the Forest Grove Drive access to the high school will be closed because it will no longer be needed. Instead, motorists and other travelers will get to Matanzas High School via the new signalized intersection at Matanzas Woods, Palm Harbor and Old Kings. For more information, please contact Palm Coast Communications Manager Cindi Lane at 386-986-3708 or [email protected]


Daniel Barenboim Performs Mozart Sonata in C Major, K,330
See Also: