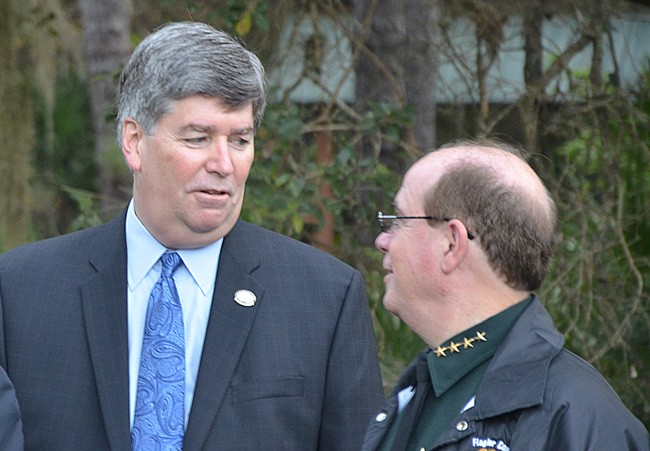 A coincidental power and emergency-communications failure took place Thursday afternoon during a heavy rainstorm even as county officials were meeting with the sheriff, the city managers of every city in the county, fire chiefs and a variety of other directors for the first time in more than two years to discuss critical elements of the county's radio-communication infrastructure.
The meeting at the county's Emergency Operations Center, which was not open to the public, had nothing to do with the storm—at least not Thursday's storm. It was called at the behest of Emergency Management chief Kevin Guthrie—who's leaving—to address Palm Coast's and the sheriff's mounting concerns over the county's long-range plan to modernize the county's radio-communication infrastructure, on which every local government agency depends (with the school board's exception). Cops, firefighter-paramedics, public works, utility employees and others all use the so-called 800 Mhz system, bought by the county for $10 million in 2005 and nearing its end.
Palm Coast City Manager Jim Landon and Flagler County Sheriff Jim Manfre, both of whom were at the meeting, are concerned that the county is not moving fast enough to replace the system, which has an official end of life in 2017, though the vendor, Communications International, has pledged to Flagler to provide support until 2020, "more if parts available," according to a county presentation on the matter. Thursday's meeting participants saw the presentation, which was first developed in 2013. (See the full presentation below).
Separate interviews with several participants in Thursday's meeting described it as cordial if punctuated with moments of tension and, at one point, disbelief, when County Manager Craig Coffey left the meeting to attend a previously scheduled staff meeting. (Coffey had told the executives that he'd be leaving at about 3:20 p.m. for the 3:30 meeting, though that staff meeting usually takes place at 9 a.m.) Coffey left just as the sheriff was taking a position about the county's spending responsibilities. Until that point, the meeting had gone well, with a substantive exchange of ideas and positions. After Coffey left, Landon and Manfre spoke their displeasure, suggesting that Coffey could have delayed his other meeting for the more critical one he was attending. (Relations between Landon and Manfre on one side and Coffey on the other have not been warm for over a year.)
By then each side's position had been made clear, however, with Coffey insisting that he would not have county coffers begin paying on a new communication system until the current system's $1-million-a-year debt is paid off by 2020, as it would otherwise be too heavy a burden on taxpayers or the county budget—an issue neither the city nor the sheriff have to worry about, as it isn't their budgets.
The county is fully responsible for that backbone infrastructure, with the sheriff and the cities paying for only such things as radios and other incidentals. Those are still considerable expenses (Bunnell's costs alone would be $30,000) but not nearly as expensive as the $8 million to $20 million price tag of a new communications infrastructure, which may entail eight to nine communication towers, compared to five today.
---
A meeting exposes critical differences in how to modernize the county's most important emergency communications system.
---
But the system is not nearly as good as it can and, in the sheriff's long-standing perspective, ought to be. That's one of the many points of common agreement between all participants at Thursday's meeting. Firefighters and cops lose contact with each other and with the 911 dispatcher in critical situations, as when they enter big box stores, schools, or find themselves crawling in tight spaces. Sheriff's officials find that unacceptable when it comes to officer safety, as do fire officials. But to upgrade the system to the much stronger standards in place in St. Johns, Duval and Clay counties, where responders would still be able to be in contact in 97 percent of situations, would cost $20 million.
For the county, that's not the issue: all sides agree that ultimately the best system may be sought, though that's a policy decision none of the participants at Thursday's meeting get to make. They can only recommend it. The decision will be in the hands of the Flagler County Commission. Leading up to that, however, is input—input city officials and the sheriff say they have not been granted, though county officials dispute that.
Both sides have a point. Communication between all sides had been non-existent until 2013, under a former emergency management chief, but since 2013, when then-Undersheriff Rick Staly asked Guthrie to reopen lines of communications between agencies, a monthly meeting has been held between lower-ranked IT, fire and police officials. It just hasn't carried the weight of executive-level meetings. Thursday's meeting was the first such, intended to be a quarterly meeting of executives, thus leaving no room for misinterpretation.
No decisions were made Thursday, and though all sides agreed about the goal—a new communications system—differences were sharpened over how to get there, with Landon intimating at one point that Palm Coast might go it alone if the county were to not budge from its decision not to move to a new system until 2020. That may be posturing: it would be prohibitively expensive for the city to go it alone. It's the reason it gave up its lone tower in 2003 to hop onto the county system. It was more cost-effective and logical, and taxpayers are loath to see services duplicated. But Landon's stance also underscores his and the sheriff's nervousness about the county's unwillingness to put the system out for bid rather than stick with its current provider, and their unease in depending on the county's infrastructure past 2017, without the provider guaranteeing that the system will be serviced properly.
Recent failures, though unrelated to that infrastructure—but directly related to county management of information technology—buttress the city manager's and the sheriff's point. And flickering failures such as Thursday's power issues could only feed into the perception of a county infrastructure lacking absolute reliability.
It wasn't long after Coffey left the meeting Thursday when the lights flickered at the Emergency Operations Center, and kept flickering ("a sign from God," as one of the participants would ruefully put it).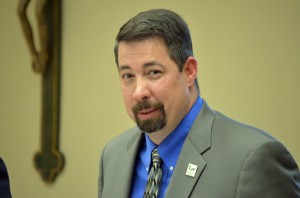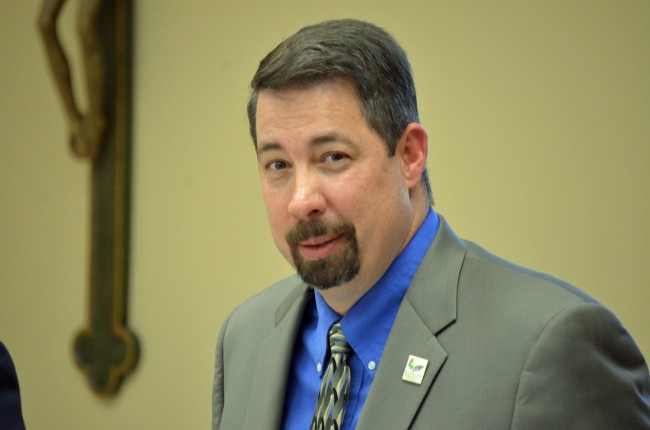 As officials would soon find out, the emergency communication system enabling the 911 dispatch center to talk to cops and firefighters on their radios failed at 4:28 p.m. and was off line for about 15 minutes. Firefighters and officers in the field also could not speak with each other on their radios, though they could still communicate through their computer systems. That system, too, had had issues for the past couple of days, and the sheriff's email system had failed for a few hours. (The 911 system was never affected: residents could still call in their emergencies, but 911 dispatchers briefly had trouble communicating emergencies to responders.)
The problems looked like echoes of the much larger county-operated system failure that crippled the sheriff's computer operations in October and November. But it was just that: an echo, provoked by a different set of issues that were addressed relatively quickly. The computer-assisted dispatching system, which had failed for days last fall, was fully operational by Thursday evening again after older switches were replaced, a county spokeswoman said.
The radio system went down because of corrosion and problematic terminal fittings on a back-up generator at the old sheriff's operations center, which powers the most critical of the county's five communication towers. The heavy rain storm caused the initial power failure, which should have kicked in the back-up generator. It did. But only for a minute. When power returned, then failed again, the generator did not kick in, draining the back-up batteries that operate the tower after 31 minutes. Once the batteries were drained, the system went down.
"We've struggled with our system failing from a computer standpoint today as well as our radio system," a sheriff's spokesman said in early evening. A unified command was established as in a crisis, at the 911 center, with all agencies working together—just in case. It proved unnecessary.
For several hours Thursday afternoon and evening, cops had to communicate not on their usual digital and encrypted communication channels, but on analog channels used by firefighters. They had to wait until the system re-synchronized itself before resuming operations as normal. The generator was replaced Friday morning, when all systems were functioning normally.
The same can't quite be said about relations between three of the county's four largest government agencies (the school board was not at the table), as the sheriff said he would take his case directly to county commissioners.
Being the only elected official there, that move may anticipate the next step in the process, which may—as in several recent regards where county and Palm Coast have clashed—require the intervention of the county commission and the city council.
Both council and commission have been poorly or not at all educated on the issue. The council, despite its numerous workshops, has never been schooled on the issue, let alone invited Guthrie or other county officials to make their presentation and their case directly to them. And three of its five members will be gone by November. The county commission last heard such a presentation in November 2013, when the issue lacked urgency. The year ahead's distracting and disruptive election season will be no help, again largely shifting what amounts to policy decisions into the hands of unelected executives whose ability to communicate sometimes mirrors the vagaries of the 800 Mhz system. Left in the lurch are the system's users, the county's most critical first responders: cops, firefighters, public works employees.


<![if !IE]><![endif]>