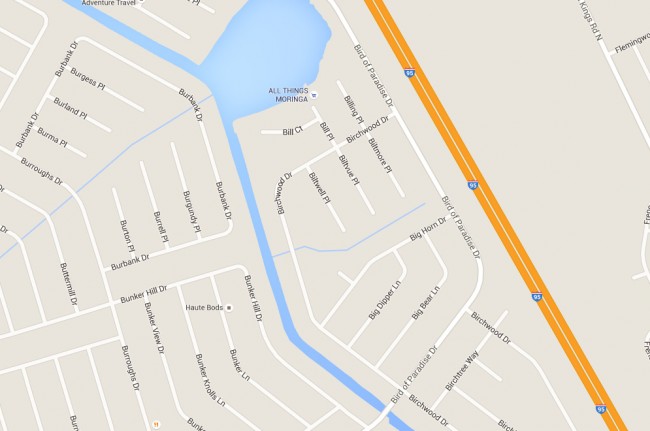 Last Updated: Saturday, 8:01 p.m.
Saturday Update, 7:03 a.m.–At 6:51 this morning, the sheriff's office announced that one of the two fugitives it had hunted for almost 12 hours was in custody.
The sheriff's office issued the following statement: "After an all-night search using helicopters and K-9 officers, Flagler County sheriff's deputies located a Virginia fugitive early this morning and took him into custody without incident. James Kent Booth, 54, of Montpelier, Va., was found hiding in a shed at a home on Big Horn Drive in Palm Coast. An off-duty deputy located him and held him at gunpoint until other deputies arrived, just before 5 a.m. Booth was taken into custody without incident. He is being interviewed by detectives and is cooperating.
Later in the day, Booth was charged with burglary of a conveyance and resisting arrest without violence.
"I'm very proud of the work these deputies did overnight to find this fugitive," Sheriff Jim Manfre said. "They worked long hours to protect our community in this situation and are to be commended."
The second male crash victim, identified only as "Mike,'' is still on the run.
The earlier account is below.


Flagler County Sheriff's deputies aided by Flagler County Fire Flight were hunting two men believed to be escaped convicts following a single-car crash on I-95 just north of Palm Coast Parkway this evening at 6:12 p.m. The search was still ongoing late into the night, with each passing hour diminishing chances of locating the individuals.
The alleged convicts are believed to have escaped from a work-release program in Henrico County, Virginia. One of the men is believed to be James Kent Booth, 55, who, according to the Virginia Department of Corrections' absconders website, "is wanted for leaving his assigned place of employment without permission." Booth removed his GPS tracker. Henrico County wraps around the northeastern contours of Richmond. He was last seen in Mountpelier, Va.
The only thing known about the other man is that his name is Mike.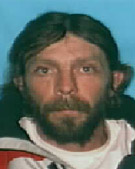 The wreck took place at mile marker 291, two miles north of Palm Coast Parkway, in the southbound lanes, when a vehicle–believed to be a Saturn–rocketed off the guardrail. The Saturn was occupied by three individuals–two men and a woman. The woman was believed to have initially stayed at the scene and to be tended by Flagler County Fire Rescue and Palm Coast Fire Department firefighter-paramedics.
That may not have been the case. A sheriff's spokesman said she ran from the scene as well, and later sought assistance from a homeowner in the B Section. The woman is believed to be Deborah Diane Sparks.
The two men ran from the scene–the Florida Highway Patrol lists the wreck as a hit-and-run–and were seen heading into the B Section, which parallels I-95 in that area. At least one of the men was last seen at Biltwell Place, a small street off of Birchwood Drive.
"We are now actively searching for what I believed to be one person, maybe two, we believe that person to be an escapee from a prison system in Virginia," the sheriff's office's Jim Troiano said at 7:30 p.m. He said the man is wanted on a misdemeanor warrant. "We're contemplating putting out a Code Red to the area along the interstate. We don't believe the person is armed, we have no reason to believe that." But there is no certainty whether he is or not armed, Troiano added.
A second crime may have taken place.
"There's an allegation that an abduction took place. I don't know how accurate that allegation is, it's coming from one of the people in the car," Troiano said.
The woman reportedly told authorities that she was driving in Virginia when she picked up two men she thought were day workers. She claims they ended up kidnapping her and driving to Florida.
A Code Red alert was in fact issued to the affected B-Section neighborhood at 7:41 p.m. But it can take several minutes for the calls to roll out to all intended numbers.
The search had begun with Flagler County Fire Flight, but Fire Flight had to return to its base at the Flagler County Airport because of a mechanical issue. It stayed in the air until it was replaced by Volusia County's Air One.
By 9:45 p.m., the search had shifted to the Indian Trails neighborhood, though at around the same time someone matching the description of the suspect was spotted at Pine Lakes apartments, on the north side of Belle Terre Parkway. A perimeter was established at Burnell Drive and Burnell Place.
Through all this, the sheriff's computer-assisted dispatching, on which deputies rely to keep up with each other's whereabouts and maneuvers through their patrol-car computer, has operated fitfully, going down entirely at times, as it had in the previous 48 hours.
Through 10:30 p.m., residents were reporting to authorities movement or sounds in their yards, but no solid sightings. At near 10:45 p.m., a resident reported what sounded like two gunshots.
By Saturday morning, it was confirmed that Booth was one of the men being sought. He was found in a shed by an off-duty officer.
Booth was arrested last May in Virginia, allegedly for manufacturing methamphetamine, though he claimed he'd merely been a user, not a manufacturer. "I can't catch a break anywhere, can't get a job with this stuff on my record," he told WTVR from jail in an interview at the time. "I try to get away and it pulls me right back. A vicious cycle? Yes! I don't want to go back but feel I'm forced to."
See the interview below.