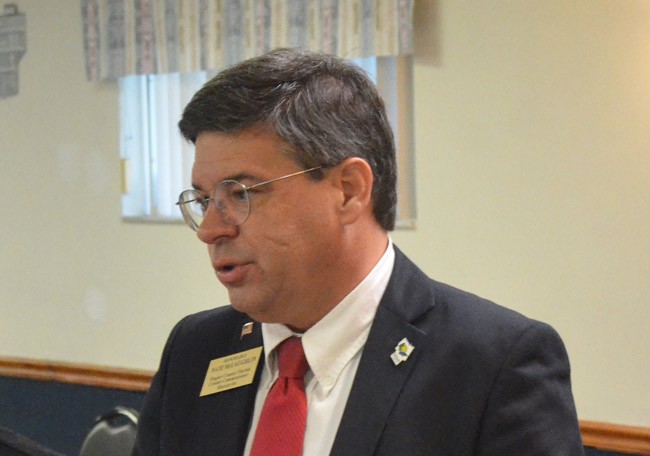 Today: Rain and slight chance of thunderstorms in the morning… Then rain likely in the afternoon. Highs in the mid 60s. Northwest winds 5 to 10 mph. Chance of rain 80 percent. Tonight: Colder. Mostly cloudy with a 40 percent chance of showers in the evening…then partly cloudy after midnight. Lows in the mid 40s. Northwest winds 10 to 15 mph.Details here.
Today's fire danger is moderate. Flagler County's Drought Index is at 148.
Today's tides: at the beaches, at the Intracoastal Waterway.
Today's document from the National Archives.
The OED's Word of the Day: zeppelin, v..
The Live Community Calendar
Today's jail bookings.
Today's Briefing: Quick Links


Note: all government meetings noticed below are free and open to the public unless otherwise indicated. Many can be heard or seen live through each agency's website.

The Flagler Beach City Commission meets at 5:30 p.m. The commission will hear three requests for rule waivers by companies seeking to rent the pier for parties, where they would serve alcohol, including the Chiumento Selis Dwyer, the Palm Coast law firm (it'll be holding a client appreciation party on May 20), the Flagler Beach Historical Museum, which will be holding its 2016 Cheer fund-raiser at the pier on April 2, and the Flagler County Chamber of Commerce, which will be holding a block party at the pier on July 21. The Rotary Club of Flagler Beach is swwking a similar permit to hold holding a party for cyclists at Veterans Park on April 30. The commission will also consider approving a resolution opposing seismic testing in the Atlantic, a method used to prospect for oil. It is an otherwise uneventful meeting. The full agenda and background materials are here.

The Palm Coast Beautification and Environmental Advisory Committee meets at 5 p.m. at City Hall in Town Center. It will hear an update on the proposed Invisible Wounds Memorial slated for Heroes Park and discuss landscaping in front of businesses alonong Old Kings Road and Palm Coast Parkway.
In court: Judge J. David Walsh holds drug court at 9:30 a.m., hearing two dozen cases. Judge Michael Orfinger hears injunctions at noon and 4:40 p.m. Judge Melissa Moore-Stens is in pre-trials.
Flagler County Commissioner Nate McLaughlin holds a town hall meeting at 5:30 p.m. at the Hidden Trails Community Center in western Flagler County.
Men's Futures Tennis Tournament: qualifiers and wild card, at the Palm Coast Tennis Center, today and Friday. But Palm Coast's Reilly Opelka, feted last year for winning the Wimbledon Juniors championship, will not be participating. The main draw tournament is scheduled for Feb. 2-7. 1290 Belle Terre Parkway.


Updated jail bookings and day and night shift incident summary reports are available here.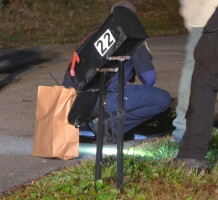 Bomb Squad Detonates Suspicious Package in Mailbox on Prattwood Ln. in Palm Coast: St. Johns County's bomb squad was called in by the Flagler County Sheriff's Office this evening after a suspicious package was discovered in a mailbox on Prattwood Lane in Palm Coast. The mailbox was at 22 Prattwood, a house that since 2003 has belonged to Thomasina Jackson and Carla Lee.
Luigi and Filomena Camporeale Killed in a Wreck With Truck on I-95 Just South of Palm Coast Parkway: There is no explanation for the wreck that killed Palm Coast couple Luigi Camporeale, 85, and his wife Filomena Camporeale, 76, around 9:30 p.m. Tuesday on I-95, immediately south of Palm Coast Parkway.
Case Against Man Accused of Animal Cruelty and Battery Starts Anew as He Reverses Plea: In an unusual and risky legal maneuver that resulted from a plea he did not agree to, Shawn Higgins, the Palm Coast resident accused of battering his ex-girlfriend and violently throwing her dog on the ground, has withdrawn his no-contest plea and re-started his court case from scratch, even though he now again faces two felony charges instead of a conviction on a misdemeanor.
Fernmill residents get break from heavy traffic in Palm Coast: Traffic is being rerouted south near Fellowship Drive instead as a result of construction in the area, the News-Journal reports. (Story paywall-protected.)
NAACP celebrates past year's growth and success, and looks to the future: "The organizations membership increased 35% in 2015, with an anonymous donation of nearly $3,000 for gift memberships, which were awarded at the meeting," the Observer reports. Jerusha Logan says the 2016 goal is to increase the membership by 1,000.
Senate Looks to Boost Education Funding Beyond Scott Request, But Tax Burden Looms: The Senate amount would allow the state to spend $7,249.23 a student, against the $7,220.59 figure Scott has proposed. Either number would break the previous record for public-school spending on a per-pupil basis, set nine years earlier, before the financial crisis wrecked the state's budget. (Both proposals are based on current dollars, not inflation-adjusted dollars. For either proposal to exceed the 2007-08 education budget after adjusting for inflation, they would have to propose $8,115 per student, according to the Bureau of Labor Statistics' inflation calculator.)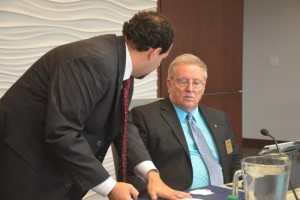 Radical Change Ahead for Palm Coast Council as McGuire Won't Run, DeLorenzo Opts for County and Netts Is Term-Limited: DeLorenzo's decision will have two significant consequences: on the commission side, it sets up a serious challenge to Ericksen and opens the possibility of a return of a Democratic majority to the county commission, though Democratic incumbents George Hanns and Barbara Revels also face Republican opposition. The more significant–because certain–consequence of DeLorenzo's decision is on the council side: his departure means that three (that is, a majority) of council seats will be open seats and will turn over to new members, resulting in a complete turn-over of the council in two years. That has never happened before. Just as strangely: Heidi Shipley and Steven Nobile, elected in 2014 and still the council's rookies, will essentially become its senior members.
Council member's wife dies: Sandy McGuire, wife of Palm Coast City Council member Bill McGuire, died Wednesday after a severe illness.


Note: Most proceedings below can be followed live on the Florida Channel.

Stand Your Ground Shift Considered: The Senate will hold a floor session and could approve a bill (SB 344), filed by Sen. Rob Bradley, R-Fleming Island, that would shift the legal burden of proof in "stand your ground" self-defense cases. The bill stems from a Supreme Court ruling last year that said defendants have the burden of proof of showing they should be shielded from prosecution under the "stand your ground" law. In "stand your ground" cases, pre-trial evidentiary hearings are held to determine whether defendants should be immune from prosecution. The bill would place the burden of proof on prosecutors in the evidentiary hearings. The Senate also could approve a bill (SB 130), filed by Sen. Garrett Richter, R-Naples, that is designed to prevent backyard shooting ranges in residential neighborhoods. (Thursday, 1:30 p.m., Senate chamber, the Capitol.)
The Florida Supreme Court is expected to release its weekly opinions at 11 a.m.
–Compiled by the News Service of Florida and FlaglerLive


In Coming Days in Palm Coast and Flagler:
Click on the links for more details:


Click on the link for more details.
Plenty of 'birding' fun for beginners, families at Birds of a Feather Fest: Do you love wildlife and being outdoors? Have you considered taking up birding as a hobby? The City of Palm Coast's Birds of a Feather Fest, coming up Feb. 5-7, is a great place to get started for beginners and families with children.
Birds of a Feather is set up like a conference with a buffet of birding field trips, classes and a keynote dinner from which to choose. Saturday, Feb. 6, has the most to offer beginners and families, and many of the activities are free.
Beginner Bird Walks (free) – Offered hourly from 8 a.m. to 4 p.m. Feb. 6, the Beginner Bird Walks offer delightful birding with knowledgeable guides in an urban oasis! Meet at the front entrance of the Palm Coast Community Center, 305 Palm Coast Pkwy. NE, and the guides will take you birding on the shady, paved trails near Linear Park/St. Joe's Walkway. There is no need to register in advance – so just show up.
Wild About Birds presentation (free) – 1 p.m. Feb. 6, at the Community Center. Gina Holt of Wild About Birds will provide an educational and entertaining presentation about birds of prey, teaching about habitat, the food chain and conservation. She will bring a couple of her live birds of prey, who are non-releasable, to show off! Again, no need to register in advance.
Exhibit Hall (free) – open 9 a.m. to 5 p.m. Feb. 6 at the Community Center. Spend some time exploring the festival exhibits offering everything from birdhouses for sale to information on nature vacations to a sampling of the binoculars and other tools that make birding even more enjoyable. Both the Flagler and Halifax Audubon Societies will have booths this year with representatives who can help you get started in the wonderful family-friendly hobby of birding. Enjoy the photo booth featuring Birds of a Feather Fest mascot PeaCee.
"Being outdoors with your family is always fun, and birding can add a new level of exploration and learning," said festival Founder Jason Giraulo, the City's Digital Communications Coordinator. "Our event has great bird walks, classes and speakers for serious birders, but we also wanted to introduce people of all ages to the joy of birding." A complete schedule for the Birds of a Feather Fest is at www.birdingfest.com, and registration is now open for the activities that require pre-registration. This year's sponsors include Florida Hospital Flagler, Florida Power & Light, the Palm Coast Observer, Top Birding Tours, the Home Depot and Bright House Networks. Please join us and our mascot, PeaCee, for the second annual Birds of a Feather Fest – Fun for the Whole Flock. For more information, visit www.birdingfest.com or contact Giraulo at 386-986-2484 or [email protected].


There is no 'post' traumatic stress in Gaza because the trauma is continuous https://t.co/qulldxad1u pic.twitter.com/lp79ogWU2K

— Mondoweiss (@Mondoweiss) January 28, 2016
Latest Iowa caucus forecast, as of 9:02am EST: https://t.co/jHkTPKOU4O pic.twitter.com/0i1b2ghmnt

— FiveThirtyEight (@FiveThirtyEight) January 28, 2016
Shuttle Challenger tragedy 30 years ago: What lessons were learned? https://t.co/uZpFmEgoaX pic.twitter.com/0K0mVSaidi

— Orlando Sentinel (@orlandosentinel) January 28, 2016
Study: Bernie Sanders's single-payer plan is almost twice as expensive as he says https://t.co/pEsiYrhZZI pic.twitter.com/1Pf3cmii75

— Vox (@voxdotcom) January 28, 2016
Deconstructing Hillary and Bernie: Gail Collins on how the two Democratic candidates differ: https://t.co/9hc64RmnnG pic.twitter.com/Nx7pmPwnfF

— NYT Opinion (@nytopinion) January 28, 2016
Can you guess who inspired artist R. Kikuo Johnson to illustrate the Guggenheim as a mobile? https://t.co/cGXw2ReGjP pic.twitter.com/5xYVsqGNOg

— Guggenheim Museum (@Guggenheim) January 27, 2016
5 things nobody tells you about being your own boss: https://t.co/pvn2q2zUXO pic.twitter.com/itNO9jShOH

— Fast Company (@FastCompany) January 28, 2016


Palm Coast Construction and Development Progress Reports
The following is an update of ongoing construction and development projects in Palm Coast, through Jan. 15:
Christ the King Evangelical Lutheran Church and School, 1 percent done: Located at 5625 North US Highway 1, the school received a Development Order for a new 13,794 sq. ft. early learning center to be located on the south side of their 8.6-acre site. The architecture of the new one-story building will be very similar to the existing church and school facilities that are located just north of the proposed new building.
Holland Park, 49 percent done: Grading and installation of sidewalks continues. Restroom permit issued. Plumbing and Electrical underground inspections. Electrical conduit installation continues. Pavilion lighting being installed. Stormwater installation begun in Playground area.
County's I-95 Interchange Matanzas Woods Reclaim Water, 76 percent done: Retention ponds are being excavated and fill continues for the ramps. (Not in the Dec. 15 update.)
Palm Harbor Parkway Roadway Extension, 38 percent done: The headwall for the double barrel stormwater pipe has been installed and tied in. The water main and reuse main have been extended towards Forest Grove Drive waiting on the
closure of the road next week to make the road crossing.
Colechester Bridge, 94 percent done: Sea walls have been completed and forming of the western abutment almost complete.
Palm Harbor Extension, 45 percent done: Met on site with contractor to discuss water and sewer testing and construction meter placement.
North Old Kings Road Extension to Matanzas Woods Parkway, 19 percent done: Asphalt was installed on the new section of roadway adjacent to the old roadway at the intersection of Old Kings Road and Forest Grove. (Not in the Dec. 4 update.)
Old Kings Road Force Main 90 percent done:: The contractor has tied the 8″ force main to the 16″ force main in front of the new Master Pump Station on South Old Kings Road. On January 13, 2016 the contractor installed a 16″ X 8″ wye and an 8″ valve in front of the existing lift station on Old Kings Road South. An 8″ wye and an 8″ 45 elbow fitting was installed to complete the connection from the existing 8″ force main to the new 16″ future force main.
Heartland Dental at 782 Belle Terre Pkwy, 99 percent done: Project nearing completion a utility substantial was scheduled for January 14.
Island Walk Shopping Center Phase 2, 11 percent done: Stormwater piping being placed and pond excavations
continue. Pressure test on new 8″ water main was completed January 12.


Road and Interstate Construction:
Forest Grove Drive connection to Palm Harbor Parkway to be closed starting Dec. 18: Effective Friday, Dec. 18, the City of Palm Coast will be closing the Forest Grove Drive connection to Palm Harbor Parkway. This road closure is required as part of construction operations for the Palm Harbor Parkway extension, which is currently under construction. Palm Harbor is being realigned and extended to connect directly with Matanzas Woods Parkway where it intersects with Old Kings Road. Message boards will be placed to advise motorists and other travelers of the upcoming change, and a public meeting has already been held for residents living in that area. Both the Palm Harbor extension and a separate extension of Old Kings Road are being built in preparation for the new Interstate 95 interchange to open next June at Matanzas Woods Parkway. As part of the projects, traffic patterns around Matanzas High School will be changing. One goal is to turn Forest Grove Drive back into a residential street as it was originally intended to be. The upcoming road closure of the Forest Grove Drive connection to Palm Harbor Parkway is part of that project. Forest Grove will be turned into a cul de sac on that end. Once the separate Old Kings Road extension is completed, in June 2016, the Forest Grove Drive access to the high school will be closed because it will no longer be needed. Instead, motorists and other travelers will get to Matanzas High School via the new signalized intersection at Matanzas Woods, Palm Harbor and Old Kings. For more information, please contact Palm Coast Communications Manager Cindi Lane at 386-986-3708 or [email protected]


John Coltrane: Alabama
See Also: