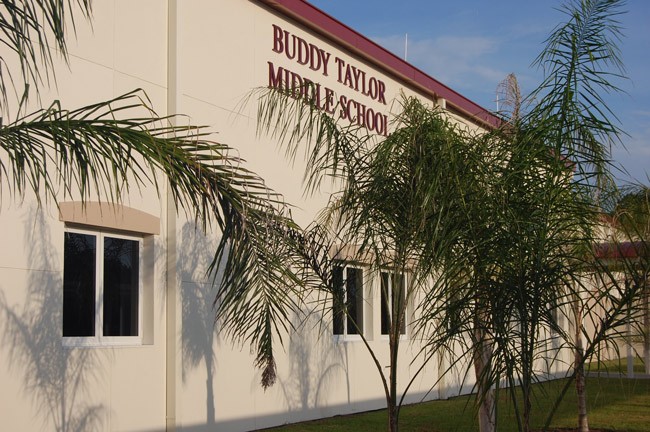 In a terse, six-page letter to School Superintendent Jacob Oliva, the president of the Flagler County Branch of the NAACP accuses the school district of "willfully, intentionally and arbitrarily" engaging in "an unlawful pattern" to keep parents from examining evidence behind the suspension of students from schools and buses and claims there's been an "increasing number" of such suspensions affecting black students. The letter also paints an alarming picture of conditions at Buddy Taylor Middle School, where students "are in the hallways running, yelling, traveling in mob groups" and insulting teachers. (See the full letter below.)
Oliva and School Board Chairperson Colleen Conklin were "surprised" by the Feb. 15 letter. Both said they were unaware of serious disciplinary issues at Buddy Taylor such as those described, and both were under the impression that relations with the NAACP were cordial and productive and the district's efforts to reduce out of school suspensions were working, with the trend pointing downward in that regard.
In June, the school board ratified a settlement agreement with the Southern Poverty Law Center that ended a three-year complaint focused on the district's record of disproportionately punishing black students. The agreement, backed by the NAACP, put in place remedies and goals addressing concerns and creating a quarterly, public forum where disciplinary matters are analyzed and updated. Two such meetings have taken place since the agreement was ratified, with Linda Sharpe Matthews, the president of the local NAACP, attending one of the meetings, and describing the process as productive and useful, but incomplete.
In an interview this afternoon, Sharpe Matthews acknowledged that overall suspensions in the district have fallen, not risen.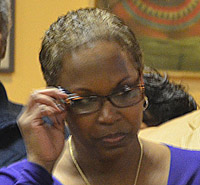 "They have," Sharpe Matthews said, "but in the cases that we are complaining about, and there's two or three specific cases, where due process has not been given to either the student or the parent, they were arbitrarily suspended on hearsay. And there's a videotape we want to see to challenge the suspension and it has not been made available to us or the parents of the child. They say it's confidential."
Oliva said student education and disciplinary records are made available to the students' parents, minus information that relates to other students. "Some of the things they're asking for would be direct FERPA violation," he said. "Just because people want to request certain data or access information doesn't mean they're allowed to have it."
In the case of video tapes, Sharpe Matthews said the parents were told they could not have access to the footage because it involved other students as well, whose privacy is protected under the federal Family Educational Rights and Privacy Act, commonly known by its acronym, FERPA. It is common, however, in such situations, for the identifying facial features of students to be blurred out—the technology is readily available, and routinely used—protecting privacy while letting evidence speak for itself. It's not clear why the district in this case has not acted accordingly. (Kristy Gavin, the school board attorney who was among the recipients of the Sharpe Matthews letter and who handles public record requests for the district, did not return calls this afternoon. The school board was meeting at 5 and 6 p.m.)
---
"There's a time for dialogue and then there's a time for action," says the NAACP's Linda Sharpe Matthews.
---
"I haven't had an opportunity to really review it in great detail," Conklin said of the letter, minutes before starting the evening meetings. "I'd like a third party opinion on what they're requesting in regards to exemptions to FERPA laws, because the bottom line is we can't violate student and family rights to privacy, and so I think it would be beneficial for everyone if there was a possibility of having a third party that's independent to weigh in."
Oliva says he will be analyzing Sharpe Matthews's concerns point by point and matching up her claims with available evidence before setting up a meeting with her and others concerned.
Sharpe Matthews points to "the school district's gratuitous and extra-judicial refusal to provide access to educational records relative to our investigations," then sets out eight demands for access to records, with notice that the NAACP is ready to seek out arbitration if the dispute continues, or to file a complaint with the U.S. Department of Education's Family Policy Compliance Office.
"The school district has had a really good working relationship with the NAACP, to sit at the table and evaluate concerns and put some great innovative practices in place," Oliva said, referring especially to the process started in the wake of the Southern Poverty Law Center agreement. He stressed that the total number of days for out of school suspensions has been dropping. "I'm a little surprised at this letter because I think we've been always been able to sit down and have great conversations."
Sharpe Matthews said the letter should not be a surprise to the district. "Everything we complained about we have reached out to try to resolve before this letter of dispute went out," Sharpe Matthews said.  And this is what happens when your phone calls go unanswered or your complaint is ignored. There's a time for dialogue and then there's a time for action, and when you feel you're not being dealt with fairly, or things aren't being done in a timely manner, or when there's a detriment to children, then we have to step in. I'm not complaining about overall progress. There is progress. And we have said that. But in these specific cases, something has to be done immediately."
The letter mentions the case of three students. Of issues at Buddy Taylor Middle School, Sharpe Matthews wrote: "We understand that teachers and staff are not feeling safe at the school, and that school board member Andy Dance was present at their Safety Meeting. We understand that student behavior has gotten worse and that students are increasingly more aggressive and disrespectful to the school staff."
But that issue is not related to the cases of the three suspended students, Sharpe Matthews said.
Oliva said he was not aware of such issues at Buddy Taylor, and that all schools have safety meetings regularly, whether to talk about weather emergencies, prepare for active-assailant situations or discuss discipline. Buddy Taylor's meeting was not out of the ordinary. "We're always looking to review to make sure students are safe, because when they're safe and on task they're going to achieve better."
"My understanding from what I'm hearing is that this has been a great year for Buddy Taylor," Conklin said of the Buddy Taylor claims. "So that was news to me."


<![if !IE]><![endif]>