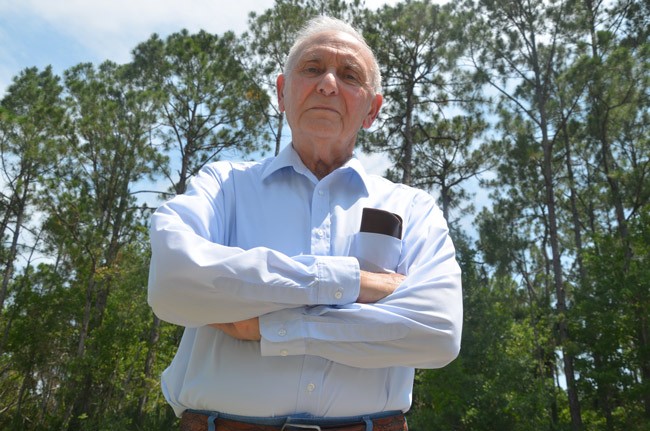 Last Friday the Flagler County Sheriff's Office logged "at least 30 reports" of local residents complaining of fraudsters claiming to be from the Internal Revenue Service, and threatening various actions, including lawsuits, if the person being called did not himself or herself call a certain number "immediately."
By Wednesday, the head of the sheriff's dispatch center (or 911) was reporting "hundreds of calls" from residents complaining of IRS scammers. One of them was Vince Liguori, the crusty Palm Coast resident and habitue of government meetings, where his candor often pierces through bureaucratic nonsense. He is not one to tolerate scammers. "I've gotten two or three calls," he said today (Feb. 17). "The first time they came in on a 202 number, that's Washington, D.C.–to get their legitimacy."
Liguori immediately turned the tables on the caller, either asking for a supervisor, which ends the call very quickly–the scammers hang up–or telling the callers in salty language his opinion of the scam. Liguori contacted the IRS, the sheriff's office and his phone service provider, though his service provider told him that scammers are using "a myriad of numbers" to cheat people.
The calls, of course, are a fraud: the IRS does not call people, let alone ask for credit card numbers or threaten arrest over failure to pay taxes. Scammers frequently invent alleged past-due bills or taxes, preying on the elderly or immigrants or individuals who may not have a command of the system.
These types of bogus phone calls happen all year round, the sheriff's office cautioned in a release, but especially during tax season. Since October 2013, federal authorities have received reports of about 736,000 scam contacts. More than 4,550 victims have collectively over $23 million as a result of phone scams. The Sheriff's Office and the IRS continue to warn people to stay alert to these kinds of calls from criminals who intend to steal money or consumers' identity.
The sheriff's office and the IRS provide the following tips:
The IRS won't call you if you owe taxes without first sending you a bill in the mail.
If you don't owe taxes, don't give any information. Hang up immediately.
Contact the Treasury Inspector General for Tax Administration to report the call. You can use its web page "IRS Impersonation Scam Reporting" or call 800-366-4484.
Report such calls to the Federal Trade Commission: Use the "FTC Complaint Assistant" on FTC.gov. Specify "IRS Telephone Scam."
If you do owe taxes or think you may owe taxes, call the IRS directly at 800-829-1040 (preferably with good reading material and a beer in hand or a TV nearby: it may take a while to get through). Politicians' rhetoric notwithstanding, IRS workers can help you.
Don't fall victim to these scams. Don't give anyone information over the phone that you don't know, regardless of how trustworthy they may seem. For more information, go to IRS.gov and visit "Tax Scams and Consumer Alerts."