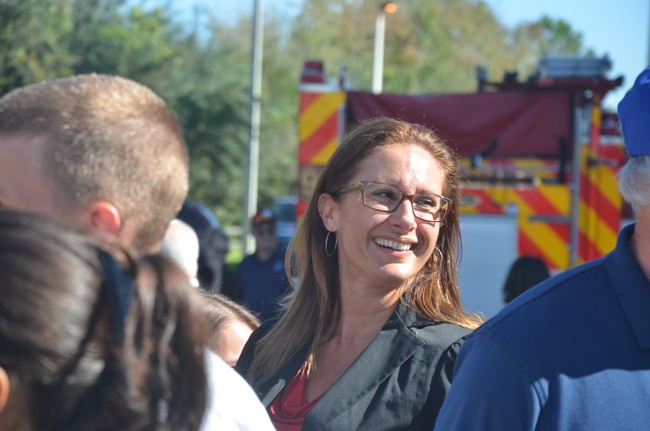 It's going to be a little more expensive for accused criminals to post bond immediately after arrest in hopes of avoiding at least a night in jail. On Feb. 26, and for the first time in nine years, the chief judge for the circuit that includes Flagler County, Terence Perkins, signed an administrative order raising, and in several cases doubling or revoking, bonds on most offenses.
The bond schedule affects only those bonds imposed at the time of arrest, and before the suspect's first appearance before a judge, usually 24 hours later or less, when a judge can set a bond at his or her own discretion. The immediate bond enables a suspect to avoid going to jail or spending a night there. It has benefits and drawbacks, officials say, but the lower bonds had come under increasing criticism for being too low, and for having been unrevised since the last schedule was adopted in 2007.
Former Flagler County Undersheriff Rick Staly had ridiculed the older schedule when the Flagler County Public Safety Coordinating Council discussed a steeper schedule for the first—and only—time last April. Staly was days away from retirement—what turned into a prelude for a run for sheriff against Jim Manfre, who was sitting next to him at that April meeting—when he said he decided to appear at the council meeting specifically to encourage it to support the new schedule.
"The bond schedule in my opinion is pathetically low," Staly said at the time, "so I would encourage that this committee support that. We're talking about violent offenders that go out and come back where they came from. They get arrested, they're out on bond, they get a new bond. I don't know if that's being addressed. But we have repeat offenders that bond out, or get released, they get arrested, they're back in, they get released, they get arrested." He described the case of a drug dealer local sheriff's deputies spent $5,000 to bring back from California, only to see him post bond on $10,000 and abscond again.
It's unlikely the new schedule would prevent drug dealers from doing the same, however, particularly as the schedule has limited application. And when it comes to drug trafficking, the new schedule doesn't change the bonds, which even since 2007 started at $25,000 for the minimum mandatory punishment, and topped off at $500,000.
---
Raising what one undersheriff had described as a "pathetically low" bond schedule.
---
"The bond schedule is essentially what law enforcement uses when they arrest somebody," County Judge Melissa Moore-Stens explained when she first presented the idea of a higher schedule to the council, on behalf of Perkins, last year. "They use these numbers, and if the person posts the bond for these numbers, then they don't see a judge for first appearance. Obviously if they're not able to post that bond in that time-frame they will see a judge for first appearance, and we have the ability to modify it either up or down."
In other words, that particular bond schedule doesn't extent past first appearance. But, as Court Administrator Mark Weinberg put it, "the purpose of the bond schedule is to afford individuals an opportunity to post a bond if they have the means to do so at the earliest possible time. And what I think Judge Perkins's intention was, is to have the bond schedule match as close as possible to what actually happens at first appearance, so the person for argument's sake isn't getting a benefit by posting bond earlier, as opposed to going before the judge."
And many offenses don't qualify for a bond before first appearance (if at all). Among those are capital and life felonies, first-degree felonies that could be punishable by life in prison, escape, domestic violence, aggravated stalking and several other crimes (see the list below the chart at the foot of the article.)
The new schedule revokes bail on a first-degree or second-degree violent felony, replacing the old $20,000 and $10,000 bond that had applied. It raises bond on a first-degree non-violent felony from $10,000 to $15,000. Bonds on hit-and-run offenses at least double. Bond on a first drunk driving offense doubles to $1,000, and rises to $2,500 (from $2,000) for a second conviction within five years, or if bodily harm is involved. And so on. See the full schedule in the chart below.
Perkins as chief judge has the authority to set the schedule and enact it unilaterally, though he's been working on it for a year and began shopping around the proposal through various public safety coordinating councils in the circuit since last spring, starting in Volusia, where he got no opposition.  The circuit includes Flagler, Volusia, St. Johns and Putnam counties. The new schedule will apply universally through the circuit.
When Moore-Stens presented the idea (without numbers at the time) last April, the Flagler council endorsed it without opposition. Weinberg this morning announced to the council that the new schedule had gone in effect.
"We were not in the mix on making that decision. That's the judge's prerogative to do it," Public Defender James Purdy said this morning in a brief interview. "I'm OK with it. It wasn't that big a difference, and it only affects a small amount of time. The chief judge has the discretion to do it. He felt that after the length of time that it's been since the last time they adjusted the bond, what I was definitely in favor of was having one that is circuit-wide, the same. And this one does."
The higher bond is intended to diminish the chances that violent offenders get away from seeing a judge—for a reason that Moore-Stens explained last April.
"Because if they just post the bond, there isn't a no-contact order in place, there aren't any restrictions on their potential traveling or in using controlled substances," the judge said. "If you've got an aggravated battery case, say somebody got stabbed and it's not a relative, it's not a domestic situation, it's just two random people fighting in the housing authority in Bunnell, that person could post the bond and there's no restrictions on them having contact, possessing weapons or firearms, none of that, which a judge is going to implement at first appearance. So by increasing the bonds for the violent offenders, there's a higher likelihood they are going to see a judge and maybe have other restrictions on them. It doesn't necessarily mean the bond is going to stay at that level. We have the ability to adjust it accordingly. But there's all those other factors that we take into consideration and other conditions that we might put on somebody that aren't going to be there if they just post the bond as soon as they get arrested by law enforcement, before seeing a judge."
Moore-Stens is one of two Flagler County names now on Gov. Rick Scott's desk, along with that of attorney Alicia Washington—they're among six names overall—from whose ranks the governor is expected to appoint a new circuit judge in the Seventh Judicial District. If Moore-Stens is appointed, she would be taking over the family law division in Flagler. (A former version of this story incorrectly indicated Moore-Stens would likely be reassigned elsewhere in the judicial district.)


Bail Schedule for Flagler, Volusia, Putnam and St. Johns Counties, Enacted 2016
Offense

Category

Old Bail

New Bail

Drug Trafficking

Minimum Mandatory 25 years

$500,000

$500,000

Minimum Mandatory 15 years

$150,000

$150,000

Minimum Mandatory 7 years

$50,000

$50,000

Minimum Mandatory 3 years

$25,000

$25,000

1st Degree Felony

Violent

$20,000

No bail

Non-violent

$10,000

$15,000

2nd Degree Felony

Violent

$5,000

No bail

Non-violent

$2,500

$5,000

3rd Degree Felony

Violent

$2,000

No bail

Non-violent

$1,000

$2,500

DUI

1st Offense

Notice to Appear or $500

$1,000

If prior DUI conviction(s) within 5 years,
or if there is bodily injury

$2,000

$2,500

Fleeing/Attempting to Elude

Misdemeanor

Notice to Appear or $500

No bail

Felony

$2,500

No bail

Hit and Run (Leaving Scene of Accident)

Misdemeanor

Notice to Appear or $250

Notice to Appear or $500

Felony (injuries)

$1,000

$2,500

Felony (death)

$2,500

$5,000

Reckless Driving

No crash

Notice to Appear or $250

Notice to Appear or $500

With crash

Notice to Appear or $500

Notice to Appear or $1,000

Driving With Suspended or Revoked License

No prior conviction

Notice to Appear or $250

Notice to Appear or $500

One prior conviction

Notice to Appear or $500

Notice to Appear or $1,000

Two or more prior convictions

$1,000

$2,000

Willful Failure to Comply With Police

Notice to Appear or $250

Notice to Appear or $500

Other Criminal Traffic Violations

Notice to Appear or $100

Notice to Appear or $200

Municipal Ordinance Violations

As suggested by municipality or:

Notice to Appear or $50

Notice to Appear or $200
Source: Seventh Judicial Circuit.
Offenses for which no bail is to be granted:



Capital felony, life felony, first degree felony that may be punishable by life in prison.

Escape.

Domestic violence (any offense as defined in Florida Statute 741.28(2): "Domestic violence" means any assault, aggravated assault, battery, aggravated battery, sexual assault, sexual battery, stalking, aggravated stalking, kidnapping, false imprisonment, or any criminal offense resulting in physical injury or death of one family or household member by another family or household member.

Aggravated stalking.

Burglary during a state of emergency.

Violation of domestic violence injunction when violence is involved.

Any felony, if the person arrested is on pre-trial release, including bail or an individual released on one's own recognizance, pre-sentence release, probation, and community control.

Racketeering Act violation.

Any offenses not mentioned in the table above.