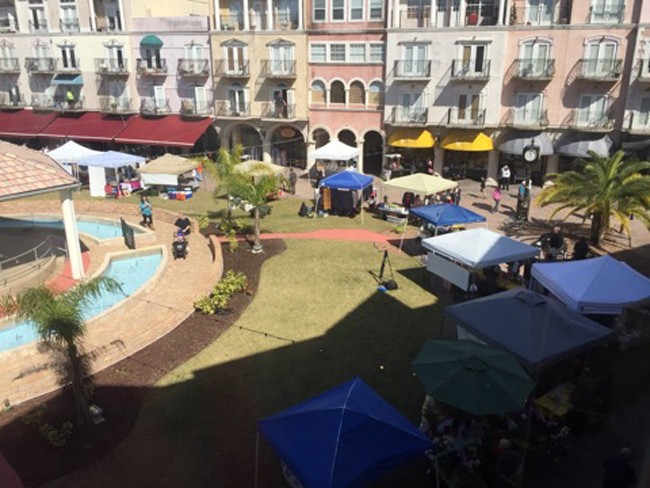 Weekend: Sunny to partly cloudy, highs in the upper 60s to low 70s. Nights, lows in the upper 40s Friday, into the 50s Saturday and Sunday. Details here.
Today's fire danger is moderate. Flagler County's Drought Index is at 15.
Today's tides: at the beaches, at the Intracoastal Waterway.
Today's document from the National Archives.
The OED's Word of the Day: micacious, adj..
The Live Community Calendar
Today's jail bookings.
Today's Briefing: Quick Links


Note: all government meetings noticed below are free and open to the public unless otherwise indicated. Many can be heard or seen live through each agency's website.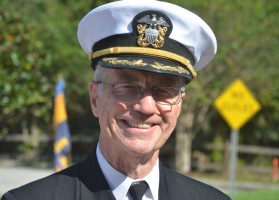 Friday: Farewell to Circuit Judge J. David Walsh, who is retiring. Cake and greetings, 3 p.m. in the first-floor jury room at the Flagler County Courthouse. The public is welcome.
Friday, Saturday and Sunday: "The Last Romance," at Palm Coast's City Repertory Theatre at City Marketplace. Joe DiPietro's popular romantic comedy is a heartwarming comedy about the power of love. It follows the blossoming, late-in-life relationship between widower, Ralph, and an elegant, but distant widow, Carol whom he meets in a Hoboken dog park. Are Ralph and Carol ready to take a chance on love again? Even if they are, there's a danger that Ralph's sister, with whom he's lived for many years, may get in the way. CRT mainstays John and Sue Pope ​and newcomer Kathryn Weed, ​star in this Valentine's treat, which plays Friday through Sunday for two weekends. Performances take place at the company's jewel-box theater upstairs in City Marketplace at 160 Cypress Point Parkway. Performances are Friday and Saturday, February 19 and 20 at 7:30 p.m., and Sunday, February 21 at 2 p.m. Tickets are $20. Purchase your tickets easily online here or call 386/585-9415.
Sunday: 10-Year Anniversary at European Village: Mezzaluna Pizzaria, La Piazza Cafe, Coastal Mermaid, Coconut Island and The Humidor Cigar Bar and Lounge are all celebrating 10 years in business at the European Village. The family fun begins at noon in accordance with the weekly Gourmet Farmers Market . Family events are planned throughout the day, including free bounce houses, face painting, balloons and a fashion show. The celebration ends with a bang with a fireworks show performed by Santore and Sons. The entire celebration is being sponsored by the European Village and surrounding local businesses. (Noon to 10 p.m.)
Sunday: Flagler Beach's Ocean Art Gallery will hold a grand re-opening from 3 to 6 p.m. Sunday Feb. 21 at its new location at 206 Moody Blvd., Flagler Beach. The event will include refreshments and live lounge jazz by the DrCash Band. Admission is free. Information: 386-693-4882 or flagleroceanartgallery.com. Look for the story from FlaglerLive on Friday.
Sunday: Michael Vickey's Dulcimer Concert: Join us at Gamble Rogers Memorial State Recreation Area, for a free concert at our cedar pavilion. Renowned Hammered and Appalachian Dulcimer music champion Michael Vickey will be performing traditional early American music and some original compositions! Vickey is the current and a four-time State of Florida Old Time Music Hammered Dulcimer Champion. Please RSVP at Eventbrite.com.


Updated jail bookings and day and night shift incident summary reports are available here.
Palm Coast Signals Going Its Own Way In Growing Rift With County Over Radio System: Though the county has been leading meetings with Palm Coast and other agencies on the issue, Landon told the Palm Coast City Council that he was setting up a parallel "team" of city staffers and other government agencies that may go in a different direction from the county's—if the county does not come around to the city's point of view.
At FPC, Community Problem Solvers Re-Imagine Library as Fluid "Learning Commons": Leave it to Flagler's prize-rich Community Problem Solvers to change the way we think about libraries, or media centers, or the new term those solvers are applying to the former media center at Flagler Palm Coast High School: the Bulldog Learning Commons.
Citing Overreach, Senate Kills Public Record Exemption for Hunters' Personal Information: The Rules Committee voted 5-4 to reject a measure (SB 1364) that would have created a public-records exemption for personal information — such as names, dates of birth, addresses and telephone numbers — of people getting hunting licenses from the Florida Fish and Wildlife Conservation Commission.
Couple gets 6 months in jail for indecent exposure in Bunnell park: "Connie Whitaker-Roberts, 33, and William Murphy, 37, were each convicted of the charge during a Feb. 9 hearing," the News-Journal reports. "A Flagler County judge ordered the pair to serve 180 days in jail and undergo 12 months probation. One condition of their probation is that they can have no contact with one another for the next year." (Story paywall-protected)


Note: Most proceedings below can be followed live on the Florida Channel.

No events of note.
–Compiled by the News Service of Florida and FlaglerLive


In Coming Days in Palm Coast and Flagler:
Click on the links for more details:


Click on the link for more details.


The Pope says Donald Trump 'isn't Christian' https://t.co/vooxJfg9vy

— The Independent (@Independent) February 18, 2016
The immigration debate we're not having: https://t.co/TwmBTGOCYj pic.twitter.com/v0MRpO2OTY

— New Republic (@NewRepublic) February 18, 2016
"One thing the framers set out to prevent was a popular say in who should be a Supreme Court justice." Garry Wills: https://t.co/XvhTFrj0ky

— NY Review of Books (@nybooks) February 16, 2016
Scientists are floored by what's happening in the Arctic right now https://t.co/jaVEiu0fQN

— Washington Post (@washingtonpost) February 18, 2016
Did social media produce America's new populism? https://t.co/jEIevb7y67 pic.twitter.com/I3OzRgXXW3

— The New Yorker (@NewYorker) February 18, 2016
Lagging behind on New Year's resolutions? This simple trick can help you stick to your goals, writes @AmyMorinLCSW https://t.co/gztENRtEBu

— Psychology Today (@PsychToday) February 18, 2016
Anonymous sourcing and the problem with #NBATradeDeadline 'scoops' https://t.co/FQz6OGwEEV pic.twitter.com/6nYCWmdODV

— CJR (@CJR) February 18, 2016


Palm Coast Construction and Development Progress Reports
The following is an update of ongoing construction and development projects in Palm Coast, through Jan. 27:
Christ the King Evangelical Lutheran Church and School, 1 percent done: Located at 5625 North US Highway 1, the school received a Development Order for a new 13,794 sq. ft. early learning center to be located on the south side of their 8.6-acre site. The architecture of the new one-story building will be very similar to the existing church and school facilities that are located just north of the proposed new building.
Holland Park, 50 percent done: Grading and installation of sidewalks continues. Rough grading of Playground area. Restroom slab has been poured. Electrical conduit installation continues. Pavilion lighting being installed. Stormwater piping installation continues in Playground area.
County's I-95 Interchange Matanzas Woods Reclaim Water, 76 percent done: Retention ponds are being excavated and fill continues for the ramps. (Not in the Dec. 15 update.)
Palm Harbor Parkway Roadway Extension, 47 percent done: January 25, 2016 the new 10″ water main and 6″ force main
on the east end between the Conservatory and Old Kings Road were tied into existing mains on Forest Grove.
Colechester Bridge, 94 percent done: Sea walls have been completed and forming of the western abutment almost complete.
Palm Harbor Extension, 45 percent done: Met on site with contractor to discuss water and sewer testing and construction meter placement.
North Old Kings Road Extension to Matanzas Woods Parkway, 19 percent done: Asphalt was installed on the new section of roadway adjacent to the old roadway at the intersection of Old Kings Road and Forest Grove. (Not in the Dec. 4 update.)
Old Kings Road Force Main 90 percent done:: The contractor has tied the 8″ force main to the 16″ force main in front of the new Master Pump Station on South Old Kings Road. On January 13, 2016 the contractor installed a 16″ X 8″ wye and an 8″ valve in front of the existing lift station on Old Kings Road South. An 8″ wye and an 8″ 45 elbow fitting was installed to complete the connection from the existing 8″ force main to the new 16″ future force main.
Island Walk Shopping Center Phase 2, 25 percent done: A substantial walk thru for punch list was done January 22,
2016. Chlorination of new section of water main in Phase 2 was completed January 27, 2016.


Road and Interstate Construction:
Forest Grove Drive connection to Palm Harbor Parkway to be closed starting Dec. 18: Effective Friday, Dec. 18, the City of Palm Coast will be closing the Forest Grove Drive connection to Palm Harbor Parkway. This road closure is required as part of construction operations for the Palm Harbor Parkway extension, which is currently under construction. Palm Harbor is being realigned and extended to connect directly with Matanzas Woods Parkway where it intersects with Old Kings Road. Message boards will be placed to advise motorists and other travelers of the upcoming change, and a public meeting has already been held for residents living in that area. Both the Palm Harbor extension and a separate extension of Old Kings Road are being built in preparation for the new Interstate 95 interchange to open next June at Matanzas Woods Parkway. As part of the projects, traffic patterns around Matanzas High School will be changing. One goal is to turn Forest Grove Drive back into a residential street as it was originally intended to be. The upcoming road closure of the Forest Grove Drive connection to Palm Harbor Parkway is part of that project. Forest Grove will be turned into a cul de sac on that end. Once the separate Old Kings Road extension is completed, in June 2016, the Forest Grove Drive access to the high school will be closed because it will no longer be needed. Instead, motorists and other travelers will get to Matanzas High School via the new signalized intersection at Matanzas Woods, Palm Harbor and Old Kings. For more information, please contact Palm Coast Communications Manager Cindi Lane at 386-986-3708 or [email protected]


Evgeny Kissin Performs Rachmaninov Piano Concerto No. 2, from Paris
Previous Codas: