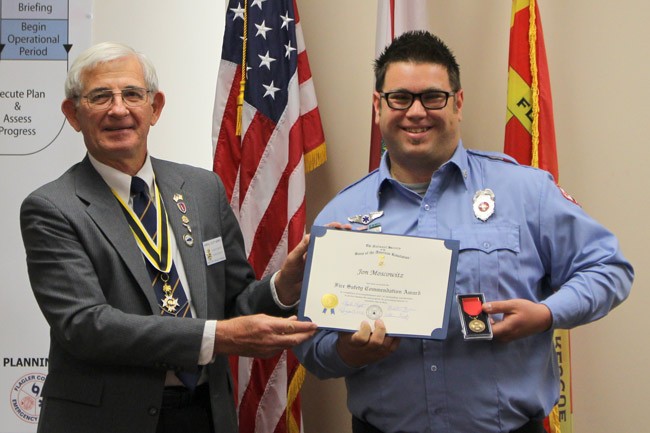 Members of the Sons of the American Revolution on Friday named Flagler County Firefighter Jon Moscowitz firefighter of the year. It's been a banner year for Moscowitz: in January he was named the public safety EMS professional of the year by his peers.
"Jon Moscowitz is an outstanding firefighter-paramedic and in addition to his assignment at Fire Station 92 at the Flagler Airport, he is a field training officer, a flight medic, he is responsible for the CPR program, and along with his wife (Cherish), he coordinates a toy drive program in west Flagler County," said David Kelsey, awards chairman for the Sons of the American Revolution, Flagler Chapter.
Moscowitz, 28, has been a firefighter-paramedic in Flagler County for 9 years. He and his wife live in Palm Coast.
Chapter President Randall Morris presented Moscowitz with the Fire Safety Commendation Medal as well as certificate during a ceremony at the Emergency Operations Center for outstanding performance in the area of fire safety and service.
"Fire safety and service has evolved into a highly technical and skilled profession requiring constant study and training to stay abreast of the latest developments in firefighting and most importantly the preservation of life and property," Randall said. "We, as descendants of our great nations very first public servants, take great pride in recognizing a firefighter-paramedic of Flagler County Fire Rescue with this medal."