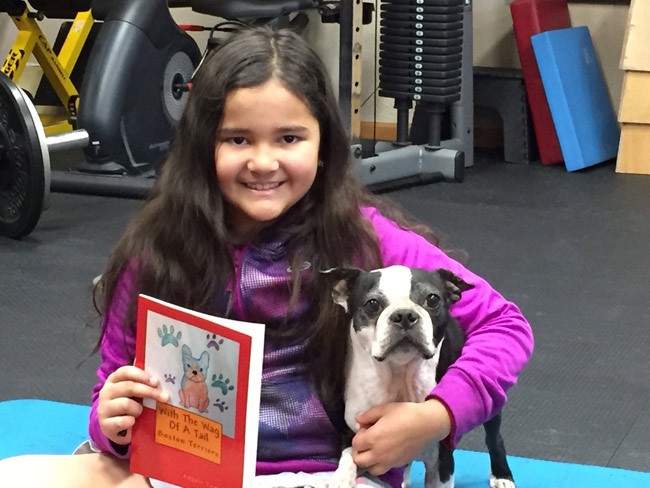 "I would like to acknowledge my mom for helping me publish this book and Diesel, the Boston Terrier, who inspired me to write." With that and four stories titled after their main characters' names (Polly, Diesel, Angel and Cookie), Anjali Anabel Tomerlin, a third grader at Imagine School at Town Center in Palm Coast, has written, illustrated and published her first book, "With The Wag Of A Tail: Boston Terriers." The humorous, 32-page book, self-published by CreateSpace Independent Publishing, is now available on Amazon.com for $8.99–and already with 13 used books starting at $7.01.
Anjali, 9, got the idea for her book when her father constantly told her and her sister about a dog named Diesel at J&J Fitness in Flagler Beach, where he works out. Diesel belongs to the owners of J&J Fitness. Anjali's father took both girls before school on several occasions to visit the dog. Diesel was Anjali's inspiration and in less than three weeks, she wrote four short stories about the adventures of Diesel and his family, typing it all herself. She also hand drew the illustrations and took the pictures with her mother's iPhone.
"Hello," starts one story, "I'm Polly! today I will tell you a story that I treasure. I will tell you the story of how I began my life and how it got better and better. It all started when I was a pup. I was a street dog with no family. That stinks, right! So, one night, I was looking for something good to eat, and suddenly I looked in the distance and saw a shadowy figure."
Let's not spoil it for you, though the book has already garnered three reviews on Amazon (understanding that those reviews are often generated by the author or the author's friends). "Truly enjoyable read for children under 9 years of age," went one. "I especially loved the quotes at the end of three of the stories, which, although are quoted from a dog's perspective, can be applied to humans as well! Amazing accomplishment by a 9-year-old author."
Anjali moved to Palm Coast from Orlando when she was 9 months old. Her mother is no stranger locally: she runs the Palm Coast Kumon Math & Reading Center, where Anjali has been hanging out since she was 3. She is a great dog lover, with particular fondness for terriers and hounds. She enjoys taking piano and tennis lessons. Her hobbies include reading, gardening, swimming, building robots and assembling large (500+ pieces) puzzles. She aspires to become a veterinarian when she grows up, though it's not as if vets can't have parallel lives: Debbye Turner, the 1990 Miss America (from Hawaii), is a vet, a talk show host and a television anchor (and she's somehow featured in the 131st Westminster Kennel Club Dog Show DVD).
Anjali has also learned from her parents the importance of giving back: For every book sold at a Flagler County school, she is planning to give 10 percent back to the school. She will also do a book signing at the Flagler Beach Library on April 12 and will donate 10 percent of the proceeds to the Flagler Humane Society.