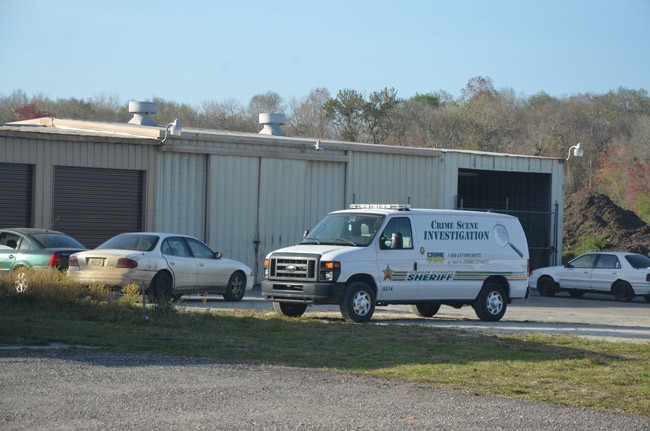 Some places are better than others for chop-shops–places where stolen vehicles are disassembled so the parts can be sold off: they're usually located in isolated, less-trafficked but still easily accessible places.
This one, Flagler County Sheriff's deputies discovered, was on Sawgrass Road, the long, dead-end road off County Road 13 that first leads to the Flagler County Fairgrounds, then to a series of sparsely spaced industrial businesses and residences, including mobile homes, on large tracts.
The property as a whole, at 331 Sawgrass Road, according to the sheriff's office, is a nearly 28-acre tract under ownership of 4 C's Trucking and Excavation, of Bunnell. Several structures on the property include storage warehouses, equipment and other types of sheds, a 1,700-square-foot mobile home and a much smaller one, a service garage, and so on. The structures range in size for a few hundred square feet to over 9,000 square feet. (Jolly Gardener Products Inc. sold the whole tract it in 2013 for $375,000, according to Flagler property appraiser records.)
The buildings the sheriff's office targeted today, on a stretch of land to the north of one of the mobile homes, was rented separately to Wilfredo Velasquez and Richard Espinoza, the sheriff's office said.
There were no arrests today, though the sheriff's office expects to file charges.
A search warrant was served sometime today–the sheriff's office did not specify when–with numerous units of the sheriff's office conducting the search, including the Crime Scene Investigation unit. The search was completed just after 4 p.m. Laura Williams, a sheriff's spokesperson, confirmed that the search was "in reference to dismantling and transportation of numerous commercial vehicle parts—commonly known as a chop shop."
The targeted buildings were shabby-looking, non-descript one-level structures that could have been mistaken for storage units or small hangars, set deep at the end of a dirt expanse.
"The Sheriff's Office has recovered multiple stolen tractors and trailers along with several seized items," Williams said.
Soon after all but one sheriff's deputy had left, a very irate woman drove up to the property, saying she was the owner and that her company had nothing to do with the issue involving the renters. She berated the deputy for not alerting her sooner and berated a reporter for taking pictures of the property.