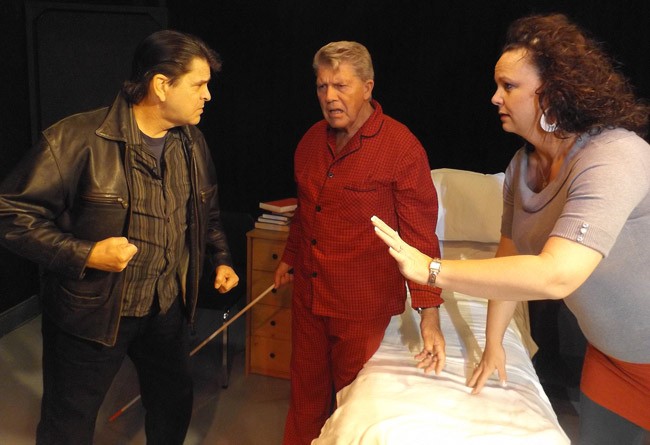 A battle of wits plays out between a blind and bitter college professor and an uneducated street tart in "Wrong Turn at Lungfish," the comedy-drama that runs at City Repertory Theatre in Palm Coast from Friday March 11 through March 20.
In one corner there's Peter Ravenswaal, a college professor and intellectual who loves his Kant and Kafka, his Schopenhauer and Baudelaire – and who doesn't hesitate to pepper his conversation by name-dropping those philosophical and literary giants.
In the other corner there's Anita. When Ravenswaal, played by Palm Coast theater veteran John Pope, turns the conversation to Darwin and evolution (as alluded to in the play's title), Anita jumps in.
"She presents her understanding of evolution because she worked at a museum as a waitress," Pope notes of the Anita character.
Such is the "Pygmalion"-esque tale of "Lungfish," in which the widower-professor Ravenswaal, recently struck blind by an unspecified disease, encounters Anita the street-savvy young woman who volunteers to read to him in the hospital.
The 1992 play was co-written by television and movie writer-director Garry Marshall, whose numerous credits include such films as "Pretty Woman," "Beaches" and "Runaway Bride," and such TV sitcoms as "Happy Days," "Mork & Mindy" and "The Odd Couple." Marshall teamed with screenwriter Lowell Ganz on the script.
The "odd-couple relationship" of Ravenswaal and Anita, played by Jacksonville actress Misty Lewis Brown, is "the clash that propels the play," says City Rep director John Sbordone.
"He's grappling with this whole sense of how to cope with his blindness, and he's not doing a very good job," Sbordone says. "He's cranky, he's cantankerous, he's curmudgeonly. He gives his nurse (played by Peggy Jones) a very hard time and tends to talk down to everyone else from his high-horse academic place.
"Anita, who read for her grandmother when she became blind, is not particularly well-learned. But she's extraordinarily street-wise and has a quick wit and an acerbic tongue."
Complications arise when Anita's abusive, thug boyfriend Dominic, played by area veteran actor Jonathan Haglund, shows up and seeks to line his pockets by exploiting her relationship with the elderly professor.
While Ravenswaal may seem to be an uber-Henry Higgins, Pope is sympathetic to his character.
"He's a man out of his element," says Pope, a retired college business professor. ""He's lived in the education world and loves his poetry and lives by teaching people and has his own views of evolution and the world. Now he's at a hospital. He doesn't have a lot of money. He's lost his wife. He's got nobody. And now he's blind. Not the elements to make somebody terribly cheerful.
At City Repertory Theatre:
---
"All in the Timing" by David Ives, directed by Beau Wade, at City Repertory Theatre. CRT will stage "All in the Timing" at 7:30 p.m. Thursday June 17, Friday June 18 and Saturday June 19, and at 3 p.m. Sunday June 20. Performances will be in the black box theater inside Flagler Auditorium, 5500 S.R. 100, Palm Coast (at Flagler-Palm Coast High School). General admission tickets are $20, students $15, and are available by calling 386-585-9415, or going online at crtpalmcoast.com or Eventbrite.  Audiences will be socially distanced and are asked to wear masks.





Click On:
---
"In addition to being an intellectual snob of some kind, he's now depressed and a little bitter about all that. So he takes it out on everybody he encounters."
Pope notes one scene that particularly reveals the relationship between the professor and, to borrow a term from Henry Higgins, the guttersnipe Anita: "Ravenswaal says at one point, 'Don't you know I just insulted you?' She says, 'Yeah, I know. You do that to everybody. I think it's funny.' She just kind of lets it bounce off of her and shows an inner strength that tops him on almost every occasion."
With its name-dropping of Aristotle, Keats, Kafka and company, some theater-goers might suspect "Lungfish" is pretentious or verbose.
Not so, says Pope: "I don't want to say it's a wordy play, but it's got a lot of theoretical concepts in it that they discuss. He talks about the meaning of life and one thing and another. I think it's got a lot of meat to it."
A number of . . . well, not wrong turns but rather unforeseen circumstances led to "Wrong Turn at Lungfish" being added to City Rep's schedule at the proverbial last minute. (Due to various conflicts, it replaces "The Me Generation" and bumps Eric Bogosian's "Sex, Drugs, Rock and Roll" from its March slot to late April.)
Sbordone and City Rep tech guy Ken Flanagan were planning to collaborate on the original production of "The Me Generation" – a multi-media piece featuring '70s rock music, a light show, film and more.
Flanagan, who runs a firm called Creative Design, would utilize his skills, including designing his own LED light boards, for the production. Flanagan also runs the scoreboards and sound systems for the pro volleyball tour.
However, the pro volleyball tour schedule was changed due to the upcoming Summer Olympics in Brazil. That in turn caused Flanagan to alter his travel plans to China, where he would supervise the manufacture of his LED boards. And so that forced the postponement of "The Me Generation" as well as the move of City Rep's "Sex, Drugs, Rock and Roll" to April.
"So we're claiming the CRT schedule has been altered because of the Olympics," Sbordone says with a chuckle.
Even as Pope and his wife, Sue, were about to open in the starring roles in City Rep's "The Last Romance" on Feb. 12, Sbordone brought up the dilemma of finding a replacement play for March, and doing so quickly.
"We were kicking around ideas and I foolishly opened my mouth and said I had just finished doing 'Wrong Turn at Lungfish' at a theater in Orange Park," John Pope says. Ironically, he was a last-minute replacement for Ravenswaal in that production due to an illness that had struck the lead actor.
"I had just learned the part, and it's a long part," Pope says. "Other people have come to my rescue when I've been directing. When John said we needed something to fill in for March, I said I would be willing to do this again."
Lewis Brown, who also starred as Anita in the Orange Park production, was recruited for the same role at City Rep.
The City Rep production "will be totally different because of John's direction and the way he interprets it," Pope says.
"Of course I didn't see the other production and I can only go by what Misty and John are telling me," Sbordone says. "But on a number of points I guess I've interpreted it a bit differently in terms of character and relationship and how special moments play out. But I would think that directors will find their own path through any material."


"Wrong Turn at Lungfish", written by Gary Marshall, directed by John Sbordone, produced by City Repertory Theatre, at 7:30 p.m. Fridays and Saturdays and 2 p.m. Sundays from March 11-20 in City Marketplace, 160 Cypress Point Parkway, Suite 207B, Palm Coast. Tickets are $20, students with ID $15, and are available by calling 386-585-9415 or easily bought online here. crtpalmcoast.com.