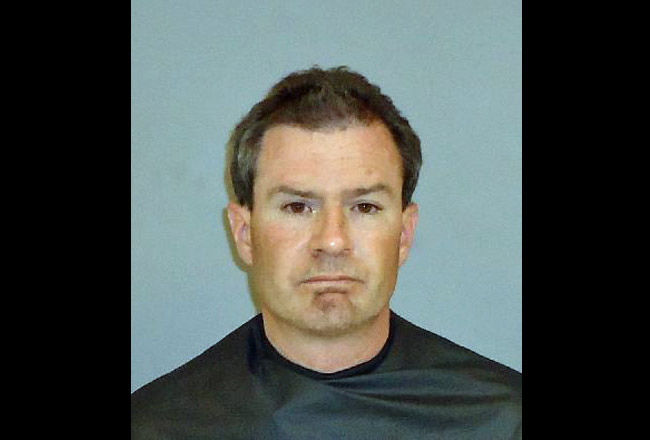 Barry Gallagher is familiar with the Flagler County jail.
He was jailed Saturday for violating an injunction. He's not supposed to have contact with his 45-year-old wife or 17-year-old daughter. He quickly posted $500 bond. He was jailed in January on charges of domestic violence, assault, child abuse and violation of probation. He was jailed last April on a drunk driving charge. He was jailed in October 2009 for leaving the scene of an accident, where he'd caused property damage, and for making false statements to authorities. And he was jailed that February on another drunk driving charge.
Sunday, Gallagher was back in jail, where he remains on seven charges after breaking his injunction again and leading cops on a chase through Palm Coast's F section, where he was finally arrested on Freneau Lane.
Gallagher's latest episode started early Sunday morning when a sheriff's office deputy responded to his wife's home, who told the deputy Gallagher was attempting to contact her to use her car. He was also trying to contact the 17 year old. The victim had received a text the previous evening. "Please," the text read, according to a police report, "I need the car keys, my life is in the car, I need to start a job on Tuesday." The victim did not reply, but she received a similar text later Saturday night. Feeling intimidated, according to the report, she placed the car keys in the mailbox. Gallagher had texted the daughter and asked her to do just that: place the keys in the mailbox.
Cops patrolled the area with and issued a be-on-the-lookout.
Just after 1:30 p.m. Sunday, deputies were again in the F section after reports that Gallagher had been seen at 27 Felton Lane, the address listed as his in his booking sheets. Gallagher was driving a maroon 2007 Hyundai Santa Fe, an SUV. As a deputy approached the intersection of Feling and Felshire lanes, he saw the SUV traveling south on Felshire. As the car approached, the deputy was able to identify the driver, who's no stranger to cops, as Gallagher. The deputy pulled him over. Gallagher complied.
The deputy had his cruiser's lights on, as for a traffic stop. As he began opening his door, Gallagher, too, opened his door and stepped out. The cop ordered Gallagher to show his hands. Gallagher complied. He had nothing in his hands. The cop told him to walk backward to the sound of the deputy's voice–a safety precaution in suspicious situations. At that, Gallagher ran back to the Hyundai, hopped in (the door had been left open) and squealed off, speeding. The deputy went back to his car and followed Gallagher to keep him in sight, but once Gallagher exceeded the speed limit, the deputy, conscious of being in a residential area, turned off the cop lights and tried to keep visual contact. Gallagher ignored the stop sign at Felshire and Old Kings Road, then made a left onto Freneau Lane.
The deputy had him: There are only two entrances to that portion of the F section on the west side of Old Kings Road. The deputy knew it. He didn;t continue to pursue Gallagher just then, but stayed posted at Freneau Lane, with another deputy at Frenora Lane, and others searching inside the neighborhood. The car was discovered parked in front of 61 Freneau Lane. A deputy made contact with Gallagher at the front door. Gallagher surrendered.
Gallagher was charged with resisting arrest without violence, driving with a suspended driver's license, violation of an injunction against aggravated stalking, violation of probation, and fleeing to elude a police officer. Bond was not set on several charges, and set at $2,500 on the fleeing and eluding charge and the driving on a suspended license charge. He remains at the Flagler County jail.