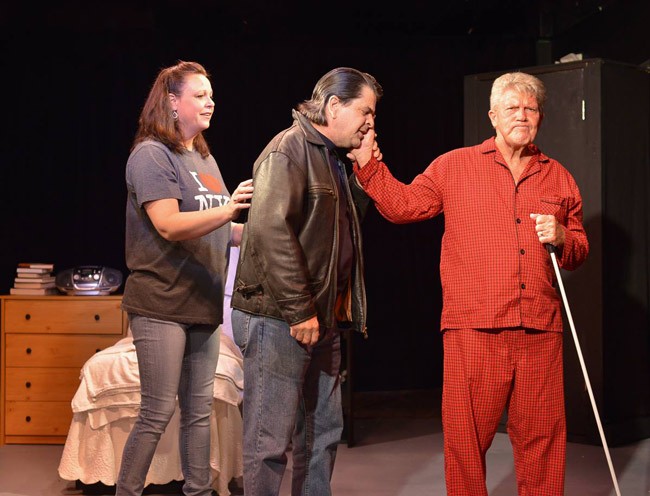 Weekend: Unsettled weather with chances of thunderstorms on and off, highs near 80 Friday and Saturday, cooler Sunday, lows in lower 60s Friday and Saturday night, falling into the 40s Sunday night. Details here.
Today's fire danger is moderate. Flagler County's Drought Index is at 202.
Today's tides: at the beaches, at the Intracoastal Waterway.
Today's document from the National Archives.
The OED's Word of the Day: handraulic, adj..
The Live Community Calendar
Today's jail bookings.
Today's Briefing: Quick Links

Note: all government meetings noticed below are free and open to the public unless otherwise indicated. Many can be heard or seen live through each agency's website.
No school: Flagler County schools are on spring break all week.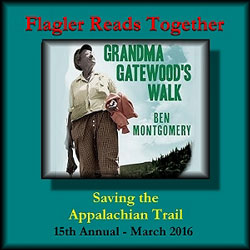 Friday: Flagler Reads Together featured event: The documentary "Trail Magic: The Grandma Gatewood Story," will be shown at the Flagler County Library at 2 p.m., in the library meeting room. Flagler Reads Together's focus this year is 'Grandma Gatewood's Walk,' the biography of Emma Gatewood who, in 1955, was the first woman to hike the entirety of the Appalachian Trail solo. She was 67.

Fridays and Saturdays, "Wrong Turn at Lungfish," the comedy by Gary Marshall, at City Repertory Theatre in Palm Coast's City Market Place. A blind old academic meets a snappy young woman in a clash of wills that is funny, wry, and a tour de force battle of wit and whimsy. A guaranteed good time full of laughs. Call 386/585-9415 for tickets, or easily book your tickets online here. ($20, $15 with student ID).
Friday and Saturday: Flagler Beach Library book sale, from 9 a.m. to 3 p.m.
Friday: The Bronx Wanderers at the Flagler Auditorium, 7:30 p.m.
Saturday: University Women of Flagler breakfast meeting: The University Women of Flagler, a 501(c) (3) organization, whose purpose is to foster and promote educational opportunities for young women in Flagler County, will host a monthly Breakfast meeting on the third Saturday of the month in March, April and May. The meetings are at the Hilton Garden Inn, 55 Town Center Blvd., Palm Coast from 9 to 11 a.m. Net proceeds from all meetings and events go directly into our Scholarship fund. For information about our organization and membership call 386 445-2320.
Saturday: The Up with Down Bike Ride: The Up With Down Bike Ride was created as an annual event by cyclists for cyclists to promote World Down Syndrome Day. Three routes—20 mile, 60 mile and 100 mile—highlight the scenic byways of Flagler and Volusia County. Pass ocean and marsh vistas, ride through Flagler Beach, one of Florida's last true beach towns, bike the famous Loop with its National Scenic Drive designation. Lunch follows catered by Mezzaluna's, one of Flagler County's most popular restaurants. Scheduled rest stops and SAG vehicle provided. All proceeds will be used to establish an enrichment center for disabled children and adults. Details and registration here.
Sunday: Saturday Night Fever, the National Broadway Company Touring Show, at the Flagler Auditorium, 3 p.m.
Upcoming: Motown Madness: A March 26 fund-raiser for the G.W. Carver Community Center in Bunnell. See the flier below for details.

Updated jail bookings and day and night shift incident summary reports are available here.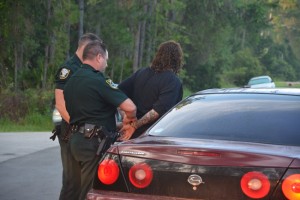 Sheriff Applauds New Law Regulating Police Authority to Seize Cash and Property: "Civil asset forfeiture" is one of those complicated-sounding legal terms that obscures a sinister but simple police power: it allows a law enforcement agency to seize cash and any property, including homes, cars, boats or planes, suspected, not proven, to be involved in criminal activity. Under federal and Florida law, the cash and property may be seized even absent an arrest or criminal charges. The Drug Policy Alliance estimates that 80 percent of all such seizures take place without charges being filed or an arrest being made. The system also turns the criminal justice formula on its head, determining the property owner guilty of having used the property for crime until he or she proves otherwise.
Adios Fuego Del Mar, make way for Tortugas Floribbean Kitchen & Bar: "Fuego Del Mar Cantina & Grill in Flagler Beach was recently purchased by new owner Scott Fox. Paul Chestnut is managing partner. The restaurant has slowly been transitioning from the well-known Mexican style entrees and plywood barstools to an all new rustic Florida restaurant," the Observer reports.
Senator, Governor, President, Nothing: For Marco Rubio, a Fuzzy Florida Future: The end of U.S. Sen. Marco Rubio's bid for the presidency, cut off by a crushing loss Tuesday in the Florida GOP primary, raises intriguing questions about what the onetime rising star in the Republican Party might do next.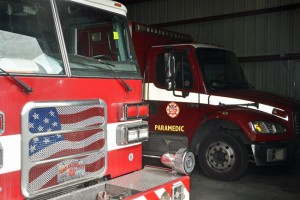 Palm Coast Floats New Rescue System in Name Of "Efficiency," But County Sees Many Flaws: For almost a year, Palm Coast—and particularly Mayor Jon Netts—has been on a mission to change the way ambulance services are provided in the city. The city has not put forth a plan to do just that. But it'll go nowhere unless county government agrees. And county government, along with the firefighters' unions of both city and county departments, are opposed.

Note: Most proceedings below can be followed live on the Florida Channel.

No events of note this weekend.
–Compiled by the News Service of Florida and FlaglerLive

In Coming Days in Palm Coast and Flagler:
Click on the links for more details:
♦ March 22-27: Navy training schedules indicate live and inert bombing will take place at the Pinecastle Range Complex in the Ocala National Forest every day from March 22 through March 27, from noon to midnight. The telephone number for noise complaints is 1-800-874-5059, Fleet Air Control and Surveillance Facility, Jacksonville. For additional information, call (904) 542-2415/5588.
♦ March 23: "The Young Irelanders," at the Flagler Auditorium, 7:30 p.m. Eight sensational performers have Irish traditional music, song and dance running through their veins. They have performed at Radio City Music Hall, the Great Hall of the People in China, Kremlin State Palace in Moscow, the US Capitol Building, and toured as lead performers with Riverdance and Michael Flatley's Lord of the Dance. Adultrs $29, youth $18, But mention Promo Code IRISH and get 10 percent off by calling the Flagler Auditorium Box Office, 386-437-7547 or 866-352-4537 or get your tickets here.
♦ March 23: Palm Coast City Council member Jason DeLorenzo kicks off his campaign for county commission at 5:30 p.m. at Europa Lounge, European Village, Palm Coast.
♦ March 24: Stewart-Marchman-Act Behavioral Healthcare and the Stewart-Marchman-Act Foundation at 5 p.m. will dedicate the playground at WARM at the Vince Carter Sanctuary in memory of Joan M. Kelly, a longtime Daytona Beach resident and WARM supporter on March 24. Kelly passed away on July 31, 2015. Refreshments will be provided by the WARM Culinary Arts Program. WARM is a long-term residential treatment program for women exhibiting symptoms of drug and alcohol dependence, with slots designated for those women who are pregnant, post-partum, or parenting young children. The women live on campus in a therapeutic and supportive environment. Those with children are able to have their children (under the age of six) in residence with them. Older children can visit overnight with their mothers on site on weekends.
♦ March 24: Eggs & Issues Breakfast featuring County Administrator Craig Coffey and three county department heads involved in economic development: Airport Director Roy Sieger, Economic Development Director Helga van Eckert, and Tourism Director Matt Dunn. The breakfast is sponsored by the Flagler County Chamber of Commerce. The cost is $20 in advance, $25 at the door. 7:30 a.m.-9:30 a.m., Grand Haven Golf Club, 500 Riverfront Dr., Palm Coast. Seating is limited; reservations are requested by March 21. For reservations, email Jaclyn Miklos or call 386/206-0953.
♦ March 26: Motown Madness, a fund-raiser concert for Carver Gym and the George Washington Carver Foundation,, featuring the band Traces of Gold. Tickets are $50, includes dinner and music, 6 to 10 p.m. at the the G.W. Carver Community Center, 201 East Draine Street, Bunnell. Tickets and information: Cheryl Massaro, 386-437-7540, extension 5101. See the flier below.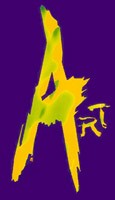 ♦ March 29: Museum curator Christina Katsolis, photographer A.J. Neste and architect Sean Palmer speak to students at Flagler Palm Coast High School starting at 11:50 a.m. at the Flagler Auditorium as part of Art Works, a Flagler County Art League-sponsored program for high school students interested in a career in the arts. The art league worked with the art department faculty to bring this new program to FPC students to learn about a variety of careers from artists, all former FPC students, who have turned their love of the arts into successful careers. Following formal presentations by each artist, students will have the opportunity to meet with the artists in small groups. Parents, city and county government leaders and school board members have been invited to attend the program.
♦ March 30-April 2: Florida Future Problem Solvers State Competition, to be attended by four to five Flagler County schools, at Doubletree Orlando Seaworld, 10100 International Drive, Orlando.
♦ April 1: The Friends of the Library of Flagler County celebrate the annual April Poetry Month by acknowledging the 2016 presidential election year. Poems by presidents or about presidents of the United States, from Washington to Obama, will be presented at 1 p.m. in the Doug Cisney Room and appropriate refreshments–that is, alas, no booze, no matter how drunk Nixon could get–will be provided by the Hospitality Staff of the Friends.
♦ April 2: Cheer at the Pier, a fund-raiser for the Flagler Beach Historical Museum, from 3 to 6 p.m. Call Virginia Giaramita for information at 386/299-8892.
♦ April 12: Anjali Anabel Tomerlin, a third grader at Imagine School at Town Center in Palm Coast who's written and illustrated her first book, will hold a book-signing at the Flagler Beach Public library from 4 to 6 p.m.
♦ April 13: Public Safety Coordinating Council meeting at 8:45 a.m., Emergency Operations Center, Bunnell.
♦ April 15: The Florida Ethics Commission will take up an administrative law judge's recommendation in the ethics case against Flagler County Sheriff Jim Manfre. 9 a.m.
♦ April 16: Flagler Beach will hold a victims' rights memorial at sunrise. The memorial ceremony honors victims and their advocates. It will be held at the end of the iconic pier. Please contact Victim Advocate Donna Kearney with any questions about the memorial at 517-2020.

Orlando is at risk of a Zika Virus outbreak this summer. This research explains why https://t.co/IBW1ZRYSIY #FOX35 pic.twitter.com/BdREbq6Ib8

— Phil Landeros (@PhilLanderos) March 17, 2016
The only thing that stands in the way of getting a woman on the $20 bill is political will. https://t.co/iwfbmbI7hP pic.twitter.com/07HzbFXWsE

— NYT Opinion (@nytopinion) March 17, 2016
The promise and perils of Obama's historic visit to Cuba https://t.co/N3IW5YlY9m pic.twitter.com/K3BN7eWY1D

— The Economist (@TheEconomist) March 17, 2016
Reefer Madness lives: Witness 3 of the maddest, most over-the-top objections to the "killer weed" https://t.co/S9H50qZvhr

— Salon.com (@Salon) March 17, 2016
Donald Trump is mainstreaming bigoted ideas. That's what makes him so terrifying. https://t.co/tbx3KCiOiN pic.twitter.com/Bajcv9B4bc

— Vox (@voxdotcom) March 17, 2016
Bernie Sanders has defied the pundits, alarmed the comfortable, and inspired the young: https://t.co/HiZ8WMGcdD

— The New Yorker (@NewYorker) March 17, 2016

Palm Coast Construction and Development Progress Reports
The following is an update of ongoing permitting, construction and development projects in Palm Coast, through March 9:
Click to access permits-construction-march-11-2016.pdf

Road and Interstate Construction:
Forest Grove Drive connection to Palm Harbor Parkway to be closed starting Dec. 18: Effective Friday, Dec. 18, the City of Palm Coast will be closing the Forest Grove Drive connection to Palm Harbor Parkway. This road closure is required as part of construction operations for the Palm Harbor Parkway extension, which is currently under construction. Palm Harbor is being realigned and extended to connect directly with Matanzas Woods Parkway where it intersects with Old Kings Road. Message boards will be placed to advise motorists and other travelers of the upcoming change, and a public meeting has already been held for residents living in that area. Both the Palm Harbor extension and a separate extension of Old Kings Road are being built in preparation for the new Interstate 95 interchange to open next June at Matanzas Woods Parkway. As part of the projects, traffic patterns around Matanzas High School will be changing. One goal is to turn Forest Grove Drive back into a residential street as it was originally intended to be. The upcoming road closure of the Forest Grove Drive connection to Palm Harbor Parkway is part of that project. Forest Grove will be turned into a cul de sac on that end. Once the separate Old Kings Road extension is completed, in June 2016, the Forest Grove Drive access to the high school will be closed because it will no longer be needed. Instead, motorists and other travelers will get to Matanzas High School via the new signalized intersection at Matanzas Woods, Palm Harbor and Old Kings. For more information, please contact Palm Coast Communications Manager Cindi Lane at 386-986-3708 or [email protected].

Handel: Then Entrance of the Queen of Sheba (From Solomon)
Previous Codas: