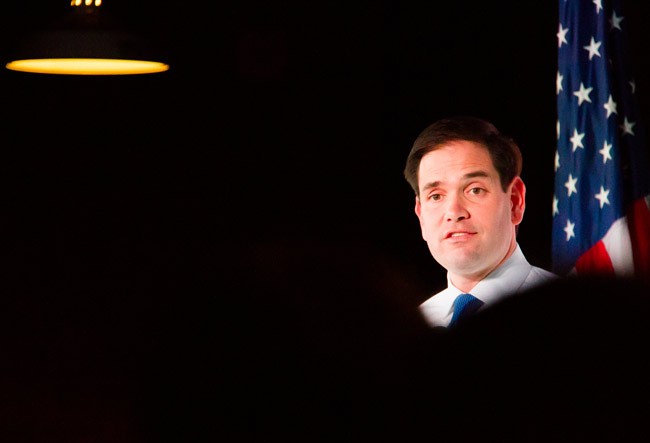 The end of U.S. Sen. Marco Rubio's bid for the presidency, cut off by a crushing loss Tuesday in the Florida GOP primary, raises intriguing questions about what the onetime rising star in the Republican Party might do next.
For essentially the first time since he won a city commission seat in 1998, Rubio will soon be without a government office and without a campaign. After his term in the Florida House wrapped up in 2008, Rubio took some time off, but decided in relatively short order to run for the U.S. Senate seat he now holds.
It was a lopsided loss for Rubio on Tuesday night. Real-estate mogul Donald Trump carried almost 46 percent of the vote, to 27 percent for Rubio, according to unofficial returns.
"He has some thinking to do," said J.M. "Mac" Stipanovich, a Republican lobbyist and strategist who initially backed former Florida Gov. Jeb Bush in the Republican race. "He was badly beaten in his home state. … That one will hurt for a while, and it could take quite a while to walk off the sting."
Democrats argued that the beating would take its toll on Rubio's reputation.
"Floridians will not forget that Rubio cowardly placed partisan politics ahead of doing what was right when it came to immigration reform and dealing with Donald Trump. … While it remains to be seen if Rubio will attempt to salvage the wreckage of his political career, no amount of spin can distract from the clear lesson of this campaign: 'Little Marco' just can't deliver," Florida Democratic Party Chairwoman Allison Tant said in a statement Tuesday, using a nickname Trump had adopted for Rubio.
But Rubio is only 44 years old and is one of the most prominent Hispanic voices in a Republican Party that badly needs to make inroads with Latinos. And many of his supporters say they hope that he takes another shot at elected office in the future.
"If you know Marco, you know this is a guy who is young and still wants to be a meaningful force and positive force in American political life," said Rick Wilson, a Republican political consultant who worked for independent efforts backing Rubio.
State Sen. Rene Garcia, R-Hialeah, said he didn't see Rubio leaving the national scene despite the loss in the presidential race. Many Rubio supporters and the candidate himself have suggested that his message was the right one — just wrong for the current political mood.
"I think it will be a disservice to the conservative movement if he just backs away from it," Garcia said.
What office Rubio seeks, though, isn't clear. It would be difficult for Rubio to renege on his promise not to run for Senate this year after several candidates — including Lt. Gov. Carlos Lopez-Cantera, a friend — have already lined up to succeed him.
And Wilson dismissed persistent speculation that Rubio might run for governor in 2018 as "Tallahassee insider, Governor's Club, three-beer gossip."
Running against U.S. Sen. Bill Nelson, a Democrat, in two years also seems far-fetched given the disdain Rubio expressed for the Senate in a partisan era. Rubio was hammered by opponents during the presidential campaign for missing votes on Capitol Hill, and he responded by essentially saying his run for the White House was more important.
"He basically said he didn't like serving in the Senate, and he didn't serve," Stipanovich said.
Even if Rubio were to run for one of the two marquee offices in 2018, he would likely face resistance. Agriculture Commissioner Adam Putnam is widely viewed as the front-runner for the Republican nomination for governor, while Gov. Rick Scott is rumored to be gearing up to take on Nelson.
The most likely outcome for Rubio might be another run at the presidency. As he conceded the race Tuesday, Rubio seemed to offer a hint that he had not entirely given up on the idea of winning the White House.
"While it is not God's plan that I be president in 2016 — or maybe ever — and while today my campaign is suspended, the fact that I've even come this far is evidence of how special America truly is and all the reason more why we must do all we can to ensure that this nation remains a special place," Rubio said.
That could happen as soon as 2020, and would play to the idea that Rubio was simply running in the wrong environment — a year dominated by anger harnessed by Trump's insurgency against the Republican establishment.
"I think in the absence of the phenomenon we call Trump, this might have had a different outcome," said state Rep. Scott Plakon, R-Longwood.
Running again also depends on what happens in the next four years. If Trump were to win the White House in November and enjoy a successful first term, Rubio couldn't run before 2024. And by then, if Trump's brand of Republicanism has taken hold, Rubio could still find himself out of step with the party.
"Losing to someone who loses is not as bad as losing to someone who ultimately wins," said Susan MacManus, a political science professor at the University of South Florida.
All of those considerations are a ways off, though, for someone just finish a grueling race for the presidency. Former state Rep. Adam Hasner, one of the Florida co-chairs of Rubio's campaign, said in a text message Wednesday that Rubio "is an extremely talented individual who will find ways to engage and make an impact in future."
"It's way too soon to speculate what is in his future, but for now let him enjoy being with his family and loved ones," Hasner wrote.
–Brandon Larrabee, News Service of Florida