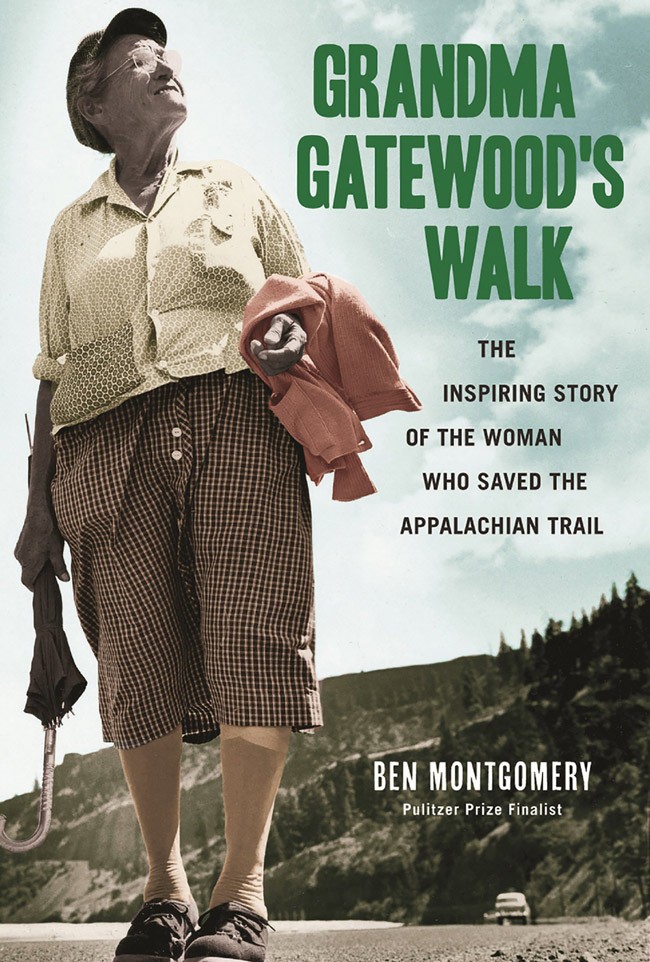 Weekend: Pleasant, mostly sunny, highs in the 70s, lows in the upper 40s and low 50s. Details here.
Today's fire danger is moderate. Flagler County's Drought Index is at 94.
Today's tides: at the beaches, at the Intracoastal Waterway.
Today's document from the National Archives.
The OED's Word of the Day: bookaholic, n..
The Live Community Calendar
Today's jail bookings.
Today's Briefing: Quick Links

Note: all government meetings noticed below are free and open to the public unless otherwise indicated. Many can be heard or seen live through each agency's website.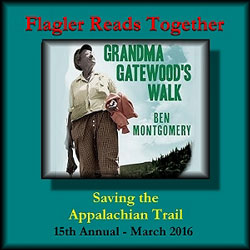 Friday: 15th Annual Flagler Reads Together Kickoff. The chosen book this year is "Grandma Gatewood's Walk: The Inspiring Story of the Woman Who Saved the Appalachian Trail," by Ben Montgomery. Montgomery will be present at the kickoff at 11 a.m. at the Flagler County Public Library, 2500 Palm Coast Parkway NW in Palm Coast.
Saturday: Superhero 5K Walk/Run and Destiny Kids Dash: Bring your family to participate in a new addition to the Palm Coast Running Series. The Superhero 5K begins at 8am and the Dash begins at 9:15am in Central Park. Registration is available at www.racesmith.com/races/superhero5K. Central Park in Palm Coast's Town Center, 8 a.m.-5 p.m.
Friday: Stayin' Alive, the Bee Gees tribute band, returns to the Flagler Auditorium at 7:30 p.m. Tickets are $29 for adults, $18 for youth. Call the Auditorium at (386) 437-7547.
Saturday, Sunday: Early Voting begins for the presidential primary election in Florida. Only Democrats and Republicans may cast ballots in their respective parties' primaries. Independents and minor-party voters may not vote, Florida being a closed-primary state. Early voting runs through March 12 at the Supervisor of Elections' office in Bunnell (at the Government Services Building), the Flagler County Public Library on Palm Coast Parkway, and at the Palm Coast Community Center. Every day from 10 a.m. to 6 p.m. Click here for early voting details.
A Ride For the Wild Side: A charity motorcycle ride is being presented by Florida Park Services' Citizens Support Org. This event is a poker run, to five state parks: Tomoka, Bulow Creek, North Peninsula, Washington Oaks Gardens, and Anastasia. Particiants can visit the parks in any order, but poker hands must be in to Anastasia State Park by 2:30 pm, where a party will be held from 2-4 pm for participants. The party includes live music, food, alcohol for purchase, prizes for the best and worst poker hands, chance drawing, games, and more! Event costs $20; includes park entry, poker hand, food, and chance drawing ticket. Registration required, at Eventbrite.com or at Tomoka State Park on day of event, from 10 am to 12 pm. Event is limited to 500 bikes.
Road closure note: The southbound lane of Old Kings Road just south of Forest Grove Drive will be temporarily closed to traffic most of Wednesday, Thursday and Friday while new storm drain piping is installed. To accommodate school schedules, all lanes will be open between the hours of 7 and 8 a.m. and 2 to 3 p.m. During the closure, there will be flagmen at each end of closed portion of roadway to assist with the local traffic. For convenience, avoid the construction area if possible.

Updated jail bookings and day and night shift incident summary reports are available here.
Volusia decriminalizes small amounts of marijuana https://t.co/7pC5QrIZfV pic.twitter.com/usiUWSjdJY

— Orlando Sentinel (@orlandosentinel) March 4, 2016
District and Palm Coast Will Redesign Some Bus Stops in 1st Step To Counter Crashes Involving Children: A week after a 7-year-old child was killed by a passing SUV at a bus stop on Palm Coast's Whippoorwill Drive, the school board's Andy Dance and Palm Coast City Council member Jason DeLorenzo started what soon became a formal joint committee between the two governments to explore improvements of student safety at bus stops and on roadways. The committee has now produced the first set of proposals, initially focusing on the busier bus stops, that will begin to redefine where and how students should wait for their buses. Whether students will actually follow the new directions is not at all certain.
Ex-Flagler Superintendent Delbrugge's Son and Daughter Arrested For Stealing Girl Scout's Cookie Money: Nicholas Delbrugge, 20, and his sister Ashley, both former residents of Flagler County and the son and daughter of former Flagler School Superintendent Bill Delbrugge, were arrested this evening in Deltona and charged with snatching a a girl scout's cookie money from her hands four days earlier.
Sheriff's Office Swears In 8 New Recruits, This Time With More Than Token Minorities: Eight new deputies were sworn in at the Flagler County Sheriff's Office on Wednesday in a ceremony headed by Sheriff Jim Manfre, the second time in five months that the department has welcomed a significant class of new recruits. In late September, 13 young deputies were sworn in, though not all made it, and attrition has continued: the 21 recruits hired in the past five months represent 11 percent of the force.
With Curt Emphasis on "NOW," Palm Coast Mayor Wants Radio Answers from County: For Netts, usually a model of decorum and grace, it was an unusually curt and demanding letter written over his signature last week, the more so as it was directed at County Commission Chairwoman Barbara Revels and copied to other county commissioners and elected members of every local city. The sheriff was not included in the batch.
A Dog Is Shot Dead in Palm Coast's W-Section, Triggering Murky Investigation–and Fear: The family that once owned the puppy, and a family friend who first posted about the dog on Facebook when it was missing, spoke about the case at length on Tuesday. So did the man who owned the dog and acknowledged recovering it when it was dead. Both parties spoke of the death of the dog resulting in mutual fears of worse to come.
Deputies: Woman stole company credit cards, charged $40K:

Note: Most proceedings below can be followed live on the Florida Channel.

Legislature: The Senate is scheduled to hold a floor session at 10 a.m., the House at 10:30 a.m.
The Florida Commission on Ethics will meet and consider cases from West Palm Beach, Miami Shores, Indialantic and Sarasota. (9 a.m., 1st District Court of Appeal, 2000 Drayton Dr., Tallahassee.)
–Compiled by the News Service of Florida and FlaglerLive

In Coming Days in Palm Coast and Flagler:
Click on the links for more details:

Click on the link for more details.

The era of big-money politics over? @JaneMayerNYer on the Koch brothers' new low profile: https://t.co/OtCe006QST

— The New Yorker (@NewYorker) March 4, 2016
AP interviews American adventurer who found possible debris from missing Malaysia Airlines plane: https://t.co/zttzTqO1in

— The Associated Press (@AP) March 4, 2016
The US subsidizes housing for people who are well-off (through tax breaks) while most poor renters get nothing https://t.co/oBqj2UPdkV

— NY Review of Books (@nybooks) March 3, 2016
So about those GOP candidates' argument that Obamacare isn't working… https://t.co/UMphmsYHtV pic.twitter.com/zWrmPbssP7

— New York Magazine (@NYMag) March 4, 2016
Senator Grassley's declaration to block a Supreme Court nominee is unprecedented https://t.co/aQe0VyoSdN pic.twitter.com/y07RAmnZbZ

— The Economist (@TheEconomist) March 4, 2016


Palm Coast Construction and Development Progress Reports
The following is an update of ongoing construction and development projects in Palm Coast, through Feb. 17:
Seminole Woods Multi Use Path design, 75 percent done: Survey continues, shot horizontal and vertical features for path design.
Holland Park, 54 percent done: Grading and installation of sidewalks continues. Restroom block cells poured and trusses installed. Installation of street and pathway light poles and fixtures.
County's I-95 Interchange Matanzas Woods Reclaim Water, 83 percent done: Approximately 1,600 ft. of 16″ HDPE piping was air tested February 11, 2016. On February 12, 2016 the 16″ HDPE reuse main was installed under the southbound ramp.
Palm Harbor Parkway Roadway Extension, 50 percent done: Work continues on the stormwater structure at the intersection of Palm Harbor Parkway and Forest Grove.
Colechester Bridge, 94 percent done: Sea walls have been completed and forming of the western abutment almost complete.
North Old Kings Road Extension to Matanzas Woods Parkway, 19 percent done: Asphalt was installed on the new section of roadway adjacent to the old roadway at the intersection of Old Kings Road and Forest Grove. (Not in the Dec. 4 update.)
Old Kings Road Force Main 96 percent done:: February 11, 2016 night work with lane closure and tank trucking for the south end force main tie-in to the 12″ pipe from the South and the 12″ pipe from Town Center. The new
16″ force main and the 8″ old main were connected to the old Pump Station north of Lehigh Canal.
Island Walk Shopping Center Phase 2, 26 percent done: February 15, 2016 a 10″ core was made into the existing manhole for the sewer lateral for the 2 lots facing Palm Coast Parkway. (GoToby has a construction permitting progress report here.)

Road and Interstate Construction:
Forest Grove Drive connection to Palm Harbor Parkway to be closed starting Dec. 18: Effective Friday, Dec. 18, the City of Palm Coast will be closing the Forest Grove Drive connection to Palm Harbor Parkway. This road closure is required as part of construction operations for the Palm Harbor Parkway extension, which is currently under construction. Palm Harbor is being realigned and extended to connect directly with Matanzas Woods Parkway where it intersects with Old Kings Road. Message boards will be placed to advise motorists and other travelers of the upcoming change, and a public meeting has already been held for residents living in that area. Both the Palm Harbor extension and a separate extension of Old Kings Road are being built in preparation for the new Interstate 95 interchange to open next June at Matanzas Woods Parkway. As part of the projects, traffic patterns around Matanzas High School will be changing. One goal is to turn Forest Grove Drive back into a residential street as it was originally intended to be. The upcoming road closure of the Forest Grove Drive connection to Palm Harbor Parkway is part of that project. Forest Grove will be turned into a cul de sac on that end. Once the separate Old Kings Road extension is completed, in June 2016, the Forest Grove Drive access to the high school will be closed because it will no longer be needed. Instead, motorists and other travelers will get to Matanzas High School via the new signalized intersection at Matanzas Woods, Palm Harbor and Old Kings. For more information, please contact Palm Coast Communications Manager Cindi Lane at 386-986-3708 or [email protected].

Sheng Cai plays Triana by Albeniz
Leonard Bernstein Conducts the Boston Symphony Orchestra: Mozart's Symphony Nr. 40 in G Minor, K550
Previous Codas: