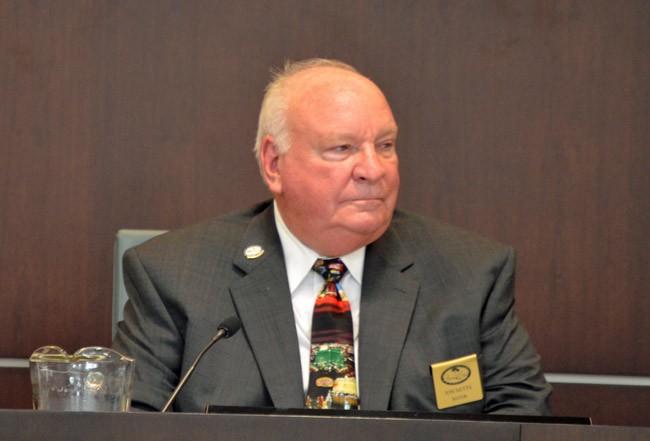 Palm Coast Mayor Jon Netts wants answers from the county regarding the county's future plans for the emergency communications system almost all local governments rely on. And he wants them "NOW!" (his caps, repeated five times in a two-page letter).
For Netts, usually a model of decorum and grace, it was an unusually curt and demanding letter written over his signature last week, the more so as it was directed at County Commission Chairwoman Barbara Revels and copied to other county commissioners and elected members of every local city. The sheriff was not included in the batch.
Netts then, after outlining several issues of planning and questioning the county's lack of answers on the issues, he asked for "a series of meetings between the Board of County Commissioners and the cities within Flagler County to discuss these issues."
Revels or the county have not responded yet. But in an interview Wednesday, she did not take to one of Netts's intimations. "My impression was that his letter is indicating that the city plans, and the county doesn't, and that they want to plan and they don't have answers to planning," Revels said. "That's my impression of the letter. Certainly, we plan as well, and we all need to understand what the plan is. I'm not sure how concerned any of the other cities are because they have very small exposure as to what their needs are."
The tone of the letter reflected the same tone of a simmering stand-off between Palm Coast City Manager Jim Landon and County Administrator Craig Coffey over the future of the so-called 800 Mhz radio system, on which firefighters, sheriff's deputies, Bunnell and Flagler Beach police rely, as well as other county and city employees.
The system is ageing. The county is planning a replacement by 2020, even though the vendor for the system will no longer produce parts past 2017, though the county says it has assurances from its maintenance contractor that parts will not be lacking, and the system will function reliably even past 2020 if necessary.
---
Questions delivered with wagging finger and copied to other city leaders.
---
Landon has been unhappy with the pace of the county's move toward a new system. Netts's letter reflects a more precise and only slightly more measured summation of Landon's concerns. In a closed-door meeting with county officials and the sheriff last month, people who attended the meeting said Landon spoke of the possibility of leaving the system and returning Palm Coast to its own communications infrastructure, as it was before 2003. It was not the sort of decision Landon was in position to make or float, as it entails a policy shift his council would have to approve, and his council has yet to discuss these matters beyond passing mentions. Landon again intimated, in a council meeting later in February, that the city might go its own way, setting up its own meetings with other municipalities and the sheriff whether the county was willing to join in or not, though the sheriff's office quickly said it had no intention of leaving the county's system.
The city, too, has since retreated from what appears to have been mere posturing.
"Contrary to what you may have read in the local media," Netts told Revels in his opening lines, "Palm Coast has no desire to implement its own 800 megahertz radio system, separate and apart from that of the County. We wish to remain a part of a comprehensive, county-wide communications system that serves the needs of all local governments and their various departments."
It would be at any rate prohibitively expensive for Palm Coast to have its own system. So it must rely on the county's, which pays for it all, and as such, is not in as convincing a position to dictate to the county how to handle the system.
Yet Netts then went on to raise questions about the way the county is—and is not—addressing the move to the next-generation communications system—whether new towers will be needed (especially if some of those towers are to be located inside Palm Coast city limits, an issue the council would have to deal with directly), whether the new system's coverage effectiveness will also raise costs, and what costs the radios that attach to the new system will be (the only cost users must pay, separately from the county).
The system's backbone infrastructure consists of five communication towers and equipment the county pays for and maintains at significant cost: $10 million to buy in 2003, $448,000 a year to operate, including $160,000 a year in leases for use of three of the communication towers and $250,000 in preventive maintenance. Some 2,000 radios are dependent on the system. The county doesn't yet want to incur a new debt for a new system because its annual payments for the existing system, of $841,000, don't end until October 2020. Kevin Guthrie, the county's former emergency management chief who initiated numerous discussions on the radio system, said it would be financially unnecessary and imprudent to incur new debt now.
That has not concerned Palm Coast as much, since Palm Coast would not be carrying that debt. So the city has brandished the specter of potential failures and the endangerment of government employees to pressure the county into acting. Netts in his letter cited the need for new radios: "We need a specific plan, NOW, to deal with the costs and timing of this radio upgrade to assure our future financial obligations will be fully funded," Netts wrote, even though Landon said the city is already planning for such upgrades, while the city's finance director confirmed the city is "accumulating $249,100 per year in order to fund the replacement and maintenance of our radios and other communications infrastructure owned by the city."
In other words, the city's part of the financial plan is in place.
Netts also raised questions about future capacity expansion on the communications system, alluding to–but not getting into–a different issue altogether, and one in which city and county claim each is currently in default of an agreement between the two governments.
"I believe the best way to answer these and other questions is to convene meetings, NOW," Netts concluded, continuing with the capitalized shouts, "involving ALL participants in the new system. Certainly, as users of the system, you would want our input on the fundamental issues such as the new system standard, etc. Once this is determined, the other questions can be properly answered."
Revels isn't so sure that some of those answers haven't already been provided (the county commission had its first extensive briefing on the issue in 2013).
"I want to go line item by line item with what I believe were the responses that Kevin Guthrie provided to the city with his presentation," Revels said, "and what has been stated again and again, but I want to do it in a very methodical, fact-based presentation. I'm not opposed at all to meeting with the cities as has been requested, because we used to do that, and I actually think it's a good opportunity if there are topics that cross boundaries of cities and school, it's a great way to share information or study issues."


Mayor Jon Netts's Letter to County Commission Chairwoman Barbara Revels.
<![if !IE]><![endif]>