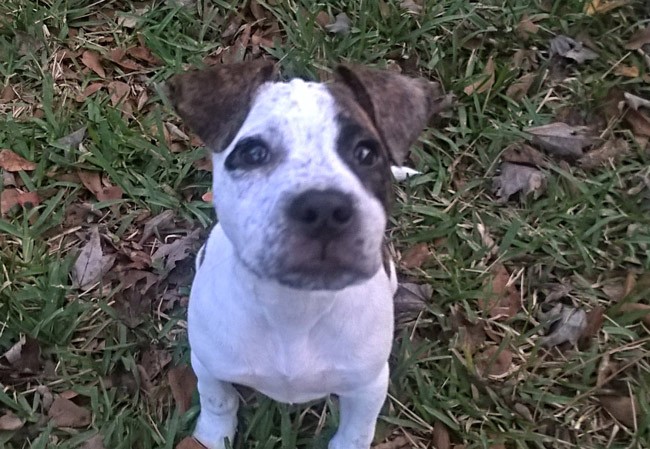 Cautionary note: an image of the dog after it was killed appears below.
The Flagler County Sheriff's Office and Palm Coast Animal Control are investigating the strange case of a puppy's death, from apparent gunshots, in the city's W Section sometime in the last 48 hours. Authorities are releasing little information, other than that the investigation is ongoing and, as a sheriff's spokesman put it, "we're getting a lot of different information."
The family that once owned the puppy, and a family friend who first posted about the dog on Facebook when it was missing, spoke about the case at length on Tuesday. So did the man who owned the dog and acknowledged recovering it when it was dead. Both parties spoke of the death of the dog resulting in mutual fears of worse to come.
The three-and-a-half-month-old dog had belonged to Jody and Jackie LeMaster, 49 and 51, who live along the golf course on Wellington Drive. They'd called it Kia. One of their neighbors, Miles Smith, 31, lives across the green. The LeMasters have two pit bulls, and Jackie worried that one of the pit bulls might harm the puppy. He spoke about it with Smith, who offered to take the young dog.
"From then on every day, every hour, he was calling me, texting me," Jackie said, "hey, Jack, when are you going to give me the dog."
Jackie says Smith was insistent, so he went to Smith's house to see how Kia would get along with Smith's dog. They got along famously, Jackie said, so he agreed to give Smith the dog, thinking he could watch her grow up nearby. Smith called the dog Lucy.
Kitty Jones, a family friend—her son and the LeMaster's son are close friends–says when Smith got the dog, he took Kia and the two young friends to PetSmart and spent $200 on treats and other things for the dog. Smith says he also took the dog to the vet and had to sell off some of his belongings to take care of it.
That was about three weeks ago.
At 1:53 Sunday morning, Jackie says his son got a text message from Smith that included a picture of Kia, or Lucy, apparently shot dead, in a bathtub, with no explanation.
Smith acknowledges that the picture came from his phone, and that he'd texted it because "I was letting them know that the dog had passed away. I haven't done anything wrong." Later, in a half-hour phone interview rife with rambles, contradictions, evasions and accusations, he said he had not sent the picture himself. He blamed Jones's son, James Cortright, for doing so, claiming Cortright took the phone and texted the image to LeMaster's son. And he repeatedly accused Cortright and Joshua LeMaster, the LeMasters' son, for being "trouble-makers." (Cortright and Joshua LeMaster have had their share of run-ins with the law.)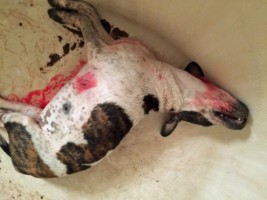 Asked where he'd found the dead dog, Smith said: "I'm not getting into any of that. I went all over to find the dog." He says the dog ran away and he went after it all over the W Section to find it, but eventually said he'd found it somewhere "on Wellington." He thought it had been hit by a dog. It's not clear whether, in Smith's telling, the dog was already dead at that point. "I thought it was hit by a car and now the police tells me it was shot, and now I'm sitting here worried someone is going to shoot me," he said.  "Why would I take a dog to the vet then kill it?"
He said the dog had run away perhaps to go back to the LeMaster house. But asked if he'd gone to the LeMasters during his search, which would have been nearby, he said he hadn't. H then spoke of finding the dog "bleeding to death" and taking it to his bathtub to see if he could save it.
Smith would not say how the dog died. "I'm very saddened about it," he said, before at first declining to speak further, only to then speak of how much he'd cared for the dog.
"Somehow, the dog disappeared" after it died, Smith said. Smith says he put it at curbside for animal control to take it, but then it was gone.
The evening of Feb. 28, Jones posted a long note on a Facebook Swip-Swap page, saying Smith had sent the picture of the dead dog (she didn't say to whom or how, nor identified the family in her posting). "What I am asking is if anyone finds Kia's body, the family would like it returned, so they can bury her properly."
Someone responded to Jones's post, saying a dog was about two feet off the road in front of her house. It was Kia, or Lucy, and there the LeMasters found it surrounded by a "shrine," which consisted of a small statuette of what may have looked like St. Francis of Assisi, the patron saint of animals, as well as dozens of sugar packets, some of them soaked in blood, and a small black dog collar.
---
A case of animal cruelty, but no identified suspect.
---
The LeMasters called the sheriff's office. They were initially told to bury the dog, they say, which startled them. They did not do so. They kept the dog, and on Tuesday afternoon turned it over to Palm Coast Animal Control, which took it to Flagler Animal Hospital, where they were ready to pay for a necropsy until they were told that the sheriff's office would do so, as part of its criminal investigation.
"We are not identifying  a suspect at this time in this case and we are talking to individuals involved in the investigation," a sheriff's spokesman said Tuesday morning.
Jones and Jackie LeMaster say the deputy who spoke with Smith told them that Smith had provided several different accounts of what had happened—that the puppy had run away, that a neighbor shot the dog, that he didn't know what had happened to the body—before refusing to speak further and going into his house. In the interview with FlaglerLive, Smith reiterated his intention no longer to speak with law enforcement.
Jackie LeMaster showed a reporter his phone with copious texts from Smith calling the LeMasters friends and appreciating their existence, but also sending new phone numbers and urging LeMaster not to share his number with police. He also showed a text where he made accusations: "I am not doing anything at this point," went the text. "James caused all of this and I'm serious. Please let it go. All I ask."
Smith described his life as a state of siege—his house is rimmed with surveillance cameras—from fear of his neighbors (the LeMasters), who he said have his other neighbors in fear, too. The LeMasters say the same thing about Smith, while Smith's immediate neighbor, Jason Pellicer, shows a back window on his car that's been shattered by a BB pellet. He blames Smith. Smith denies it.
Harming or killing a dog is animal cruelty, a first-degree felony. Earlier this month in Putnam County a man was found guilty of the charge after brutalizing a puppy and throwing it out of his car window. He faced up to five years in prison at sentencing.