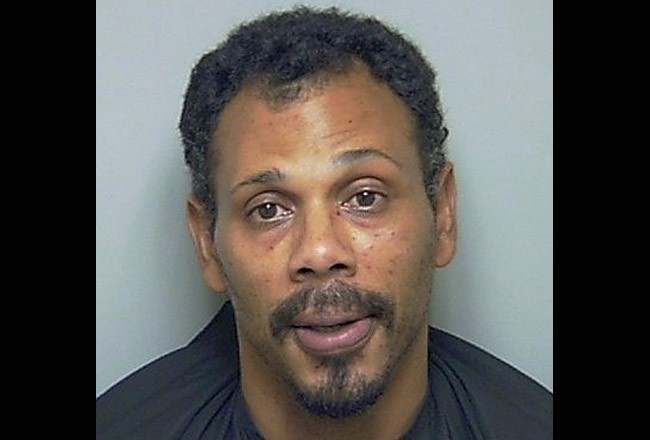 A jury of two women and four men took just 15 minutes today to find Michael Anthony Dalton guilty of animal cruelty, a felony, for repeatedly punching a puppy and throwing it out of a moving car in Interlachen on May 17. Dalton, 41, a resident of that town in Putnam County, brutalized the puppy in full view of witnesses. He faces up to five years in state prison when a judge sentences him on March 1.
Witnesses told police that they were sitting on their back porch on May 17 in Interlachen when Dalton drove up and honked his horn. One of the people on the porch was Dalton's girlfriend. Soon Dalton was at the back porch, holding a puppy by its neck and punching it repeatedly on the head, according to Dalton's arrest report. One witness told police he punched the dog as if he were punching a human being, and did so at least eight to 10 times.
Dalton then got in his Ford Explorer even as he kept punching the dog, drove down a distance at the end of the cul de sac, and threw the dog out the window. The dog ran into the woods. When one of the witnesses ran after the dog, she told police that Dalton then spun around in his car and tried to hit her. She found the dog. It had a broken neck, but was still alive. The witnesses tried to give the dog some water. It soon died.
Dalton's motive: relationship problems with his girlfriend. He accused her, during his acts of violence toward the dog, of "playing games," and told her to "leave him alone." As he drove off, he threatened to do the same to other dogs.
When police spoke with Dalton, he said "his plan was to play a joke" on his girlfriend by going to her friend's house and make it look as if he was hurting her puppy. He admitted to shaking the puppy but not to throwing it, then he blamed another dog for attacking the puppy and hurting it.
Dalton has a prior felony drug conviction and two prior misdemeanor convictions. Following Dalton's conviction after trial, he was sent to the Putnam County jail, where he's awaiting sentencing.
Assistant State Attorney James Nealis prosecuted the case with Assistant State Attorney Michael Stover. Circuit Judge Clyde Wolfe presided over the case and will pronounce sentence on March 1, 2016 at 1:30 p.m. at the Putnam County Courthouse.