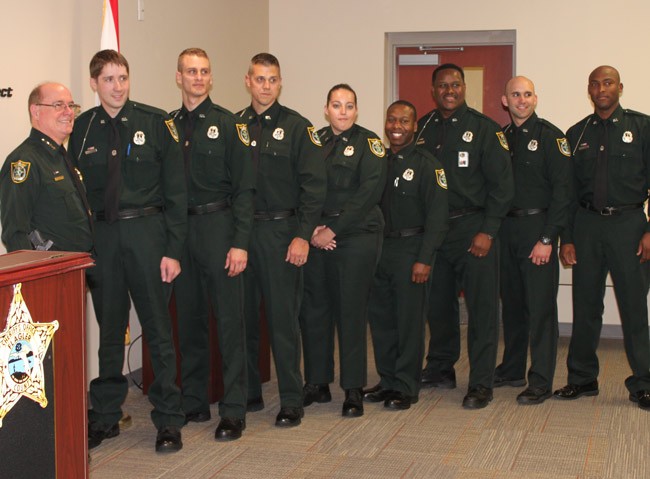 Eight new deputies were sworn in at the Flagler County Sheriff's Office on Wednesday in a ceremony headed by Sheriff Jim Manfre, the second time in five months that the department has welcomed a significant class of new recruits. In late September, 13 young deputies were sworn in, though not all made it, and attrition has continued: the 21 recruits hired in the past five months represent 11 percent of the force.
In September, the new recruits had added up to a force of 191 road patrol and corrections deputies. Wednesday's new recruits add up to a total of 192 sworn officers (148 road deputies and 44 detention deputies), signifying that between September and March, the department lost a dozen deputies to retirement, to deputies not making it through their probationary period, or to other causes. Among the 13 sworn in last fall, two were fired, one resigned, and the rest are still going through their one-year probationary period.
Another distinction of the latest class: when the sheriff's office announced four new recruits in August 2014, all four were white. When it announced the 13 new recruits last fall, just one of them was black. Wednesday, three of the new recruits were black, a rare boost for a perennially less-than-represented minority on the force.
Wednesday's recruits have brought the sheriff's department's proportion of black deputies–on road patrol and at the jail–to 10 percent, a sheriff's spokeswoman said, up from 8 percent last year. Flagler County is 11.5 percent black. Nationally, 12 percent of police forces are black, and 27 percent are minorities.
The new class of seven men and one woman will all serve as deputies on road patrol in the Neighborhood Services Division.
A release issued by the sheriff's office noted that Manfre performed the swearing-in ceremony as proud moms and dads, boyfriends, girlfriends, fiancees, and young children all watched. The sheriff told families and friends gathered that the new vision of law
enforcement officers is community policing, getting to know residents and listening to their concerns. "I'm very confident that each one of these new deputies will embrace this new vision,'' he said, describing the job as a vocation, "something you believe in your heart."
And, the sheriff told those gathered that "we will keep your loved ones as safe as we can. I guarantee they will have the best training possible.''
Such ceremonies tend to have side stories that lend a personal touch to what would otherwise be stories of new uniforms joining the ranks. Last fall the recruiting ceremony featured one new deputy, Daniel Malta, who was joining the force at the tail end of his father's long career on the force: David Malta has been with the sheriff's office about 30 years, while Malta's grandfather, Jim Schweers, who also attended that ceremony, had retired from the sheriff's office previously.
On Wednesday, Manfre noted that he'd known Leland Dawson, one of the new deputies, since 2000, when Dawson played baseball as an 8 year old on his son Alec's team, the Mariners. Through that, the Manfre family got to know the Dawson family, whom the sheriff credits
with urging him to run for sheriff. Dawson, 25, follows the path of his father, Leland V. Dawson, who worked at the sheriff's office from October 1998 to June 2003, ending his stint there when Manfre was nearing the end of his first stint as sheriff.
Wednesday's ceremony kicks off the deputies' careers with the sheriff's office. The seven men and one woman had to complete more than 700 hours of basic recruit training at a law enforcement academy. But it's not over. Now they will begin seven weeks of in-house classroom training with the Sheriff's Office known as the Field Training Evaluation Program. It will include everything from training with firearms, camera systems, evidence collection, report writing, policies and DUI training to intensive crisis intervention training and more.
Then they go on the road for three months' training with a field training officer before they will work on their own as they complete their probationary period of one year. It's far from a given that a year from now, all eight deputies sworn in Wednesday will still be on the force.