Tuesday Briefing: A Raise for Jim Landon, Safer Bus Stops, Early Voting Continues
FlaglerLive | March 8, 2016
Today: Partly cloudy. Highs in the mid 70s. Southeast winds 10 to 15 mph. Tonight: Mostly clear in the evening then becoming partly cloudy. Lows in the upper 50s. Southeast winds 5 to 10 mph. Details here.
Today's fire danger is moderate. Flagler County's Drought Index is at 113.
Today's tides: at the beaches, at the Intracoastal Waterway.
Today's document from the National Archives.
The OED's Word of the Day: recreant, adj. and n..
The Live Community Calendar
Today's jail bookings.
Today's Briefing: Quick Links


Note: all government meetings noticed below are free and open to the public unless otherwise indicated. Many can be heard or seen live through each agency's website.
Early Voting is on in Flagler for the presidential primary election in Florida. Only Democrats and Republicans may cast ballots in their respective parties' primaries. Independents and minor-party voters may not vote, Florida being a closed-primary state. Early voting runs through March 12 at the Supervisor of Elections' office in Bunnell (at the Government Services Building), the Flagler County Public Library on Palm Coast Parkway, and at the Palm Coast Community Center. Every day from 10 a.m. to 6 p.m. Click here for early voting details.
The Palm Coast City Council meets in workshop at 9 a.m. at City Hall. The council will discuss a raise for City Manager Jim Landon, the highest paid city or county executives in Flagler. (How much of a raise? One couldn't tell before the meeting: while meeting agendas on the web usually enable readers to click on links to items' background and details, today's agenda was thus inaccessible Tuesday morning, at least before the meeting. The apparent glitch was fixed later in the morning, revealing that Landon is seeking automatic annual raises in line with whatever raises the rank and file are awarded.) The meeting also includes a series of presentations on various topics, including the city's revised 10-year capital improvement program, improving safety at public school bus stops and a presentation on the city's perspective on how to improve ambulance service "efficiency."
Road to Success Youth Program Open House, at the Carver Gym in Bunnell, 11 a.m.
The Flagler County Affordable Housing Advisory Committee meeting, scheduled for this morning at 8:30 a.m., has been cancelled.
The Flagler County Centennial Committee meets at 1:30 p.m. in the third Floor Financial Services Conference Room at the Government Services Building.
The Flagler County Planning and Land Development Board meets at 6 p.m. in board chambers at the Government Services Building in Bunnell. The agenda and meeting materials are here.
The St. Johns River Water Management District Governing Board meets at 11 a.m. or upon completion of earlier committee meetings, district headquarters, 4049 Reid St., Palatka.)
Caution: It's Bike Week. Look both ways three times.


Updated jail bookings and day and night shift incident summary reports are available here.
Flagler Hikes Together: "Grandma Gatewood's Walk" Kicks Off Annual Readers' Events: "Grandma Gatewood's Walk" is the first thorough account of Emma Gatewood's three complete walks of the Appalachian Trail. It's the chosen book for this year's Flagler Reads Together events, running through March.
Flagler's new $18M, 272-bed jail is nearly complete: "Its construction marks the second major project bolstering the Flagler County Sheriff's Office in recent months," the News-Journal reports. "Deputies moved into the department's new Operations Center in downtown Bunnell last October." (Story paywall-protected.)
Weekend Blotter: Accusations of Child Abuse And of Assault on a Pregnant Woman: Gunnar Galambos, 22, is accused of strangulation battery and child abuse involving a 5-week-old. Anthony Vangordon, 20, is accused of assaulting the pregnant mother of his child.
Utilities' Proposed "Smart Solar" Amendment Draws Smarter Questions From Justices: A utility-backed measure intended to put existing solar-energy regulations into the state Constitution drew indications of skepticism and support Monday from Florida Supreme Court justices.


Note: Most proceedings below can be followed live on the Florida Channel.

Legislature: The Senate and the House both hold floor sessions at 10 a.m.
The Florida Supreme Court will hear arguments on four issues, including two death-penalty cases stemming from murders committed in the 1980s in Okaloosa and Polk counties. The Okaloosa case involves an appeal by Frank Walls, who was convicted in the 1987 murders of Edward Alger and Ann Peterson. The Polk case involves an appeal from Paul Johnson, who was sentenced to death in the 1981 murders of William Evans, Daryl Beasley and Deputy Theron Burnham. (9 a.m.)
Sun Rail: The Florida Department of Transportation will hold a meeting to gather public input about the SUN Trail Network, a project that Senate President Andy Gardiner, R-Orlando, has backed to provide a trail for pedestrians and bicyclists. (Tuesday, 6 p.m., FDOT District 7 auditorium, 11201 North McKinley Dr., Tampa.)
–Compiled by the News Service of Florida and FlaglerLive


In Coming Days in Palm Coast and Flagler:
Click on the links for more details: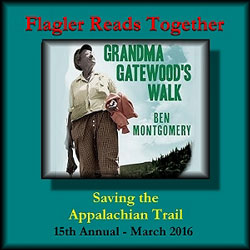 ♦ March 9: Flagler Reads Together program: Graham Swamp Preserve Trail Walk, starting at 10 a.m. Meet at the Colbert Lane trail head for approximately a two-mile hike.
♦ March 11: Flagler Reads Together Program: Walking the Appalachian Trail with Denise Bevan. The Palm Coast city government administration coordinator will share her own experience of walking the trail, 2 p.m. at the Palm Coast City Hall Community Room, in Town Center.
♦ March 11: Flagler County Job Fair, at the Palm Coast campus of Daytona State College, 3000 Palm Coast Pkwy, SE Bldg 3. The job fair will offer businesses and job seekers opportunities to connect on March 11, 2016 from noon to 6 p.m.
♦ March 11, 12, 13: "Unnecessary Farce," at the Flagler Playhouse, opens Friday, Feb. 26, starring Playhouse favorites Bruce Popielarski and Jenica "Hen" Frederickson, Peter Gutierrez and Rich Lacey, among others. Directed by Viv Stuart, who was instrumental in the founding and funding of of the Naples Perfecting Arts Center. Tickets: $20 for adults, $15 for students. Get your tickets here.
♦ March 15: Presidential Primary Election in Flagler and all of Florida, and Bunnell city election.
♦ March 15: The Flagler County Historical Society resumes its bus trips to historic and interesting county sites with Bill Ryan as your guide on Tuesday, March 15. The bus leaves from the Holden House, 204 East Moody Boulevard in Bunnell, at 10 a.m. and returns at 2:30 p.m. The cost is $15 per person and does not include lunch at the Bull Creek Fish Camp. To make reservations or for information call 386-439-5003.
♦ March 15, Media Panel: FlaglerLive Editor Pierre Tristam is part of a journalism panel at Flagler College, along with Melissa Ross, host-producer at First Coast Connect, Bob Longo, news director at WJAX 47/WFOX30, and Joseph White, publisher, editor, White Publishing Co. The panel is moderated by Flagler College's Tracey Eaton. 1 p.m. to 2:15 p.m, at the Gamache-Koger Theater, on the first floor of the Ringhaver Student Center, 50 Sevilla St., at Flagler College in St. Augustine.
♦ March 24: Eggs & Issues Breakfast featuring County Administrator Craig Coffey and three county department heads involved in economic development: Airport Director Roy Sieger, Economic Development Director Helga van Eckert, and Tourism Director Matt Dunn. The breakfast is sponsored by the Flagler County Chamber of Commerce. The cost is $20 in advance, $25 at the door. 7:30 a.m.-9:30 a.m., Grand Haven Golf Club, 500 Riverfront Dr., Palm Coast. Seating is limited; reservations are requested by March 21. For reservations, email Jaclyn Miklos or call
♦ March 30-April 2: Florida Future Problem Solvers State Competition, to be attended by four to five Flagler County schools, at Doubletree Orlando Seaworld, 10100 International Drive, Orlando.
♦ April 1: The Friends of the Library of Flagler County celebrate the annual April Poetry Month by acknowledging the 2016 presidential election year. Poems by presidents or about presidents of the United States, from Washington to Obama, will be presented at 1 p.m. in the Doug Cisney Room and appropriate refreshments–that is, alas, no booze, no matter how drunk Nixon could get–will be provided by the Hospitality Staff of the Friends.
♦ April 2: Cheer at the Pier, a fund-raiser for the Flagler Beach Historical Museum, from 3 to 6 p.m. Call Virginia Giaramita for information at 386/299-8892.
♦ April 12: Anjali Anabel Tomerlin, a third grader at Imagine School at Town Center in Palm Coast who's written and illustrated her first book, will hold a book-signing at the Flagler Beach Public library from 4 to 6 p.m.
♦ April 15: The Florida Ethics Commission will take up an administrative law judge's recommendation in the ethics case against Flagler County Sheriff Jim Manfre. 9 a.m.


Click on the link for more details.


White House says Netanyahu rejected offer to meet with Obama. https://t.co/JKdFLzYaYD pic.twitter.com/nG5pep5uSu

— Foreign Policy (@ForeignPolicy) March 8, 2016
"I paid three different smugglers" – The plight of rejected Afghan asylum seekers https://t.co/hS0LeItH9O pic.twitter.com/4ChF4nN0c9

— Al Jazeera English (@AJEnglish) March 8, 2016
John Oliver took on a $100 billion issue you never knew existed: special taxing districts https://t.co/f19VI33I5b pic.twitter.com/t8zPhP31zR

— Mic (@micnews) March 8, 2016
Huge racial disparities persist despite a drop in infant mortality rates: https://t.co/7QZC253jwL

— USA TODAY (@USATODAY) March 8, 2016
Transforming the mundane into fantasy, discover Francesca Woodman with #PerformingForCamera https://t.co/8kVsIqFtnS pic.twitter.com/YJ3B5HxadB

— Tate (@Tate) March 8, 2016


Palm Coast Construction and Development Progress Reports
The following is an update of ongoing construction and development projects in Palm Coast, through Feb. 17:
Seminole Woods Multi Use Path design, 75 percent done: Survey continues, shot horizontal and vertical features for path design.
Holland Park, 54 percent done: Grading and installation of sidewalks continues. Restroom block cells poured and trusses installed. Installation of street and pathway light poles and fixtures.
County's I-95 Interchange Matanzas Woods Reclaim Water, 83 percent done: Approximately 1,600 ft. of 16″ HDPE piping was air tested February 11, 2016. On February 12, 2016 the 16″ HDPE reuse main was installed under the southbound ramp.
Palm Harbor Parkway Roadway Extension, 50 percent done: Work continues on the stormwater structure at the intersection of Palm Harbor Parkway and Forest Grove.
Colechester Bridge, 94 percent done: Sea walls have been completed and forming of the western abutment almost complete.
North Old Kings Road Extension to Matanzas Woods Parkway, 19 percent done: Asphalt was installed on the new section of roadway adjacent to the old roadway at the intersection of Old Kings Road and Forest Grove. (Not in the Dec. 4 update.)
Old Kings Road Force Main 96 percent done:: February 11, 2016 night work with lane closure and tank trucking for the south end force main tie-in to the 12″ pipe from the South and the 12″ pipe from Town Center. The new
16″ force main and the 8″ old main were connected to the old Pump Station north of Lehigh Canal.
Island Walk Shopping Center Phase 2, 26 percent done: February 15, 2016 a 10″ core was made into the existing manhole for the sewer lateral for the 2 lots facing Palm Coast Parkway. (GoToby has a construction permitting progress report here.)


Road and Interstate Construction:
Forest Grove Drive connection to Palm Harbor Parkway to be closed starting Dec. 18: Effective Friday, Dec. 18, the City of Palm Coast will be closing the Forest Grove Drive connection to Palm Harbor Parkway. This road closure is required as part of construction operations for the Palm Harbor Parkway extension, which is currently under construction. Palm Harbor is being realigned and extended to connect directly with Matanzas Woods Parkway where it intersects with Old Kings Road. Message boards will be placed to advise motorists and other travelers of the upcoming change, and a public meeting has already been held for residents living in that area. Both the Palm Harbor extension and a separate extension of Old Kings Road are being built in preparation for the new Interstate 95 interchange to open next June at Matanzas Woods Parkway. As part of the projects, traffic patterns around Matanzas High School will be changing. One goal is to turn Forest Grove Drive back into a residential street as it was originally intended to be. The upcoming road closure of the Forest Grove Drive connection to Palm Harbor Parkway is part of that project. Forest Grove will be turned into a cul de sac on that end. Once the separate Old Kings Road extension is completed, in June 2016, the Forest Grove Drive access to the high school will be closed because it will no longer be needed. Instead, motorists and other travelers will get to Matanzas High School via the new signalized intersection at Matanzas Woods, Palm Harbor and Old Kings. For more information, please contact Palm Coast Communications Manager Cindi Lane at 386-986-3708 or clane@palmcoastgov.com.


Giovanni Allevi: Back to Life
Previous Codas: