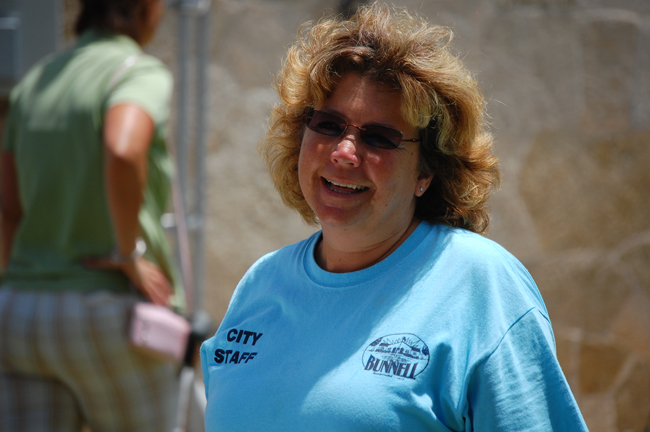 Eighty-three people applied to be Bunnell's next city manager by the time the application window closed at the end of last week. The 75,000 to $80,000 position was advertised barely two weeks, but it's drawn 36 applicants from 26 states and the District of Columbia, with the balance—47 applicants—from Florida.
Of those, eight are from Palm Coast, including Perry Mitrano, Bunnell's solid waste manager, two are from Ormond Beach, including Judi Stetson, the city's special projects director and a leading contender for the job, one from Flagler Beach (Neal McCopping, a former school administrator) one from Daytona Beach, and just one is from Bunnell—Mark Richter—though his resume, like several in the mix, cannot be taken seriously as a city manager candidate. Most of the Florida candidates are from within 90 minutes of Bunnell, and only four are from large cities (Jacksonville, St. Petersburg, Miami).
Elbert Tucker, one of the city commissioners, has said that he's opposed to hiring anyone from a large city, because it wouldn't be a good fit for Bunnell. (His original comment had been aimed at Miami in particular, where the current manager, Armando Martinez, came from. Tucker later explained that he did not mean to single out Miami or a particular geography so much as exclude candidates from larger cities—something county and city officials often do when they consider what would be the best fit for their own city.)
Mick Cuthbertson, Bunnell's community services director since 2006, had considered throwing his name in, but then decided against it. "I love what I do right now," he said.
Bunnell is looking to replace Martinez, whose contract expires in October. To keep him on, three of the five city commissioners wanted to pay Martinez less than his current salary of $112,000. Martinez would not agree to go below $97,000. The three—Elbert Tucker, John Rogers and Bill Baxley—would not go beyond $80,000, making the end of Martinez's five-year tenure all but final.
Mayor Catherine Robinson and Commissioner Jenny Crain-Brady attempted to keep Martinez, staunchly defending his record, but fell short. The battle over Martinez has deepened a serious rift on the commission between the three men and the two women—a rift that colored the departures of Finance Director Cynthia Bertha in July, and the resignation of City Attorney Lonnie Groot last week after two months on the job.  Betha blamed the new majority for her resignation, while Groot hinted at a lack of professionalism on the commission after Crain-Brady questioned his billing.
The rift on the commission, whose meetings now frequently devolve into something little short of name-calling when serious matters are on the table, will likely define the way the five members hire a new manager—if they succeed in doing so.
The manager, once hired, will be in a precarious position, because next March's election may change the complexion of the commission once again. Two seats are up, those of Rogers and Brady. Several candidates are lining up to run, or testing a run, among them Randy Burke, the long-time Bunnell City Police lieutenant and Daisy Henry, the former city commissioner who lost in the last election by a few votes. The election may be a referendum on the new majority. If that majority falls, Robinson, who's reacted bitterly (and publicly) to the current majority's actions, may look for pay-back. Martinez himself has said that he would consider returning to Bunnell if he was not employed elsewhere by then, and if there was an outcry for him.
But a new manager may create new dynamics as well.
As is often the case when a city is flooded with applicants (Flagler Beach got 140 applications in 2010), a substantial number of those can be ruled out with a quick glance, as the applicants are clearly unqualified for the position they're seeking—with little to no management or public agency experience.
Other than Mitrano, the Palm Coast candidates include John Elac, William Karback (a former sheriff's employee and candidate for sheriff), Michelle Liedtke, an events and catering manager, Jacqueline Pratt, who's been involved mostly in education, Natalie Terman, most recently a substitute teacher in Flagler schools, R. Scott Tippton, a Florida State Trooper  since 1983, and Lawrence Williams, a former city manager of Belle Isle, a city of about 6,400 ("In 2008 I resigned from my position," he wrote, "to be closer to my grandson who was diagnosed with a serious illness"). Only Williams has managed a city before.
Below is a full list, including the resumes and applications of all candidates who turned them in.

Bunnell City Manager Applicants
| Pdfs of Resumes | Last Name | First Name | Address | City | State | |
| --- | --- | --- | --- | --- | --- | --- |
| Resume | Adams | Glen | 317 Calagary Drive | Preachtree City | Georgia | 30239 |
| Resume | Austin | Dave | 604 Chivas Court | Orange Park | Florida | 32073 |
| Resume | Bates | Dudley | 968 Vineridge Run #102 | Altamonte Springs | Florida | 32714 |
| Resume | Baugher | Douglas | 808 Branbury Dr | Port Orange | Florida | 32129 |
| Resume | Belmarez | Michael Barr | 501 Doverton Place | DeBary | Florida | 32713 |
| Resume | Borkgren | Ronald | 802 A St NE | Washington | DC | 20002 |
| Resume | Bowerman | R. Stacy | 100 Cumpstone Dr | Hamden | Connecticut | |
| Resume | Braun | David | | | | |
| Resume | Bythwood | Patricia | P.O. Box 620942 | Oviedo | Florida | 32762 |
| Resume | Carlyle | Darrel | 1308 Highland Ave | Read Oak | Iowa | 51566 |
| Resume | Clapsaddle | David | 986 Sylvia Dr | Deltona | Florida | 32725 |
| Resume | DeCandis | Andrew | 409 Triple Crown Lane | Jacksonville | Florida | 32259 |
| Resume | Drymon | J. Douglas | 5532 E. Harbor Dr | Fruitland Park | Florida | 34731 |
| Resume | Ducas | George | 3300 University Park Lane | Irving | Texas | 75062 |
| Resume | Elac | John | 19 Reindeer Lane | Palm Coast | Florida | 32164 |
| Resume | Etheridge | Franklin | 509A Second Street | LaFayette | Georgia | 30728 |
| Resume | Evans | Randall | | Port Orange | Florida | 32129 |
| Resume | Evett | Lee | 337 James Circle | Lake Alfred | Florida | 3385 |
| Resume | Finch | Doug | 166 Deseyn Drive | Canandaigua | New York | 14424 |
| Resume | Fiozzo | Gregory | 10 St. Joseph Street | Schenectady | New York | 12303 |
| Resume | Fox | Marlowe | 10435 Midtown Parkway #210 | Jacksonville | Florida | 32246 |
| Resume | Francis | Kendal | 1309 North Mill | Beloit | Kansas | 67420 |
| Resume | Franklin | Allen | 2533 Polo Road | Winston-Salem | North Carolina | 27106 |
| Resume | Gallego-Arboleda | Mercelana | 6808 Amici Commissioner Tucker. | Port Orange | FL | 32128 |
| Resume | Gantt-Brown | Niema | 503 Cherokee Dr | Summerville | South Carolina | 29486 |
| Resume | Glover | Mark Langello | 334 S. Bahamas Ave | Temple Terrace | Florida | 33617 |
| Resume | Hamilton | Kevin | 2515 Fillmore Ave | Ogden | Utah | 84401 |
| Resume | Hayfield | George | P.O. Box 763 | Dover | Tenessee | 37058 |
| Resume | Hicka | Hope | 1475 Woodlake Dr #220 | Lakeland | Florida | 33803 |
| Resume | Houillion | Brian | 1497 Main Street #15 | Dunedin | Florida | 34698 |
| Resume | Jackson | Alvin | 5528 Boynton Gardens Dr | Boynton Beach | Florida | 33437 |
| Resume | Jankosky | Judith | 40023 Agusta Dr. | Lady Lake | Florida | 32159 |
| Resume | Karback | William | P.O. Box 352828 | Palm Coast | Florida | 32135 |
| Resume | Keogh | Kevin | 6219 Palm Del Mar Blvd #216 | St. Petersburg | Florida | 33715 |
| Resume | Kerbin | William | 10791 Foreston Road | Chestertown | Maryland | 21620 |
| Resume | King | Hugh | | | | |
| Resume | Lang | Constance | 5931 Guarino Dr. | Sarasota | Florida | 34238 |
| Resume | Liedtke | Michelle | 60 Fairbank Lane | Palm Coast | Florida | 32137 |
| Resume | Lucas | Danny | P.O. Box 1678 | Ridgeland | South Carolina | 29936 |
| Resume | Mangini | Joseph | 7359 Old Westover Marion Rd | Westover | Maryland | 21871 |
| Resume | Marro | Stephen | 70 Andora Street | St. Augustine | Florida | 32086 |
| Resume | McCoppin | Neal | 306 North 11th Street | Flagler Beach | Florida | 32136 |
| Resume | Mendez | Ricardo | 905 Brickell Drive #323 | Miami | Florida | 33131 |
| Resume | Mitchell | Brandon | 102 Camellia Drive | Quitman | Georgia | 31643 |
| Resume | Mitrano | Perry | 207 London Drive | Palm Coast | Florida | 32137 |
| Resume | Moffett | David | 767 W. Granada Ave #4203 | Ormond Beach | Florida | 32174 |
| Resume | Morales | Pedro | 6808 Amici Court | Port Orange | Florida | |
| Resume | Museus | Robert | 636 E. Waterford Drive | Beloit | Wisconsin | 53511 |
| Resume | Nagy | Michael | P.O. Box 831 | Paris | Kentucky | 40362 |
| Resume | Neratko | Steve | P.O. Box 463 | Dunkirk | New York | 14048 |
| Resume | Nuckles | Duane | 4901 Wakeview Court | Huber Heights | Ohio | 45424 |
| Resume | Phillips | Rick | 1608 E. Poplar Street | Davisville | West Virginia | 26142 |
| Resume | Pilgrim | Carlo | 7 Abenaki Rd | Boothbay Harbor | Maine | 4538 |
| Resume | Pratt | Jacqueline | 1 Selene Place | Palm Coast | Florida | 32164 |
| Resume | Rabun | Ronald | 511 Forest Trail | Griffin | Georgia | 30223 |
| Resume | Reid | James | 15802 Myrtle Place | Dumfries | Virginia | 22025 |
| Resume | Richter | Mark | 5814 Ironwood | Bunnell | Florida | 32110 |
| Resume | Rivera | Hector | 3682 SW Bimini Circle N. | Palm City | Florida | 34990 |
| Resume | Roberts | Jon | 8215 Bar X Terrace | Colorado Springs | Colorado | 80908 |
| Resume | Rodabaugh | Thomas | 11 Arlen Road #F | Nottingham | Maryland | 21236 |
| Resume | Roebuck | Russell | 665 Forest Lane | Deland | Florida | 32724 |
| Resume | Rosario | Jose | 3069 Boxelder St | Deltona | Florida | 32725 |
| Resume | Russo | Christopher | 400 Dover Avenue | East Providence | Rhode Island | 2914 |
| Resume | Sandoval | Alex | 3430 Sweet Pea Way | Sacramento | Califorina | 95833 |
| Resume | Sheckels | Lisa | 9675 Luther Beck Road | Hastings | Florida | 32145 |
| Resume | Silva | Peter | 891 E. Red House Branch Rd | St. Augustine | Florida | 32084 |
| Resume | SmigielskI | Mell | 407 Ridge Road | Mahomet | Illinois | 61853 |
| Resume | Snead | Brannon | 1312 Lake Lucerne Way #301 | Brandon | Florida | 33511 |
| Resume | Sparks | Dennis | 2308 Jackson Street | Hopewell | Virginia | 23860 |
| Resume | Stampfler | Michael | 7350 Angling Rd | Portage | Michigan | 49024 |
| Resume | Stetson | Judith | 76 Margaret Rd. | Ormond Beach | Florida | 32176 |
| Resume | Stuntebeck | Clint | 371 Rose Glen Frive | Radnor | Pennsylvania | 19087 |
| Resume | Terman | Natalie | P.O. Box 350035 | Palm Coast | Florida | 32135 |
| Resume | Tipton | R. Scott | 4 Squire Court | Palm Coast | Florida | 32164 |
| Resume | Toutounchian | Justin | 1224 South Palmetto Ave #209 | Daytona Beach | Florida | 32114 |
| Resume | Urquilla-Diaz | Carlos | 19400 E. 37th Terrace Court #1305 | Independence | Mossouri | 64057 |
| Resume | Vella | Fred | 2458 4th Place | Vero Beach | Florida | 32962 |
| Resume | Ventresco | Fred | 18 Coldbrook Rd #2 | Wilmington | Vermont | 5363 |
| Resume | Weaver | John | 930 Mt. Gilead Road | Murrells Inlet | South Carolina | 29576 |
| Resume | Weeks | Stephen | | | | |
| Resume | Whisnant | Angie | 6821 Eagle Ridge Loop | Lakeland | Florida | 33813 |
| Resume | White | Troy | 2603 Swansong Lane | Charlotte | North Carolina | 28213 |
| Resume | Williams | Lawrence | 12 Wilksboro Place | Palm Coast | Florida | 32164 |