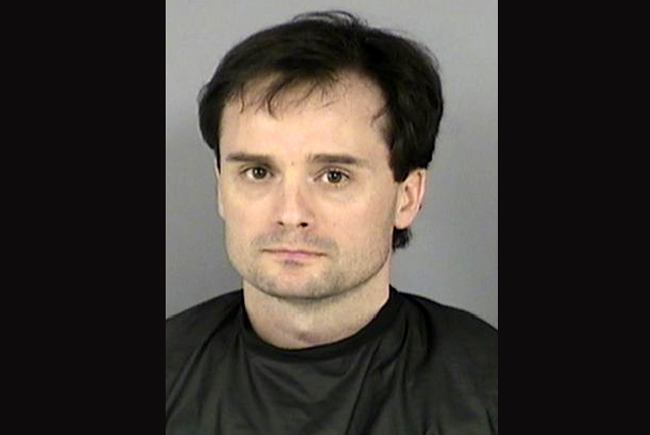 Note: Bryan Watts completed a deferred prosecution agreement with the State Attorney's office on Aug. 29, 2012, lading the state attorney to conclude that "further criminal prosecution is not warranted."

A 39-year-old United States Postal Inspector was arrested late Sunday as a result of a dispute with his brother following the death of the two men's father, the Flagler County Sheriff's Office reports.
Bryan J. Watts of St. Louis was charged with domestic violence false imprisonment, domestic violence simple battery and domestic violence aggravated assault with a deadly weapon. He was released Monday afternoon from the Flagler County Inmate Facility after posting $3,500 bond.
Flagler County Sheriff's deputies said Watts had flown to Florida and traveled to his father's Palm Coast home at 24 Village Circle, off Pine Lakes Parkway in Palm Coast, where he and his brother were attempting to settle his father's estate. Robert Watts died on July 15.
According to Bryan Watts, the dispute started around 10 p.m. Sunday (July 17) when he went into his father's closet to retrieve his father's firearms, which he said he wanted to take back with him to St. Louis. He told deputies his brother, Brent, started to poke him in the chest during the argument. Tension had begun during the drive from the airport to Palm Coast, when Brent drove his brother–and when Bryan showed off his gun to his brother, a Glock model 22C, and spoke of his shooting skills. Tension escalated when Bryan was told of Lohman's Funeral Home's bill to remove the body from the house–$300. He accused his brother of "getting screwed," according to the police report, and the pair continued to argue.
When Brent reminded his brother that the two had, in fact, agreed at some point to stop arguing, Bryan grabbed his brother by the throat, took him to the ground–"slammed" him to the floor, according to Brent's account to deputies–and handcuffed him in Hiatt brand handcuffs. After being handcuffed, Bryan, according to Brent, threatened to "fucking put a hole" in him with his handgun. Throughout the argument, Bryan was wearing his gun on his belt in a holster.
When Brent got up, he had an injury to his right eye–"a large contusion to the right side of his cheek and eyebrow area," according to the police report. Deputies later observed the injury to be bleeding slightly, and to be swollen. Brent also had "a large red mark on the top of his right shoulder and arm."
Bryan said his brother fled to a neighbor's house, still in handcuffs, and the Sheriff's Office responded to the scene. Brent was visibly upset, shaking and trembling, and began to cry when a deputy spoke with him.
Deputies said when they arrived, they found Bryan Watts armed with a semi-automatic handgun that was secured in a holster on the side of his belt. He immediately identified himself as a U.S. Postal Inspector, and turned over the weapon to a deputy.
His brother, Brent, 43, said Bryan became upset as they were going through their father's papers. Brent said the two continued to argue as Bryan went through their father's closet. He said Bryan then grabbed him by his throat, slammed him on the closet floor and then punched him in the face. The brother said he was handcuffed with his hands behind his back. Brent told deputies his brother threatened to shoot him.
Deputies reported that when they arrived at the scene, Bryan was cooperative. A call was made to his supervisor who then requested deputies secure Bryan's badge, handgun and credentials for safe keeping. The equipment was turned over to the postal service Monday.