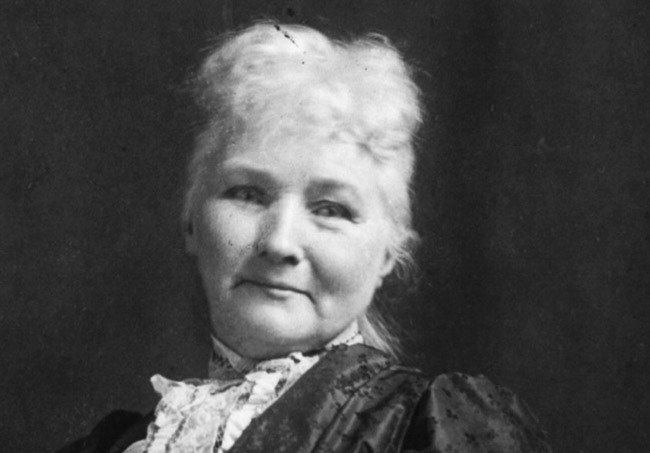 Today: Partly cloudy. Highs in the lower 80s inland…around 80 coast. South winds 5 to 10 mph. Tonight: Partly cloudy. Lows in the mid 60s. Southwest winds 5 to 10 mph. Details here.
Today's fire danger is moderate. Flagler County's Drought Index is at 198.
Today's tides: at the beaches, at the Intracoastal Waterway.
Today's document from the National Archives.
The OED's Word of the Day: mucko-chummo, adj. (and adv.).
The Live Community Calendar
Today's jail bookings.
Today's Briefing: Quick Links
"In excited times, a politician needs no power of reasoning, no apprehension of impersonal facts, and no shred of wisdom. What he must have is the capacity of persuading the multitude that what they passionately desire is attainable, and that he, through his ruthless determination, is the man to attain it."
–Bertrand Russell in "Power" (1938).

Note: all government meetings noticed below are free and open to the public unless otherwise indicated. Many can be heard or seen live through each agency's website.
The Flagler County Affordable Housing Advisory Committee meets at 8:30 a.m. in the Financial Services Conference Room, third floor of the Government Services Building in Bunnell, to review house-rehabilitation applications under the State Housing Initiatives Partnership program known as SHIP. The applications included four requests for Down Payment Assistance for first time home buyers and four requests for Rehabilitation assistance, for up to the program maximum of $35,000 each. That's not necessarily the amount that will be awarded. A previous version of this item incorrectly described the applications as grant applications. In fact, they are deferred mortgage loans.
The Palm Coast City Council meets in workshop at 9 a.m. at City Hall in Town Center. The council will discuss $50,000 in additional costs (that is, change orders) in the renovation of Holland Park, a $5,000 increase in the Seminole Woods Parkway reclaimed water main project (that $206,450 project has increased by a total of $35,000 from the original quote), review its strategic plan, and discuss a transportation impact fee credit agreement.
The St. Johns River Water Management District Governing Board will meet after holding committee meetings. (Committee meetings start at 9 a.m., district headquarters, 4049 Reid St., Palatka.)
Flagler County's Centennial Committee, preparing for the 100th anniversary of the county in 2017, meets at 1:30 p.m. in the Financial Services Conference Room, third floor of the Government Services Building in Bunnell to continue discussions of the events' budget and rehearse a presentation to the county commission.
The Flagler County Planning Board meets in board chambers at the Government Services Building at 6 p.m. to review, once again, the application for a preliminary plat approval for Seaside Landing, a 99-house single-family development on 253 acres South of State Road 100, straddling John Anderson Highway, with its eastern limits bordering the Intracoastal Waterway and the western limits along Bulow Creek. The plans have been submitted more than a dozen times and heard by the planning board at successive meetings.

The Flagler County Branch of the American Association of University Women will be observing Equal Pay Day, at 5 p.m. with an Unhappy Hour at Farley's Irish Pub, 101 Palm Harbor Parkway (European Village). Equal Pay Day symbolizes the time in 2016 when the wages paid to American women catch up to the wages paid to men from the previous year. Join AAUW members wearing red and hoping for passage of the Paycheck Fairness Act this year. For information call 386/439-5003.
Book-signing: Anjali Anabel Tomerlin, a third grader at Imagine School at Town Center in Palm Coast who's written and illustrated her first book, will hold a book-signing at the Flagler Beach Public library from 4 to 6 p.m.
Flagler Palm Coast High School Spring Band Concert at the Flagler Auditorium, 7 p.m.
Survey Request: The River to Sea Transportation Planning Organization (TPO), which includes Palm Coast, is seeking input from residents of Palm Coast as it plans transportation improvements for the Metropolitan Planning Area (MPA) that includes Volusia County and portions of Flagler County. The TPO has launched a "Tell the TPO" campaign to survey people who live or work in Volusia and/or Flagler counties, as well as visitors. The 11-question survey can be accessed here. All responses received by May 31, 2016, will be placed in a drawing for a chance to win a free iPad Mini.
Moody Boat Launch to close April 6 through May 20 for improvements. Click for details.

Updated jail bookings and day and night shift incident summary reports are available here.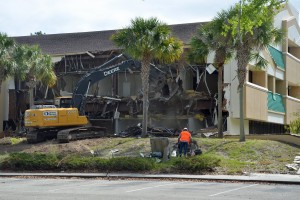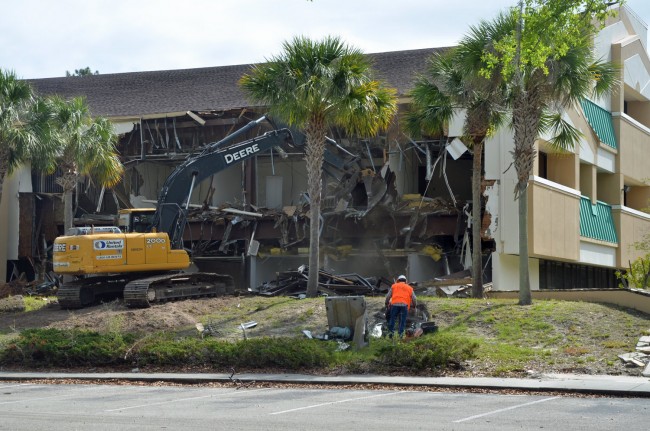 Demolition Devours Another Chunk of Old Palm Coast as Backhoes Blitz ITT Building: The Flagler County School Board, ending a year-long grind of its own as it debated what to do with the useless structure, awarded Environmental Site Services the $165,000 demolition contract in February.
Car Rear-Ends Wadsworth-Bound School Bus With 19 Students on Board in P Section: The driver of the Kia was Meghan Wilsey, who turned 23 last week, a resident of the P Section. "She was not paying attention at the time when she struck the school bus," a Flagler County Sheriffs's spokesman said: she had been eating a granola bar. Pices or crumbs had fallen on her clothing. She was brushing off the crumbs, and that moment of inattention proved just enough time to lead to the collision.
IRS Could Easily Signal to 10 Million Uninsured Working Poor Eligibility for Coverage. But It Doesn't.: Nearly a third of people without health insurance, about 10 million, live in families that received a federal earned income tax credit (EITC) in 2014, according to a new study. But the Internal Revenue Service doesn't tell those tax filers that their low and moderate incomes likely mean their households qualify for Medicaid or subsidies to buy coverage on the insurance exchanges.

In Florida and in State Government:
Note: Most proceedings below can be followed live on the Florida Channel.

The Florida National Organization for Women and other groups will hold a news conference to call for Gov. Rick Scott to veto a bill (SB 668) that would overhaul the state's alimony laws. (11 a.m., Capitol rotunda, Tallahassee.)
Suncoast Youth Conservation Center Opens: The Florida Fish and Wildlife Conservation Commission, Tampa Electric and The Florida Aquarium will hold an event to formally open the commission's Suncoast Youth Conservation Center. Also expected to take part is House Majority Leader Dana Young, R-Tampa. (1 p.m., Suncoast Youth Conservation Center, 6650 Dickman Road, Apollo Beach.)
–Compiled by the News Service of Florida and FlaglerLive

In Coming Days in Palm Coast and Flagler:
Click on the links for more details:
♦ April 13: Public Safety Coordinating Council meeting at 8:45 a.m., Emergency Operations Center, Bunnell.
♦ April 13: Community Alliance-Department of Children and Families meeting, 2:30 p.m., Government Services Building, Bunnell.
♦ April 14: Flagler Beach Citizens Academy 2016 Graduation Ceremony, at Flagler Beach City Hall, 5 p.m., Commission chambers. Presentation of Certificates of Completion, cake and coffee to follow.
♦ April 15: The Florida Ethics Commission will take up an administrative law judge's recommendation in the ethics case against Flagler County Sheriff Jim Manfre. 9 a.m.
♦ April 16: Flagler Beach will hold a victims' rights memorial at sunrise. The memorial ceremony honors victims and their advocates. It will be held at the end of the iconic pier. Please contact Victim Advocate Donna Kearney with any questions about the memorial at 517-2020.
♦ April 19: Palm Coast Fire Department offers free Car Seat Check : From 9:30 to 11:30 a.m. and 1 to 3 p.m. Tuesday, April 19, at Fire Station 25, 1250 Belle Terre Parkway, Palm Coast. The checks will be done in the Fire Department's drive-through bays to assure everyone is out of the sun. Firefighters from the Palm Coast Fire Department who have been trained as car seat technicians will check to make sure car seats are installed properly and will also show parents/guardians how to properly install their car seat according to manufacturer and vehicle specifications. Additional information on keeping children safe will also be provided. People who attend the event are asked to bring their car seat manual and the vehicles owner's manual with them, if possible. For more information, call the Palm Coast Fire Department at 386-986-2300.
♦ April 20: Flagler Department of Juvenile Justice Council meeting, 9 a.m. at the Government Service Building room 3.
♦ April 25: It's the next edition of "Doughnuts with Doughney," that is, coffey and doughnuts with Flagler Beach Police Captain Matthew Doughney, from 8:00 a.m. to 10:00 a.m. at the Flagler Beach 7-ELEVEN convenience store, 408 South Oceanshore Boulevard. Questions, please contact Captain Doughney at (386) 517-2024.
♦ April 26: Sentencing of Waldemar Rivera at 1:30 p.m. in Courtroom 401, Flagler County Courthouse, before Judge Matthew Foxman. Rivera was found guilty on March 23 after a two-day trial of raping his then-13-year-old step-daughter two years ago. He faces up to 30 years in prison. He had declined a plea that would have netted him 10 years, and declined a judge's advice, after the first day of trial, to consider taking a plea.
♦ April 26: ElderSource is holding a public hearing at 10 a.m. at the Flagler County Public Library. The goal is to provide a listening session for anyone interested to share opinions about aging needs that impact you personally as well as your neighbors. Elder Source is a private, not for profit agency designated by the state as the Area Agency on Aging and Aging & Disability Resource Center for Northeast Florida. See the event flier here.
♦ April 30: Prescription Drug Take Back Day: The front lobby of the Flagler Beach Police Department will be open from 10 a.m. to 2 p.m. at 204 South Flagler Avenue, one block south of SR100 on the east side of the Moody/SR100 Bridge. This one day event will provide residents and visitors with a no cost, anonymous collection of unwanted or expired medicines.

Customs and Border Protection is using predator drones right here, in American airspace. https://t.co/TxnTxajxYJ pic.twitter.com/SnPrnGLTfQ

— Cato Institute (@CatoInstitute) April 11, 2016
The crusader mercenary whose company kills people for money now has a private air force to go with his private army. https://t.co/Sv0dPoMNjM

— Reza Aslan (@rezaaslan) April 11, 2016
Virginia governor rejects the electric chair, but still wants to carry out executions https://t.co/Y8MNykexbn pic.twitter.com/ZT9dYEuRa7

— ThinkProgress (@thinkprogress) April 11, 2016
All the campaign rhetoric aside, you can still be progressive and support fracking. https://t.co/sgsUI8cmTb pic.twitter.com/mJwSRAN5JV

— NYT Opinion (@nytopinion) April 11, 2016
For men, the life expectancy gap between the richest and poorest Americans is 15 years. Among women, it's 10 years: https://t.co/ZuEsSlQVck

— Ezra Klein (@ezraklein) April 11, 2016

Fact-Checking the Knaves:

Palm Coast Construction and Development Progress Reports
The following is an update of ongoing permitting, construction and development projects in Palm Coast, through March 30:
Click to access developments-april-2015.pdf

Road and Interstate Construction:
Moody Boat Launch to close April 6 through May 20 for improvements: Flagler County's Moody Boat Launch will be closed April 6 through May 20 for improvements. "The scheduled upgrade will enhance the launch's usability in a number of ways," said Heidi Petito, Director of General Services. "The new system provides for ADA (Americans with Disabilities Act) compliance, minimizes docking difficulties caused by fluctuating tides, and new lighting will promote boater safety and security." The closure includes the Moody Boat Launch– located at 825 Moody Lane in Flagler Beach– the parking area, restroom, and dockage on the Matanzas River. It does not affect Betty Steflik Preserve and boardwalk. The scope of work includes dredging 1,650 yards of silt from the launch basin, thus improving navigability. The adjacent wooden docks will be replaced with an aluminum floating dock and gangway system. Additionally, the existing restroom will be replaced with an ADA compliant facility. Moody Boat Launch provides public access to the Intracoastal on the east shore, just south of SR100. The closest alternative boat launches are located at Herschel King Park on the west side of the river at 1000 Grady Prather Jr. Cove, Palm Coast, and Bing's Landing on the east shore at 5862 N. Oceanshore Blvd. in Palm Coast.
Forest Grove Drive connection to Palm Harbor Parkway to be closed starting Dec. 18: Effective Friday, Dec. 18, the City of Palm Coast will be closing the Forest Grove Drive connection to Palm Harbor Parkway. This road closure is required as part of construction operations for the Palm Harbor Parkway extension, which is currently under construction. Palm Harbor is being realigned and extended to connect directly with Matanzas Woods Parkway where it intersects with Old Kings Road. Message boards will be placed to advise motorists and other travelers of the upcoming change, and a public meeting has already been held for residents living in that area. Both the Palm Harbor extension and a separate extension of Old Kings Road are being built in preparation for the new Interstate 95 interchange to open next June at Matanzas Woods Parkway. As part of the projects, traffic patterns around Matanzas High School will be changing. One goal is to turn Forest Grove Drive back into a residential street as it was originally intended to be. The upcoming road closure of the Forest Grove Drive connection to Palm Harbor Parkway is part of that project. Forest Grove will be turned into a cul de sac on that end. Once the separate Old Kings Road extension is completed, in June 2016, the Forest Grove Drive access to the high school will be closed because it will no longer be needed. Instead, motorists and other travelers will get to Matanzas High School via the new signalized intersection at Matanzas Woods, Palm Harbor and Old Kings. For more information, please contact Palm Coast Communications Manager Cindi Lane at 386-986-3708 or [email protected].

Zez Confrey's Kitten on the Keys
Previous Codas: