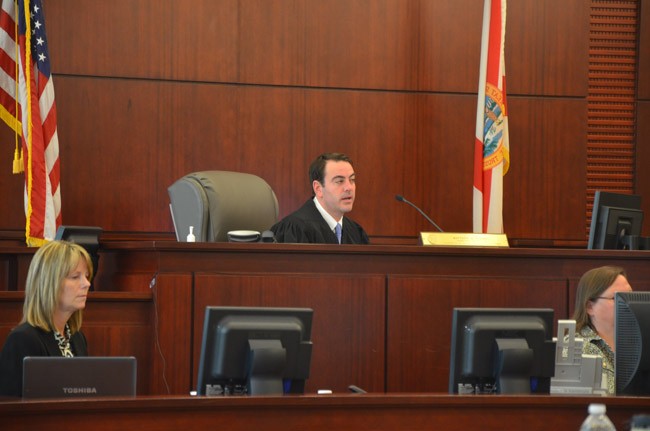 Note: For the account of Tuesday morning's proceedings, go here. For further background on the case, go here.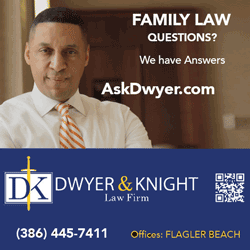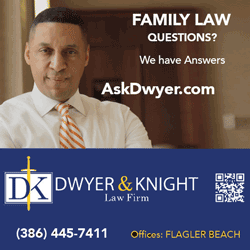 After the alleged victim had testified this afternoon for over an hour to what she described as her step-father raping her two years ago in Palm Coast's P-Section—and with the victim and the jury out of the courtroom–Circuit Judge Matthew Foxman was advising Waldemar Rivera to talk to his attorney and rethink how to go forward. "I'm telling you now, it's not going well," Foxman told Rivera.
And that was before testimony about DNA evidence made matters worse for the now-38-year-old man, who's been at the Flagler County jail since the May 2014 incident.
It was startling advice from a judge to a defendant in a trial not yet a day old. But Foxman isn't a staid, aloof judge who could be accused of mistaking the elevation of his bench for an Olympian remove: A prosecutor for 10 years until his election to the bench in 2010, he still relishes the trenches below. He doesn't hesitate to compliment the lawyers on their work, as if he were their professor. He complimented Waldemar on his shirt and tie before the trial started and repeatedly asked him if he was comfortable, being treated well, wished to address the court, understood this or that—gestures most judges should make, but don't always do. He joked to the jury and the lawyers that his in-laws were visiting, so he'd be willing to stay late into the night. He humorously admonished a juror for being an Eagles fan, and later lavished the four men and four women with praise for their rapt attention, six hours into the trial.
So by the time Foxman proffered his advice to Waldemar, who looked only slightly more defeated after the alleged victim's testimony than before it—Waldemar, a short, stocky man with a premature middle-age bulge around the waist has a natural slumping stance when he sits at the defendant's table—the judge had established a genuinely respectful rapport with the defendant, the more strikingly so for a defendant accused of the most heinous crime possible: raping a child.
Foxman wasn't wrong: the alleged victim's testimony left some of the members of the jury—four women, four men—shaken. At least one of whom appeared to have wept. The girl, now 15, answered every question without a hint of anger at the man she called "Dad." She answered with poise and clarity except when asked about the details of the alleged attack, when she would uncontrollably break down and sob: lurid details that triggered a visceral response and could not leave others in the courtroom unmoved.  She would then regain her self-control and speak again. She hugged an orange sweatshirt that contrasted with her gray long-sleeved shirt as she spoke, the way a younger child might hug a teddy bear during a traumatic moment. The jury would never learn that she suffered from anxiety and depression, or that child services had admonished her mother for leaving her in the care of the same man who had once violently attacked the mother, though the jury did learn that that the alleged victim had been at the center of that outburst of violence, which had left the girl's mother covered in shards of beer bottles: Rivera, who goes by the nickname "Macho," had called his daughter a "whore." She was 10.
---
"I'm just telling you that in my reading of how they reacted to her and the evidence thus far, I would not view as favorable to you."
---
She had begun her testimony with smiles and a sunny disposition that, by the time she'd answered the defense attorney's questions, had darkened almost as black as her hair. Public defender Regina Nunnally took various avenues to try to impeach the girl's credibility, to sow doubt in the jury's mind—all that was necessary—about an accusation that, in the end, rests on her word against her stepfather's. Nunnally came out empty, managing only to reinforce the sense of crisis the girl had endured that evening, as when Nunnally tried again and again to question the girl over the phone calls she made that evening while seeking help, such as the 51 successive and unanswered calls to a friend. But the more Nunnally scrutinized, the more she made the case of a scared 13-year-old girl desperate for help and equally scared to trust anyone but her friends.
"So 10 minutes you're up the street trying to call [your friend] 51 times, correct?" Nunnally asked.
"Yes ma'am."
"And didn't think to call anyone, else, and when you do call her it looks as if you had four conversations with her," Nunnally said, pointing to a detail in the girl's deposition that did not seem to show anything more than a girl asking for help: she talked to her twice, as it turned out, and texted her address.
"Now in those 10 minutes on the phone it never occurred to you that Macho might come after you?" the public defender said, again asking the sort of question intended to raise questions about the girl's motives, and again only enabling the girl to make her case even stronger.
"That's why I ran up the street, just in case I would have a head start in case he did come outside, I could run. I wasn't just outside of the house," the girl said.
"Wasn't it in your best interest to call someone else?" Nunnally asked, alluding to the police or to the girl's mother. But earlier the girl had answered a similar question from the prosecutor: Her mom "would have freaked, I didn't know what to do, what to say." And the police, whom she even passed as she ran rather than stopped? "I was scared to. I didn't know what they were going to do, if they were going to believe me. All I could think about was getting home, and to be safe"—her voice broke but she kept going—"and I just, I just wanted to go."
"Would you have ever or did you ever ask anyone to call the police on him?" Christy Opsahl, the assistant state attorney, asked her.
"No ma'am."
"Why not?"
"Because if I were to call the police and he would have found out that I called the police and I opened my mouth, I was so scared for my life and my family's, and I was just thinking about it the entire time, and I was just like—what could happen, and what could possibly happen. I didn't want to take that risk." She was in tears again.
On a few occasions Waldemar wrote a few notes, but otherwise looked at the girl or looked down. She had not looked at him. When Opsahl asked him if her attacker was in the room, the girl said: "He is over there to the left of me wearing a white shirt and a grey tie." She did not look at him.
It was after all that, and just before a break, that the judge spoke to Rivera.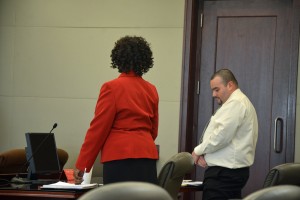 "I'm one of a handful of attorneys in Florida that before taking the bench had successfully prosecuted and successfully defended a first-degree murder case," Foxman said. "Very few people cans say that about what happened in a courtroom. My point to that is, I kind of know what goes on in these rooms, and they get to tell us, we're at the stage in the proceedings whether they would give you a guilty verdict, not guilty or something in between. I'm telling you now, it's not going well. Your attorney's done a magnificent job, but I read the body language, and I'm guilty of saying too much, I'm just saying I can read them. I'm not so sure you don't want to talk to Ms. Nunnally for a couple of minutes. I'm just telling you straight of what I'm reading there. They're the ones who get to tell us. I'm sitting here just like you, waiting on what they say, but I'm just telling you that in my reading of how they reacted to her and the evidence thus far, I would not view as favorable to you. But I don't have a pejorative take on that. That's not my take. That's just what I observed. You may want to talk to her for a minute. That's the only thing. I don't know where that would take you, whether that means maybe you want to proceed onward, testify or not, no idea. I just thought I'd squarely give you my take on it. It's an expert opinion at this point, believe it or not. May not seem like much, but it is. And I just wanted to share that with you so that may want you to rethink where you're at right now."
"Your honor if he were to rethink that what would be his option, to open plea?" Nunnally asked.
'It would be an open plea," the judge said.
"As charged?"
"I'm not here to say what the state does as to his charges, but that would be his option," the judge said.
Opsahl shook her head to indicate that it would be a plea to the charge: sexual battery (that is, rape) on a victim younger than 18, and sexual assault by a custodian, a first-degree felony that exposes Rivera to 30 years in prison. (It's not clear why Nunnally did not try to impeach the girl's veracity through other means, as, for example, when the girl has maintained that she had spent the night before the incident at her best friend's house in Flagler Beach, a contention the girl's mother denies, as the alleged victim was ostensibly banned from the house there for having once snuck out during a previous overnight. The mother of the best friend is not testifying, nor is her daughter–the girl the alleged victim called 51 times the night of the incident–though the daughter had testified last week during a pre-trial motion about her phone conversations with the alleged victim.)
Rivera's talk with Nunnally was brief and did not change the progression of the trial, which moved on to two Florida Department of Law Enforcement crime analysts' detailed and at times bewilderingly scientific testimony about saliva and DNA samples. One type of analysis did not tie Rivera directly to the samples, though it indicated the presence of elements associated with saliva—on the girl's underwear. Another analysis more directly tied Rivera's DNA to the underwear—or, rather, to a male matching Rivera's DNA to that sample.
That's usually considered incontrovertible evidence. But it wasn't: the analyst allowed that the DNA could have been Rivera's, but it could also have been that of anyone in his patrimonial line—his father's, his brother's.
That's the doubt Nunnally was attempting to sow in the jury's mind: that the DNA could not conclusively, incontrovertibly be tied to Rivera himself. It could have been his brother. And that's where she was closing the very tenuous circle she had begun to draw in her opening argument this morning, when she alluded to the possibility of Rivera himself not being the criminal. She hadn't gone further than that. But in the afternoon, after a series of tugs with the prosecution and even the judge, Nunnally let it slip that the alleged victim's mother was, then and now, dating Rivera's brother, and that the girl was living with her mother and her boyfriend.
But if Nunnally was trying to suggest that the brother, rather than Rivera himself, had raped the girl, nothing throughout the trial had helped make that case—no witnesses who could speak to any such interaction between the alleged victim and the brother, no suggestion of motives, though the defense needn't disprove anything: it only needs to create enough doubt as to the defendant's guilt.
The prosecution rested early after the analysts' testimony. Nunnally moved for a judgment of acquittal. Foxman denied it, saying the case should go to the jury. Nunnally said she may have one more witness on Wednesday. She did not give any indication that Rivera would testify.
Foxman addressed Rivera again at the end of the day. "I want you to think about it and talk to her," the judge said to him, referring to Nunnally. He was not spelling out what he was likely intimating: that testifying on his own behalf may be Rivera's last hope. "The way that works legally, it's entirely your decision. But, do not make the decision without getting considerable legal advice from someone as experienced as Ms. Nunnally. There's a lot of reasons why somebody might want to give you the advice not to take the stand, so if she's telling you that, you get to hear it, listen to it, digest it. At the end of the day, you make the call. But I'm going to have to ask you formally tomorrow. So you've got basically the night to think about it."
The trial resumes at 9 a.m. Wednesday in Courtroom 401. Closing arguments are likely to take place not long after that, and the jury should be deliberating before lunch.