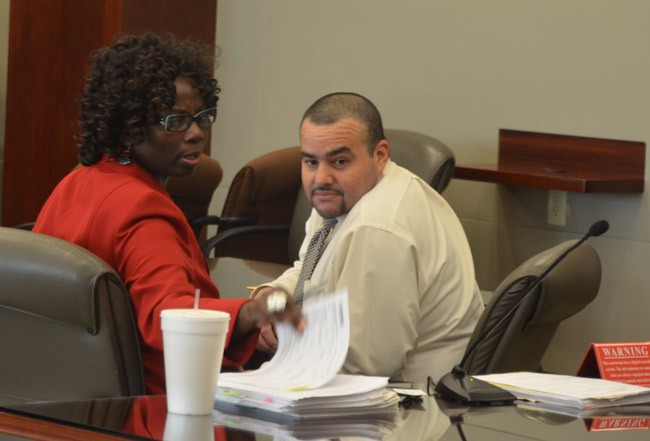 Note: Below are Tuesday morning's proceedings in the Rivera trial. For the afternoon session, when the alleged victim testified, go here. For further background on the case, go here.


The prosecution and the defense's strategies were clear from their opening arguments this morning in the trial of Waldemar Rivera, the 38-year-old P-Section resident of Palm Coast accused of raping his 13-year-old step-daughter two years ago.
Assistant State Attorney Christy Opsahl, who, using repetition to the rhythm of indignation, referred to the alleged victim as Rivera's "13-year-old stepdaughter" about a dozen times in a 10-minute opening argument, is going to stress the contrast between the girl's age and what the prosecutor sees as the indisputable violation of her child's body, as well as the broken trust between the girl and the man she'd called "dad" for most of her life: Waldemar had been her father since she was 3, her own biological father having been in prison throughout her childhood. 
Public Defender Regina Nunnally's approach was just as blunt. The case, she said, is about two questions: was a crime committed? If so, did Rivera commit the crime? Nunnally needn't convince the jury that there was no crime, or that Rivera was not involved. All she has to do is sow doubt, and not even on both counts: if she succeeds in planting doubt about the first question, the jury won't even have to address the second. If the prosecution cannot prove beyond a reasonable doubt that Rivera committed a crime, he goes free.
The alternative is the possibility of life in prison.
Nunnally, in arguments to which the prosecution would later raise objections, skirted around the girl's character, calling her "not your typical 13-year-old girl," reducing the case to a matter of he-said-she-said, and even raising questions as to whether someone else had committed a crime–just not her client, Rivera, who sat next to Nunnally in a  white shirt and gray tie, as defendants on trial may do even when they're in jail, so as not to prejudice the jury with prison garb and chains. He was at ease, smiling easily either in conversation with Nunnally or when Circuit Judge Matthew Foxman would inquire about his well-being, if he had anything to say or had any complaints.
It was quickly evident that Nunnally would push to what limits the prosecution and the judge would allow any shred of suggestion–which is all it may take to create doubt–about the girl's character and credibility, and the veracity of what she'd claimed about that night. In other words, Rivera's defense would hinge on whether the tables could be turned, if only a little, against the girl: it's not blaming the victim exactly so much as undermining her memory, her version of events, while just stopping short of blame.
The crime Rivera–who goes by "Macho"–is alleged to have committed is this, as the prosecution presented it this morning to the jury of four men and four women (including alternates): It was May 11, 2014, a Sunday.  The girl had spent the night at a friend's house and most of the day with friends until she asked that Rivera pick her up. Her mother–who was no longer with Rivera: she was dating his brother–was spending the day at Daytona Lagoon with her boyfriend. The girl had declined to join them. When Rivera picked her up, he proceeded to buy or provide her with cigarettes, a wine cooler, beer and pot, and wings at Houligan's before going to the house on Peppercorn Drive, where the pair watched television: "Law and Order."
As they were watching, Rivera allegedly asked the girl if she wanted to feel something she'd never felt before. He tried to take her shorts down. She rejected him. Five minutes later he tried again and, as Opsahl described it, "placed his 36 year old mouth on his 13 year old setp daughter's vagina." At that point,  Opsahl said, he'd committed a sexual assault: rape.
The girl froze, then regained possession of herself, freed herself of her step-father, went outside to collect herself and have a cigarette, where Rivera joined her. He was apologetic. He wanted her to hit him. She refused. She changed the conversation, even asked him if he imagined what it'd be like to be a bird–a detail that was not presented in opening arguments but in her deposition. They then went back inside and watched television again, and he again put his hand on her knee. She was waiting him out, hoping he'd pass out, as he was drunk. So he did. She then took his cell phone and called the girl at whose house she'd spend the previous night. She begged her to pick her up, but the girl's mother said they would not get involved. They'd call 911, which they did. The alleged victim then dropped the phone in Rivera's car and ran 1.6 miles to her grandmother's house: the grandmother was not there.
So she went to yet another friend's house nearby, whose mother, Stacy Simpson, saw her barefoot, scared. Simpson, too–who testified this  morning–called police.
Aside from Simpson this morning, the deputy who responded to the call and the detective who worked the case testified, mostly to the technical aspects of the case–and to Rivera's demeanor that evening when, at first, he did not answer the door then was caught apparently in a lie as to why: he claimed to have been in the shower (which was not the case, the deputy said), then claimed to have been getting ready to go in the shower. The nurse who examined the alleged victim to prepare a sexual-assault kit also testified, barely opening the door for Nunnally to ask questions about what the nurse had detected in the girl's vagina: undetermined "secretions" that the defense asked about in a series of questions, as if to suggest that there were indications of sexual activity that had nothing to do with Rivera, as the girl had repeatedly denied that he had penetrated her with his penis.
When the jury was out of the room for lunch, the prosecution raised objections to Nunnally's opening arguments touching on the girl's character. The two sides went back and forth, with the judge arbitrating to what extent Nunnally would be allowed to raise questions about the girl's sexual history, a matter that had been disposed of in a pre-trial motion: the questions could be limited to the 72 hours before the alleged incident, but could not be broadened to appear as if to indict–or raise questions–about the girl's character.
"It also depends on what she says, too, in her opening," Nunnally said. "If she opens the door then, you know, it's fair game, as far as I'm concerned."
"Opens the door to what? I mean, you think you can just ask someone if they used drugs?" Foxman asked.
"Well, I can ask if she was under the influence at the time," Nunnally said, "or anything at the time of the incident. We heard beer. We heard that." There was also mention of marijuana, Nunnally said.
"I think Ms. Opsahl's question was whether you were getting into character and habit as opposed to the time of the incident, if I understood her correctly," the judge said.
"No I'm not going into habit, this is the testimony said she smoked and she drank that," Nunnally said.
"If it's confined to the time of the event," Foxman said.
Nunnally agreed, but said it would also depend on what the girl herself would say during her testimony.
The alleged victim's testimony was to begin at 12:45 p.m.