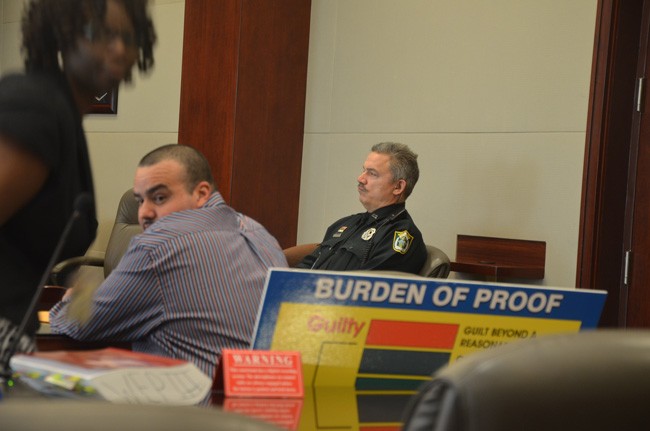 Last Updated: 2:12 p.m.
Update: The jury reached a verdict after just 15 minutes of deliberations: Waldemar Rivera is guilty of raping his step-daughter two years ago in a P-Section home. He will be sentenced on April 26 at 1:30 p.m. He faces up to 30 years in prison.
Rivera stood next to his attorney, showing no emotion as the verdict was read. His step-daughter, who sat with a family member and the State Attorney's victims' advocate, smiled briefly and appeared to sigh.
Rivera will be held without bond at the Flagler County jail in the meantime. He will be undergoing a pre-sentence investigation which may mitigate the severity of his sentence.
Today's earlier story is below.


Step-Father's Fate in Jury's Hands as His Alleged Rape Victim's Character Is Put on Trial
The case against Waldemar Rivera went to the jury at 1:15 p.m. after 90 minutes closing arguments that painted two radically different portraits of the same 13-year-old girl who claimed she'd been raped by Rivera, her step-father.
In one portrait, the girl is an innocent child who feared her step-father, had no reason to invent stories and was attacked by him one evening in May 2014, as she was watching television, when he lowered her shorts and performed oral sex on her. In the other, she is a "mature" girl who fabricated a story to get her step-father in trouble, because years before she'd been upset by his name-calling. Jekyll and Hyde had more in common than those two portraits of the girl, now 15, who made another appearance in court this morning.
For the defense, the final arguments took on a disturbing blame-the-victim approach that are not uncommon, as a strategy, when the evidence alone may be insufficient to undermine the prosecution's case–even though all the defense had to show was reasonable doubt about that evidence. But even the judge on Tuesday had warned Rivera that his case was not going well. The judge again this morning asked him repeatedly if Rivera intended to testify. Rivera repeatedly said no. So it will forever be a mystery what, from Rivera's point of view, happened that night, though by the girl's account he was so drunk that he passed out: his memory would have been easy for the prosecution to demolish, while the more sobering history of his relationship with the girl might have become a fair target.
The jury went into the deliberation room just after lunch: Judge Matthew Foxman allowed it to take an hour's break for lunch just before noon before returning to court to hear his instructions, and only then retreat to the jury room. But the trial, deliberations aside, is all but over.
Rivera, now 38, is charged with first-degree rape of a child in his custody. If the jury finds him guilty on that charge, he faces up to 30 years in prison. But the jury will be instructed that it could find him guilty on lesser offenses: lewd and lascivious battery, a second-degree felony that carries a sentence of up to 15 years, or even on a simple battery charge, a firs-degree misdemeanor that carries a maximum penalty of one year in jail. He could also be found not guilty on any charge.
Opsahl began her closing argument at 10:13 with a summary proposition to the jury: "It comes down to this," she told the four men and four women (the alternates were kept for closing arguments)."If you believe [the alleged victim], then there's no doubt that Waldemar Rivera is guilty of sex battery by a person in familial or custodial authority."
The question is: did the jury believe her?
It's not a yes or no proposition. To weigh the girl's veracity, the jury had to consider six questions and decide whether the answer was yes or no to each one, subjective as some of those answers were bound to be.
Did the girl have an opportunity to see and know what she was testifying to? "She definitely knew what was going on when her step father pulled down her pants and put his tongue on her vagina," Opsahl said, describing an image she would repeat several times to keep reminding the jury of the gravity of the alleged attack, however brief.
Did the girl have a good memory of the event? No doubt, Opsahl said, she has "a very vivid memory" as to what happened. And on Opsahl went, answering in the affirmative to every one of the questions: the girl was straight-forward and honest during her testimony, she had no motive or interest to fabricate a story against a man when in her 13-year-old mind it could mean deadly circumstances to herself or her family. "She wasn't out to get him, she wasn't trying to come up with a story to get him in trouble." There was no reason for her to subject herself to an invasive, two to four hour vaginal exam, a forensic interview, a long deposition, and finally appearing in a courtroom before strangers, and "the man who raised her," just to make up a story.
Opsahl also noted that other testimonies corroborated the girl's story at every step, as did DNA evidence–which, surprisingly, the prosecutor did not play up in her closing argument. It was merely a passing mention: "It's forensic evidence, it's there, saliva on the underwear," she said, matching DNA on the girl's labia to Rivera's DNA profile on her labia. She spent much more time on phone records tracing the girl's apparent desperation that evening in 2014, and her running barefoot for 1.6 miles to get away from the house where the incident had taken place. It doesn't make sense that she would do so "just to fabricate a story," Opsahl said, asking for a guilty verdict on the harshest charge before ending her argument. It had taken 19 minutes.
Public Defender Regina Nunnally opened the substance of her 50-minute argument by attacking the DNA evidence, reminding the jury that two analysts had presented DNA evidence, neither of which had conclusively proven the state's case. One analyst saw no "transferrance" of the the suspect's DNA into the girl's vagina: "That is a lack of evidence, that's what constitutes a lack of evidence-to connect him to her," she said.
As for saliva on the underwear, "that's not what he said," Nunnally said of the analyst's conclusions. Rather, the test showed that there was "a presumptive, that's the key word here, presumptive positive, or presumption, that saliva, or any bodily fluid, is detected. Not saliva. It's a presumption that is there, but it's also a presumption that there might be something else, because they can't confirm it." Science, the public defender said, "doesn't lie," saying the analyst had also concluded that there was no way to determine whose substance it was. "That evidence is insufficient to prove that oral sex occurred. You have a presumption. You have to assume. It's not confirmed. Reasonable doubt," Nunnaly said.
Nunnally then took on the evidence of another male's DNA presence in the girl's underwear, separate from Rivera, to raise questions about the girl's honesty. The girl had said that she had not had sexual relations with anyone that weekend. "She had been with somebody else, but she's protecting that person who wants to throw him under the bus," him being Rivera, Nunnally said. (During testimonies the girl had testified to not having sex within 72 hours of the incident. DNA evidence could have been produced outside that window. Nunnally did not note that possibility to the jury.) Then, to dispense with the fact that Rivera's DNA was presumptively found on the underwear, she said: "If his brother was accused," Nunnally said, "it would match the brother, too." The DNA, she said, "doesn't distinguish between brothers, it doesn't distinguish between lineage."
The brother was, and still is, dating the girl's mother. Just before closing this morning, the girl was brought back to testify again and asked, by Nunnally, who her mother was dating at the time. The girl confirmed that it was her uncle, the brother of the accused. The prosecutor asked her if she'd had any sexual relations with the uncle. She said no. (She remained in the courtroom to hear closing arguments.)
Nunnally also questioned how the alleged attack would have taken one minute, leaving "only a little bit" of DNA. She stopped her argument and counted a full minute for the jury to indicate the length of time even a minute would have amounted to, essentially suggesting–without saying so–that the girl was lying. Only then she moved on to the girl's actual testimony, conceding that certain events tok place, but the dots were falsely connected. "You don't have anything else that a crime was committed."
Nunnally brought up the child's history with her step-father, and the hurtful things he'd said to her when she was 10, calling her an "unappreciative bitch" and "a whore." She had remembered that, Nunnally said. "She said it did bother her and it still does," the public defender said: Nunnally–who said the girl was no typical 13 year old, and that she was sexually active even then, a girl "who's mature, who's experienced" and who was not responding to the alleged incident with immaturity–was hanging the girl's motive for accusing Rivera on that history. To further undermine the girl's credibility, Nunnally put in question the girl's claim that she was afraid of her father. If so, why would, the day of the incident, she have declined going to Daytona Lagoon and asked for "Macho" (her step-father's nickname) to pick her up? "That doesn't make any sense," Nunnally said. "She'd rather be with somebody she's afraid of."
Finally, Nunnally ridiculed the girl's alleged response when Rivera tried twice, the second time successfully, to lower her shorts and attack her: the girl said she froze up. Nunnally said that's not believable. When a father so approaches his daughter, she would have to be indignant, rejecting him physically and verbally. Instead, she later went outside and smoked a cigarette. "The last thing a person commonsense wise would do is stay on the premises" and smoke a cigarette outside, Nunnally said–then go back into the house. The girl said she was fearful of provoking Rivera or running away just then. She was waiting for him to fall asleep. But Nunnally ridiculed even that, saying that when the girl had a chance to reach for help, she only called a friend in Flagler Beach when she had the chance to call on nearby neighbors, on family closer to where she was–or even flag down two sheriff's units that drove by.
At one point Nunnally had done what lawyers often do to explain complicated matters to a jury. To explain how dots may be falsely connected, she had reached for an analogy. She had described a wet dog next to a bucket of water and soap. Th suggestion is that the dog had been washed. But the wetness is no proof that that is so. It's mere wetness. It could have happened in other ways.
Opsahl, who got to address the jury again after the defense's closing, seized on that approach to attack the suggestion: the alleged victim, Opsahl said, referring to the girl by name–as she had been throughout the two-day trial–"is not a dog." She is a 13-year-old who'd been taken advantage b y her father, she said, a man who "knew exactly what he was doing, exactly what he was doing" when he picked her up, offered her weed, offered her cigarettes, offered her alcohol, then raped her.
She also ridiculed Nunnally's suggestion that the girl's response to being raped was not credible: "No one should know how to act or what to do at 13 years old when their step father is performing oral sex on them," Opsahl said.
As for the DNA matters, it came down to this: "There's no reason for saliva to be in her underwear," Opsahl said. "Unless it happened."
Opsahl dismissed the notion that the alleged victim had woken up that day with a plan to frame her step-father. "Use your common sense, ladies and gentlemen," she told the jury.
"Again at the end of the day, the only thing in this case for you to decide is, do you believe" the girl, Opsahl said.
"Folks I told you it was going to be a well-lawyered case," Judge Foxman told the jury. "I think you just saw it."