Monday Briefing: Family Life Center Fundraiser, Cool Week Ahead, DeSantis Launches Campaign
FlaglerLive | January 29, 2018
Today: Mostly cloudy. Showers likely and slight chance of thunderstorms in the morning. Some thunderstorms may produce heavy rainfall in the morning. Highs in the upper 60s inland…in the mid 60s coast. Northwest winds 10 to 15 mph. Chance of rain 70 percent. Tonight: Much colder. Partly cloudy in the evening then clearing. Lows in the lower 40s. Northwest winds 10 to 15 mph. Details here.
Today's document from the National Archives and the Astronomy Picture of the Day.
Today's tides: at the beaches, at the Intracoastal Waterway.
Drought Index34
The OED's Word of the Day: moodscape, n..
The Live Community Calendar
Today's jail bookings.
Today's Briefing: Quick Links


"She had always refused the idea that her children could be an impediment to her success, to her freedom. Like an anchor that drags you to the bottom, that pulls the face of the drowned man into the mud. At first, the realization that she was wrong had plunged her into a profound sadness. She thought it unjust, terribly frustrating. She became aware that she could never live without feeling that she was incomplete, that she was doing things badly, sacrificing one part of her life for another. She had made a big deal out of this, refusing to renounce her dream of the ideal balance. Stubbornly thinking that everything was possible, that she could reach all her objectives, that she wouldn't end up bitter or exhausted. That she wouldn't play the role of a martyr or of the perfect mother."
–Leila Slimani, from "The Perfect Nanny" (2017, transl. 2018)
Previously:

Note: all government meetings noticed below are free and open to the public unless otherwise indicated. Many can be heard or seen live through each agency's website.
The Sheriff's daily incident reports and jail bookings are posted here.
Family Life Center's 25th annual golf tournament fundraiser. Registration at 9 a.m., shotgun start at 10 a.m. $125 per golfer or $480 per foursome. Price Includes 2 Mulligans, Hit from the Forward Tee on the 18th, Green Fee, Cart Fee, Goodie Bag & Post Tournament Dinner. Format: Modified Buick Scramble (Captains Choice Scramble). Men (Under 70) – White | Men Seniors (70 and older) – Forward Senior Tees (Green)
Women – Forward Tees (Green. Register online at FamilyLifeCenterFlagler.org. Details and mailable registration form here.
The Flagler County Stamp and Coin Club holds it monthly meeting. Doors open at 4:30 pm. From 4:30 – 6 pm this time is used for buying, selling and trading stamps and coins. Meeting starts at 6 pm and ends at 7:30 pm. There is a live auction of stamps and coins at the end of the meeting. The club is open for members, the general public, and all who are interested in stamp and coin collecting and investing. Free stamps and coin evaluations at all our meetings FCS&CC is the only non-profit Stamp and Coin Club, Inc., in Flagler County. Come join us for a fun filled evening. For more information please visit the club's web site http://www.stampandcoinclub.com.
Live and inert Navy bombing training this week
: Navy training schedules indicate that live and inert bombing will take place at the Pinecastle Range Complex located in the Ocala National Forest. When the winds blow this way, windows may rattle. Bombing is scheduled as follows:
Monday: 11:30 a.m. to 9:30 p.m. – Inert
Tuesday: 11 a.m. to 2 p.m. – Live
Tuesday: 2 p.m. to 9:30 p.m. – Inert
Wednesday: 11 a.m. to 2 p.m. – Live
Wednesday: 2 p.m. to 9:30 p.m. – Inert
Thursday: 1:30 p.m. to 4:30 p.m.- Inert
During bombing periods wildlife may be temporarily displaced. Use extra caution when driving through the Ocala National forest and surrounding areas. Secure any items around your residence that could attract wildlife. Always be mindful of larger animals including black bears and practice bearwise measures.
The telephone number for noise complaints is 1-800-874-5059, Fleet Area Control and Surveillance Facility, Jacksonville.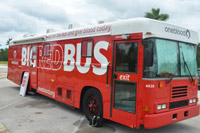 Blood Donations: The Big Red Bus will be at the following locations this week:
Tuesday: Moe's Southwest Grill, Island Walk Shopping Center, 250 Palm Coast Parkway NE, from noon to 6 p.m.
Tuesday: Banfield Pet Hospital, 5270 State Road 100, Palm Coast, 1 to 6 p.m.
Wednesday: Walmart, 174 Cypress Point Parkway, Palm Coast, 11 a.m. to 5 p.m.
Thursday: Fantastic Sams, Target Shopping Center, 5200 State Road 100 Suite 103B, Palm Coast, 110 a.m. to 3 p.m.
Thursday: CVS Pharmacy 1 Old Kings Road South, Palm Coast, 1:30 to 6:30 p.m.
Saturday: Walmart, 174 Cypress Point Parkway, Palm Coast, 11 a.m. to 5 p.m.
Sunday: Palm Coast Farmer's Market at European Village, 101 Palm Harbor Parkway, 11 a.m. to 4 p.m.



Leadership Flagler Class 25: Application Deadline is Wednesday at 5 p.m.: Leadership Flagler, a program of the Flagler County Chamber of Commerce, develops leaders to maximize their ability and desire to become involved and help Flagler County thrive. The three-month program focuses on several aspects of the community including: business, government, health & human services, art & culture, agriculture and growth management. Through education and networking, Leadership Flagler provides tools and experiences necessary to the development of well-rounded community leaders. $385 for members, $535 for non-members. Contact the Chamber's Heather Edwards by email here. See the application here.
Prescribed Burn in Putnam County: The Florida Highway Patrol continues to monitor a controlled burn in the area of SR 19 near CR 310 in Putnam County. Motorists are encouraged to use caution when traveling in these areas. Visibility may deteriorate quickly due to smoke/fog type conditions, especially during the night time and early morning hours. Motorists are reminded to reduce their speed as necessary to avoid a collision and utilize their low beam headlights in order to adapt to changing weather conditions.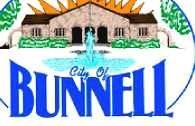 Bunnell Street Paving: Bunnell will be resurfacing a few streets during the hours of 7:00 AM to 6:00 PM beginning Monday, February 5, 2018 through Saturday, February 10, 2018 (weather permitting). The following streets will be impacted by paving crews:
N. Chapel St (from E. Woodland St. to E. Howe St.)
N. Orange St (from E. Howe St to E. Moody Blvd.)
N. Lemon St. (from Howe St. to E. Moody Blvd.)
N. Fig St. (from Howe St. to E. Moody Blvd.)
N. Peach St. (from E. Lambert St. to E. Moody Blvd.)
E. Woodland St. from US 1 to SR 100 W
Access to the roads being worked on will be limited during the vendor's regular working hours of 7:00 am to 6:00 pm. Residents along scheduled streets are asked; to ensure no vehicles, boats, trailers, etc. are left in the roadway during these hours. Prior to the resurfacing, please refrain from placing debris in the roadway for City pickup. Also make sure your sprinklers are turned off from 2:00 am to 7:00 pm. The day after the road is surfaced, these items can return to normal. Questions about this project or the schedule should be directed to the City of Bunnell Public Works Department at 386-437-7515.


In Florida and in State Government:
Note: Some proceedings below can be followed live on the Florida Channel. Most legislative proceedings can be followed through the Senate or House websites.

TAX INCREASES TARGETED: The Senate Finance and Tax Appropriations Subcommittee will take up a proposed constitutional amendment (SJR 1742), filed by Chairwoman Kelli Stargel, R-Lakeland, that would make it harder to raise taxes. The proposal, if approved by voters in November, would require three-fifths support from the House and the Senate to approve tax increases. (Monday, 1:30 p.m., 401 Senate Office Building, the Capitol.)
JUVENILE FACILITIES EYED: The House Criminal Justice Subcommittee will consider a proposal (HB 361), filed by Rep. David Richardson, D-Miami Beach, and Rep. Cynthia Stafford, D-Miami, that would make clear that the governor, Cabinet members, lawmakers, judges, state attorneys and public defenders can visit juvenile-justice facilities "at their pleasure." (Monday, 3 p.m., 404 House Office Building, the Capitol.)
TRAUMA CENTERS DEBATED: The House Health Quality Subcommittee will take up a bill (HB 1165), filed by Rep. Jay Trumbull, R-Panama City, that would revamp a law that helps determine where trauma centers can open. The bill comes after years of legal battles among hospitals and the Florida Department of Health about whether trauma centers should be allowed to open. (Monday, 3 p.m., 306 House Office Building, the Capitol.)
ORLANDO CITY COULD GET VICTORY: The House Transportation & Tourism Appropriations Subcommittee will take up a bill (HB 1263), filed by Rep. Mike Miller, R-Winter Park, that would lead to an Orlando City Soccer Club specialty license plate. (Monday, 3 p.m., Reed Hall, House Office Building, the Capitol.)
SCHOOL FUNDING FORMULA EYED: The Senate Education Committee will consider a bill (SB 824), filed by Sen. Rene Garcia, R-Hialeah, that calls for hiring a consulting firm to review a price-level index methodology. A price-level index helps determine how money is distributed across the state for public schools. (Monday, 4 p.m., 412 Knott Building, the Capitol.)
'PECO' PROGRAM DISCUSSSED: The Revenue Estimating Conference will analyze the Public Education Capital Outlay, or PECO, program, which helps pay for school-building projects. (Monday, 9:30 a.m., 117 Knott Building, the Capitol.)
DESANTIS KICKS OFF CAMPAIGN: U.S. Rep. Ron DeSantis, R-Fla., will formally launch his campaign for governor during an event in Palm Beach County. (Monday, 11 a.m., Embassy Suites by Hilton Boca Raton, 661 N.W. 53rd St., Boca Raton.)
—-Compiled by the News Service of Florida and FlaglerLive


To • include your event in this section, please fill out this form.
♦
June 25
: The Palm Coast City Commission meets in workshop at 9 a.m. at City Hall. The workshop is focused on the city's 2019-20 budget, with a discussion on taxes.
♦
June 25
: Flagler County's housing division presents a Renter's Rights Workshop at 5:30 p.m. at the Government Services Building 2, Room 3 (3rd Floor), 1769 East Moody Blvd, Bunnell. Learn about Landlord-Tenant and Fair Housing laws. Attorneys from Community Legal Services of Mid-Florida will present Rights and Responsibilities as a Renter at this free, educational event. The workshop will not include individual legal consultations. For additional information contact Flagler County SHIP Housing Administrator Ralston Reodica: rreodica@flaglercounty.org, (386) 313-4037 extension 5. The workshop is open to all at no charge.
♦
June 25
: The Flagler County Opioid Task Force meets at 6 p.m. at the Flagler County Public Library, 2500 Palm Coast Parkway. The task force will meet the fourth Tuesday of every month at the library through November.
♦
June 26
: Flagler County Commissioner Joe Mullins hosts a "business town hall" meeting for Flagler Beach businesses to, in his words, "unify businesses to have a strong voice" and "combine marketing efforts." The meeting is at 3 p.m. at Key West Eats, 1112 South Oceanshore Boulevard, Flagler Beach.
♦
June 26
: A meeting of Facing Grief Together, formerly known as Compassionate Friends, is scheduled at the Vitas Office at 4 North Old Kings Road (across from Kentucky Fried Chicken) in Palm Coast. The meeting begins at 5:30 p.m. Facing Grief Together, a nonprofit self-help bereavement support organization for families that have experienced the death of a child. The meeting is open to all parents, grandparents, and siblings over age 18 who has suffered the loss of a child of any age. For more information, call John Brady at 610-428-3139. To learn more about Facing Grief Together, visit their national website at www.compassionatefriends.org.
♦
June 27
: The Palm Coast Beautification and Environmental Advisory Committee meets at 5 p.m. at City Hall in Town Center. The committee will discuss climat change and sea level rise.
♦
June 27
: The Flagler Beach City Commission meets at 5:30 p.m. at City Hall, 105 South Second Street. The commission will get the annual update from the Flagler County Health Department's Gretchen Smith, and will consider a resolution providing for a temporary limited exception to the prohibition against signs being placed within public rights of way within designated areas of the city uniquely impacted by the SR A1A project. The commission will also discuss amendments to its murals ordinance, and an ordinance increasing Municipal Business Tax rates by not more than five percent.
♦
June 27
: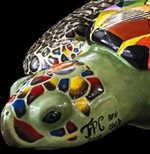 Another unveiling of the latest turtle sculpture to be added to the Turtle Trail: "PABLO" has been a work in progress this school year by the Flagler Palm Coast High School art club in collaboration with students from Old Kings Elementary School, the Marine Sciences flagship school for Flagler County. It will be unveiled at 1 p.m. at Old Kings Elementary School, 301 Old Kings Road South. Pablo's sponsor is Palm Coast Arts Foundation Trustee G. Lindsey Florence.
♦
June 28
: The Scenic A1A PRIDE Committee meets at 9 a.m. at the Hammock Community Center, 79 Mala Compra Rd. off A1A.
See the full agenda here
.
♦
June 28
: The Flagler County School Board meets in a special session to financially close out the year at 9 a.m. at the Government Services Building, Bunnell.
♦
June 28
: Urban Surf 4 Kids Surf Camp, starting at 9 a.m., South 6th Street on the Beach.
♦
June 28
: "Opry Reunion" debuts. This family style variety show features cast members of Daytona Opry, Downtown Opry and a few new entertainers. Linda Cole, Firecrackers, Michael Leone (Elvis), Eddie Davis, Kaitlyn Kent and Michele Marie will return. Each show will also feature a special guest or two. Bring your family to this high energy variety show, similar to the shows in Branson and Myrtle Beach. This show features classic standards from Gospel, Country, R&B, Motown & much more. Opry Reunion is at Oceanside Inn 1909 South Atlantic Avenue in Daytona Beach Shores. Showtime is 8 PM and doors open at 7:30 PM. Reserved tickets are $20. A VIP table (comfortably seats 8) is $150. Call (386) 307-0922 for ticket information.
♦
June 29
: First Aid and CPR/AED 9 a.m.-4 p.m. at Fire Station 25, 1250 Belle Terre Pkwy., Palm Coast. This class is a seven-hour course (one hour for lunch) designed to meet OSHA regulations and teach administering CPR to children and adults, using an Automated External Defibrillator (AED), using a mask or barrier device, assisting with bleeding, broken bones. $50/person with registration required by 9 a.m. June 27. Register at www.parksandrec.fun/adults. More info: 386-986-2300 and cprcertification@palmcoastgov.com.
♦
June 29-20
: Jr. Lifeguard Camp, 8 a.m-12p.m. at Palm Coast Aquatics Center, 339 Parkview Drive. The Junior Lifeguard Camp offers step-by-step lifeguarding skill development. Learn water safety, lifeguard rescues, and First Aid CPR/AED in a weekend camp. Class attendees will receive a CPR mask, Red Cross whistle and T-shirt. For ages 11-15 years. $70/session. Registration required at www.parksandrec.fun/camps. More info: 386-986-2323.
♦
June 29
: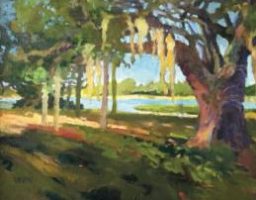 "Transitions: The Art of Trish Vevera, Past and Present," opens at Berkshire Hathaway with a free reception at 6 p.m. The show is curated by Paul Beaulieu and Thomas Anastasio. At 101 Palm Coast Parkway, European Village. Vevera is the reigning
Flagler County Artist of the Year
.
♦
July 1
: Nar-Anon offers hope and help for families and friends of addicts. Every Monday, 6 p.m., St. Mark by the Sea Lutheran Church, 303 Palm Coast Pkwy NE, Palm Coast, Fellowship Hall Entrance. See the website, www.nar-anon.org, or call (800) 477-6291.
♦
July 2
: The Flagler Beach Planning and Architecture (or PAR) Board meets at 5:30 p.m. at City Hall, 105 S 2nd St. The board will consider a new ordinance relating to the protection of gopher tortoises, with new regulations applicable during development activities.
♦
July 3
: Fireworks in the Park: Kick off your Independence Day celebration one day early July 3. Pack your picnic basket and bring your blanket and chairs to watch the free colorful display at Central Park at Town Center, 975 Central Ave, beginning at 9 p.m. Entertainment and food vendors will begin at 6 p.m. A patriotic ceremony starts at 7 p.m.
♦
July 5
: First Friday Garden and Butterfly Walk at Washington Oaks Gardens State Park, 6400 North Oceanshore Blvd., 10 a.m. Join a ranger at 10am for a walk through our historical gardens. Learn about the history of our park while exploring the beauty of the formal gardens, with an emphasis on butterflies. The walk is approximately 1 hour. Please bring water and wear comfortable walking shoes. Meet in the garden parking lot. Garden walk included with park entry. No registration required.
♦
July 5-7
: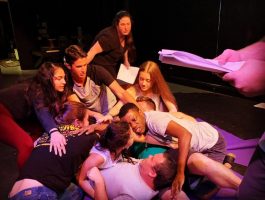 "A Midsummer Night's Madness," a summer workshop production at Palm Coast's City Repertory Theatre. Tickets are $15, Friday and Saturday at 7 p.m., Sunday at 3 p.m.
Book here
.
♦
July 6
: The Palm Coast Arts Foundation hosts its First Saturday Creative Bazaar, an arts and crafts flea market. at 1500 Central Avenue in Town center. Arts foundation members and other vendors will have booths of goods for sale. 8 a.m. to 2 p.m.
♦
July 6
: World Cup Finals Watch Party: The women's soccer World Cup is here again. Join fellow residents at the Palm Coast Community Center, 305 Palm Coast Pkwy NE, as they watch the finals match to see which country is crowned the best in the world July 7. There will be snacks, giveaways and activities for kids. The event costs $1 per person. The final's kickoff is 11 a.m.
♦
July 8
: Nar-Anon offers hope and help for families and friends of addicts. Every Monday, 6 p.m., St. Mark by the Sea Lutheran Church, 303 Palm Coast Pkwy NE, Palm Coast, Fellowship Hall Entrance. See the website, www.nar-anon.org, or call (800) 477-6291.
For events beyond this date, see the fuller Coming Days here.
To • include your event in this section, please email the details, including date, time, a brief description of the event, contact information, and, if you wish, an image, please use this form.


Distrust is on the rise, and it can have deadly consequences. https://t.co/Tfog3EWrdz

— The Upshot (@UpshotNYT) January 23, 2018
In decades of working/analyzing US-Israeli relationship, never saw Washington align itself so closely with Israeli interests.What Pence's visit to Israel revealed.https://t.co/QH9gXKhbUZ

— Aaron David Miller (@aarondmiller2) January 24, 2018
Border Patrol agents were filmed dumping water left for migrants. Then came a "suspicious" arrest. https://t.co/KpLiyXpMCJ

— Washington Post (@washingtonpost) January 24, 2018
Trump aides "see … immigration and immigrants as a negative force, I think the history is that it has been a positive force." Michael Bennet answers @AdamSerwer's questions about immigration, the shutdown, and Dodd-Frank: https://t.co/OJUe9YLCZ2 pic.twitter.com/I09cWHAsiC

— The Atlantic (@TheAtlantic) January 24, 2018
Pope warns on fake news: 'Trusting in falsehood can have dire consequences'https://t.co/7bm62NJYoT pic.twitter.com/x0PdKyijYf

— POLITICO (@politico) January 24, 2018




Keep Up with Donald Trump's attacks on the press through the ACLU's running tab here.
Keep Up with mass shootings in a running database here.


Palm Coast Construction and Development Progress Reports
Here's a summary of the latest city developments as of Jan. 26, 2018, with a link to the full week in review here.
<![if !IE]><![endif]>


Road and Interstate Construction:


Nikolai Kapustin performing Prelude, op. 53, no. 11
Previous Codas: