Weekend Briefing: Bobby Gore Sentencing, Home Show, Songs For a New World, Smokey Joe
FlaglerLive | January 19, 2018
Weekend: Cool and sunny, in the 50s Friday, the 60s Saturday and Sunday, nights in the 40s. Details here.
Today's document from the National Archives and the Astronomy Picture of the Day.
Today's tides: at the beaches, at the Intracoastal Waterway.
Drought Index5
The OED's Word of the Day: momist, n..
The Live Community Calendar
Today's jail bookings.
Today's Briefing: Quick Links


"… when she went out it seemed to her that she too had migrated, that everyone migrates, even if we stay in the same houses our whole lives, because we can't help it. ¶ We are all migrants through time."
–Mohsin Hamid, from "Exit West" (2017).
Previously:

Note: all government meetings noticed below are free and open to the public unless otherwise indicated. Many can be heard or seen live through each agency's website.
The Sheriff's daily incident reports and jail bookings are posted here.

Free For All Fridays on WNZF: Host David Ayres will welcome Rep. Paul Renner, who will discuss the legislative session, and former Sheriff Jim Manfre, who will talk about medical marijuana, starting with a commentary by FlaglerLive Editor Pierre Tristam on immigration, shortly after 9 a.m.
In Court: a status hearing is scheduled at 10 a.m. in the case of Erin Vickers, the 23-year-old Palm Coast woman found guilty by a jury of raping her 1-year-old daughter last September. Her lawyer, Garry Wood, has indicated he intends to appeal. Vickers also faces additional crimes. She faced 49 counts in all. She was tried on just two of the 49. The hearing may determine whether additional trials will be scheduled. The hearing is scheduled before Circuit Judge Dennis Craig in Courtroom 401 at the Flagler County courthouse.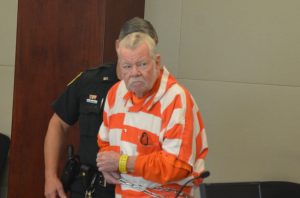 In Court: Sentencing: Bobby Earl Gore, who pleaded guilty on Oct. 10 to murdering his son at their Flagler Beach home on April 30, 2017, is scheduled to be sentenced by Circuit Judge Dennis Craig at the Flagler County courthouse, Courtroom 401, at 1:30 p.m. Gore, 74, in a plea deal, pleaded no contest to manslaughter, a first degree felony, and faces eight to 15 years in prison. He was originally scheduled to be sentenced in December. His attorney, Ray Warren, filed for a continuance to January in light of potentially mitigating factors that will be argued at Gore's hearing.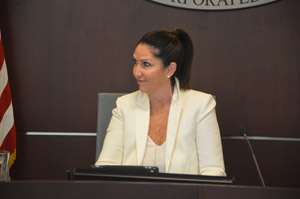 Friday: Lunch N' Lecture Series: Share information with Mayor Milissa Holland regarding the advantages to our community if you make your shopping purchases at our local stores. Also learn more about the important event and projects happening now in Palm Coast. This discussion includes free lunch for those who have registered 48 hours in advance. 11 a.m. at Palm Coast City Hall's Community Wing.
Friday: The Flagler County Chamber of Commerce hosts its Annual Installation Gala, when new directors are seated and a new chairman of the board is named. 6 to 10 p.m. at the Hammock Beach Resort. Public registration has closed.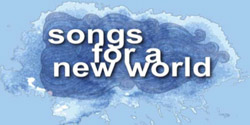 Friday, Saturday, Sunday: "Songs For a New World," at City Repertory Theatre: "I don't want to philosophize. I just want to tell a story." That line from Songs for a New World, which opens January 12 at City Repertory Theatre, describes it perfectly. In fact, it tells a whole collection of stories. It's not a book musical – there is no over-arching plot and no consistent characters throughout the evening – and yet it has a very strong sense of unity about it because every song in the show is essentially about the same thing: those moments in life when everything seems perfect and then suddenly disaster strikes, in the form of the loss of a job, an unexpected pregnancy, the death of a loved one, the end of a marriage, imprisonment, even suicide. But it's even more about the way we regroup and figure out how to survive in a new set of circumstances – a new world – even against seemingly overwhelming odds. The City Repertory Theater production runs for five more performances – Jan. 19, 20, 21, 27 & 28. Friday and Saturday performances begin at 7:30 pm. Sunday performances begin at 2 pm. Tickets are $25 for adults and $15 for students and are available online at www.crtpalmcoast.com/tickets or by phone at 386-585-9415. See FlaglerLive's preview here.
Friday, Saturday, Sunday: "Smokey Joe's Cafe" at the Flagler Playhouse: The show highlights the best rock 'n roll tunes of the legendary songwriting duo of Jerry Leiber and Mike Stoller. This musical revue showcases such numbers as Yackety Yak, Charlie Brown, Jailhouse Rock, Hound Dog, Love Potion #9, Stand By Me and many more. So bring a date and come to the greatest singalong that Flagler Playhouse has ever seen, featuring nearly 40 of the best songs ever recorded. Adult and Senior: $25.00, Student: $20.00 (age 21 and younger with a student ID). Friday and Saturday at 7:30 p.m., Sunday at 2 p.m. Flagler Playhouse, 301 E. Moody Blvd., Bunnell. Book tickets here.
Friday: The Gainesville Orchestra in performance at 7:30 p.m. at Flagler College – Lewis Auditorium, 14 Granada Street, St. Augustine. Enjoy a night filled with classic music and pieces such as "Beloved Classic Melodies for a Winter's Night" and Tchaikovsky's 5th Symphony.For more information, call (904) 797-2800 or visit http://www.emmaconcerts.com/
Friday, Saturday: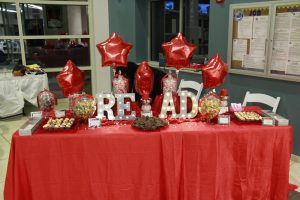 The Seventh Annual FRESH Book Festival in Daytona Beach kicks off with a free Community Film Festival presentation of the documentary, "Lies Uncovered: The Truth About The Dozier School For Boys," at 7 p.m. at the Bethune Cookman Performing Arts Center, Daytona Beach. FRESH stands for Fiction Romance Erotica Spiritual Health. See more details about the full weekend here.
Saturday: Birdwatching Field Trip with Flagler Audubon Society: Merritt Island National Wildlife Refuge, 9 a.m. to 2 p.m. Meet at the visitor center at 9:00 a.m. Bird by car along world-renowned Black Point Wildlife Drive. Lunch at Dixie Crossroads (pay on your own) and finish with a visit to the Enchanted Forest Sanctuary for those who want to extend the day. $10/vehicle entry fee for Black Point Wildlife Drive (or $25 annual pass available at visitor center). Field trips are geared for both beginners and intermediate birders. Open to the public. Visitors welcome. Contact : Mary Giraulo, Email flagleraudubon@gmail.com.
Saturday, Sunday: The Annual Flagler County Lifestyle Show, assembling innumerable vendors, social service agencies, non-profits, arts, crafts and the like will be all over the campus of Flagler Palm Coast High School from 9 to 4 Saturday and from 10 to 4 Sunday. Free parking, free admission, free entertainment. Food and kids zone also available. The show is a fundraiser for FTI, Flagler County's adult education program, under the aegis of the Flagler County School Board.
Sunday: Women's Day of Action marches are scheduled across Florida, including in Jacksonville, Orlando, Miami and St. Petersburg, in support of Puerto Rico and Caribbean islands affected by Hurricane Irma, and, according to organizers, "to bring awareness and support to some of our most marginalized communities. We'll be raising funds for our nearby sister islands that were affected this hurricane season; Puerto Rico, the U.S. Virgin Islands, and the Florida Keys, as well as focus on expanding voter access and registration, a crucial step towards meaningful change." Donate here.
Sunday: Marineland Marina Ribbon Cutting: A celebration of the new expansion at the Town of Marineland Marina. New floating docks and facilities will provide a great atmosphere for marina festivities and enjoyment for the surrounding communities. Live music will be provided by "The Hombres" and the Salt Air Farmer's Market will be in full swing with extended hours for the event. Enjoy local art, wood-fired pizzas, raffle/giveaways, and much, much more. From 1 to 5 p.m., Marineland Marina, 101 Tolstoy Lane.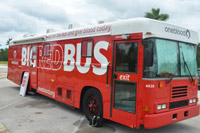 Blood Donations: The Big Red Bus will be at the following locations this week:
Saturday: Cupcake Cafe, 604 East Moody Boulevard, #8, 11 a.m. to 4 p.m.
Sunday: Flagler Home and Lifestyle Show, 10 a.m. to 4 p.m.


Flagler Playhouse Auditions for "South Pacific" to be held on Sunday, January 28 and Monday, January 29, at 6 p.m. at the playhouse. Performances are April 13 through April 29. Audition Requirements: Ages 16 and up, except where specifically noted below. All Roles are open. All ethnicities are urged to audition. Requirements:
Prepare a song from musical theatre – 24-32 bars is OK. Preferably sung to accompaniment on a CD or iPhone. Everyone should come dressed to move; there will be a dance audition. Leads and featured players will be asked to read from the script.
CAST OF CHARACTERS:
Ensign Nellie Forbush – Mezzo (a-d) – a feisty but somewhat naive nurse from Arkansas. A bit of a tomboy with an optimistic outlook.
Emile de Becque – Baritone (a-e') – a mature, sophisticated, wealthy French planter.
Lt. Joseph Cable, USMC – Tenor (d-g) – a handsome and intelligent Lieutenant with a bright future.
Luther Billis – Baritone (G-g) – a lovable character who provides much needed comic relief! Lacks respect for authority.
Bloody Mary – any ethnicity actress is needed to play this role – Mezzo – (g-f) – a shrewd merchant native of the island.
Liat – Bloody Mary's beautiful daughter – any ethnicity actress required (age 15-19). Spoken role. She steals the heart of Joe Cable.
Ngana – mezzo – de Becque's young daughter – age 8-14 – Mixed ethnicity
Jerome – mezzo – de Becque's young son – age 8-14. Mixed ethnicity
Henri – deBeque's servant – Asian Pacific Islander (male or female) – spoken.
Capt. George Brackett, USN – Commanding Officer.
Cmdr. William Harbison, USN – Brackett's right hand.
South Pacific requires a strong and vibrant ensemble of singers, dancers and actors. There are many supporting roles which will be cast from the ensemble.
Nurses – female teens and adults.
Sailors – male teens and adults.
"Stewpot" George Watts – baritone – Carpenter's Mate, second class.
"Professor" – A sailor and Luther's co-hort.
Lt. Buzz Adams, a pilot.
Bob McCaffrey, radio operator.
Ensign Dinah Murphy, a nurse and Nellie's best friend.
Ensign Janet MacGregor, a nurse.
Officers
For further information, please email us at info@flaglerplayhouse.com, or call 386-313-5876. We'd love to hear from you! Yes, you can do this!
Attention Local Businesses: Participate at Cheer at the Pier: The Flagler Beach Museum's annual celebration will take place on Saturday, April 14th from 2 to 5 p.m. on the Flagler Beach Pier. Attendees will enjoy "Sips and Samples" provided by local restaurants. Live entertainment (to be announced) will perform throughout the afternoon. Tickets will be available soon, please check the museum's website for updates. Participating restaurants and business partners have the potential to reach over 500 potential clients. For information about participating, sponsoring, or attending, call Denise Collins, event coordinator, at (386) 283-0530 or Teri Pruden, Director at (386) 439-6262 or email: museumdenise@outlook.com


In Florida and in State Government:
Note: Some proceedings below can be followed live on the Florida Channel. Most legislative proceedings can be followed through the Senate or House websites.

UNEMPLOYMENT NUMBERS RELEASED: The Florida Department of Economic Opportunity is slated to release December unemployment numbers. (Friday, 10 a.m.)
ETHICS COMMISSION MEETS: The Florida Commission on Ethics will meet. (Friday, 8:30 a.m., 1st District Court of Appeal, 2000 Drayton Dr., Tallahassee.)
PREFERRED DRUG LIST CONSIDERED: The Medicaid Pharmaceutical & Therapeutics Committee will consider recommendations for drugs to be included on the Medicaid preferred drug list. (Friday, 8:30 a.m., Holiday Inn Tampa Westshore/Airport, 700 North Westshore Blvd., Tampa.)
MEDICAID EXPENDITURES EYED: The Social Services Estimating Conference will analyze Medicaid expenditures and long-term expenditures. (Friday, 9 a.m., 117 Knott Building, the Capitol.)
—-Compiled by the News Service of Florida and FlaglerLive


To • include your event in this section, please fill out this form.
♦
Aug. 16
: GTM's 20th Anniversary Celebration, 8 a.m. to 5 p.m., Princess Place Preserve, 2500 Princess Place Rd., Palm Coast, and GTM Research Reserve Visitor Center, 505 Guana River Rd., Ponte Vedra Beach. The celebration will begin with a boat tour from Usina boat ramp in Ponte Vedra Beach ending at the St. Augustine Municipal Marina, highlighting several GTM projects along the Guana and Tolomato rivers. After lunch at Princess Place, education and the coastal training program staff will give an overview of plankton samples collected from Pellicer Creek and a visit through the estuary with virtual reality headsets. Afterwards, the research staff will guide you through sediment elevations (SET) sites located in Pellicer Creek Aquatic Preserve. Next, practice using SET techniques in a culinary treat. The event will conclude with a reception and other activities at GTM Research Reserve Visitor Center in Ponte Vedra Beach. To confirm attendance, email Patrician Price at patrician.d.price@FloridaDEP.gov or call 904-823-4506.
♦
Aug. 16
: The Flagler school district's Earl Johnson, a senior administrator, throws the first pitch at a Daytona Tortugas baseball game at 7 p.m.
♦
Aug. 17
: Bimonthly cleanup of Belle Terre Parkway, from the public library to Banton Lane. If you want to help, please meet in the library parking lot by 7 a.m. -- the side of the parking lot facing Belle Terre. All supplies provided. Wear appropriate clothing (flip flops and open sandals are not a good idea) sun screen, bug spray, a hat -- other clothes are a good idea too. Bagels and coffee afterward at host's house.
♦
Aug. 17
: Flagler Pier Fishing Tournament, 6 a.m. to 2 p.m. For any questions, please contact the Pier bait shop at 386-517-2436.
♦
Aug. 17
:

The first ever evening of Improv fun and games at the Flagler Playhouse, 7:30 p.m. The host for the evening will be Teresa Harris. You may know her as a Playhouse newcomer (The Glass Menagerie, It's a Wonderful Life), but you may not know that Teresa (along with husband Milt) are the founders of The Attention Deficient Players, an almost famous improv troupe from Atlanta. (OK, it was outside the perimeter (OTP), but it was a big deal.) The style of improv for this initial foray will be totally made up by the audience. Guests can choose to participate (by putting their name in a hat) or just sit back and enjoy. Teams will be brought up at random and given suggestions from the audience. Sketches will include favorites from TV such as; Scenes from a Hat, Worlds Worst, Questions Only, Sound Effects, plus a few that Teresa makes up - remember it's IMPROV! The show is in the New Lounge.
Since this show may contain adult comedy, guests must be at least 16 years old. Admission is $5. Cash only or credit cards
online
. For more info, contact Milt Harris,vicepresident@flaglerplayhouse.com
♦
Aug. 19
: The East Flagler Mosquito Control District board meets at 10 a.m. at the district's offices, 10 Airport Executive Drive (off Belle Terre Boulevard), Palm Coast.
♦
Aug. 20
: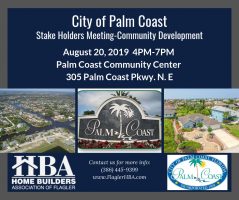 Palm Coast government hosts a "stakeholder" meeting at the Palm Coast Community Center from 4 to 7 p.m. "to receive input from these stakeholders regarding their business dealings with the City of Palm Coast's Community Development Department," according to the Homebuilders Association's website. The city is calling it an "open forum." A city spokesperson said the homebuilders are "not co-hosting anything and they shouldn't have used our logo on their materials without our permission" (see the homebuilders' notice to the right, and the city's informational card
here
). "They are very much invited as part of the general public," the spokesman said, describing the invitation to the public as an effort to get "feedback from the community regarding our approach to building and development related permitting, process, and customer service. The guidance you provide will help chart a path forward and lead to new innovative approaches to move these divisions forward as a partner and resource for the community. Our primary objective is to listen to you, not for you to hear us." The city will host a related "development forum" on Sept. 12, from 4 to 7 p.m. Those unable to attend may contribute their comments by email to planningdivision@palmcoastgov.com or by calling 386-986-3736. (An initial notice in this space, updated on August 10, incorrectly noted that the city had not posted the event on its website. It had done so by Aug. 8.)
♦
Aug. 20
: Palm Coast government hosts the second of two informational meetings on its enhanced stormwater management program from 5 to 7 p.m. at City Hall in Town Center. City staff will share details about the Master Plan now under way, explain the new approach being taken, and discuss immediate priorities for improving the drainage system. Fire Chief Jerry Forte will also briefly highlight hurricane preparedness efforts by the City and share some helpful take-away tips. Refreshments will be provided. The enhanced, comprehensive stormwater management plan to improve the drainage system city-wide launched this past spring, and projects will be ongoing for several years. The plan will address drainage issues resulting from an aging infrastructure and years of growth. The Master Plan takes a big-picture look at the swales, ditches, canals, water control structures, pipes, and drainage basins and how they work together to protect homes and businesses from flooding. New solutions will focus more on the ditches and freshwater canals and will have a greater long-term impact on improving the drainage system across Palm Coast. Attendees may enjoy Food Truck Tuesday in Town Center. Stormwater experts who will be on hand for questions, Customer Service technicians will be available to assist in providing updates to previously made swale requests and educate the public on Palm Coast Connect, the City's new citizen engagement tool. You can report concerns or access the growing Information Center - or you can register and track the progress of how your concern is handled. Palm Coast Connect is online at www.palmcoastconnect.com - and the free app is now available in both the Apple and Google Play App Stores.
♦
Aug. 20
: Food Truck Tuesdays, 5-8 p.m. at Central Park in Town Center, 975 Central Ave, Palm Coast. Purchase and enjoy delicious cuisine available from food trucks situated along Park Street next to Central Park. Free entertainment is also provided. Proceeds from each Food Truck Tuesday benefit a local organization whose work supports children and families. This month's beneficiary: Palm Coast Arts Foundation. More info: www.palmcoast.gov.com/foodtruck or call 386-986-2323.
♦
Aug. 21
: The Blue Power 2020 Action Forum, 12:30 p.m. at the at the African American Cultural Society, 4422 N. US HWY 1, Palm Coast (just north of Whiteview Parkway). Come and join other progressive Democrats to discuss local, state and national issues, and propose actions to influence elected leaders. The Forum is open and informal and all opinions and ideas are welcomed. This is your opportunity to meet and lend your voice and knowledge to people who share your values. For more information, contact Mike Cocchiola, palmcoastdemocraticclub@gmail.com. The Blue Power forum meets every Wednesday.
♦
Aug. 22
: The Flagler Tiger Bay Club invites the community to a wine tasting event from 5:30 to 8 p.m. at the Palm Coast Community Center. The annual event, open to the public, is an opportunity for club members and guests to mingle while sampling private label Flagler Tiger Bay Club wines, enjoying heavy hors d'oeuvres catered by Hammock Wine & Cheese and entertainment provided by the Flagler Youth Orchestra. The evening will include a meet and greet with the newly elected board of directors for current and prospective club members, while unveiling the club's future speakers, and the launch of the Flagler Tiger Bay Club Young Tiger Program in conjunction with Flagler Schools, according to Greg Davis, president of the Flagler Tiger Bay Club. "Flagler Tiger Bay Club has earned a reputation for bringing in top speakers, the likes seldom seen in Flagler County, while presenting and discussing engaging subjects that impact our lives nationally, statewide and locally," Davis said. "People come together of different political persuasions and engage in civil, thoughtful discussions during our meetings." Palm Coast Community Center, 305 Palm Coast Parkway. Tickets: General Admission, $20. Registration closes August 19. Flagler Tiger Bay Club Private Label Wine Pre-Orders and Tickets at www.flaglertigerbayclub.com
♦
Aug. 22
: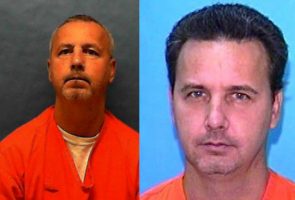 The execution of Gary Ray Bowles is scheduled for 6 p.m. at Florida State Prison in Starke. Bowles murdered six people in 1994. He is serving life sentences in the murders of John Roberts in Daytona Beach and Albert Morris in Nassau County, and is being killed for the murder of Walter Hinton in Jacksonville. See the
background story here
.
♦
Aug. 23
: Friends of Music Celebration: Stetson University's 2019-2020 Season Premiere Concert, Lee Chapel in Elizabeth Hall, 421 N. Woodland Blvd., DeLand.
♦
Aug. 23
: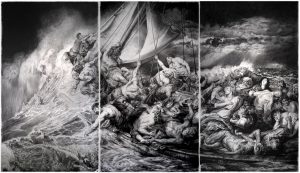 "Rick Shaefer: The Refugee Trilogy" Exhibit, with an opening, free reception from 6-8 p.m. at Stetson University's Homer and Dolly Hand Art Center, 139 E Michigan Ave, DeLand. In 2018, the number of people who had been forcibly coerced to leave their home and country as a result of persecution, violence or human rights violations worldwide reached 70.8 million, according to the United Nations High Commissioner for Refugees (UNHCR). The number of people displaced increased by 2.3 million people from the previous year, a record high. Artist Rick Shaefer's reaction to the international refugee crisis is featured in his large-scale, charcoal triptych drawings that portray people of ancient times fleeing by land or water and experiencing the conflicts at borders in three thematic, panel scenes. Stetson University's Homer and Dolly Hand Art Center will display 20 of Shaefer's charcoal-and-pencil drawings in "Rick Shaefer: The Refugee Trilogy" exhibit, Aug. 16-Oct. 14, with an opening-night reception on Aug. 23.Exhibits at the Hand Art Center are free and open to the public.
♦
Aug. 26
:

The Flagler County Stamp and Coin Club meets at 4:30 p.m. at the VFW Post 8696 47 N. Old Kings Road. From 4:30 - 6 p.m. the time is used for buying, selling and trading stamps and coins. The club meeting starts at 6 p.m. and ends at 7:30. There is a live auction of stamps and coins at the end of the meeting. The club is open for members, the general public, and all who are interested in stamp and coin collecting and investing. Free stamps and coin evaluations at all our meetings. The club is the only non-profit Stamp and Coin Club in Flagler County. For more information please visit
the club's web site
.
♦
Aug. 27
: The Flagler County Opioid Task Force meets at 6 p.m. at the Flagler County Public Library, 2500 Palm Coast Parkway. The task force will meet the fourth Tuesday of every month at the library through November.
♦
Aug. 28
:

The Blue Power 2020 Action Forum, 12:30 p.m. at the at the African American Cultural Society, 4422 N. US HWY 1, Palm Coast (just north of Whiteview Parkway). Come and join other progressive Democrats to discuss local, state and national issues, and propose actions to influence elected leaders. The Forum is open and informal and all opinions and ideas are welcomed. This is your opportunity to meet and lend your voice and knowledge to people who share your values. For more information, contact Mike Cocchiola, palmcoastdemocraticclub@gmail.com. The Blue Power forum meets every Wednesday.
♦
Aug. 28
: A meeting of Facing Grief Together, formerly known as Compassionate Friends, is scheduled at the Vitas Office at 4 North Old Kings Road (across from Kentucky Fried Chicken) in Palm Coast. The meeting begins at 5:30 p.m. Facing Grief Together, a nonprofit self-help bereavement support organization for families that have experienced the death of a child. The meeting is open to all parents, grandparents, and siblings over age 18 who has suffered the loss of a child of any age. For more information, call John Brady at 610-428-3139. To learn more about Facing Grief Together, visit their national website at www.compassionatefriends.org.
♦
Aug. 28
: Faculty Recital: Kathy Thomas, French horn with Sovereign Brass Union. This 12-piece brass ensemble will be a treat to your ears: Gabrieli, Strauss, Bach and more. 7:30 p.m. Lee Chapel in Elizabeth Hall 421 N. Woodland Blvd., DeLand. Free.
♦
Aug. 29
: Economic development: the Flagler County Chamber of Commerce hosts a Common Ground breakfast focusing on the county's economic development efforts, with three speakers: County Administrator Jerry Cameron, Tourism Executive Director Amy Lukasik, and Economic Development Executive Director Helga van Eckert. Registration begins at 7:30 a.m., breakfast at 8, the event lasts through about 9:15 a.m. Hilton Garden Inn Palm Coast, 55 Town Center Blvd. Palm CoastMembers can preregister for $25, non-members for $35. Contact Melinda Rivera, 386-206-0952 or by Email, melinda@flaglerchamber.org
♦
Aug. 30
: Florida Health Care Plans Brunch Club, 9-10:30 a.m. at Palm Coast Community Center, 305 Palm Coast Pkwy. NE. Florida Health Care Plans presents their Blues Brunch Club as well as helpful information on topics that might affect you. Bring your favorite board game or play one provided by FHCP while enjoying brunch! Free, but registration required at www.parksandrec.fun/seniors. More info: 386-986-2323.
For events beyond this date, see the fuller Coming Days here.
To • include your event in this section, please email the details, including date, time, a brief description of the event, contact information, and, if you wish, an image, please use this form.








Palm Coast Construction and Development Progress Reports
Here's a summary of the latest city developments as of Jan. 5, 2018, with a link to the full week in review here.
<![if !IE]><![endif]>


Road and Interstate Construction:


Carl Philipp Emanuel Bach – Oboe Concerto in B flat major, Wq 164
Previous Codas: