Weekend Briefing: CrimeStoppers' Run, Flagler Film Festival, Erasing "Songs For a New World"
FlaglerLive | January 12, 2018
Weekend Weather: Mostly cloudy Friday and Saturday, sunny Sunday, starting with a rather warm day Friday with a high in the mid-70s, cooling Friday night, with lows in the 40s, and remaining cool for the rest of the weekend, with highs in the 50s and lows in the 30s. Details here.
Today's document from the National Archives and the Astronomy Picture of the Day.
Today's tides: at the beaches, at the Intracoastal Waterway.
Drought Index11
The OED's Word of the Day: meh, int. and adj..
The Live Community Calendar
Today's jail bookings.
Today's Briefing: Quick Links

"Jean Baudrillard, a Frenchman, of all things, tells us that not only does language falsely represent reality, but there is no reality to represent. (Perhaps this explains, at long last, the indifferent French resistance to the German invasion of their country in World War II: They didn't believe it was real.)"
–Neil Postman, from "Building a Bridge to the Eighteenth Century" (2017). [Click on the image or the link to buy the book.]
Previously:

Note: all government meetings noticed below are free and open to the public unless otherwise indicated. Many can be heard or seen live through each agency's website.
The Sheriff's daily incident reports and jail bookings are posted here.

Free For All Fridays on WNZF: Host David Ayres welcomes Jonathan Lord, Flagler County's new Emergency Management manager, Supervisor of Elections Kaiti Lenhart, and Joe Mullins, who will be a the host of a new show on WNZF on Saturdays from 9:30 to 10 a.m., starting a little after 9 a.m. with a commentary by FlaglerLive Editor Pierre Tristam on media reporting on public figures' affairs.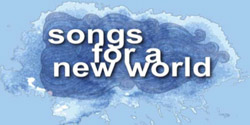 Friday, Saturday, Sunday: "Songs For a New World," at City Repertory Theatre: "I don't want to philosophize. I just want to tell a story." That line from Songs for a New World, which opens January 12 at City Repertory Theatre, describes it perfectly. In fact, it tells a whole collection of stories. It's not a book musical – there is no over-arching plot and no consistent characters throughout the evening – and yet it has a very strong sense of unity about it because every song in the show is essentially about the same thing: those moments in life when everything seems perfect and then suddenly disaster strikes, in the form of the loss of a job, an unexpected pregnancy, the death of a loved one, the end of a marriage, imprisonment, even suicide. But it's even more about the way we regroup and figure out how to survive in a new set of circumstances – a new world – even against seemingly overwhelming odds. The City Repertory Theater production runs for eight performances – Jan. 12, 13, 14, 19, 20, 21, 27 & 28. Friday and Saturday performances begin at 7:30 pm. Sunday performances begin at 2 pm. Tickets are $25 for adults and $15 for students and are available online at www.crtpalmcoast.com/tickets or by phone at 386-585-9415. See FlaglerLive's preview here.
Friday, Saturday, Sunday: The Flagler Film Festival is scheduled for three weekend days at the Hilton garden Inn, Palm Coast: Friday 6 to 11 p.m., Saturday noon to 11 p.m., Sunday 1 to 10 p.m. Tickets: Advance $5/Block, $10/1 day pass, $25/All-Festival Pass; At the door $7/block, $14/1 day pass, $35/ All Festival Pass. Order tickets on-line https://filmfreeway.com/ FlaglerFilmFestival/tickets Credit card or Paypal. The festival features 55 independent films ranging from 2-minute micro-shorts to 2-hour feature films. Films from 16 Florida filmmakers as well as films from around the world will be screened.
Saturday: CrimeStoppers' 8th annual Run to Stop Crime is scheduled for 8 a.m. starting from Ormond Beach City Hall. 5K and 10K available. Many representatives from the Flagler County Sheriff's Office and other local police agencies will be there. Register at racesmith.com.
Friday, Saturday, Sunday: The Florida Bicycle Racing Association's Florida CX State Championships is held at the Florida Agricultural Museum, 7900 Old Kings Rd N., Palm Coast.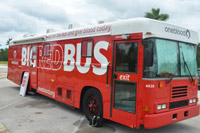 Blood Donations: The Big Red Bus will be at the following locations this week:
Friday: Panera Bread, 5880 State Road 100, Palm Coast, 10 a.m. to 4 p.m.
Saturday: Chick fil A, 1000 Palm Coast Parkway NW, 11 a.m. to 4 p.m.
Sunday: Walmart, 174 Cypress Point Parkway, Palm Coast, 11 a.m. to 5 p.m.

Attention Local Businesses: Participate at Cheer at the Pier:
The Flagler Beach Museum's annual celebration will take place on Saturday, April 14th from 2 to 5 p.m. on the Flagler Beach Pier. Attendees will enjoy "Sips and Samples" provided by local restaurants. Live entertainment (to be announced) will perform throughout the afternoon. Tickets will be available soon, please check the
museum's website
for updates. Participating restaurants and business partners have the potential to reach over 500 potential clients. For information about participating, sponsoring, or attending, call Denise Collins, event coordinator, at (386) 283-0530 or Teri Pruden, Director at (386) 439-6262 or email:
museumdenise@outlook.com
Free Skywarn Storm Spotter class January 31
: January 10, 2018 – Flagler County Emergency Services and the National Weather Service will host a free Skywarn Storm Spotter class on January 31 at the Emergency Operations Center. Angie Enyedi, assistant warning and coordination meteorologist with the National Weather Service, will teach the class. It will cover everything from cloud formations to thunderstorm development to visual predictions. Those who participate in the class – which begins at 6 p.m. January 31 (a Wednesday) – are eligible to become volunteer storm spotters and assist Emergency Services and the National Weather Service by reporting potentially hazardous weather events. While warnings for thunderstorms are only issued for hail and high winds, lightning is part of all storms and is the cause of more deaths in the United States than tornadoes and hurricanes, according to the National Weather Service. Additionally, Flagler County is located within the gap of the nearest Doppler radar towers. "Trained storm spotters serve as the local eyes of the National Weather Service," said Bob Pickering, Flagler County Emergency Management Technician. "These reports from storm spotters mean that earlier warnings may be issued. This helps everyone in Flagler County." Storm spotter classes are scheduled based on the limited availability of meteorologists with the National Weather Service to come teach the class. Find out more about the Skywarn Storm Spotters Program at flaglercounty.org under the "Webcams and Weather" tab. Also, watch The Scud Buster Diaries under the same tab. Registration is required, and can be done by calling Pickering at 386-313-4250, or by email at bpickering@flaglercounty.org.

In Florida and in State Government:
Note: Some proceedings below can be followed live on the Florida Channel. Most legislative proceedings can be followed through the Senate or House websites.

LEGISLATURE: The Senate and House are both scheduled to hold a floor session Friday at 10:30 a.m.
ENVIRONMENTAL STANDING AT ISSUE: The Judicial Committee of the Florida Constitution Revision Commission will take up a controversial proposal (Proposal 23) that would give Floridians more legal standing when environmental problems occur. (Friday, 8 a.m., 37 Senate Office Building, the Capitol.)
CRC SCHEDULING AT ISSUE: The Rules and Administration Committee of the Florida Constitution Revision Commission will meet to discuss scheduling. (Friday, 12:15 p.m., 401 Senate Office Building, the Capitol.)
PUBLIC FINANCING TARGETED: The Ethics and Elections Committee of the Florida Constitution Revision Commission will take up a measure (Proposal 56) that would eliminate the use of public financing for statewide political candidates. (Friday, 1 p.m., 301 Senate Office Building, the Capitol.)
DEADLINE FOR PSC APPLICATIONS: Candidates for a seat on the Florida Public Service Commission face a 5 p.m. Friday deadline to submit applications to the Florida Public Service Commission Nominating Council. The seat became open when former state Rep. Ritch Workman, who was slated to join the PSC on Jan. 2, withdrew from the appointment after a sexual-harassment allegation.
—-Compiled by the News Service of Florida and FlaglerLive

To • include your event in this section, please fill out this form.
♦
July 20
: Lunch N' Lecture Series 11 a.m.-12:30 p.m. at Palm Coast Community Center, 305 Palm Coast Pkwy. NE. This month: "Hurricane Preparedness" with the Palm Coast Fire Department. The lecture and lunch are free, but pre-registration is required (while space available) by 11 a.m. July 18: www.palmcoastgov.com/register. More info: 386-986-2323.
♦
July 20
: Dive-In Movies 8 p.m. gates open and 8:30 p.m. movie at Frieda Zamba Swimming Pool, 339 Parkview Drive, Palm Coast. Families and friends share fun watching a movie on the giant outdoor movie screen, while floating around in the pool. July's flick is Spider-Man: Homecoming. Admission is $2 adults/$1 children. More info: 386-986-4741.
♦
July 21
: Tour de Palm Coast, leaving at 8 a.m. from Palm Coast Community Center, 305 Palm Coast Pkwy. NE. The "Tour" will take riders along the scenic route of St. Joe Walkway and back. No registration required. Please bring water and wear a helmet. More info: 386-986-2323.
♦
July 21
: Parks & Rec Open House 10 a.m.-1 p.m., at the Palm Coast Community Center, 305 Palm Coast Pkwy, NE. Enjoy a jam-packed day filled with fun for the whole family. Activities include Zumba classes, self-defense classes, group crafts, games, raffles and so much more! There is no registration for this event. More info: 386-986-2323.
♦
July 23
: Matthew Nesbitt, 44, of Palm Coast's P Section, goes on trial on eight charges, including three charges of aggravated assault on a police officer and a charge of offense against a police dog, starting with jury selection, before Judge Terence Perkins in Courtroom 401 at the Flagler County Courthouse, 9 a.m. (
Case 2017CF001004
)
♦
July 23
: Election Candidates' Hobnob hosted by the Flagler County Chamber of Commerce from 6 to 8 p.m. Free to the public. At the Palm Coast Community Center. The Flagler Hob Nob will be similar to an old fashioned political rally with an expectation of at least 400 guests attending. The purpose of Hob Nob is to give Chamber members and local residents an opportunity to meet with candidates and representatives from their campaigns on a one-to-one basis. The Chamber will invite all candidates appearing on the 2018 ballots to rent tabletop space for $150. Candidates will be assigned tables on a first come first served basis. Proceeds will support Chamber voter education and government affairs initiatives, including the organization's 2019 Flagler Volusia Public Leadership Institute (FVPLI).
♦
July 23
: The Flagler County Stamp and Coin Club meets at 4:30 p.m. at the VFW Post 8696 47 N. Old Kings Road. From 4:30 - 6 p.m. the time is used for buying, selling and trading stamps and coins. The club meeting starts at 6 p.m. and ends at 7:30. There is a live auction of stamps and coins at the end of the meeting. The club is open for members, the general public, and all who are interested in stamp and coin collecting and investing. Free stamps and coin evaluations at all our meetings. The club is the only non-profit Stamp and Coin Club in Flagler County. For more information please visit the club's web site http://www.stampandcoinclub.com.
♦
July 25
: A meeting of the Compassionate Friends is scheduled at the Vitas Office at 4 North Old Kings Road (across from Kentucky Fried Chicken) in Palm Coast. The meeting begins at 5:30 p.m. The Compassionate Friends, a nonprofit self-help bereavement support organization for families that have experienced the death of a child. The meeting is open to all parents, grandparents, and siblings over age 18 who has suffered the loss of a child of any age. For more information, call John Brady at 610-428-3139. To learn more about The Compassionate Friends, visit their national website at www.compassionatefriends.org.
♦
July 27
: Florida Hospital Flagler Health Screening Event 10 a.m.-2 p.m. at the Palm Coast Community Center, 305 Palm Coast Pkwy, NE. Florida Hospital Flagler, our official Health & Wellness event partner, is offering a FREE health screening event in support of July is Parks and Recreation Month. Services will include, pulse, blood pressure, height/weight, BMI, etc. There is no registration for this event. More info: 386-986-2323.
♦
July 27-29
: The Flagler Playhouse features The Wizard of Oz, Young Performers Edition, a production of its summer-camp students, Friday and Saturday at 7:30 p.m., Saturday and Sunday bat 2 p.m. (two shows on Saturday). The Flagler Playhouse, 301 E. Moody Blvd., Bunnell. Call the box office at 386-586-0773 or visit the website for tickets
here
.
♦
July 30
: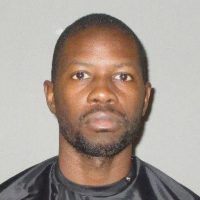 Circuit Judge Terence Perkins sentences Dante Mobley, a sex offender found guilty of statutory rape and sentenced in 2014 to five years in prison followed by 10 years' sex-offender probation. He served his sentence, with credit for time served and 15 percent early release for good behavior, but was re-arrested on April 12 on a probation violation. Mobley, 35, a resident of 611 South Bacher Street in Bunnell, generated
a series of violations
, including losing his $900 court-issued tracking bracelet, a failure to report, and living within 1,000 feet of a place where children gather. Mobley has been at the county jail since his re-arrest. The sentencing is at 1:30 p.m. in Courtroom 401.
♦
July 30
: Today at 4:30 p.m. is the deadline if you intend to change political party ahead of the primary election on Aug. 28.
♦
Aug. 3
: Flagler County Drug Court's steering and advisory committee meets at 9 a.m. in courtroom 401 at the Flagler County Courthouse.
♦
Aug. 3
: First Friday Garden Walk at Washington Oaks Garden State Park at 10 a.m. Join a Ranger on the first Friday of the month at 10 a.m. for a walk through our historical gardens. Learn about the history of our park while exploring the beauty of the formal gardens. The walk is approximately 1 hour. Please bring water and wear comfortable walking shoes. Meet in the Garden parking lot. Garden walk included with park entry. Call 386-446-6783 for more information.
♦
Aug. 8-9
: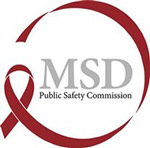 The Marjory Stoneman Douglas High School Public Safety Commission
meets at 8:30 a.m. for the first of two days in the fourth of seven sets of two-day meetings, with such meetings scheduled every month through November. he Florida Channel will be broadcasting the meeting and will be streaming it live
here
. You may submit
your public comments here
.
♦
Aug. 10
: The Flagler County Canvassing Board meets at 10 a.m. at the Supervisor of Elections Office, Government Services Building, 1769 E. Moody Boulevard, Building 2, Suite 101. The agenda: Logic and Accuracy Testing of the Voting Equipment.
♦
Aug. 10
: Movies in the Park, 8 p.m. in Central Park at Town Center, 975 Central Ave., Palm Coast. Families will enjoy "Beauty and the Beast" on the park's giant outdoor movie screen. Bring your blanket, lawn chairs and snacks and invite your friends and neighbors to join you at this free, monthly family activity offered by Palm Coast Parks & Recreation and Flagler Schools. More info: 386-986-2323 and www.palmcoastgov.com/movies.
♦
Aug. 11
: Motown Magic is the featured act at the free Midtown Motown Concert series at Cypress Park at the Midtown Cultural & Educational Center in Daytona Beach from 7 to 9 p.m., with Cypress Pool open for free swimming until 9 p.m. during the concert, at 981 George West Engram Blvd., Daytona Beach. Parking is available at Cypress Park.
>♦
Aug. 11
:

Joseph Colon, the 34-year-old man facing a
first-degree murder charge
in the death of Palm Coast resident
Savannah DeAngelis
, 23, is scheduled for a 9 a.m. pre-trial before Circuit Judge Terence Perkins in Courtroom 401 at the Flagler County courthouse. DeAngelis overdosed on drugs Colon is accused to have supplied her shortly before her death.
Aug. 15: The Flagler County Canvassing Board meets at 10 a.m. at the Supervisor of Elections Office, Government Services Building, 1769 E. Moody Boulevard, Building 2, Suite 101. The agenda: Canvass of Vote-By-Mail Ballots.
♦
Aug. 17
: Sen. John Cronyn, the Texas Republican, is the featured speaker at Flagler County Republicans' Lincoln Day Dinner at 5:30 p.m. at Hammock Beach Resort. Tickets are $100 until July 11, then $175 per person.
For events beyond this date, see the fuller Coming Days here.
To • include your event in this section, please email the details, including date, time, a brief description of the event, contact information, and, if you wish, an image, please use this form.




Palm Coast Construction and Development Progress Reports
Here's a summary of the latest city developments as of Jan. 5, 2018, with a link to the full week in review here.
<![if !IE]><![endif]>

Road and Interstate Construction:

Martha Argerich Performs Liszt's Piano Concerto No 1 in E flat major
Previous Codas: